Posted on
February 27th, 2018
by Adam
Rongjiang Market 榕江市场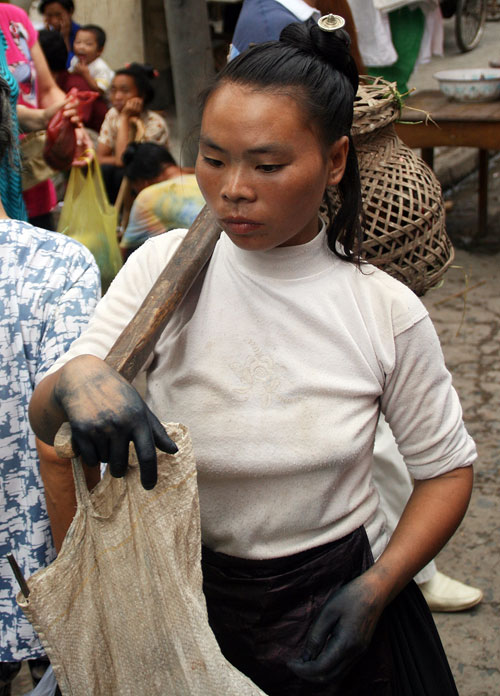 Guizhou Province 贵州省
We are updating this article with new photos. Rongjiang 榕江 is dusty but expanding town in Guizhou Province 贵州省. Rongjiang forms part of what is known as the Qiandongnan Miao and Dong Autonomous Prefecture 黔东南苗族侗族自治州; Qiándōngnán Miáozú Dòngzú Zìzhìzhōu.
Rongjiang is now connected to China's High Speed Railway Network.  The Train station is 5km out of town. There are buses 2 Yuan and Taxis 10/15 Yuan connecting Rongjiang to the train station. Rongjiang is on the Guangzhou – Guiyang line.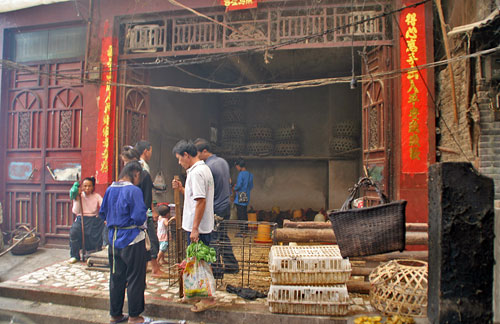 Rongjiang 榕江 is far from being one of China's more attractive towns. It's dusty and slightly chaotic. However, for the traveller,  Rongjiang, not only provides a fascinating gateway to minority villages, but it also has an amazing Sunday Market that sucks in a myriad of different ethnic minorities for the day.
You are sure to come across the Dong minority 侗族 in huge numbers as well as various Miao 苗族 ethnic groups including the Gaoshan Miao and maybe even the odd Top knot Miao coming up from Basha village 芭沙村 near Congjiang 从江.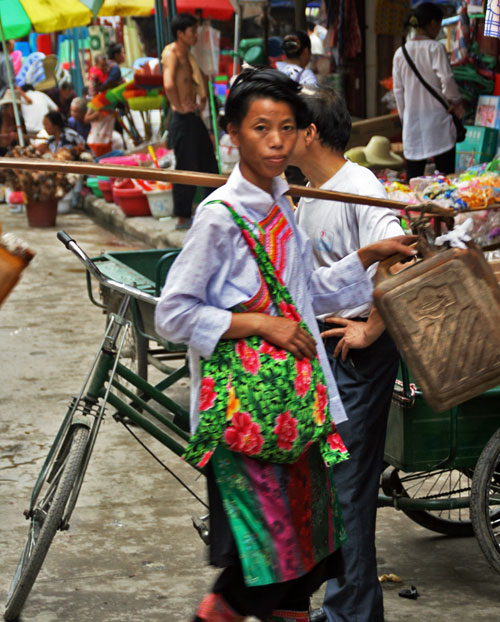 If you are passing through this area on your way between kaili 凯里 and Zhaoxing 肇兴; Rongjiang 榕江 makes for interesting break in the journey. In fact, just the spectacular bus ride between Kaili and Rongjiang makes the trip worthwhile.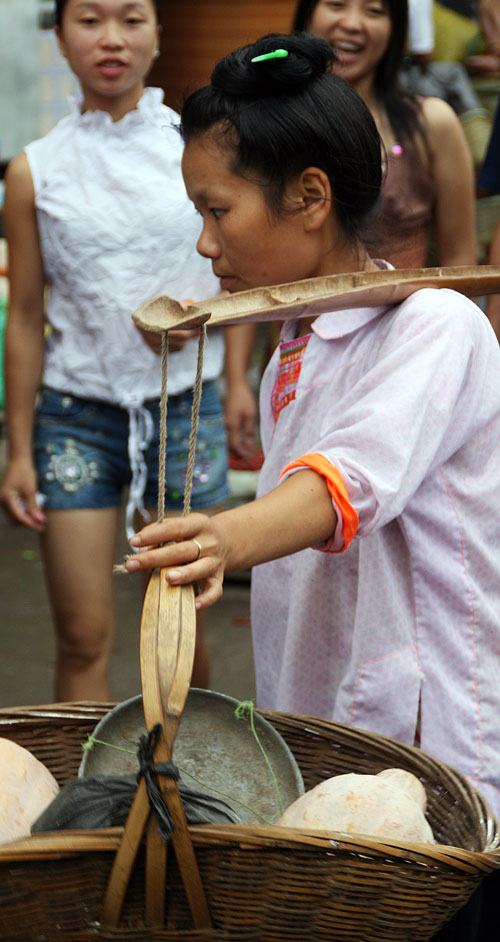 Arrival
Our bus bumped into Rongjiang's run-down and grubby bus station after a gorgeous five- hour, 160- kilometre bus ride from Kaili 凯里. Rongjiang, a scruffy town spread along the banks of two rivers, the Duliujiang and the Zhaigaohe, sits firmly within the Dong heartlands.
Though the town has very little to interest travellers, it makes a good base for excursions to nearby Dong villages, some of which, such as Chejiang车将 and Zengchong, are extremely beautiful. There are also a few interesting Miao villages, like Bakai 扒开.
We arrived in Rongjiang on a Saturday, as we were interested in visiting its large Sunday Market.
Rongjiang's Sunday market is not as huge or hectic as the one in Anshun 安顺, or as colourful as the market at Chong'an 崇安, near Kaili. Still, it is an interesting place to wander for a few hours and watch the local Dong minority and other minorities going about their business.
Many of the Dong, especially the women, dress up in their finest to come to the market: some wear bright blue jackets with appliquéd and embroidered borders along the sleeves and cuffs, combined with dark, baggy trousers, while others prefer shiny indigo jackets and short skirts.
Dong people tend to have strong, sculpted features, similar to their South-East Asian neighbours in Thailand or Burma.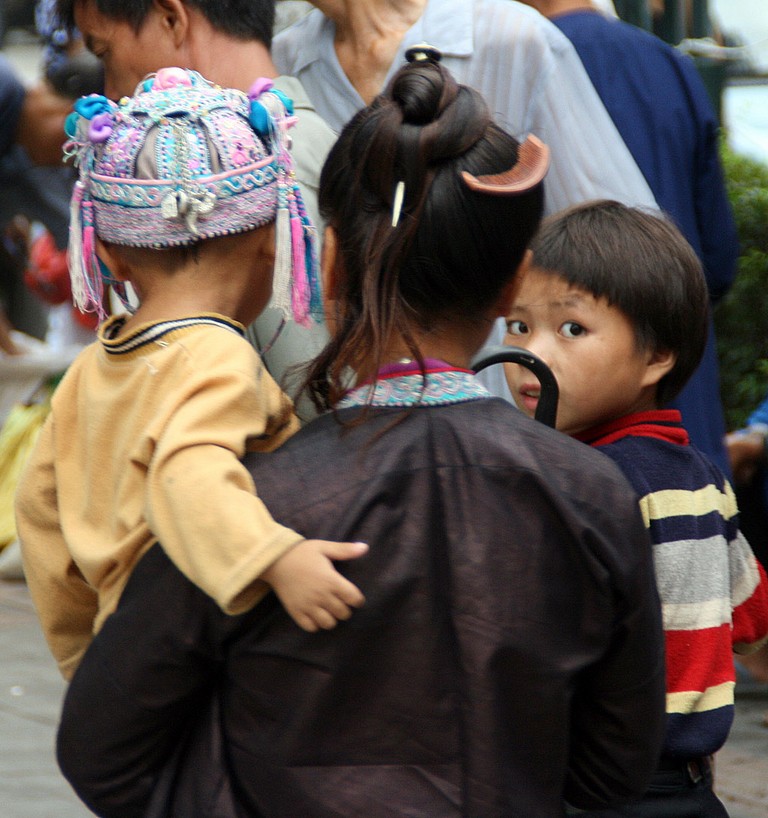 You might also catch a few different groups of Miao 苗族, such as the 'Top-Knot Miao' proceeding from Basha 岜沙, a village near Congjiang 从江, whose name refers to the typical hairdo of the men who wear their hair tied up in a high bun, or the 'High Mountain Miao', or 'Gaoshan Miao', from the nearby village of Bakai 扒开村, with their beautifully patterned and embroidered trousers.
The Dong traders make quite an effort to sell their wares and the vegetable displays are particularly beautiful and elaborate.
The market has two parts: the area near the bridge and the bus station is mostly for vegetables, while about a kilometre away there is another, covered market that sells household goods and also has a pretty gory meat and poultry area, where chickens, geese and ducks are killed, plucked and boiled in front of your very eyes.
The market gets going around 8 o'clock; a good place to position yourself is on the bridge crossing the river, to catch villagers coming into town laden with goods.
Coming and Going
There are numerous buses to and from Kaili 凯里, running into the early afternoon. The five- hour journey is spectacular: the narrow road, which follows a bluish river all the way, winds its way over innumerable passes and through deep, forested valleys, dotted by small and scattered Dong and Miao settlements. You may see a variety of Miao along the way, among them the fantastically named 'Short Skirt Miao'.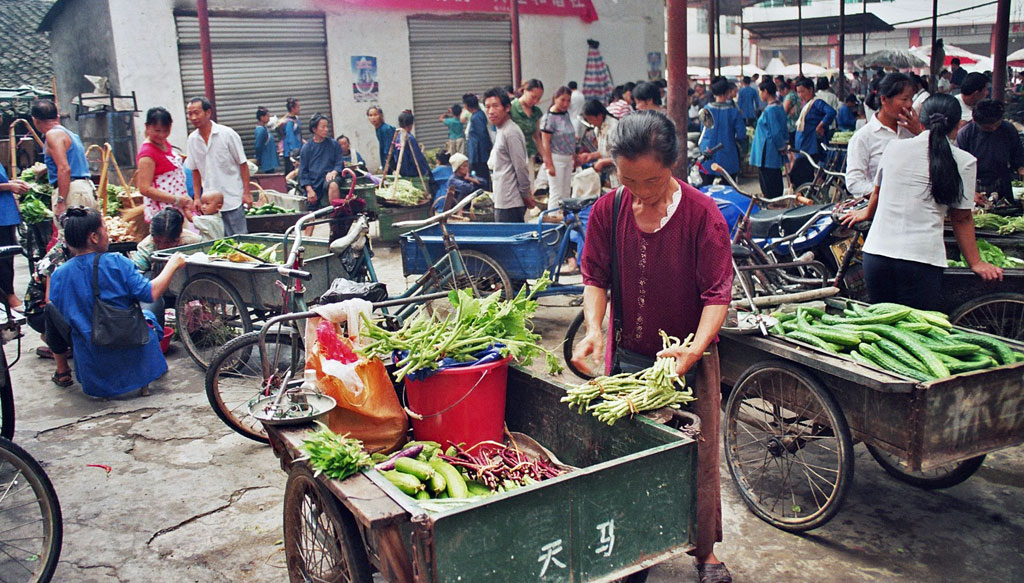 Voyeurs don't get too excited, they wear trousers underneath. About halfway between Kaili and Rongjiang, you will cross over from the Miao heartlands into Dong territory.
There are also plenty of buses to Congjiang 从江 (for Basha village 岜沙 and the Top Knot Miao) throughout the day, from where you can catch a bus to Liping 黎平 and then on to the beautiful wooden Dong town of Zhaoxing 肇兴.
Some direct buses go to Liping 黎平 and others to Sandu 三度, the centre for the Shui minority.
Getting Around: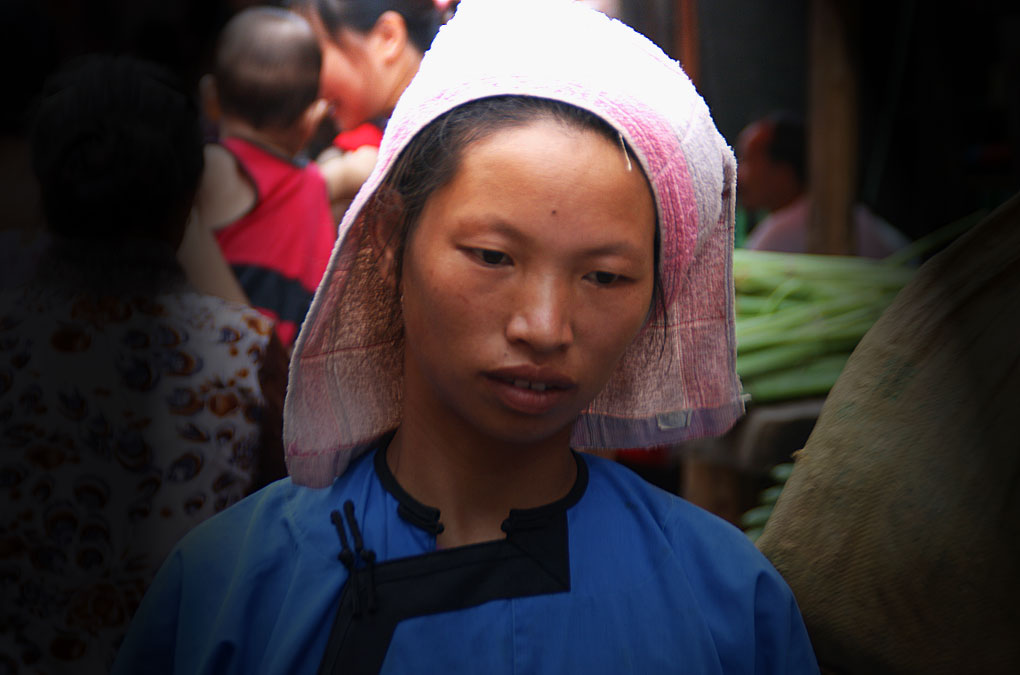 For short distances and excursions, hiring a taxi is pretty cheap around here. Expect to pay 60 to 80 Yuan for half a day.
Accommodation:
We stayed at the Qingfeng Bingguan next to the bridge, where overpriced, dumpy doubles went for 118 Yuan and no haggling. The local Dong staff, however, are very friendly and helpful.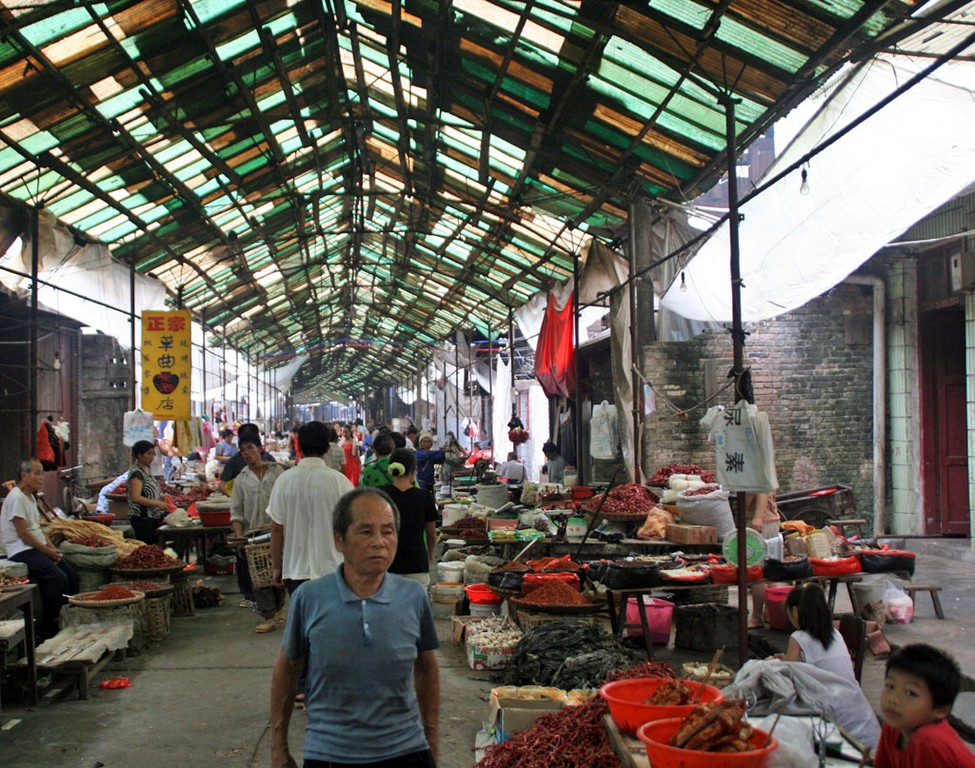 The Rongjiang Hotel, almost next to the bus station and slightly newer, looks a better option, though prices were similar to the Qingfeng. No concessions were being made for single travellers in either hotel. The are now far more options. Though the Rongjiang Hotel continues to be a popular choice.
Food:
Next to the Qingfeng Hotel there is a pleasant open-air teahouse on stilts, popular for its 'Baobing', shaved ice with condensed milk, which also serves very cold beer and boiled peanuts.
Real food, however, is more difficult to come by. We eventually ordered a few simple dishes from a small hole- in- the- wall opposite and then carried the food over to the tea-house, returning the plates later (things have improved recently as in the rest of rural China). On market day loads of impromptu street stalls like those above are set up.