FROM OUR DIARY Winter 2014 –2015,
29 December -1 January: Our Second Visit
Day One, Monday 29 December: Finding Our Feet
We get to Pingyao from Taiyuan by bus. And even though our luggage is heavy and the hotel a bit further than we expected, we immediately take to the city. We'd half expected a heavily commercialized tourist trap, but instead find ourselves in a quiet town where time, away from the main drag, seems to have stood still!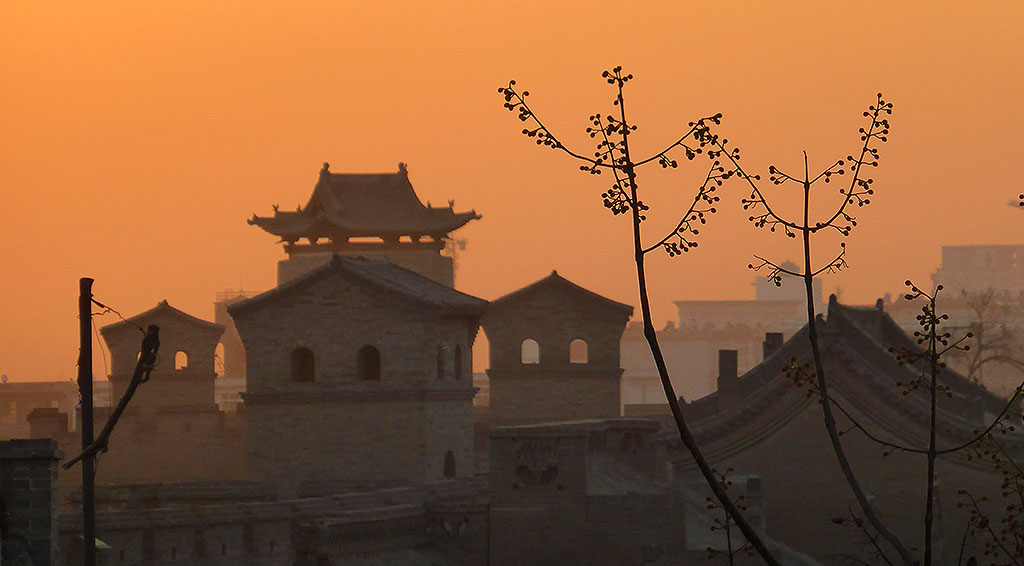 All the dark, weathered, grey-brick houses with their elegantly sloping tiled and eaved roofs, their carved wooden doors and sculpted pillars are still intact; just as we remember them from our first visit. The hotels, restaurants and souvenir shops are mostly low-key and tastefully decorated in traditional style. The sky is blue, the air crisp and cold and the pervasive smell of burning coal takes us back to that first winter we spent in China, back in 1990.
TWO DAYS IN PINGYAO: The Yinde Hotel
The Yinde Hotel turns out to be a centuries old former merchants' home, tucked away in a quiet alley; its simple but comfortable rooms with enormous kang beds (a kang = traditional stone platform for sleeping which used to be heated from underneath) and wooden furniture arranged around two peaceful courtyards.  The overall effect is both atmospheric and authentic. We love it!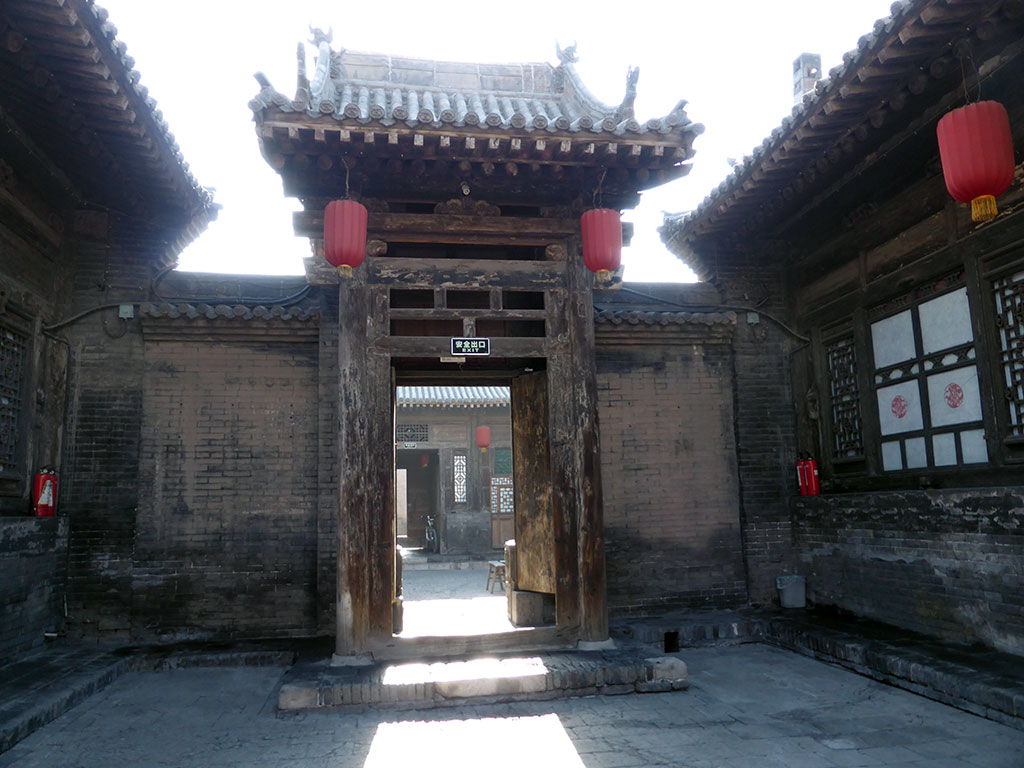 Before starting our sightseeing tour, we have to get a tong piao, or through-ticket, valid for 19 sites and 3 days. As it is the low season, we get a considerable discount.
TWO DAYS IN PINGYAO: Start using the Tongpiao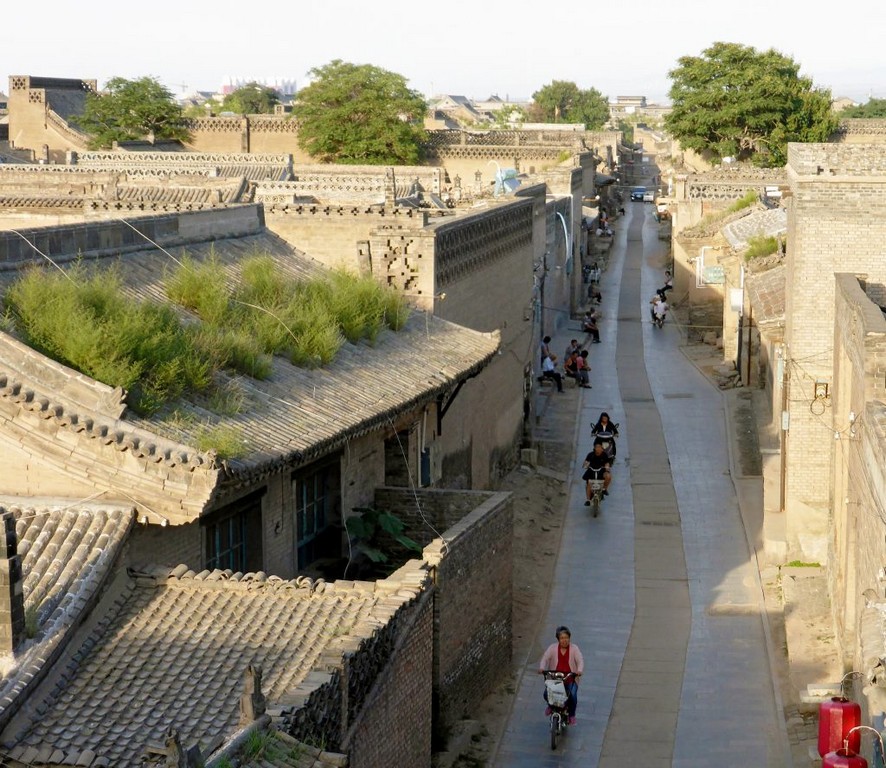 As Pingyao is famous for its merchants' mansions and financial businesses, we bravely tackle the Rishengchang Financial House Museum, China's first draft bank dating from 1828; one of the main sights and just about the only one we remember from our previous visit. After this, we visit another one next door, the Wei Tai Hou Money Shop.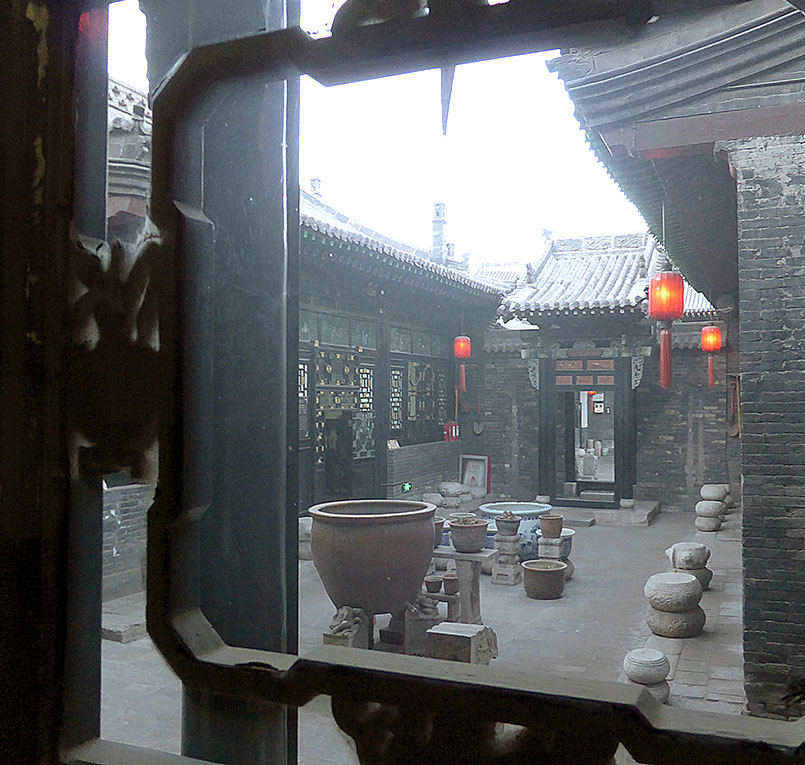 As a result, our memories of the two sites tend to blend together. Both are superb, though somewhat forbidding mansions with lots of court yards, elegant arches, carved, painted and gilded wood, massive blue and white ceramic vases and so on.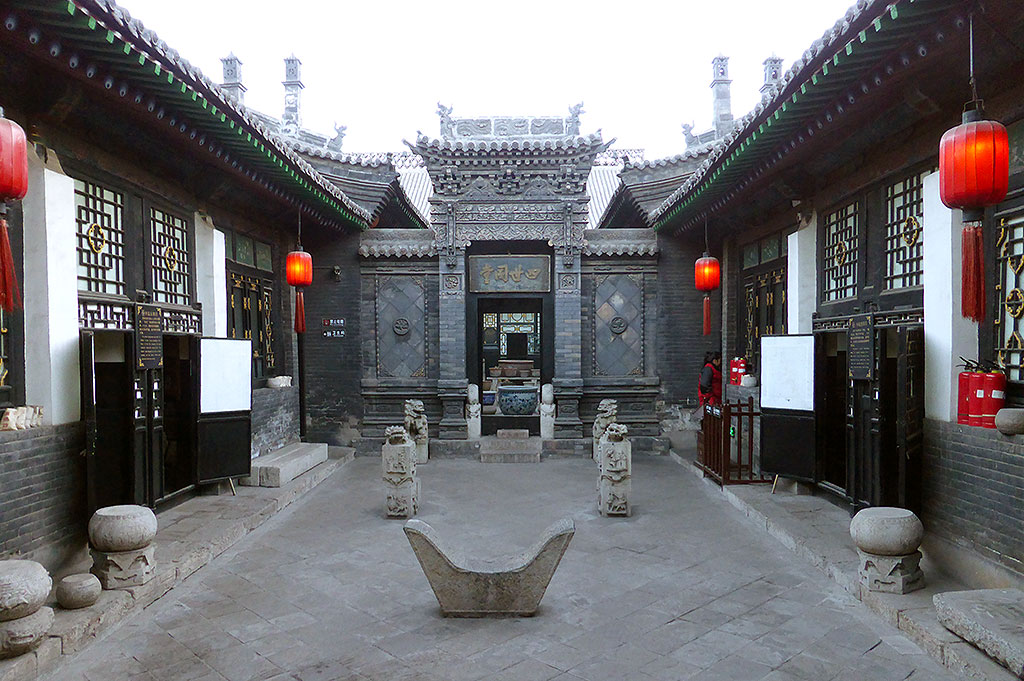 While Adam loves the courtyards and the fading afternoon sunlight hitting the tiled roofs, I'm fascinated by the domestic details, such as the romantic paintings on glass of pretty turn-of-the-century ladies reclining on sofas, or the gorgeous, lavishly decorated cabinets with tiny drawers and secret compartments.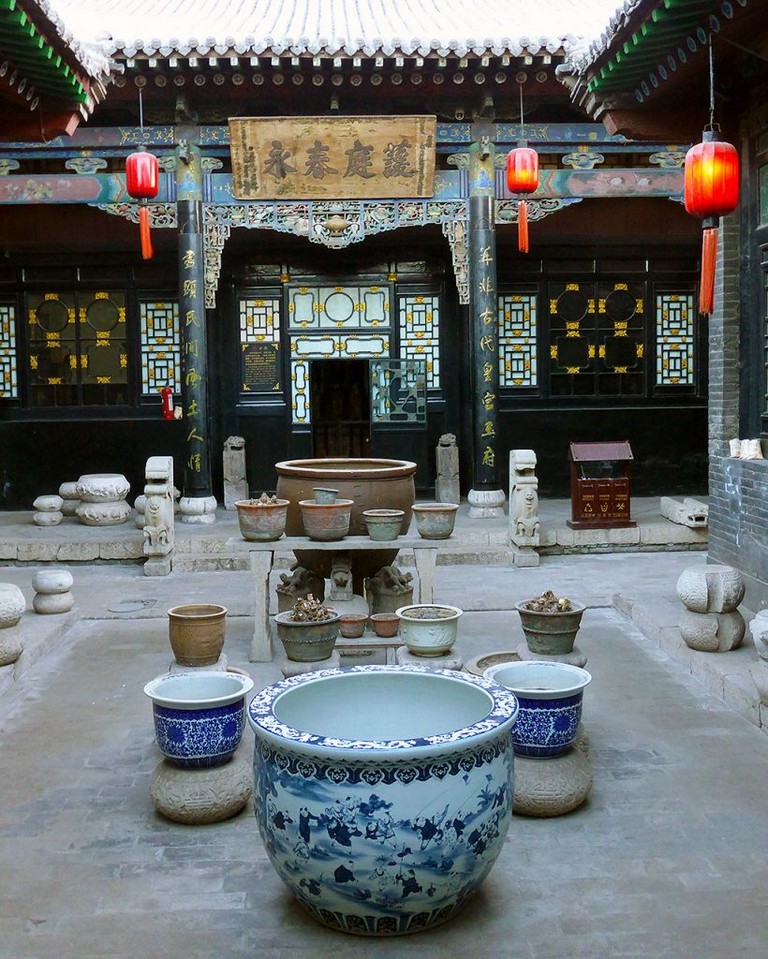 Unfortunately, all the signs supposedly explaining the financial business must have been put through Google Translator. What else to make of … 'the customer discussion is frequent' … or …' supposes the dining room entertainment'…?
We just manage to visit a third, smaller mansion before closing time, which in winter tends to be 17.00 / 17.30 all over China.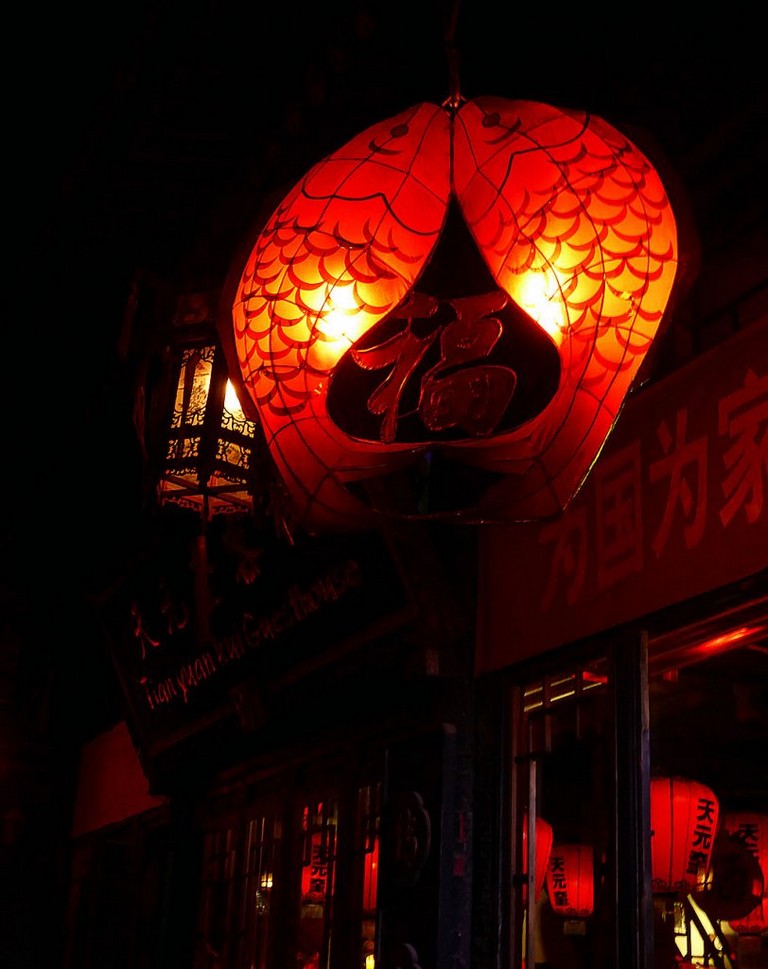 Strolling along the main streets, looking for somewhere to eat, we notice lots of attractive souvenirs like clothes, bags, stuffed animals and cushions made of traditional flowery cloth in bright red, pink, green and yellow patterns. Other Pingyao specials include a range of beautiful red and black lacquered boxes, paper cuts and fold-out postcards.
After our meal we head home along the narrow, cobbled, lantern lit streets, under a clear, starry sky. All very romantic, if it weren't for the freezing cold!
Two Days in Pingyao: Day Two, Tuesday 30 December: Making the Most of Our Tong Piao
It's another glorious winter's day; perfect for sightseeing!
First stop: the Ancient Government Building. At first we are unpleasantly surprised by a string of electric buggies delivering a Chinese tour group but, as the site is huge, we soon manage to shake them off. There are vast halls, courtyards, offices, a temple, a stage and a prison … and everything's in an amazing state of repair.
The gloomy prison cells, for light offenders only, the gruesome black and white photos of corporal punishments and, above all, the instruments of torture, such as a harmless-looking wooden donkey with sharp metal spikes on its back, are some of the grimmer highlights.
On a more positive note, there are friendly stone phoenixes and other mythical beasts on the roofs, ancient gnarled trees in the court yards, as well as displays of beautifully embroidered gowns, hats, pendants and other objects that once belonged to the officials.
Moreover, there is a small tower that visitors can climb, to get good views over Pingyao's sloping grey-tiled roofs!
The Cheng Huang, or City God Temple
On to the next sight: the Cheng Huang, or City God Temple. This is a sizeable temple with gorgeous turquoise and yellow glazed tile roofs, topped by a pavilion that offers brilliant city views. Curiosities include a cave dedicated to the God of Wealth, full of little golden figurines that have been donated to him, or stacks of fake gold ingots that look like little boats with candles inside. Adam, of course, loves the gory images of yet another Buddhist Hell.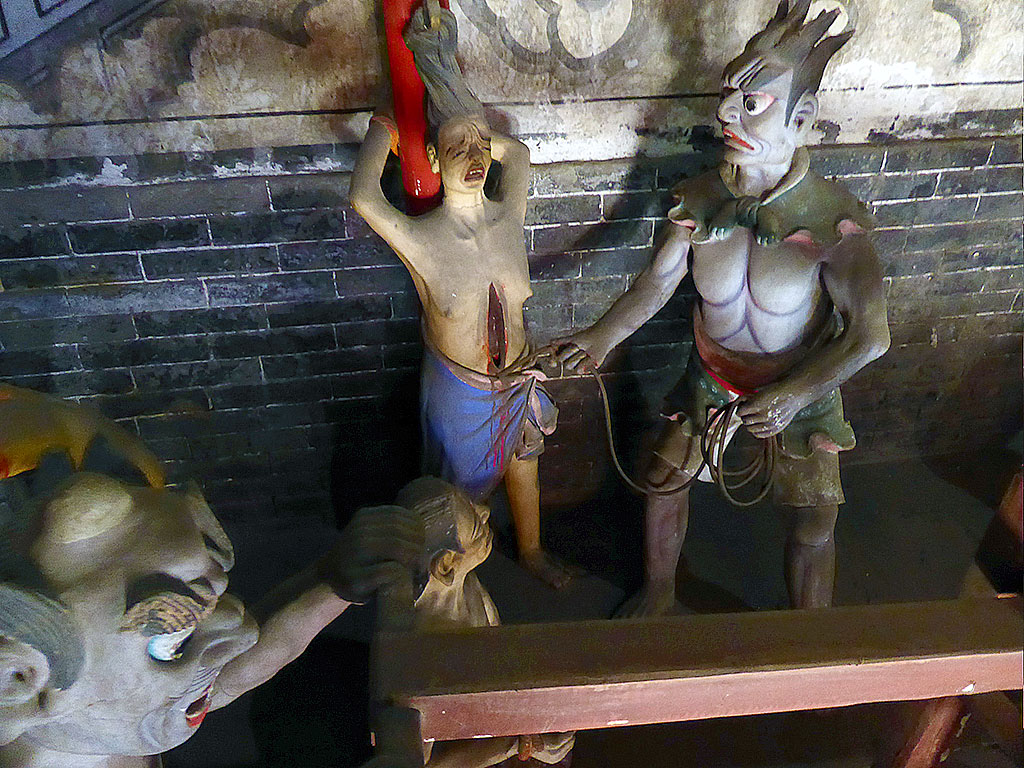 As we find ourselves close to the City Wall, we decide to follow it for a little while. We're amazed to see how authentic the city has remained, just off the main streets. There are narrow alleyways, full of rusty motorbikes and ancient handcarts, piles of coal in front of tiny hovels, old men sunning themselves outside crumbling doorways, but very few children.
The third hole punched in our through ticket: the Confucius Temple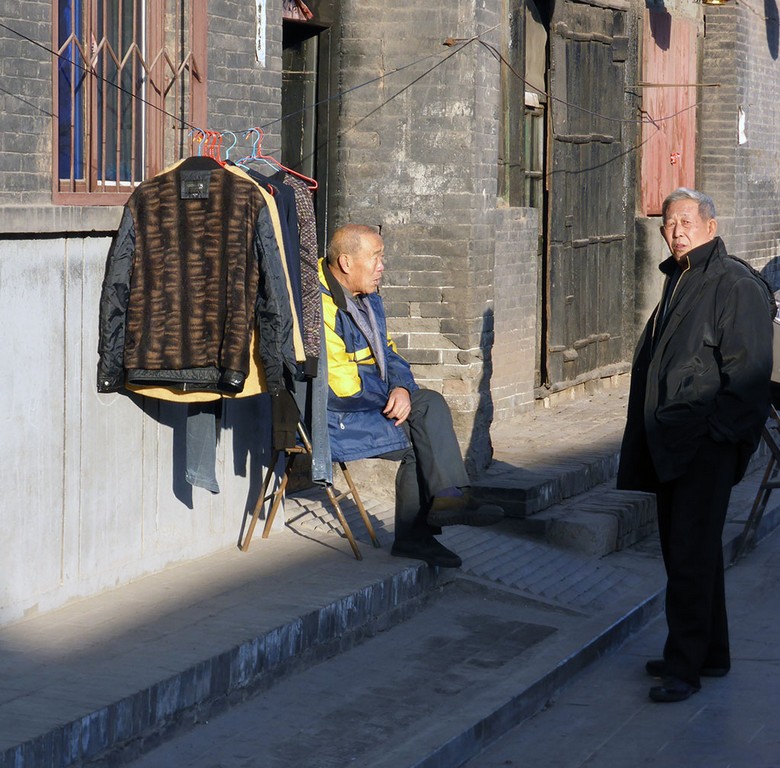 The third hole punched in our through ticket: the Confucius Temple. Most Confucius Temples consist of a succession of vast, but largely empty halls and this one is so exception. So, though listed as an AAAA site, it doesn't hold our interest for too long. There is lots of calligraphy and writing related to the examinations, which is probably of more interest to serious scholars.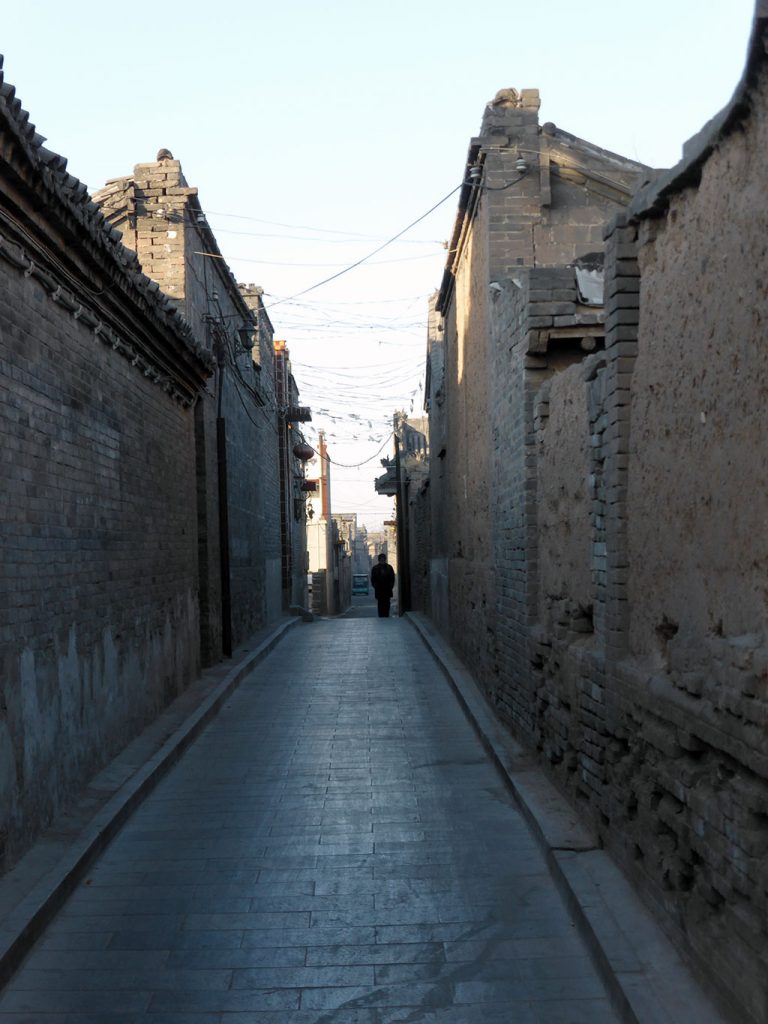 Tian Ji Xiang Museum
Our post-lunch fourth visit is to the Tian Ji Xiang Museum, the seat of a Ming dynasty international trading company. We find this one quirkier than the ones we visited yesterday, perhaps due to the animated displays of colourful little dolls, illustrating the workings of the company.
First Armed Escort Agency in North China
Fifth on our itinerary is the nearby First Armed Escort Agency in North China. The building looks similar to many we've seen before, but I was curious about those 'escorts', whose name conjures up all kinds of sexual images. Turns out they were the predecessors of today's security companies. The escorts, who were renowned boxers, accompanied and protected gold and silver transports.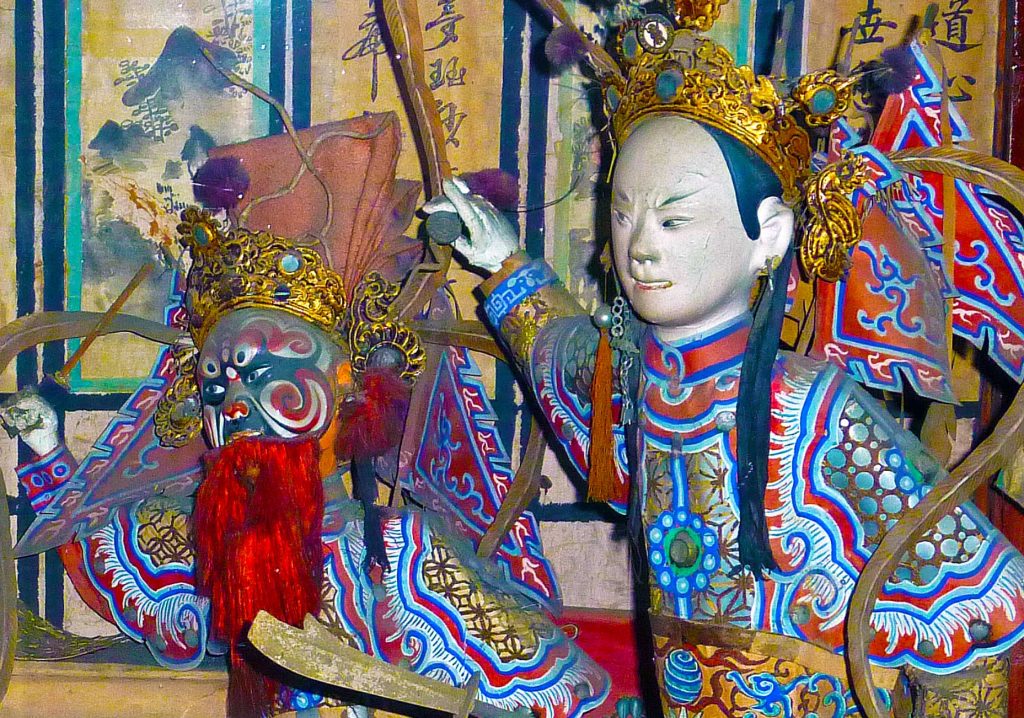 Sixth and last, but definitely not least, we pop into the Qingxu Temple, an ancient Taoist Temple, now doubling up as a museum with a fascinating collection of plaster and wooden statues. The latter were apparently carved from willow trees, as far back as the Song dynasty. The faces of the seated figures are incredibly serene, and their beards and pleated robes seem to flow.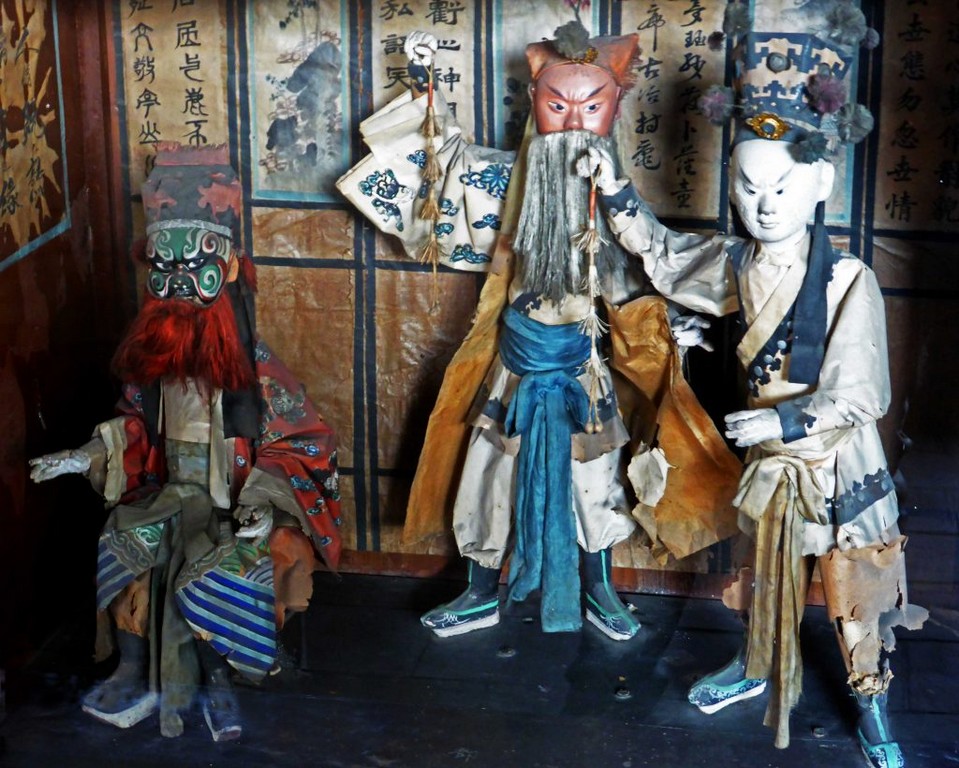 The other highlight is a series of display cases with 'Shage Xiren' dolls showing scenes from popular Jin operas, created by the famous artist Xu Liting between 1905 and 1906. The details in the faces, headdresses and costumes –made of delicate materials such as paper, clay, silk or wood pulp- are astonishing! Make link to small article found on internet
Two days in Pingyao: The City Walls
All sighted out, we go for a little walk on the City Walls, before they close at 17.30 on the dot. Although the sheer size of the Walls is impressive, as well as the broad walkway and the towers, the views from this North Gate area aren't exactly great: humble little houses, flat rooftops, messy backyards and lots of chimneys belching out coal smoke that makes our eyes sting.
Completely zonked, we have an early dinner at our hotel. The proud female manager points out several features of the handsome, spacious dining hall, such as the massive wooden pillars holding up the high ceiling, which are apparently centuries old.
PINGYAO PRACTICALITIES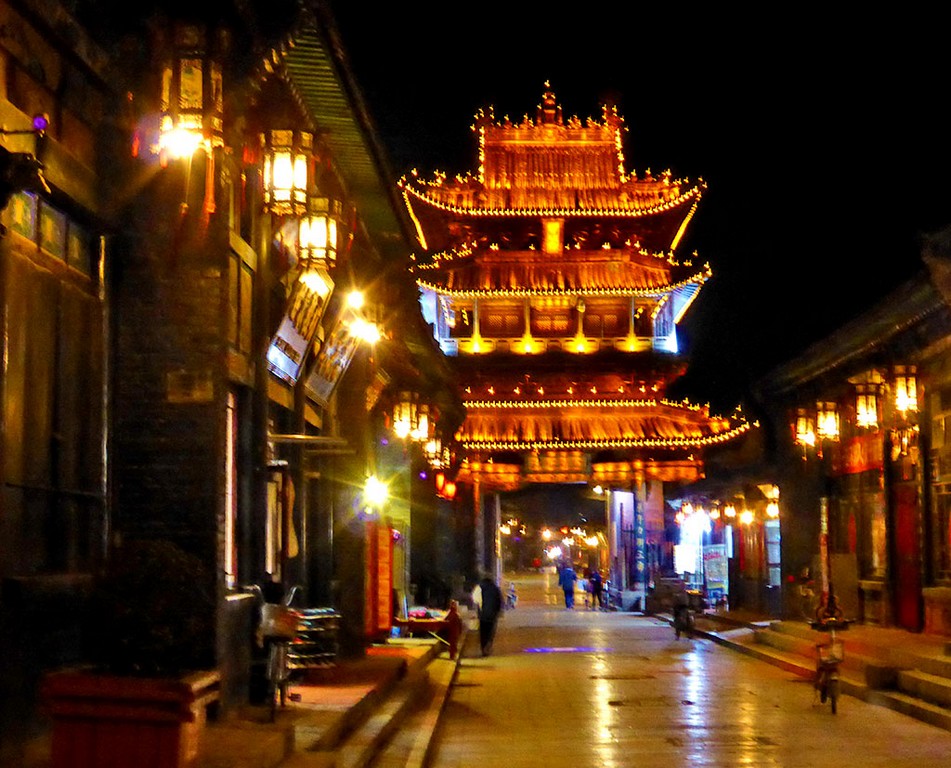 The Tong Piao or through ticket:
Entry to the walled city is free. However, admission to any of the sights requires a common ticket that can be bought at any of the ticket booths in the old town. Tickets are ¥150 as of winter 2018/19, ¥65 for students with valid student ID, and free for senior citizens over 60  (bring your passport). The tickets are valid for 3 days. On our last visit in 2016, 19 sights were included in the ticket, but that number seems to have gone up to 30 now.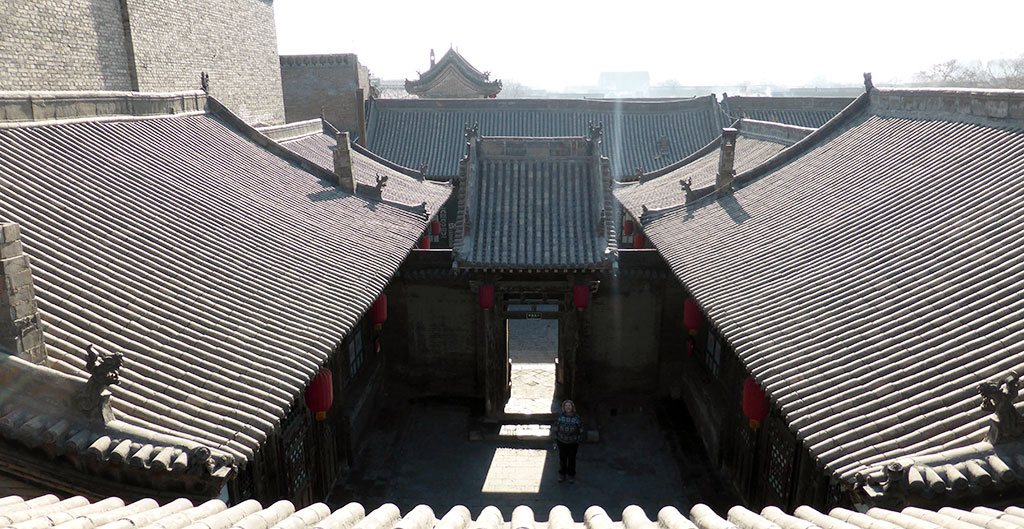 Many of the sights are Ming/Qing dynasty courtyard residences, converted into small museums dedicated to the buildings' former owners or businesses. Though the contents of some of these museums are only mildly interesting and English captions are few and far between, popping in and out of these mansions gives you a great chance to admire traditional Chinese architecture and interior design.