Tonghai Xiushan Park 通海秀山历史文化公园
Tonghai's Xiushan Park is one of Chna's hidden gems. It's very easy to reach from Kunming and well off the- beaten-track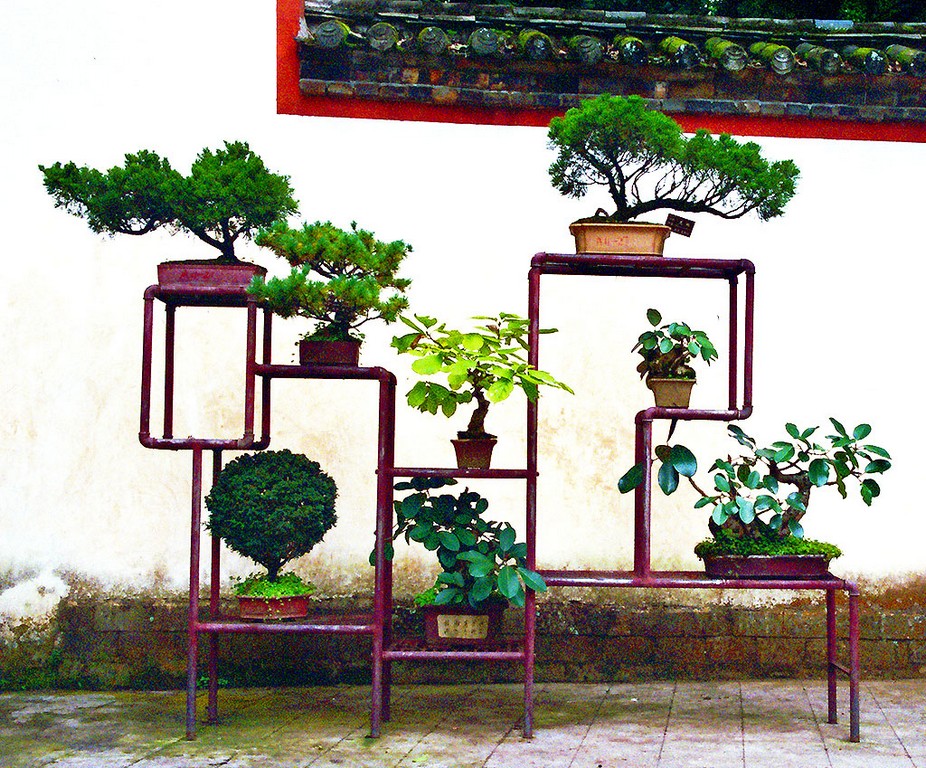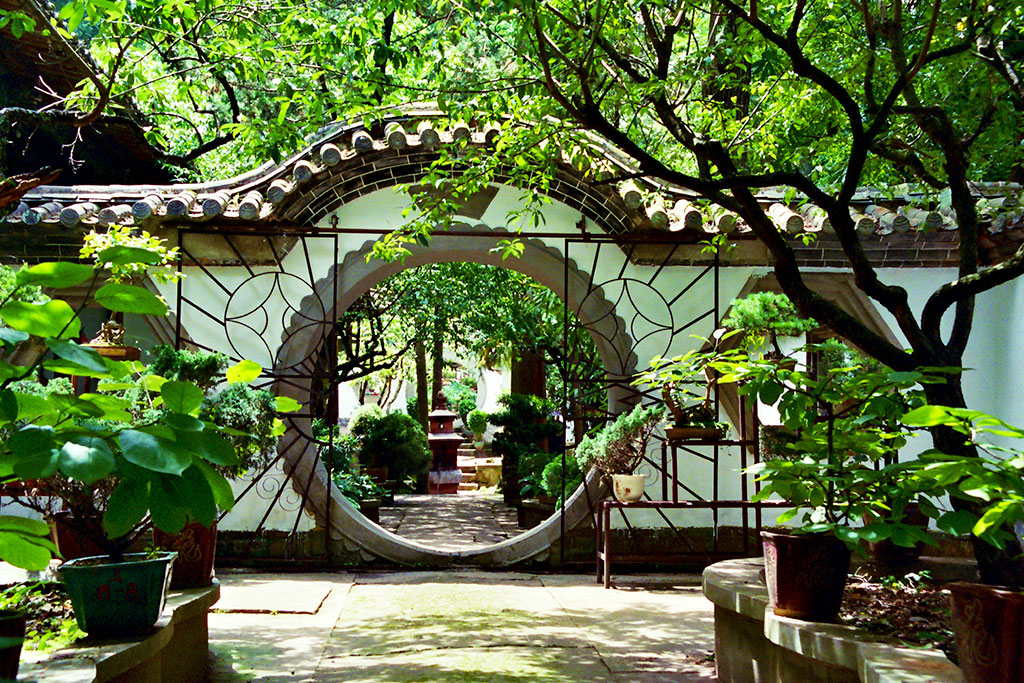 Part of a route from Kunming: Tonghai 通海-Jianshui-Yuanyang- Vietnam
This town to the south of Kunming makes for great stopover on the way to the stunning rice terraces of Yuanyang (Click here) and its rich minority culture, or Hekou, the border crossing for Vietnam.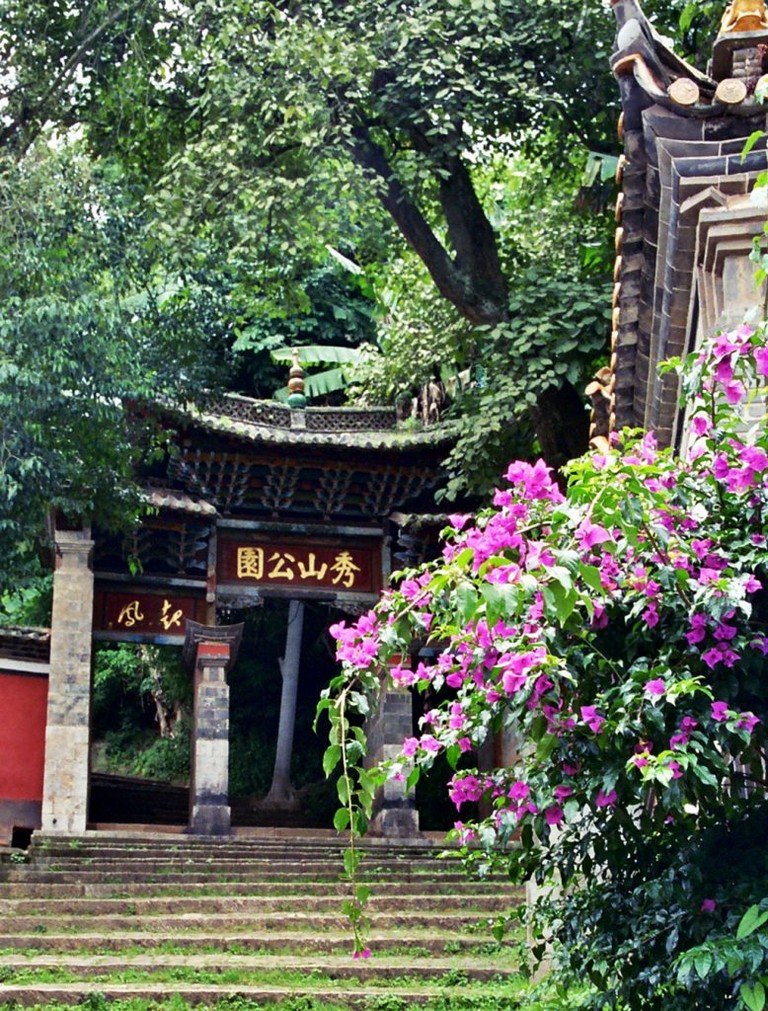 Getting to Tonghai 通海
The journey from Kunming to Tonghai takes less than three hours, a straight bus-ride down the motorway with very little in the way of visual distractions. Tonghai itself is a small agricultural town, a few kilometres from the Qilu lake, on whose shores a village inhabited by descendants of soldiers from the Mongol armies survives to this day.
Tonghai Today
The town, which is currently undergoing a beautification campaign, like so many others in China, is nothing to write home about. Unfortunately, many interesting old buildings, mostly dating from the Qing dynasty, have already fallen prey to the sledge hammer, while others are undergoing dubious reforms.
However, Tonghai's saving grace is its interesting population mix and, most of all, the wonderfully atmospheric Xiushan park.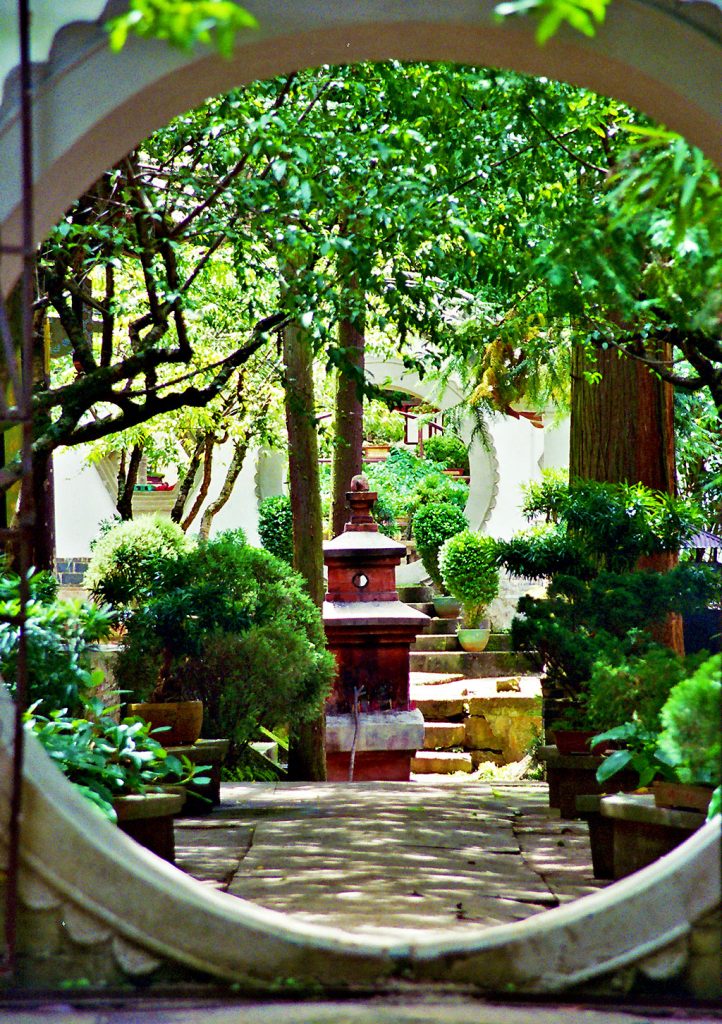 Tonghai's Xiushan park
Xiushan park is a large temple park in the style of China's famous Holy Mountains, set on Xiushan mountain, overlooking Tonghai city and Qilu lake. Its total lack of cable cars, souvenir stalls and tourists make this park easily one of the most pleasant and laid- back in China.
Those relatively few monks and pilgrims there are, earnestly pray and leave offerings for the gods, simple yet beautiful gifts of flowers, rice, candles and incense. Meanwhile, the locals sip tea and play Mah-jong, Chinese chess and cards in the courtyards of the temples.
Minimalist Bonsai gardens and ancient, gnarled trees of a variety of species, such as camellias, cypresses or firs, many of them held up by metal bars, add beauty and a kind of timeless charm to the place.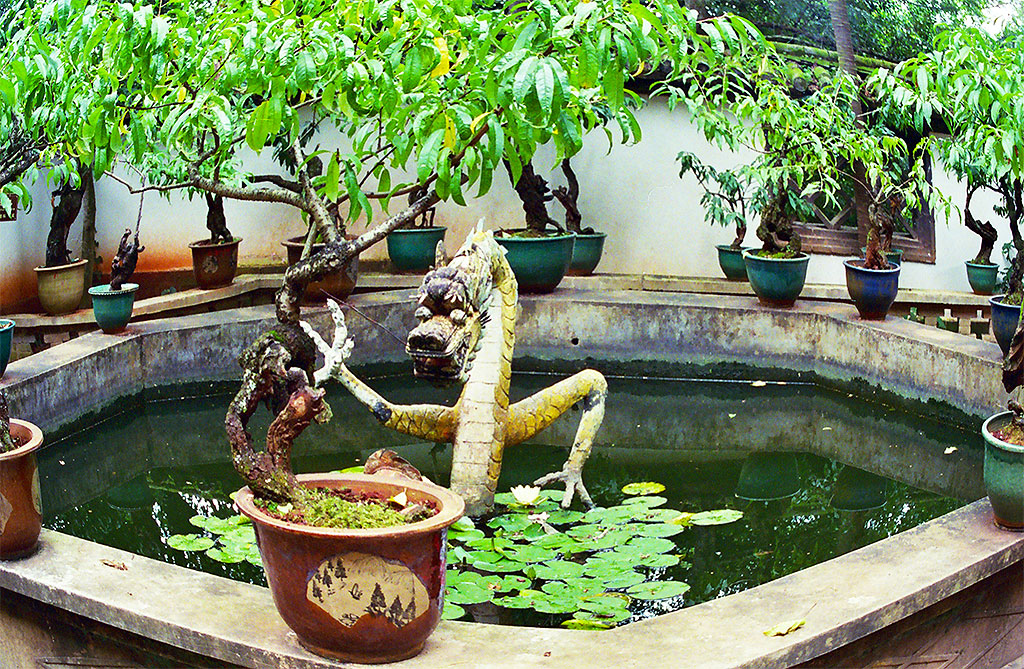 Besides trees, dragons are the protagonists of the park, either wrapping their bodies around pillars, cavorting above doorways, or splashing in fountains. All in all, it's a lush and peaceful place.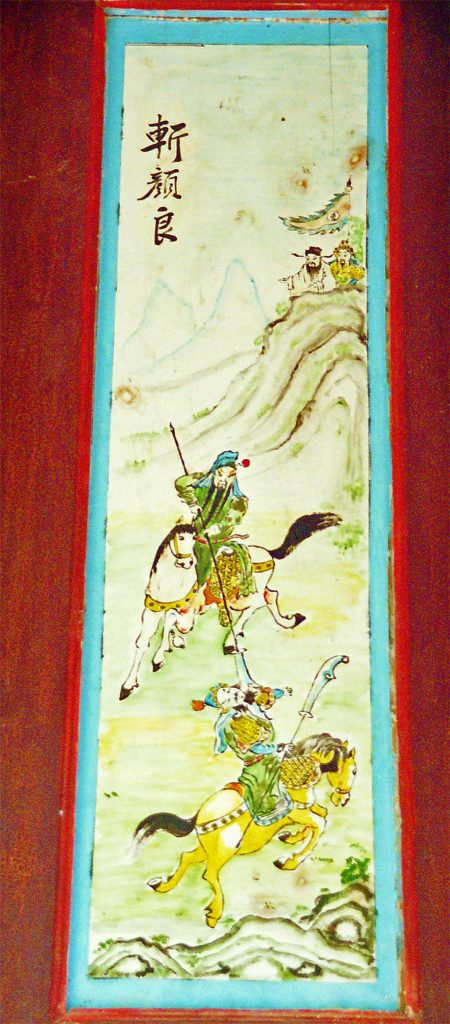 Entrance to the park is 15 Yuan and foreigner visitors still attract the curiosity of the locals in these parts.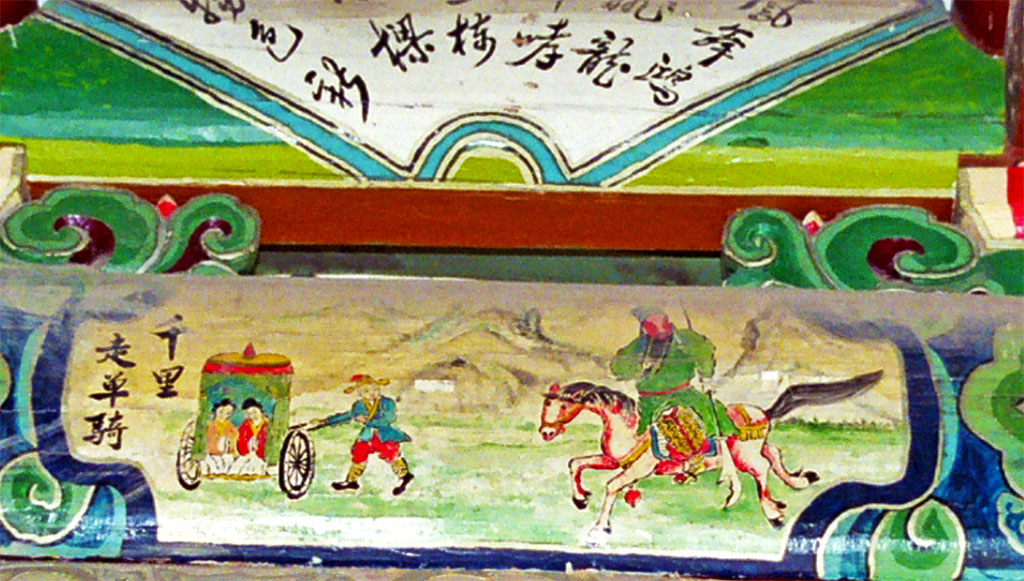 Practicalities:
Places to Stay and Eat: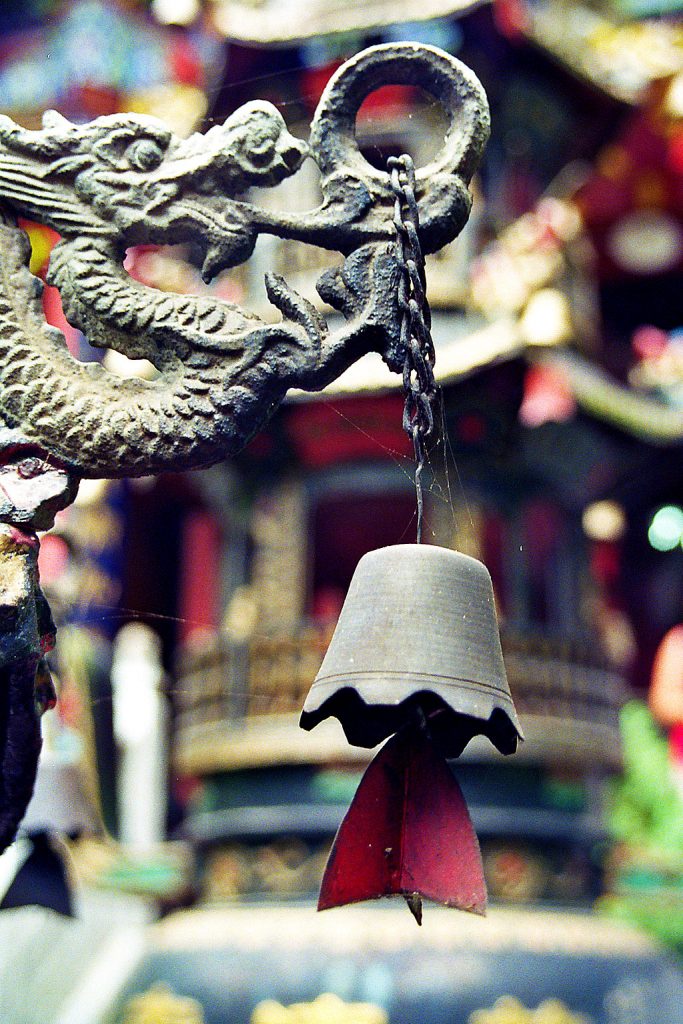 We stayed at the Tongyin hotel, supposedly the poshest and most expensive one in town, for 145 Yuan, including breakfast. You can't miss it, it's the tallest building in town, two minutes away from the bus station, on a main road. There is no shortage of cheaper hotels, most of them new, near the bus station and on the road into town from Kunming.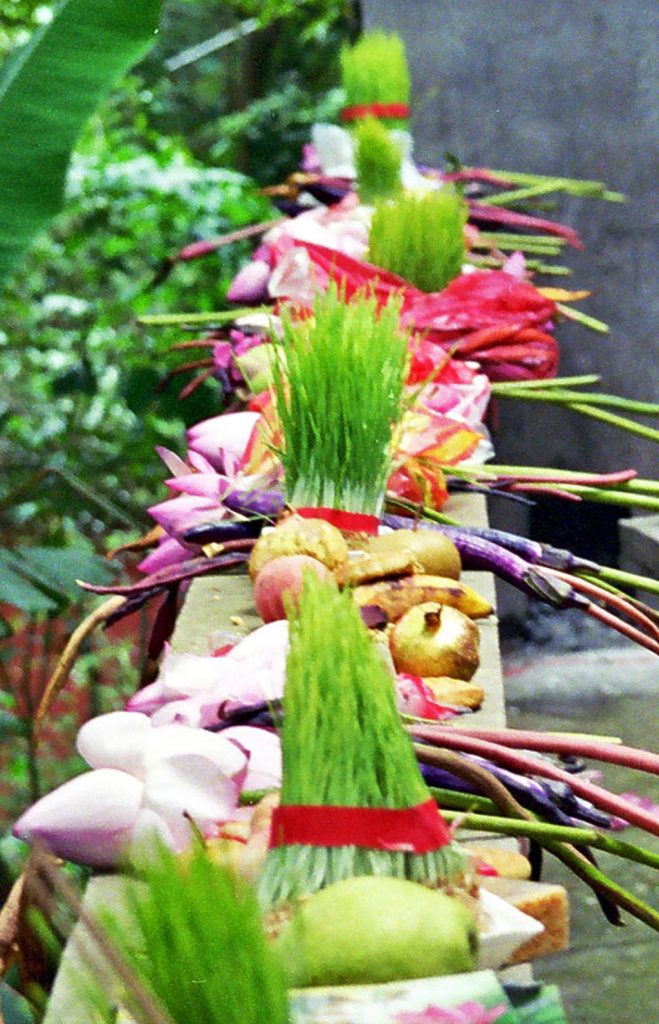 Food options in Tonghai are not great. There are a number of small hole-in-the-wall type restaurants near the bus station with lots of meat and hanging carcesses, or the entrance to Xiushan Park, as well as at least one smart restaurant inside the Tongyin hotel. A couple of decent supermarkets provide for self caterers.
Coming and Going
Buses to Tonghai leave from Kunming's main long-distance bus station regularly throughout the day. There are plenty of buses in the other direction as well. Regular buses leave for Jianshui, every two and half hours.