Shuānglín Sì / 双林寺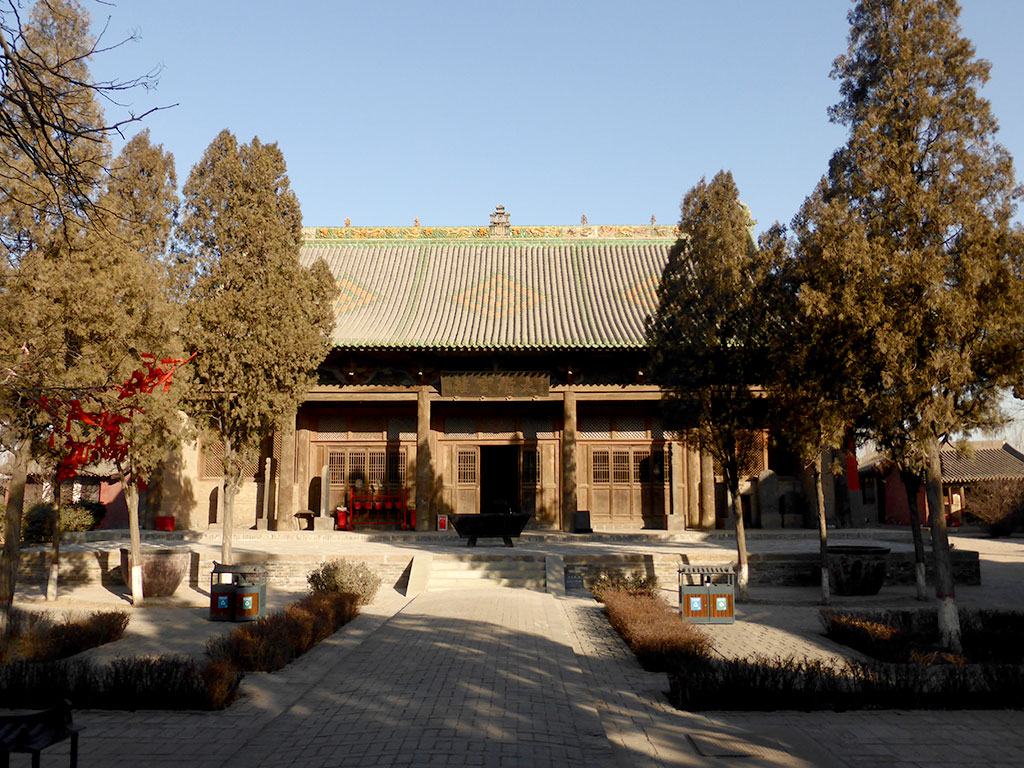 At half past 9 in the morning, when we get out at the Shuanglin Temple (Shuānglín Sì or 双林寺), we're in for a bit of a shock: though sunny, it's bitterly cold! Our breath's coming out in large white clouds and the thermometer has plummeted to minus 10º.
With one of those great Chinese understatements, our driver concedes that it's yidian leng (a bit chilly)! On the positive side, this means we have the temple almost entirely to ourselves.
The ancient and venerable temple complex – a UNESCO World Heritage Site since 1997 – is renowned for its over 2,000 painted clay sculptures, made by skillful craftsmen from the Song, Yuan, Ming and Qing dynasties (12th to 19th century). Though once painted in vivid colours, many of the sculptures have since faded to red, earthy hues.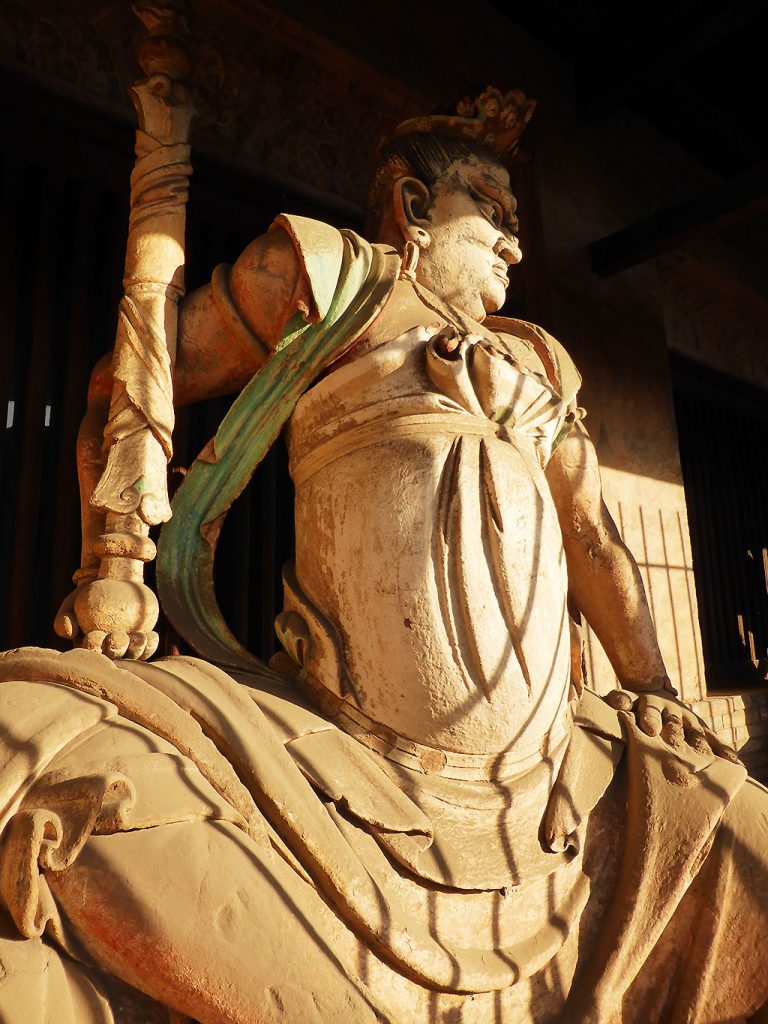 From the outside, the temple complex appears rather like a fortress, as it is surrounded by a high compound wall with a gate. Once inside, there are ten halls to explore, set around three courtyards.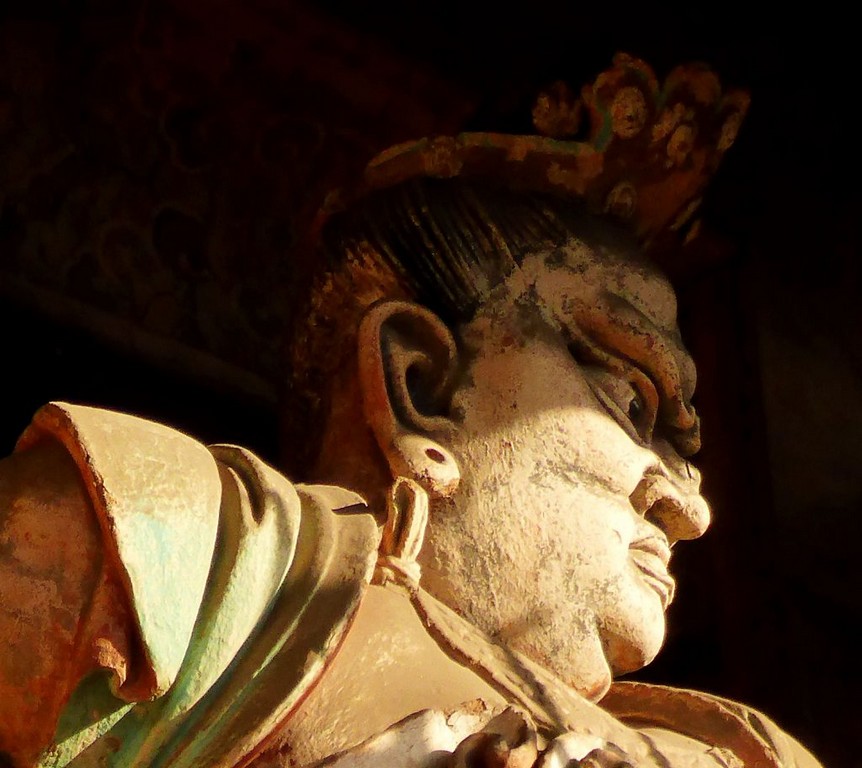 The first Hall is guarded by fierce warriors. The sunlight, slanting through the protective bars that surround them, hits their orange clay faces and distorts them into frightening grimaces.
In fact, all the sculptures are arranged behind bars, against backdrops of swirling water or clouds, mountains, gnarled trees, towers, buildings and other decorative elements.
Unfortunately, this makes it more difficult to fully appreciate them in the dusty half-light of the halls. We wish we'd brought a torch!
The sculptural themes focus on representations of the Buddha, Bodhisattvas (divine persons who have attainedEnlightenment, but postpone Nirvana in order to help others reach salvation), Arhats (Buddhists, especially monks or nuns who have achieved enlightenment and at death pass to Nirvana), Warrior Guards, Heavenly Generals, but also some common people.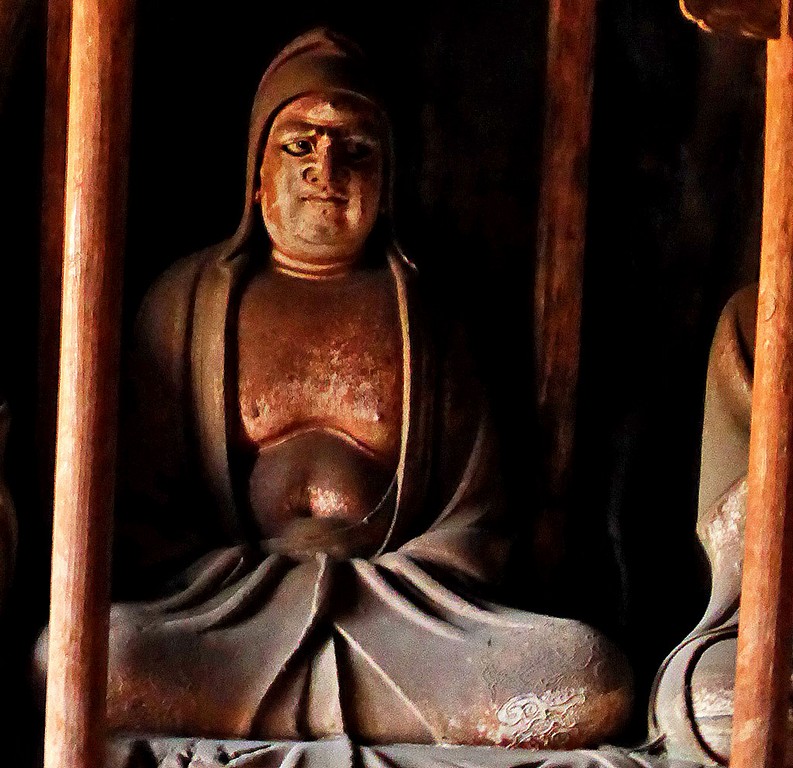 There is even a statue of the husband and wife who took care of the temple during the Cultural Revolution.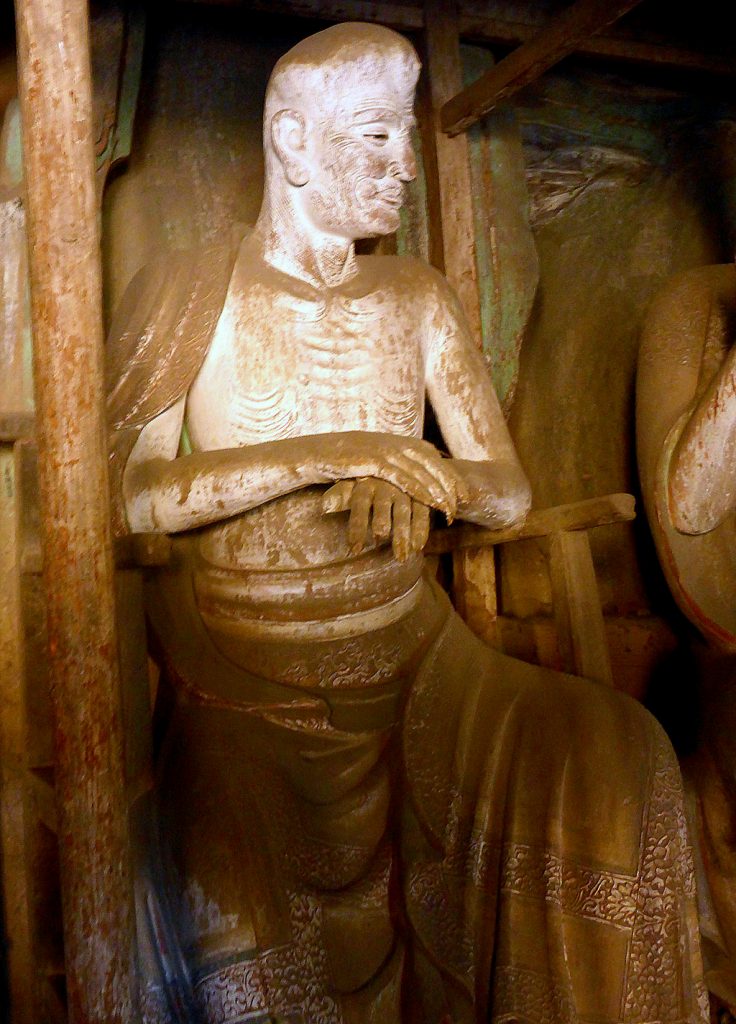 One of the halls to look out for is the Arhat Hall (Luohan Ting or 罗汉厅), with its 18 life-like and somewhat sinister Arhats, whose black- glass eyes seem to follow you around the room.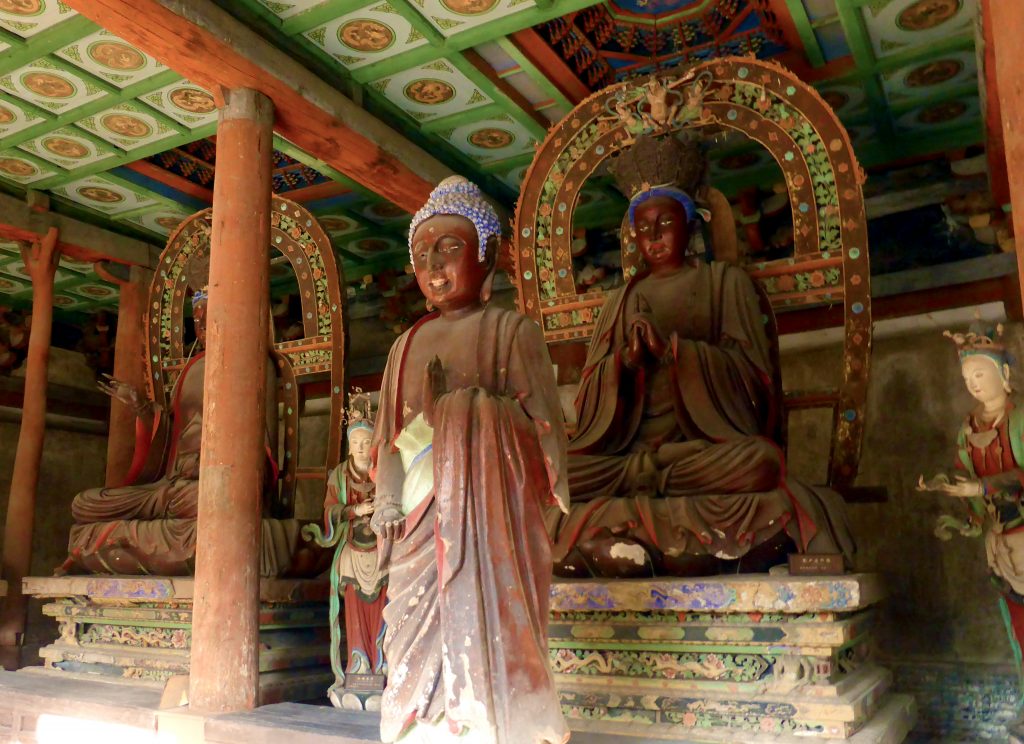 Don't miss the Bodhisattva Hall (Pusa Ting or 菩萨厅),with the sculpture of a young, attractive, female Bodhisattva, with twenty arms and  many more hands, dressed in richly decorated clothing.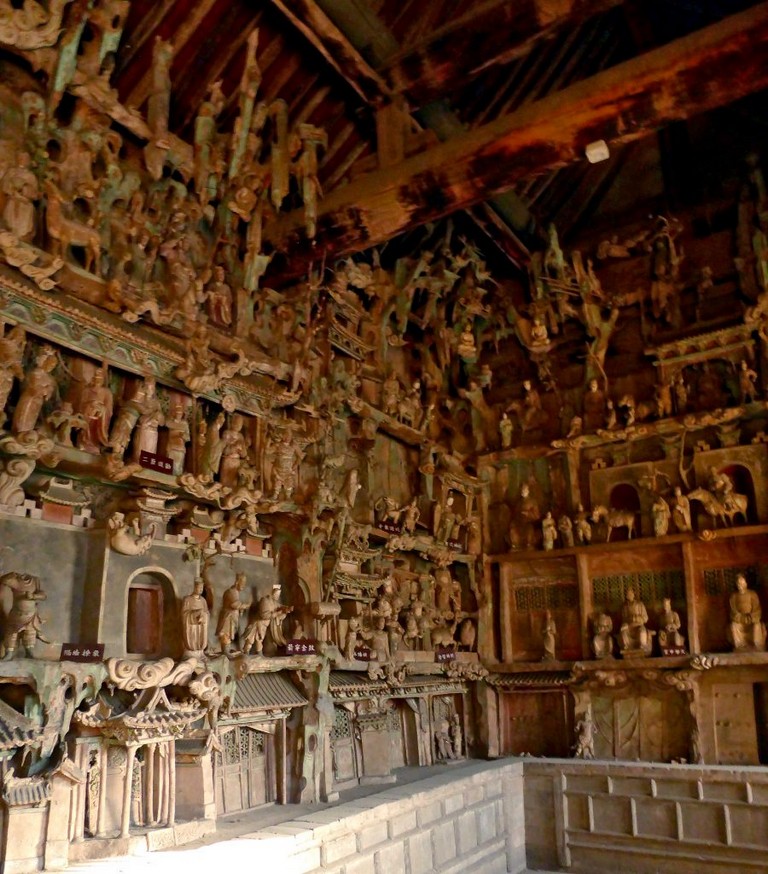 Last but not least, the many inhabitants of the Hall of a Thousand Buddhas, one of whom is seated on a coiled dragon, are considered masterpieces of Ming dynasty Buddhist sculpture.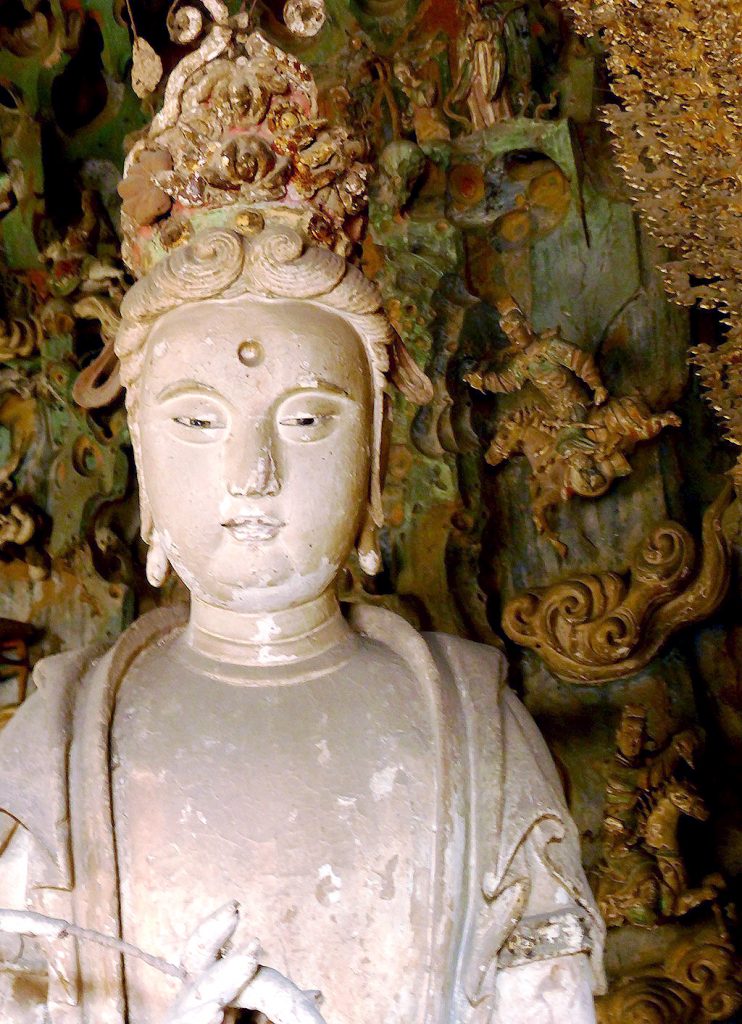 At the back of the last Hall, we climb up onto the compound wall in an attempt to find out where the music we've been hearing is coming from.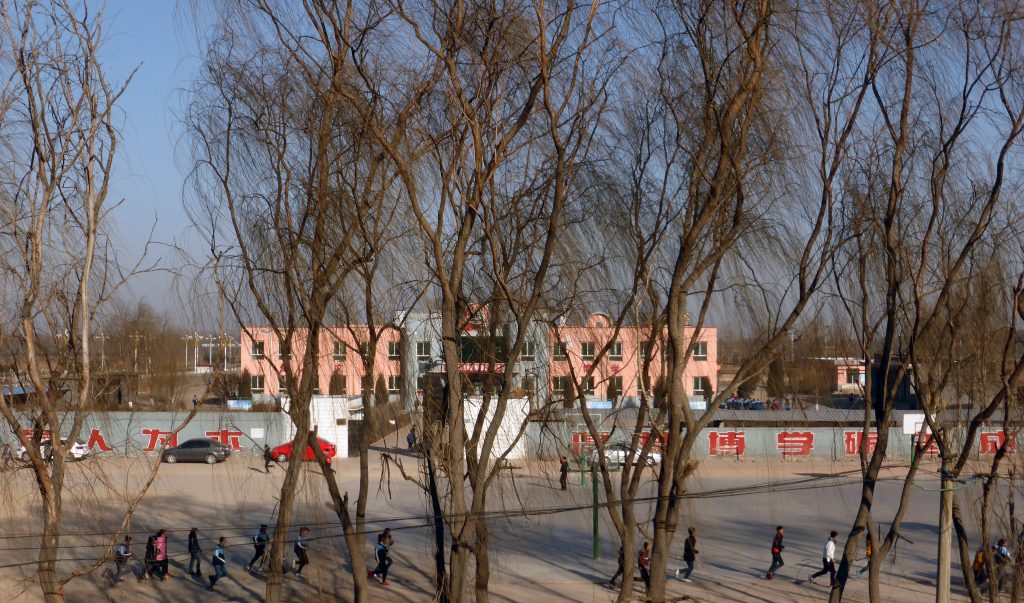 Turns out, there is a primary school right behind the temple and all the little kids are made to run around the schoolyard before class. Frozen as we are, we could do with a bit of running ourselves! And then there were the poor pigs; off to the slaughter house, just outside this spiritual and peaceful place.