Hua Shan Rock Paintings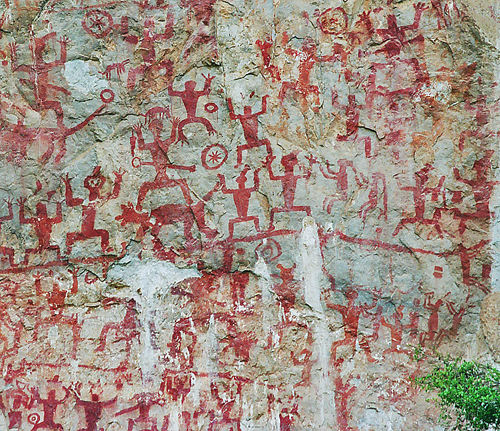 Rock Painting Hua Shan
The Zhuang are China's largest ethnic minority with about 15 million of them living in Guangxi province alone. In fact, the Zhuang are so numerous in Guangxi that the province is officially known as the Guangxi Zhuang Autonomous Region. The provincial capital Nanning, or 'the Green City', as it tries to promote itself, is a good place to base yourself for forays into the Zhuang heartlands. Already on 'holachina.com' we have articles on three prominent Zhuang areas in Guangxi: Yangmei village, Detian waterfall, and the 'Dragon's Backbone' Rice Terraces or 'Longji Titian' at Ping'an.
In appearance, the Zhuang are almost indistinguishable from the Han Chinese, though some Zhuang sub-groups, such as the black Zhuang, continue to wear their distinctive ethnic clothing. The Zhuang do, however, have their own language, which has been transcribed in a curious Romanised script.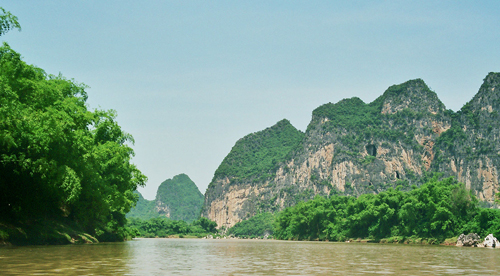 Zuo Jiang (Zuo River)
The rock paintings at Hua Shan are not only situated in the Zhuang heartlands, but they also mark the cradle of their civilization, as they are reputed to be at least 2000 years old. Thus, these paintings and other nearby archaeological sites provide evidence that the origins of the Zhuang can be traced back to a bronze age culture that was spread across south-east Asia. Above all, the rock paintings of Hua Shan give the Zhuang a sense of identity and territorial belonging.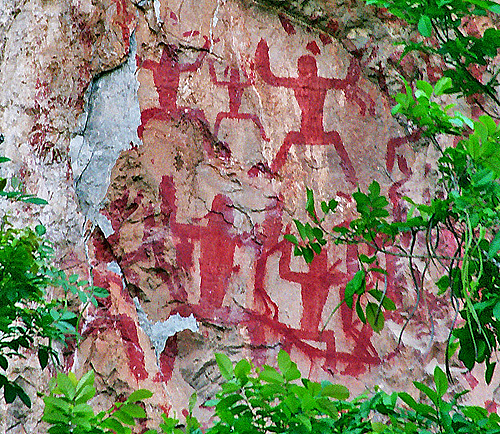 For a more detailed description of the rock paintings at Hua Shan go to the following site and read China's submission to have them put on the UNESCO Heritage List.
The Rock Painting of the Mountain Huashan – UNESCO World Heritage Centre
For more photos go to:
Holachina :: Gallery
Our Visit
The description below of our visit to Hua Shan is taken from Margie's dairy, dated 11/9/2006. For this trip, we had based ourselves on information in the Rough Guide (2005 edition), most of which proved to be no longer accurate. This is why we have decided to reproduce our journey, in order to guide future visitors.



…The 8 o'clock train to Pingxiang via Ningming is packed, not the sleepy affair we were expecting. The day is beautiful, as is the landscape; more green fields, buffalo, farmers with conical hats and karst hills. The train pulls in at Ningming at about 10.40. The actual station is called Ningming, not Tuolong, though the settlement may have that name.
We are received by a Miss Zhong (or a similar name), an electrical engineer at the sugar factory (it's all sugarcane around here) and part-time guide, and a friend of our guide on yesterday's trip to Detian Waterfall. We hadn't actually arranged to meet her, she just turned up on the platform waiting for us (presumably chartered by her friend – rather odd). She takes charge of us and leads us to a motor-rickshaw that will take us to the wharf. It's about 20 minutes by rickshaw and costs 15 Yuan. This is not Tuolong wharf – according to the people we ask that one is now only used by fishermen – but another one, just for Hua Shan.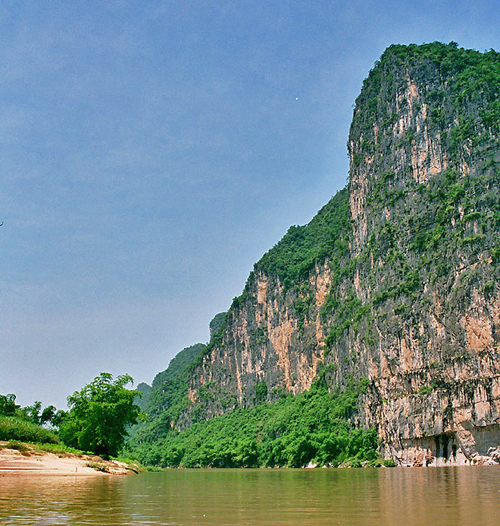 There are a couple of boats of different sizes moored here, but all is very quiet. Miss Zhong has 'anpai'-ed (arranged) a smallish wooden boat for us. She claims that the boat and the entrance fee come to 150 Yuan each, though, as we never get to see any tickets we have no way of knowing how much we have overpaid. Anyway, she organised it and there were no other tourists ( or anyone for that matter) in sight to share the costs.
The boat ride is lovely, we have almost the whole Zuo River to ourselves, except for one or two locals washing clothes in its clear waters, or herding buffalo on the shore. To us, it seems every bit as beautiful as Yangshuo and its surroundings; pity it only takes 40 minutes to get to the rock paintings.


In 2006 you couldn't get off at the site anymore, or walk around. Apparently there was restoration work going on and visitors were being stopped. Instead, the boat hovers on the river, while we stretch our necks and look up at the towering rock walls to try and make out the reddish paintings of primitive human figures and animals, as well as some figurative art. The paintings are very rustic and primitive, interesting enough to warrant the effort we had to make to get there, but really it is the stunning scenery that grabs our attention.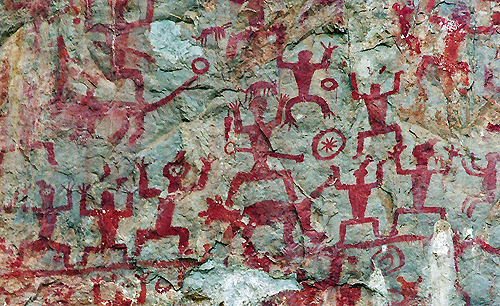 Then there is the equally lovely boat ride back – we could've stayed on the boat forever with a couple of beers – and we're back. You can do the whole trip in about 2 hours, not 5!
Where the boats dock, there's a small village and some signs leading to a small temple by the river. The temple is simple and new, but the riverside location is superb. A good place to sit and chill. There are ponds and paths, shaded by tropical plants, in an area parallel to the river; a great place to explore. Unfortunately, our rickshaw man is waiting, so we head back.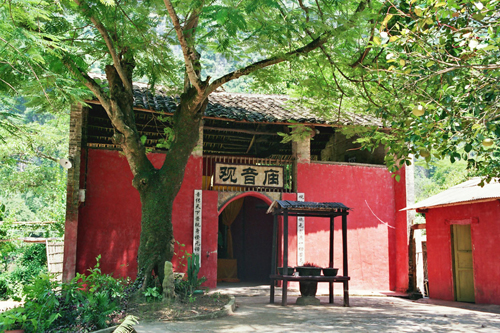 A couple of kms back towards the town we pass the sign for 'Longrui Nature Reserve', where, according to our guidebook, there is accommodation available and indigenous monkeys can be spotted (though our boatman has denied this).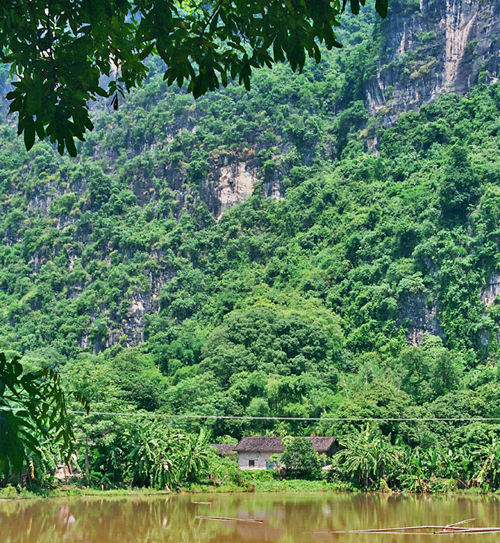 Back at the station we buy our return tickets and have some noodles in the one and only street of the railhead. Ningming 'proper' is about 5 kms away and we never get to see it.
The 15.23 train back to Nanning seems to be the sleep express, it's half empty and most people are spread out over the seats, fast asleep….

Coming and going:
The rock carvings at Hua Shan make for a great daytrip from Nanning. The only real problem is getting a boat and finding out where they leave from. It seems that all the boats for the rock paintings now leave from a mooring some 20 minutes by motorized rickshaw (15 Yuan) from the railhead at Ningming. At the mooring there is a ticket office. We can't say how much the tickets cost, or how difficult it would be to charter a boat, as the entrepreneurial Miss Zhong did all the organising for us. We can only say that we never saw another tourist, foreigner or Chinese, the whole day.