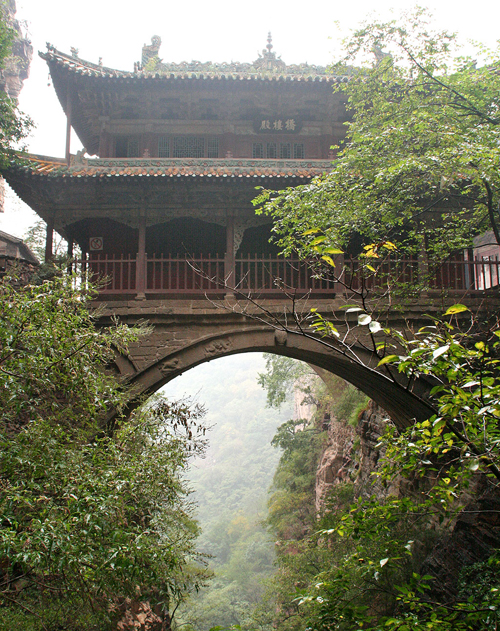 Cangyan Shan Mystic China is not the easiest place to get to on a day trip from Shijiazhuang. We found out too late that the one and only daily bus (at least in late September) from Shijiazhuang to Cangyan Shan leaves at 8.00h.  As we had already missed it, it was a case of either not going, or hiring a taxi.
We spoke to a driver waiting outside a hotel and agreed on 300 Yuan for the whole day. It took us about 2'5 hours to reach the mountain, along a nightmarish motorway, full of overtaking lorries.


In spite of his protestations to the contrary, our driver had never been to Cangyan Shan before and kept stopping at other mountain temples on the way, hoping they were what we were looking for. As it turned out, this was a bit of an unexpected bonus, as one Buddhist nunnery we stopped at was very attractive. After giving us an exhaustive tour around, the friendly nuns were able to orientate the driver on how to get to the real Cangyang Shan, a mere 5 kilometres away.

The Hanging Palace
The highlight on the holy mountain of Cangyan Shan is the Hanging Palace, a double roofed hall, originally built during the Sui dynasty (581-618) and restored during the Qing dynasty. The Hanging Palace is what we imagine when we dream of ancient China: a simple, yet elegant monastery, impossibly perched on a stone-arch bridge spanning a gorge, surrounded by thick forest.
The misty air and the whiff of incense it carries back from the temples, all add to the sense of mystery. Whether looking up at the monastery from the bottom of the gorge, or looking down on it from the mountains above, the sight is spectacular and at times surreal, as if transported from another era.


The rest of the mountain is pleasant too. A number of interesting temples dating from the Ming and Qing dynasties line the circular route, a few still preserve their ancient frescos. In the distance you'll see pavilions balancing precariously on rock faces and pagodas peppering the landscape.


The whole walk takes about two and a half hours and is not too strenuous. There are a few places to stop and have a beer or a snack on the way. We visited on a mid-week day in late September, when there were only a few other pilgrims to accompany us around.
Cangyan Shan Mystic China can be busy
We were told that weekends, especially during the high season, could get quite crowded. The local authorities certainly seemed to have high hopes for Cangyan Shan as a tourist destination, for extensive road works were underway to improve the paths. There is of course the obligatory 'piao', or entrance ticket, to be purchased.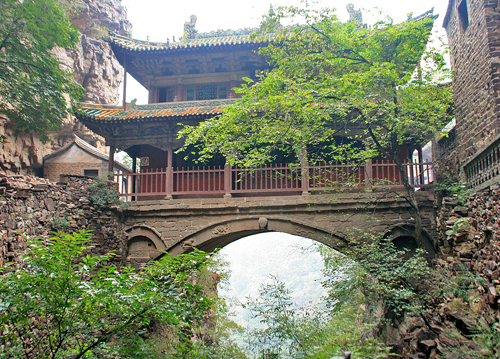 The whole area near Cangyan Shan boasts a number of other scenic and holy mountains that would probably be worth exploring. You can see them signposted along the way. Our driver particularly recommended Phoenix Mountain (Fenghuang Shan), a further 38 kilometres down the road, though we couldn't work out whether he had actually been there, or whether it was all hear-say.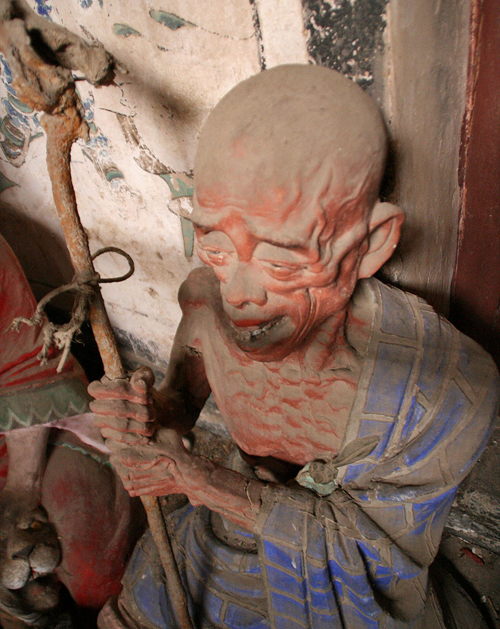 in all probability one of the most terrifying roads in China
One negative thing about the journey to Cangyan Shan is that the first part goes along the Taiyuan – Shijiazhuang expressway; in all probability one of the most terrifying roads in China. Thousands of enormous and overloaded coal trucks, bringing in coal directly from Shanxi's mines trundle down the road, frequently overtaking without using their wing mirrors or indicators and with no regard whatsoever for other vehicles. In the mere 40 kilometres you have to cover on this highway from hell we saw 4 accidents, one of which looked particularly grim.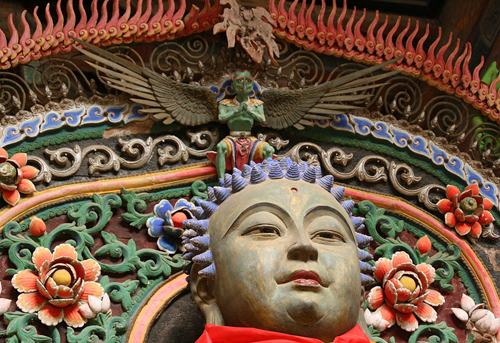 Near misses, including some involving our car, and that with our driver being extremely careful, were continuous. We would say that this nerve-racking experience was on a par with the notorious Chola Pass near Dege in Tibetan Sichuan, where our bus nearly fell down the mountain side.
Update: If you hire a driver from Shijiazhuang, it might well be worth visiting the clan village of Yujiacun 于家村 which on a map seems quite close. We didn't know about this place in 2007, but it comes highly recomeneded in the newest editions of Lonely Planet.