Ganzi /Garze/甘孜
(by Margie)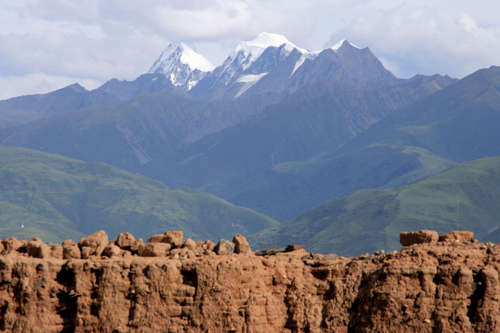 Ganzi /Garze /甘孜 Revisited. Ganzi is a place to visit more than once in your llifetime. If asked about our favourite place in China, Ganzi would be one of the first to spring to mind. Ganzi to Dege (click here).
Ganzi /Garze /甘孜 Revisited: Our First Visit
We have passed through this small town in the heart of Tibetan Sichuan a few times since 2004, and last year was another opportunity. Ganzi has everything – except nightlife perhaps – a traveller could possibly want: wild and majestic mountains rise up just beyond its last houses, offering amazing hiking opportunities; scarcely explored, ancient monasteries dot the landscape in every direction; the large Ganzi Si looms high above the Tibetan quarter, offering great views of the surrounding countryside.
Down below, in the town centre, there are quiet, old streets of wonderful traditional architecture, bustling shopping streets, lined with colourful shops selling a whole array of exotic Buddhist paraphernalia, a hidden temple or two, as well as a cool
Where to see the action
Tibetan teahouse cum bar with terraces over the main street, from where you can watch the world go by, or simply observe your fellow customers.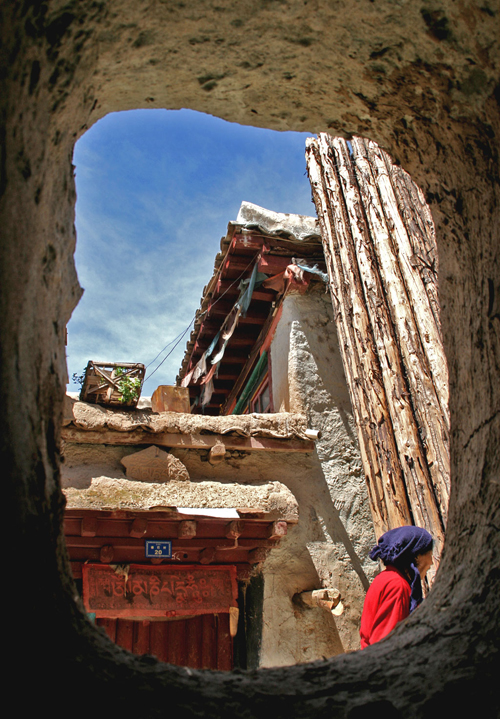 You might well be drinking next to a Lama, or some other important dignitaries. The shops underneath and opposite the bar are frequented by Tibetan Khampas who swagger into town dressed in their traditional clothing, complete with hats and knives.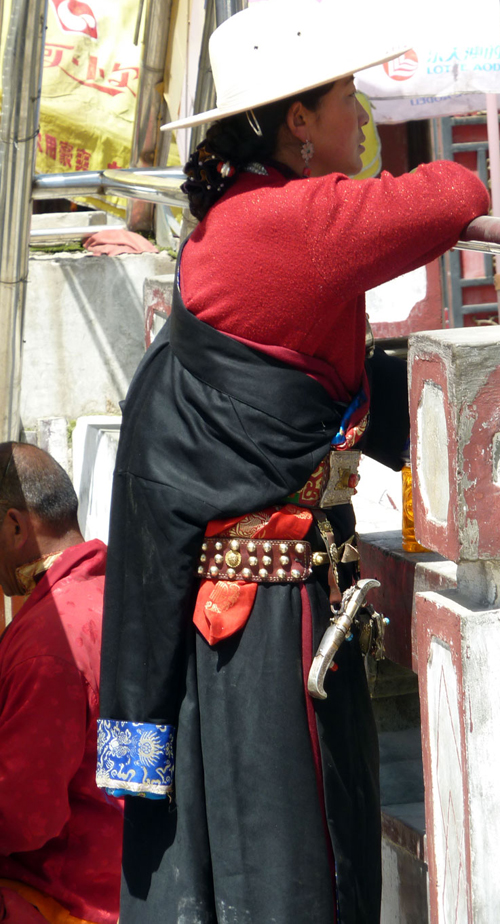 Ganzi /Garze /甘孜 Revisited: Changes are on the way
Of course, even in Ganzi time has not stood still. Nowadays, rubbing shoulders with the traditional Tibetan town of sturdy wooden houses, colourful decorations, beautiful flowers and fluttering flags there is a modern Chinese town, with its usual nasty white tiles, tinted glass and tatty constructions.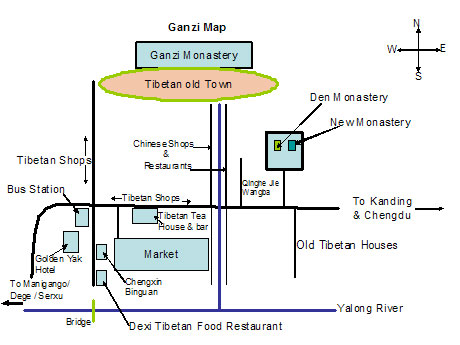 This is where you will find most modern shops, as well as a good selection of restaurants.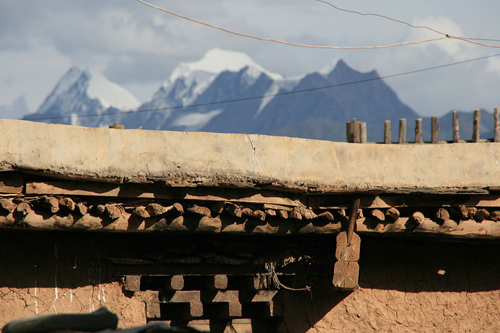 Fortunately, though the Chinese part has encroached upon the old town since we first saw it in 2004, Ganzi is still firmly Tibetan in spirit and character.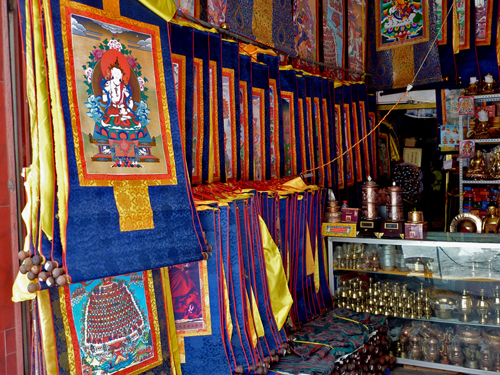 Tensions were running high
To keep these indomitable Tibetans in check, the Beijing authorities  installed a huge army base to the East of town. Government control has been particularly strict since the 2008 disturbances in the Tibetan areas of Western Sichuan; especially the rioting at the Tongkor Monastery, about 60 kilometres from Ganzi, where several monks are said to have been killed for refusing to denounce the Dalai Lama.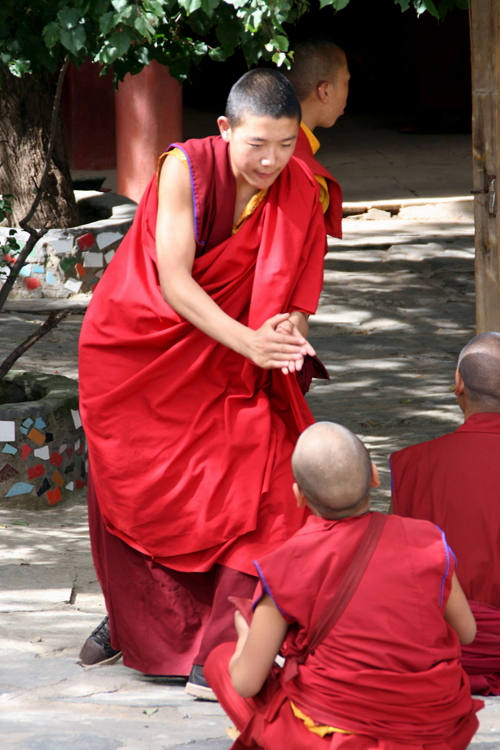 It is reported that a number of monks from Ganzi's principal monastery, the Ganzi Si, were also taken away and have not been heard of since.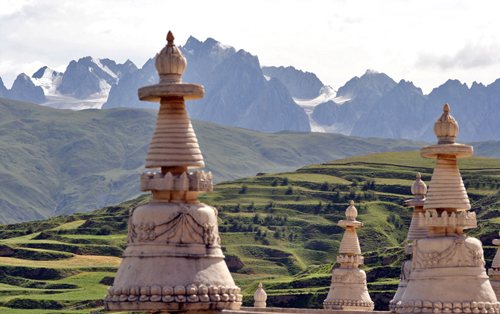 Though we have no way of confirming these reports, we did notice a considerable decrease in activity at the monastery. When we first visited in 2004, the whole place was a hive of activity, with hundreds of monks feverishly going about the construction of new chapels. Other monks, such as our horse-riding friend (mentioned in our Tibetan Sichuan route) were relaxing in their homes and happy to talk to us. This time, the monastery was quiet and the monks elusive.
Even at the evening debating sessions there were only a handful of participants. It was curious that, just as the monks started their debating, soldiers on the parade ground below, clearly visible from the monastery, began chanting slogans, in what seemed a deliberate attempt at disturbing the debates.
For more on the riots and the fate of Tibetans in Western Sichuan, check out the following websites:
http://www.state.gov/g/drl/rls/hrrpt/2009/eap/135989.htm
http://www.hrw.org/en/news/2009/03/09/china-hundreds-tibetan-detainees-and-prisoners-unaccounted
Ganzi /Garze /甘孜 Revisited: Ganzi Practicalities
Things to See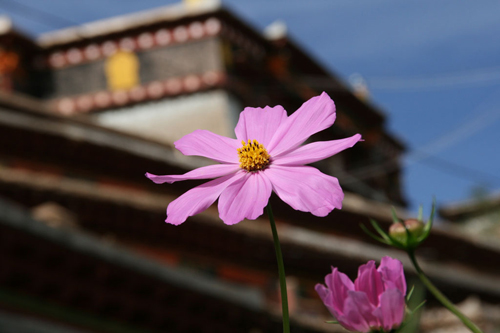 For things to see in Ganzi you can start by reading our article from 2004. Apart from the obligatory visit to the interesting Ganzi Si, there are several other areas worth exploring.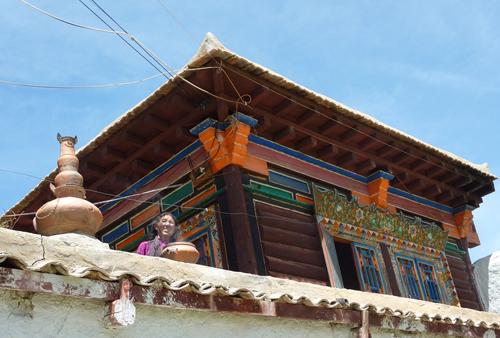 For traditional architecture, you'll find the largest part of the Tibetan town clinging to the foot of the hill on which the monastery is built.
There are some lovely streets here with half-timbered houses, tiny neighbourhood shops and workplaces, hidden prayer wheels, and lots of enticing alleyways to lure you away from your chosen route up to the temple.
There is another lovely and peaceful Tibetan area in the south of town, around the stunning old Den Monastery, with some ancient mud-brick houses, as well as newer constructions. Look out for the curious, round vessels with three necks and what-look-like little faces, you can find on the rooftops of many houses.
Finally, running down towards the river there are a few streets with some heavy, fortress-like constructions, surrounded by high walls. Many Tibetan businesses, especially those selling clothes and religious regalia, have also set up in newer buildings on and off the main street near here.
The Den Monastery or Gompa
Whatever you do, don't miss the Den Monastery or Gompa in the south of town. This incredibly colourful and atmospheric place must rank as one of our favourite temples ever; and we have seen quite a few!
To get there; follow the main street, away from the centre, until you come to a side street to the left. The entrance to this street is marked by a white gate, topped by tiny stupas.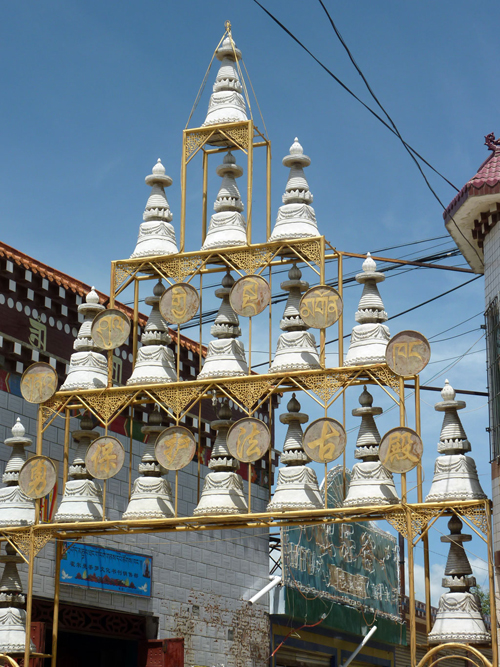 When we first stumbled across this little gem, it was in the midst of massive restoration works.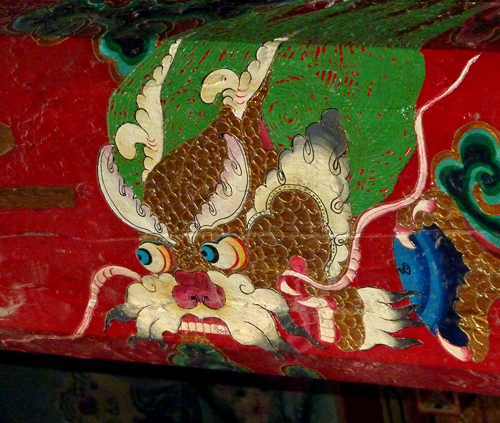 Now the work has finished and the monastery's inner walls have been converted into a riot of colour. In their restored glory, the Tantric images and gory scenes from Hell leave nothing to the imagination.
The Den Monastery or Gompa: the inner sanctum
Meanwhile, the inner sanctum, dedicated to the fierce Protector God Nagpo Chenpo (or Mahakala), remains shrouded in mysterious darkness and guarded by a gruff monk. You can take the inner kora (or pilgrimage path) and walk behind and around the large statues. The walls here are covered in ancient, fast fading paintings; some of a more benign kind.
Next to the old temple, a shining new one has sprung up, full of large, golden statues, encrusted with hundreds of semi-precious stones and partially covered by brocade robes.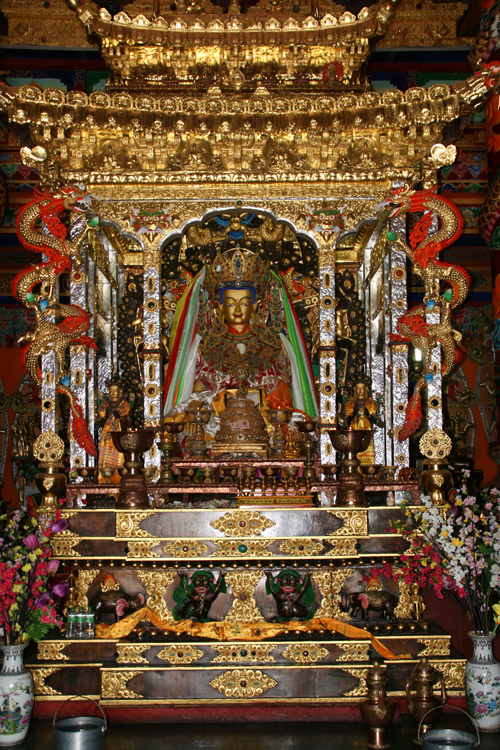 The monks at this temple were very friendly and open. They seemed to take pride in our obvious delight with the place and let us take all the pictures we wanted. They tell us that the new hall was completed in 2007. The relaxed ambience at the Den Monastery, the surprising presence of images and photos of the Dalai Lama, as well as the considerable amount of money that must have gone into its renovation and extension, made for a strange contradiction with the strained and subdued atmosphere at the Ganzi Si.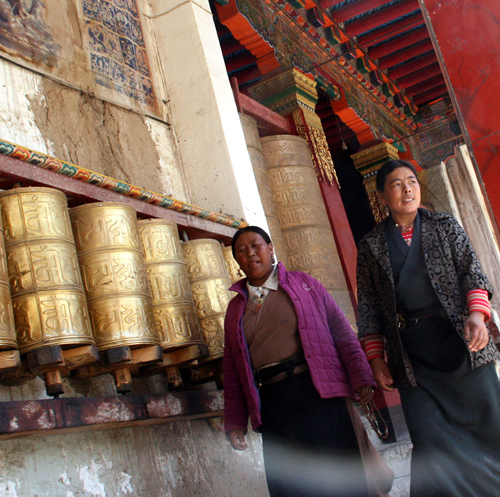 Ganzi /Garze /甘孜 Revisited: Places to Eat and Drink
Opposite the bus station, slightly to the left and up one flight of stairs, is the wonderfully characterful Dexi Tibetan Food Restaurant. This welcoming place is painted in bright colours and furnished with Tibetan-style wooden benches, covered in rugs, and low tables. An old-fashioned stove, loaded with steaming pots and gleaming kettles, occupies a central place in the room. This is definitely the place to go on a damp, cold evening; to warm up and stuff yourself with potato dumplings and cheese bread, accompanied by and dipped into a tasty bowl of spinach soup (called the Tibetan vegetable bowl on the menu).
If you are a carnivore, you are in luck: the list of meat dishes is enormous and portions are huge! The Barley wine – in spite of its rustic name it comes out of a modern tin – is quite pleasant too.
Despite the English menu, the restaurant caters mainly to a Tibetan clientele. Important Lama's frequent this place; as you can tell by the reverential treatment they receive from the staff, and small banquets of monks are celebrated in private dining rooms at the back.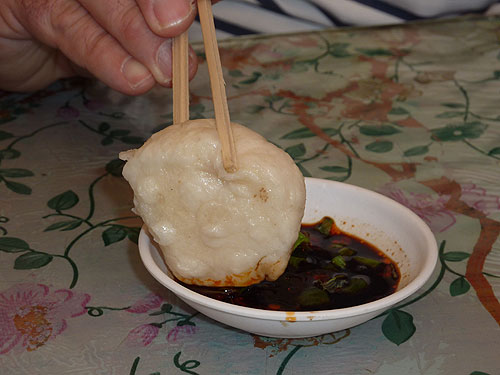 All around the bus station, there are small, hole-in-the-wall eateries, serving mostly dumplings and noodles, with or without soup. Though most dishes contain meat, we persuaded a little, Chinese-owned place to make a fresh batch of vegetarian dumplings, especially for us.
The Mengyuan Taiqiu Chafang
If you like people watching, the Mengyuan Taiqiu Chafang is a funky Tibetan joint with a small balcony overlooking the main street.
Look out for the signs announcing billiard tables and go up the narrow stairs.
It's a great place to have a beer – or any drink – and watch the comings and goings of this busy town.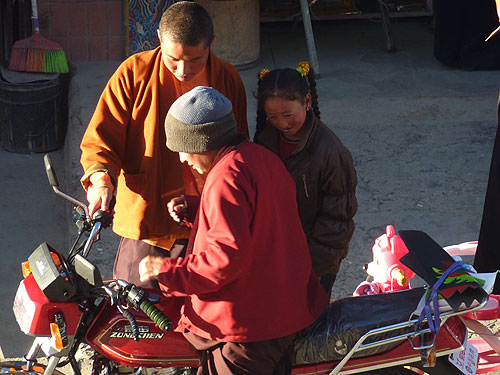 One word of caution: though there were plenty of monks among the tea-drinkers, the curious stares I attracted, as well as a certain air about the place, made us wonder whether it might not double as something seedier, late at night…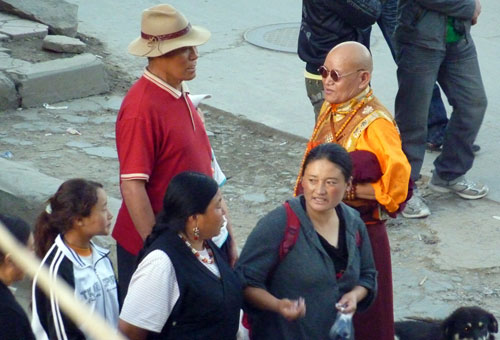 Finally, along the river, on Hexi and especially Hedong Lu there is a range of Chinese restaurants. We found a great place specialising in shaguo, a type of stew cooked and served in a clay pot. The vegetarian one we tried had potatoes, mushrooms, tofu, noodles and green vegetables; though there were plenty of meat and fish options too.
 Places to Stay
Although the Jin Mao Niu or Golden Yak Hotel has lost quite a bit of its 2004 glamour, it does have piping- hot water these days (see our 2004 Diary). Moreover, its large, bright and clean rooms are regularly discounted to 150 Yuan, staff is friendly and helpful and its location inside the bus station compound is unbeatable.
Things to Buy
As Ganzi isn't a touristy town (yet), it's quite a good place to pick up souvenirs. There are many shops selling Thanka's, prayer wheels of various sizes and shapes, prayer flags, Tibetan clothes, boots, hats and knives – although the latter tend to be quite expensive.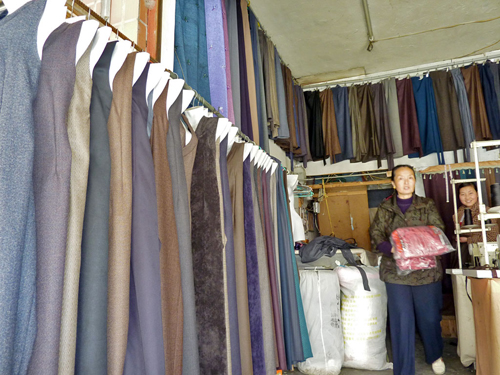 I found a Tibetan dress, a pin-striped charcoal pinafore, in her size (fortunately, compared to the Chinese, Tibetan ladies are quite large and sturdy) for 130 Yuan. Surprisingly, the seamstresses running the shop were all Chinese, though the clientele was Tibetan. Yet another example of Han Chinese entrepreneurialism!
Medical Care
Hopefully, you won't have to visit the Renmin Hospital, as poor Adam was forced to do because of his continuing altitude sickness. We were aghast at the utter lack of hygiene and the filth of the place: there were cigarette butts on the floor and bloody Q-tips lying around. The bed he was put on, to breathe some oxygen from a rusty tank, had stained sheets and all the equipment around what seemed to be the Emergency Room was covered in a thick layer of dust! The doctor who was called in to have a look at him had a quick last drag from his cigarette, before stubbing it out on the floor and pulling on a grubby white coat. Fortunately, he pronounced Adam to be suffering from no more than a mild dose of altitude sickness and assured us he would be fine in Kanding.
Perhaps more usefully, there are numerous pharmacies all over town that sell small bottles of oxygen that can offer some relief. Look out for colourful bottles that resemble air freshener.