COHRE ( COHRE – Centre On Housing Rights and Evictions) claims that the Beijing Municipality has forcefully evicted more than a one and a quarter million Beijing residents to make way for the Olympic Games in 2008.
"The Beijing Municipality and BOCOG have violated the housing rights of over 1.25 million residents of Beijing in pursuit of relentless economic growth, including the hosting of international showpieces such as the Olympic Games. The mass displacements and evictions implemented in Beijing are a clear case of the illegitimate use of evictions as a tool of development by the Beijing Municipality and BOCOG, in a bid to transform the city into a 'world-class metropolis' fit to host the 'best Olympic Games ever.' Despite courageous protests inside China, and condemnation by many international human rights organisations, the Beijing Municipality and BOCOG have persisted with these evictions and displacements. COHRE's research has shown how the awarding of the Olympic bid to Beijing by the IOC has been used as a pretext to ride roughshod over rights of affected residents,".
COHRE – Centre On Housing Rights and Evictions

Apart from the forced evictions it should also be noted that hundreds, if not thousands of Beijing's historic hutongs (old streets and home to the traditional courtyard houses), palaces and temples that have been reduced to rubble in order to be replaced by wide featureless avenues, souless shopping centres and a an opera house that locals call the Rotten Egg.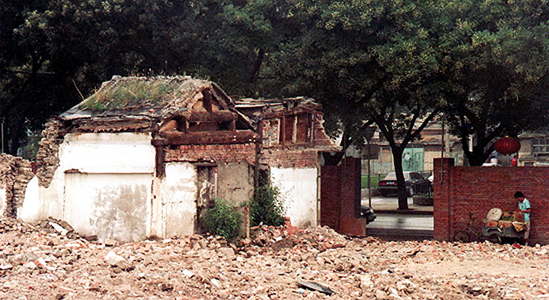 Enjoy The Games!
BOOKS OF THE TIMES; Viewing China From the West and From Within – New York Times