Heaven and Hell in the Gao Temple (Gao Miao 高庙)
Gao Miao Zhongwei. I love the Gao Miao temple in Zhongwei. It may not be the oldest and most venerable temple in China; it may not have the most intricate murals, paintings and statues, but it certainly is one of the most atmospheric and photogenic places I've been to!
For a start, this temple can show you both Heaven and Hell.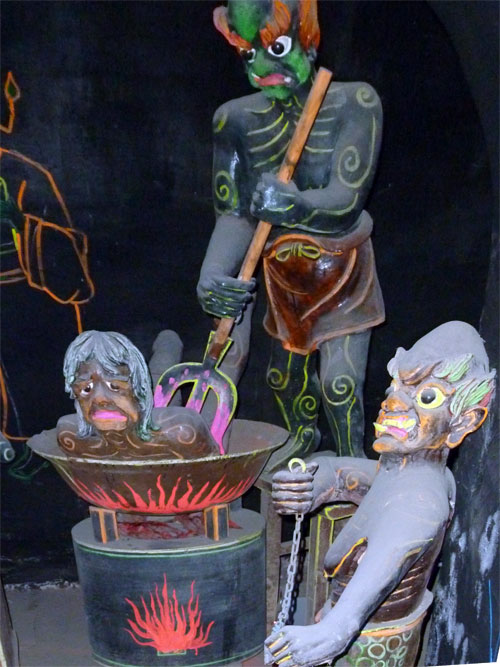 Heaven 天堂
Heaven is the part above ground. The Gao Miao rises up and up towards the sky, tier upon tier. You enter a flower-filled courtyard, walk through a colourful  temple and climb to the next level, where you then repeat the process. You continue passing through other, smaller courtyards and temples while you ascend higher and higher, until you come to the final temple hall and its surrounding platform from where you get fine views over the city of Zhongwei.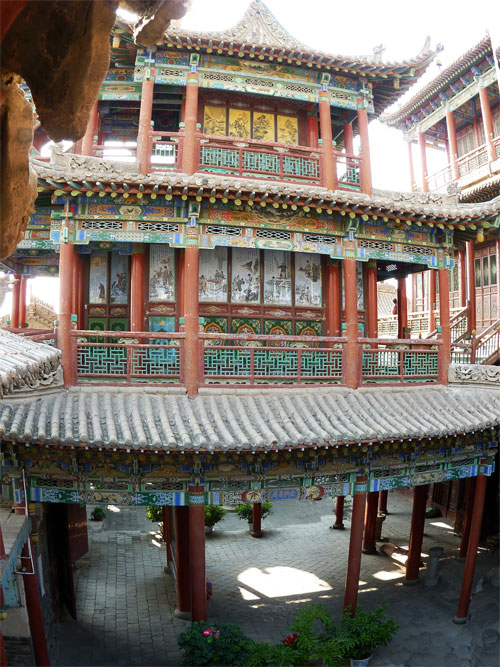 This is also where the fun begins. The highlight at this point is the series of interconnecting passageways and covered wooden stairs that allow you to clamber between galleries and pavilions at the highest part of the temple.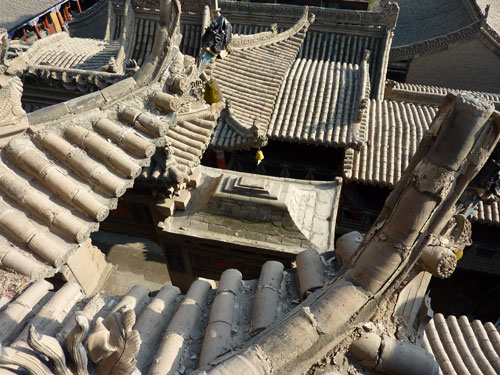 In most Chinese Temples these areas are usually closed off to visitors, but at the Gao Miao you are free to explore at leisure and enjoy privileged views over the beautiful, interlocking, eaved roofs and their decorations.
The late afternoon is a good time to visit, when the temple is quiet and the early evening desert light is spectacular.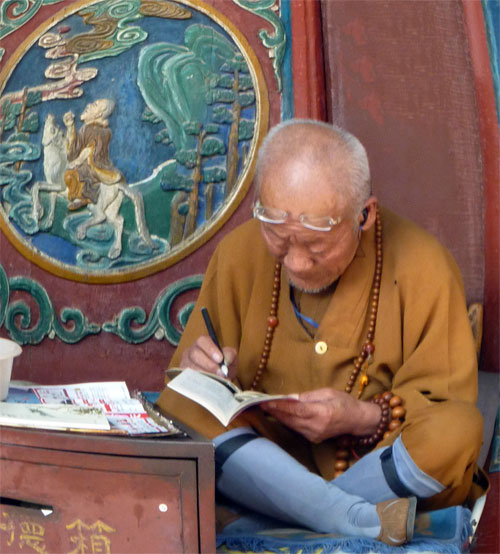 The Gao Miao was originally built during the early Ming dynasty, but has had to be rebuilt several times due to natural disasters. The temple is a multi religious temple that has elements of Buddhism, Taoism and Confucianism. However, these days, Buddhism seems to be getting the upper hand and little remains of the other religions. This is no more evident than in the Buddhist Hell beneath the temple.
Hell is the network of underground passageways that were once bomb shelters, built during the paranoiac years of the Cultural Revolution. What would Mao think if he could see what his revolutionary tunnels have become? He would probably be turning in his grave, or rather, shifting uneasily in his mausoleum…
Though the innocently gruesome images of what  Buddhist Hell is like, are nothing compared to the real horrors carried out during Mao's revolution.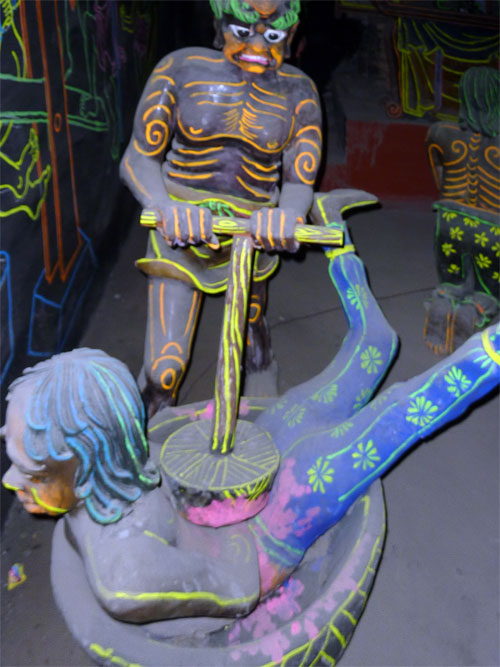 As you enter the tunnels, which can be quite disorientating in itself, you are met by the eerie screams and bloodcurdling yells of the damned, piped through hidden speakers.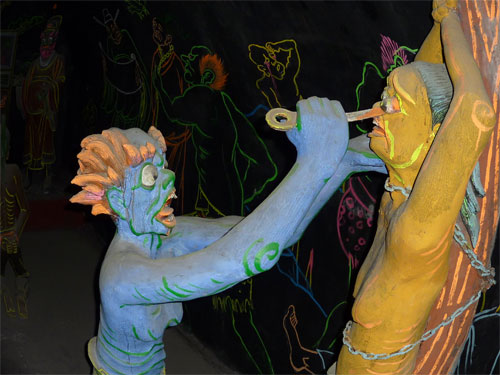 As you approach a hidden niche, a light suddenly flashes on, revealing scenes of torture, suffering and death.
Hacking of limbs, gouging of eyes, sawing in half, boiling alive and decapitation are among the most popular pastimes in Hell, but there are many other ways of punishing sinners.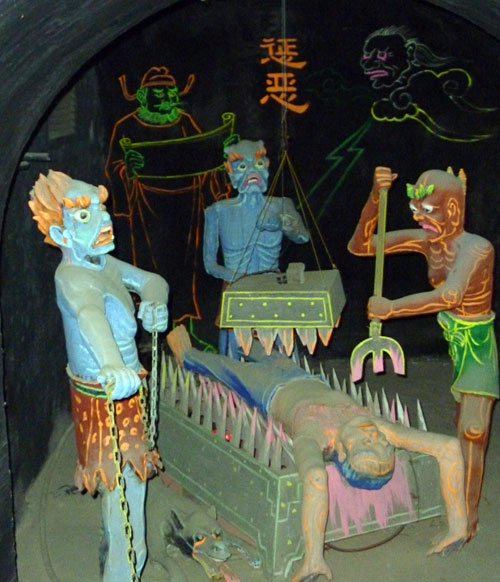 The place reminded me of the ghost trains of yesteryear, but a little gorier and perhaps not suitable for small children, or the faint hearted.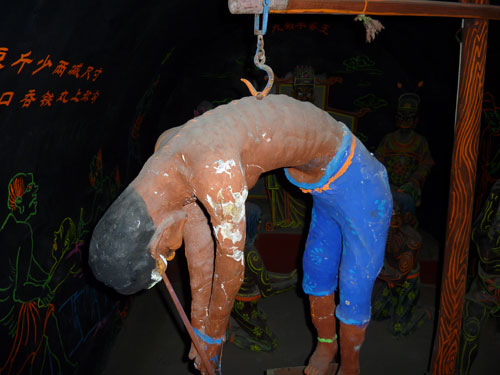 If  Hell isn't your cup of tea, then stick to Heaven and stay above ground. Either way, it's a great temple.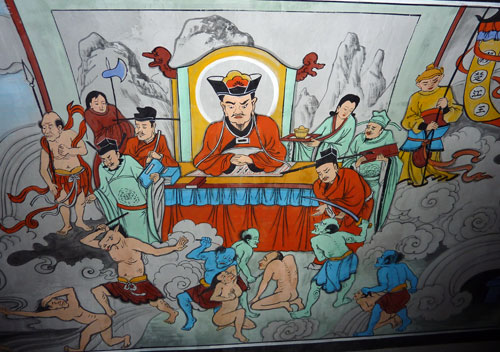 Zhongwei Practicalities:
Accommodation:
In Zhongwei we stayed at the execellent Fengmao Yuan Jiudian丰茂酒店, right opposite the Zhongwei Da JiuDian,  which was closed for renovation (a mere 5 minute walk from the train station). A  clean and comfortable wood-panelled double with a flash modern bathroom and a flat screen T.V cost us 160 Yuan.
Eating:
We ate at one of the many street- side restaurants that set up after dusk next to the Feng Mao Jiudian. We had tasty and spicy  grilled peppers, tofu and other vegetables. If you eat meat there are plenty of other options. Shagua, a thick soup in clay pots, is also very popular here.
Coming and Going:
We got to Zhongwei on an over-night train from Hohhot (same day hard-sleeper tickets) in Inner Mongolia and left on one of the half hourly buses to Yinchuan (3 hours), which depart from the brand-new bus station on the edge of town.
Excursions:
You can  catch buses to Shapotou from Zhongwei's People's Square, or take a taxi to Sikou Scenic Area.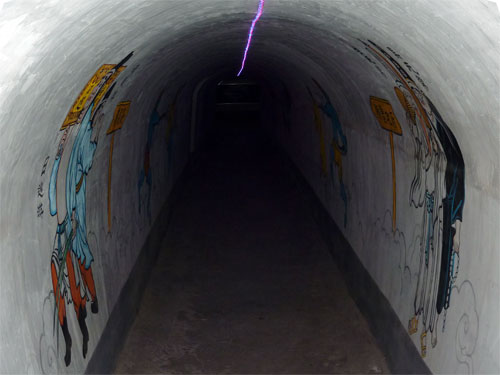 Gao Miao