Sichuan Province 四川省
Songpan's Stunning Bridges are one of the highlights of any visit to this gorgeous town.
The mountain town of Songpan 松潘 has undergone a lot of changes in recent years but some original remnants of its wonderful ancient architecture still remain. Two of those structures are the emblematic ancient covered bridges (Gusong Qiao 古松桥 and Yingyue Qiao 映月桥) that span the fast flowing Min river 岷江。 Below are our photos taken before the recent development.
Songpan's Stunning Bridges and Ethnic Minorities
Songpan is an ethnically diverse town with Tibetans, Hui (Chinese Muslims) and Han Chinese all living together. It's a great place to relax and has numerous tea houses along the river and next to the bridges.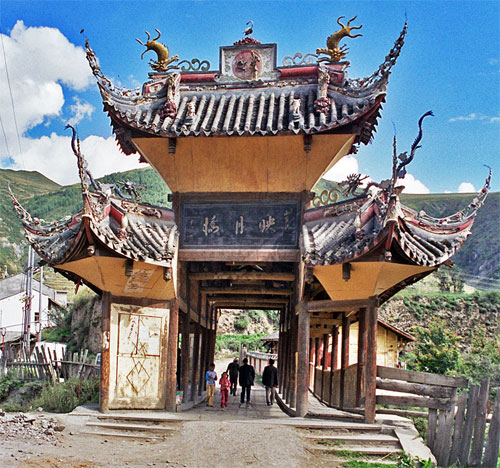 Songpan Bridge 映月桥
For more pictures of Songpan during its summer festival Click here: Songpan Festival 松潘
For more pictures of Songpan and its people click here:People watching in Songpan松潘
Getting there and away
We arrived in Songpan on a bus from Chengdu. The bus was going on to the national park of Jiuzhaigu but the driver was happy to drop us off in Songpan. We left Songpan on the early morning bus to Zoige on the border with Gansu and Sichuan.
The Bus arrives in Zoige at around 13.30, but the connecting bus to Langmusi (14.30) was full and we were forced to get a Taxi from Zoige to Langmusi with a couple of other stranded travelers. The road between Zoige and Langmusi is now a super highway and not the mud track we had to take.
Click on read more for larger photos: