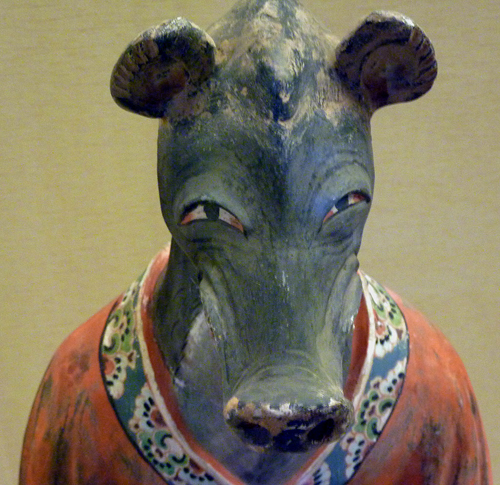 There are moments in China when it can be convenient not to speak or understand Chinese and instead pretend that you are a dumb tourist. Our visit to the wonderful Gansu Provincial Museum was one of those moments. It took nearly 40 minutes crawling through Lanzhou's choking traffic in a taxi to get to the Museum; we picked up our free tickets and approached the entrance. A young guard came up to us before we could get to the security check and asked in Chinese if we could "jiang hanyu" (speak Chinese), being polite I replied "huì" (we can). He then pointed at our feet and said "bu keyi chuan tuoxie" (you can't wear flip flops). I looked at him in disbelief and protested, but to no avail. Margie enquired about her Crocs and "ye bu keyi" (also not) was his answer. We continued to argue, but met with the same reply; apparently the "guiding" (the rules) stipulated that plastic footwear wasn't allowed…!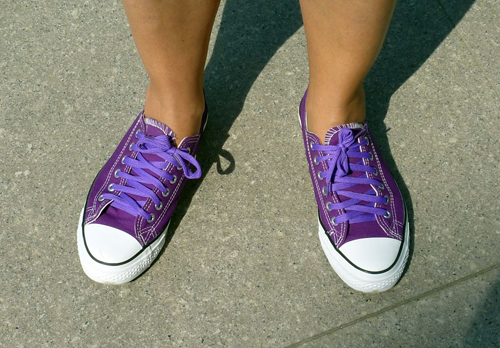 Eventually, after a stand- off in which we were getting nowhere, the guard suggested we go to a nearby street market and buy some cheap shoes. After debating whether to return through the traffic to the hotel, or give up on the museum altogether, we decided to follow his advice. Margie's size 37 was easy to solve and in a few minutes she was wearing a nice pair of cheap sneakers (20 Yuan). However, my size 45 was a different kettle of fish. In the street market there wasn't anything in that size and all the store holders kept pointing to the large department store behind the market. Even there, the problem was not that easily solved: the dilemma was whether to spend several hundred Yuan on a pair of shoes I didn't need, just to get into a free museum, or pay for the taxi fare to the hotel and back. We then spent the next hour going from department to department, trying to find anything cheap and would more or less fit. In the end we hit upon a sports shop that was doing 50% reductions: there was no size 45, but at least a 44 for a pair of trainers, reduced to a mere 80 Yuan. I could barely squeeze my feet into them, and it wasn't long before I began to appreciate the pain foot binding must have caused to Chinese ladies in the past…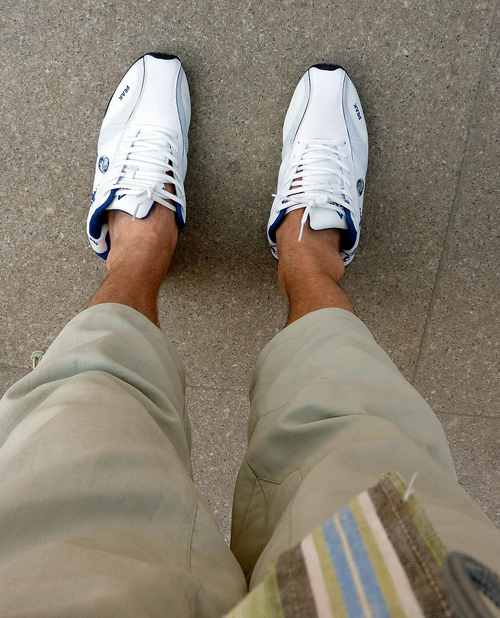 We walked (I hobbled) back to the museum where the smiling guard gave us the thumbs up and ushered us in with a (sarcastic?) 'much nicer like this'… As soon as we were out off sight, I slipped my heels out of the shoes and crushed the back, using them like a pair of improvised slippers. Fortunately, the Museum was well worth the effort: the exhibits are fantastic, especially the Flying Horse of Wuwei and a small-scale army of bronze warriors on horseback and in chariots.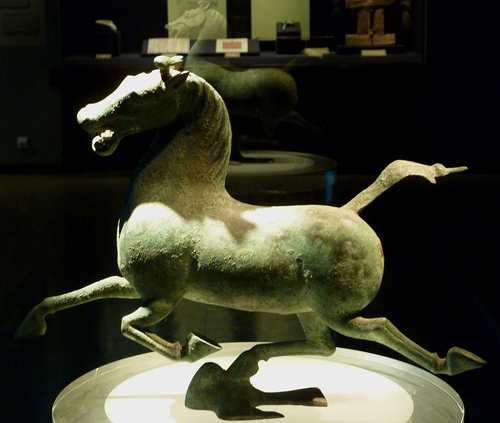 So if you are planning a visit to the Gansu Provincial Museum, don't forget to put on some 'proper'shoes! As for me, I eventually gave my vile trainers to our grateful taxi driver in Yushu.