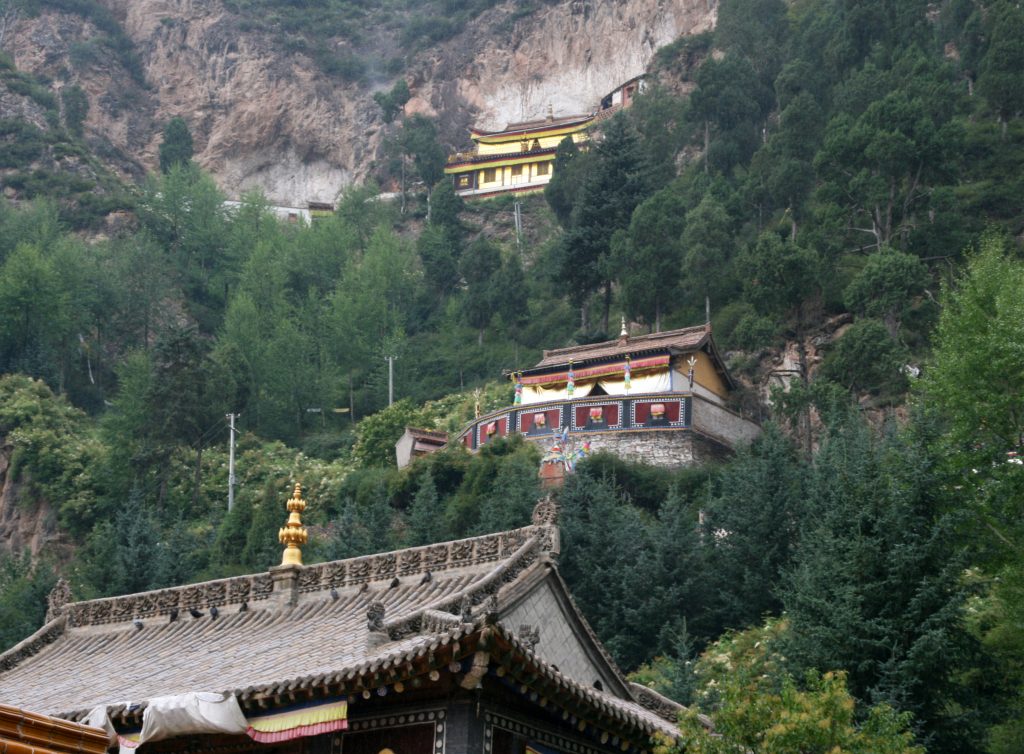 Youning Si 佑宁寺 – (Qinghai Province)
Youning Si 佑宁寺 is a  mysterious monastery and when we visted it was also off limits to foreigners (officially). Tucked away in a steeply forested valley, Youning Si (Rgolung in Tibetan), a monastery belonging to the Gelugpa order (or the Yellow Hat Sect), is a fantastic hidden gem and makes for a great day trip from Xining. The setting is gorgeous: a couple of large, colourful monasteries that line the road up the valley mark the beginning of the pilgrims' trail.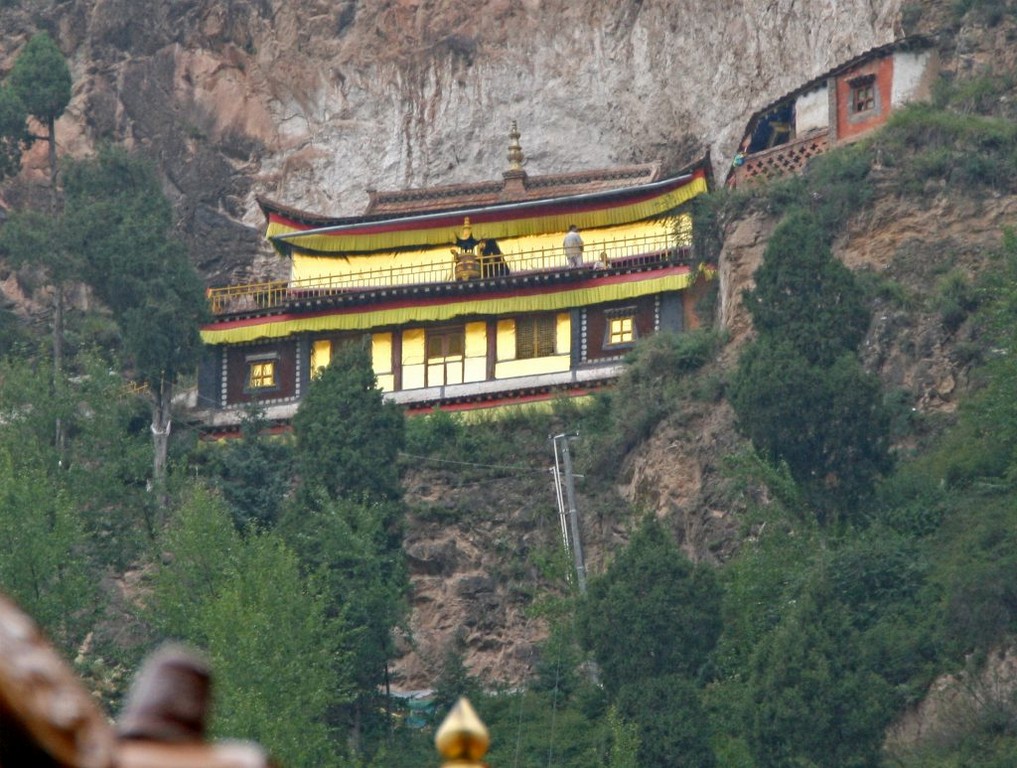 Youning Si 佑宁寺 Pilgrims
From here, gaggles of pilgrims climb up the steep paths, half-smothered by lush vegetation and covered in prayer flags. The flags skirt the flanks of the mountain and lead to a scattering of small chapels and shrines, perched high on the hillside, their golden roofs gleaming from the distance.
On rainy days, such as the day of our visit, the muddy paths can get quite treacherous. Needless to say that the pilgrims, including the frail old grannies and small toddlers, skip along the trails, ignoring the hairy bits. We on the other hand, with our clumsy feet and exaggerated fear of heights, held everybody up as we hesitantly negotiated the steepest parts.

Youning Si 佑宁寺 at First Sight
At first sight, Youning Si could easily be mistaken for a typical Tibetan Monastery: the 200 or so shaven- headed monks (there once used to be 7000) wandering around in dark red robes, the temple decoration, the images of the deities, the photos of famous Lamas that adorn the altars, are all just as you would find them in any Tibetan monastery.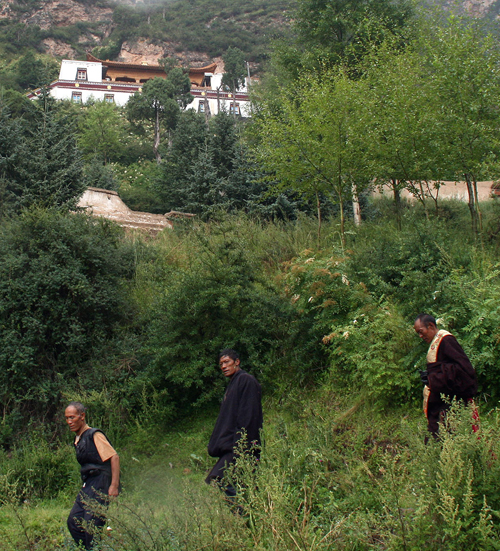 And yet, there is something different about Youning Si: the monastery and the surrounding villages are home to the Tu minority. The area is called the Huzhu Tu Autonomous County. These Tu are people of Mongol origin, descendants of the Mongolians left behind when the 4th Dalai Lama, a Mongolian himself, first established the Monastery. 
Mongolian Tu Minority Youning Si 佑宁寺
Unlike in other Tibetan areas where Mandarin Chinese can be quite rudimentary, the Tu can converse fluently in Chinese, though amongst themselves they use an amazing old Mongolian dialect that seems to have been passed down virtually unchanged along the centuries.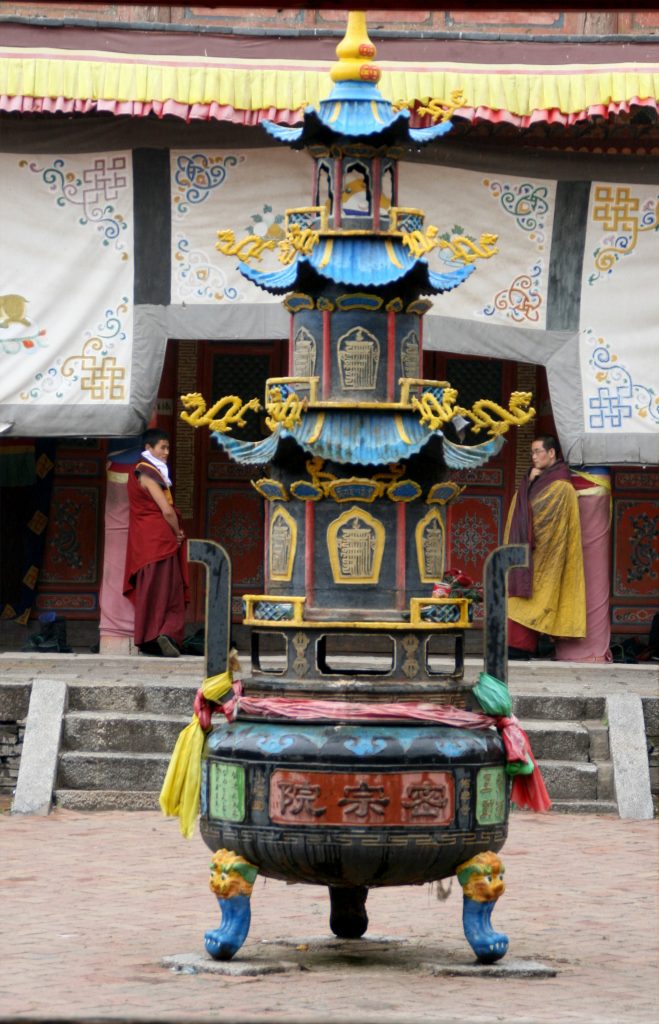 Ask a monk to teach you are few words like hello and goodbye and then stun the pilgrims and locals when you meet them. As far as we understood, hello sounded something like chal-a-sa-na. If you are interested to find out more about the Tu, click here: Tu Minority: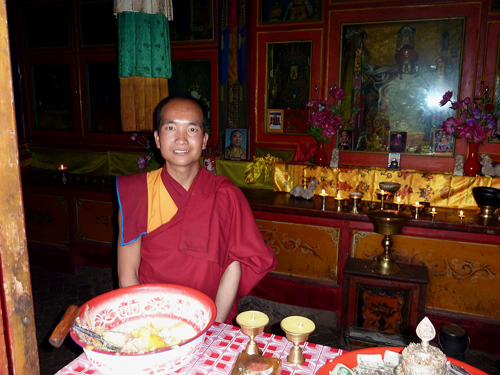 Tibetan Buddhism and Youning Si
Youning Si has played an important history in Tibetan Buddhism and, apart from being famous for its Medicine and Astrology Academies, it also played a pivotal role in consolidating the power of the Gelugpa order in the huge region of Amdo. For more on the Gelugpa order, click here: A Brief History of the Gelug Tradition of Tibetan Buddhism «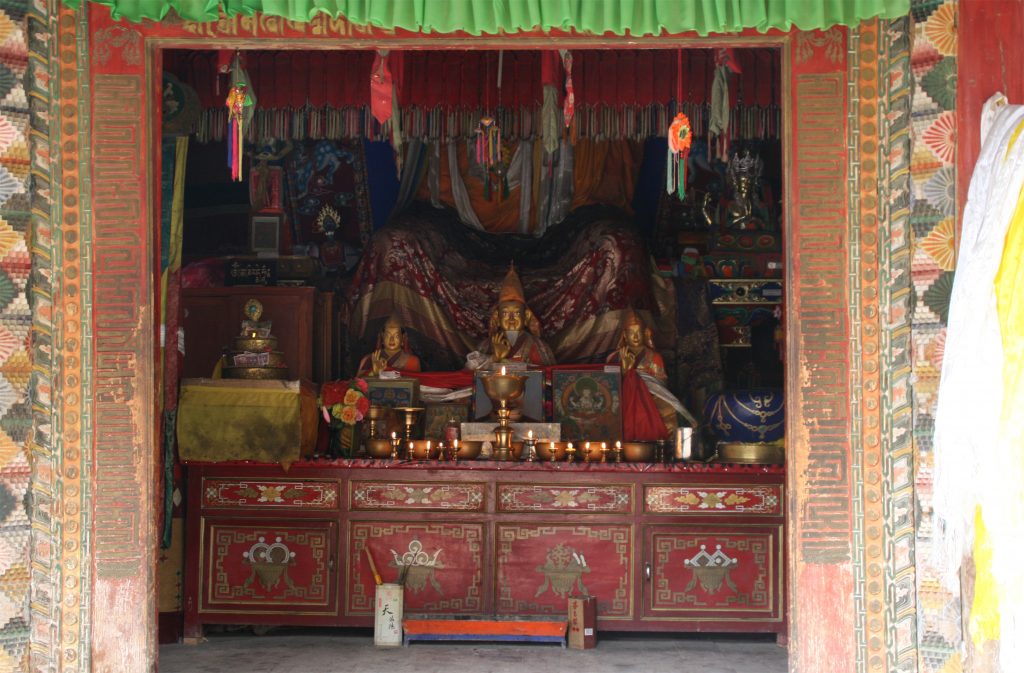 The monks were curious to see and speak to foreigners and seemed remarkably well-informed, given their isolation. One of them asked about how we choose our politicians in Europe (I actually think he knew the answer), and then expressed his regret that in China they couldn't choose.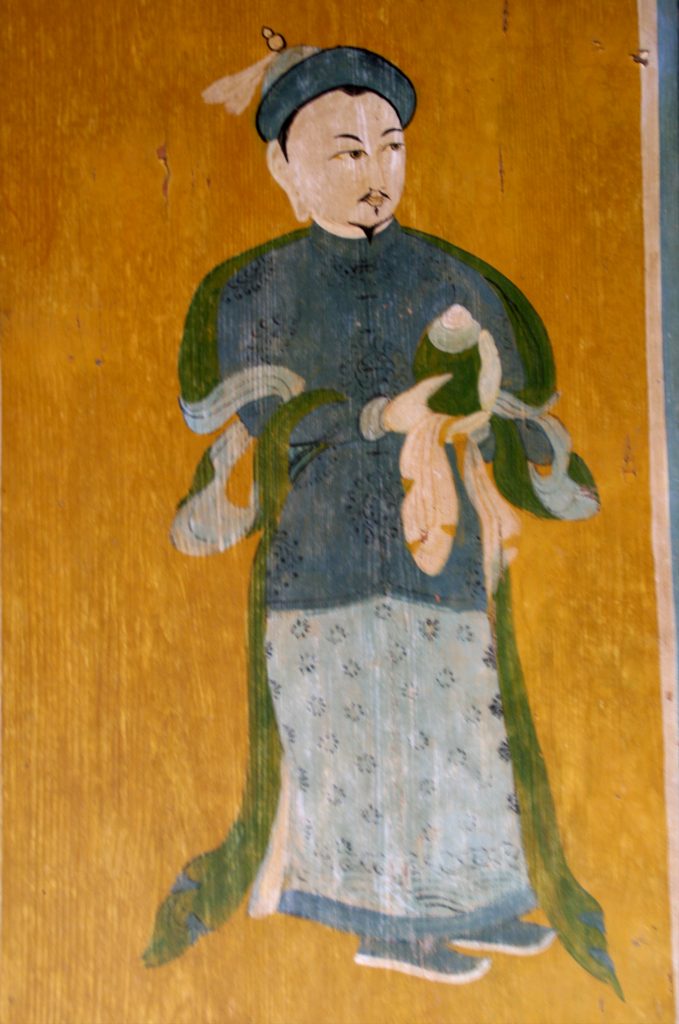 We continued to debate the strengths and weaknesses of democracy and dictatorship for a while. We then moved on to the topic of restoration.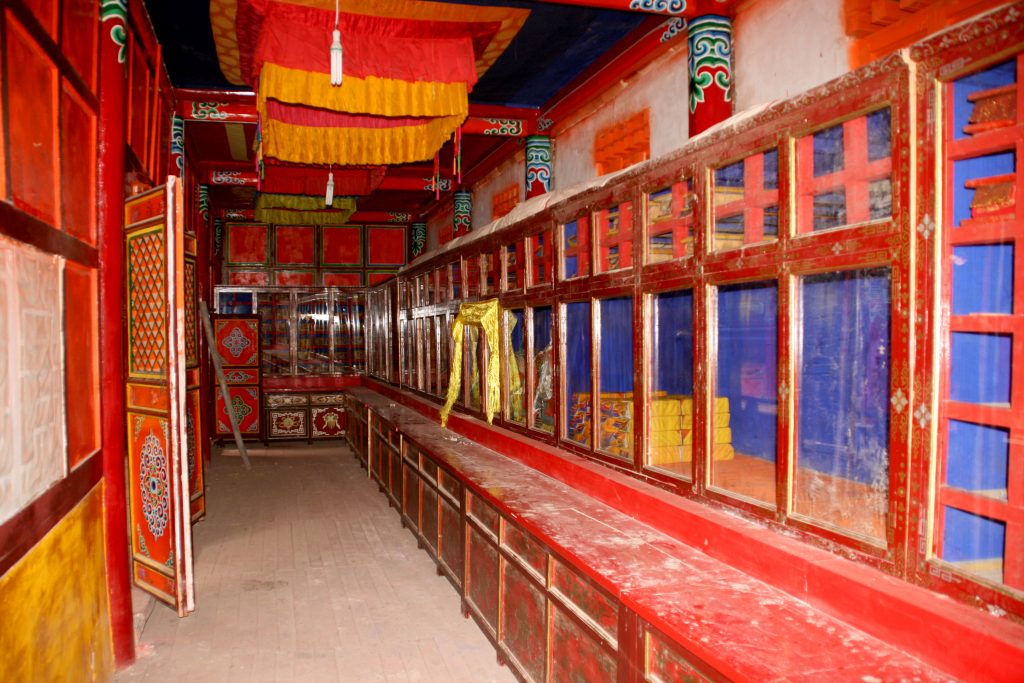 Restoration and Re-painting
It was clear that Youning Si was receiving funding (from abroad?) for restoration and re-painting. I suggested that the monastery should perhaps provide some accommodation, as there is plenty of scope for further exploration and nowhere to stay at the moment. Our interlocutor thought this was a very good idea and recommended some other monasteries, further up the valley, that were also worth a visit.

Visiting Youning Si will give you a completely different experience from visiting the much more famous Kumbum monastery, also near Xining. It is true that Kumbum is much larger and houses many important relics, such as statues, paintings or thankas, but at the same time a combination of hordes of tourist visitors, commercial exploitation and strict government control has given it a somewhat sterile feel, devoid of the spirituality it must once have had.
We spent nearly two hours exploring Youning Si but, if it hadn't been for the sometimes torrential rain, we could have spent longer. The monasteries, chapels and shrines may be interesting rather than spectacular, but what they lack in architectural and artistic treasures, they make up for in ambience, charm and setting.


Practicalities – Getting there:
We took a bus from Xining's main bus station to the sprawling town of Ping'an, just under an hour. From there, we hired a taxi for 150 Yuan, including waiting time, for the 30 minute ride to Youning Si.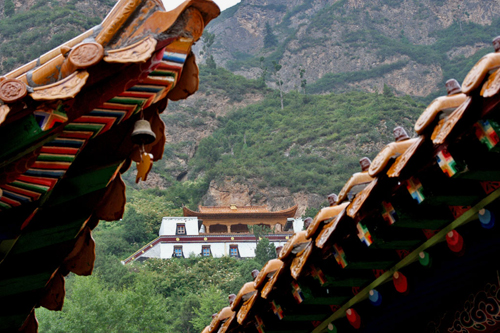 For the latest on Youning si click here or read the comments below: There maybe some problems getting there.