Lijiashan 李家山窑洞村
山西省
Lijiashan 李家山 is probably one of the best examples of Northern China's cave dwelling architecture 窑洞风格. Situated in a steep valley above the Yellow river 黄河, it exudes bucolic charm. However, if you are not going to stay the night or go off hiking, an hour or two is enough to see everything and have a cold beer.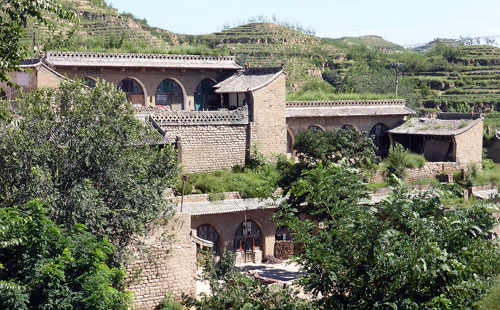 Lijiashan (from Margie's diary 26/8/2016)
Qikou 碛口Guesthouse 13.00
The driver, who had taken us to Qikou 碛口 from Lüliang Lishi 吕梁离石, has convinced us that Lijiashan village is much too far too walk. For another 30 Yuan he'll drive us, wait and take us back. But first we can have a beer and something to eat. As we fancy the home-made noodles which have to be ordered for three, our driver joins us for lunch. We have cucumber salad, aubergine with beans, plus the delicious noodles with a simple fresh tomato, coriander and chive sauce.
The ride to Lijiashan is not far (5kms), but the road is windy and at times exceedingly steep. It's also a scorching day and there's little or no shade from the merciless sun, so we are pleased we took the lazy option.  The village is really tiny, much smaller than I'd expected. Our guidebook had written a whole column about it. The setting is nonetheless lovely: the village is surrounded by green hills, some of them terraced, and there are lots of fruit trees and plants.
There are cave-dwellings, mostly abandoned, as well as more elaborate complexes, set around courtyards with cave-rooms at the back. Most buildings are dilapidated, though some Continue reading "Lijiashan 李家山窑洞村"