Yuci 榆次古城Ancient Town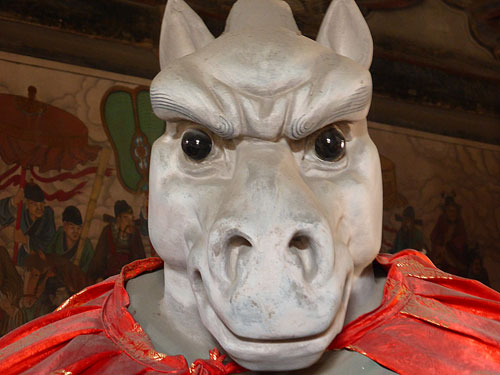 It's a tedious ride on a local bus from Taiyuan passing through an endless sprawl of residential tower blocks that blur the distinction between the ending of one town and the beginning of another. The apartments are interspersed with companies, ranging from small and medium-sized to large, all set back from the road in their own compounds. The traffic is relentless and the ride seems to go on and on.
Then, suddenly, you are dropped in Yuci榆次Ancient Town and immediately the urban horrors of modern China recede and give way to striking temples, imposing ancestor halls and magnificent but austere Confucian buildings. Add to this some exquisite vernacular buildings from the Ming and Qing dynasty and you can enjoy a superb day trip from Taiyuan.
On a beautiful winter's day in early January with temperatures below 10 and an azure sky, we were incredulous to find the town devoid of tourists, finding ourselves more often than not the only visitors at the various sights.
Visiting the Ancient Town
Start by paying 60 Yuan for a Tong Piao 通票 (through ticket), which allows you to visit all the numerous sights; you can wander around the town itself without a ticket.  The first on your list, and close to the entrance, should be the magnificent God Temple 隍庙, where you'll find Continue reading "Yuci Ancient City 榆次古城: Taiyuan Shanxi Province"