The Dalian Seafood Restaurant, Beijing.
It was only a Wednesday night, but the place was heaving. The smartly-uniformed waitress told us we were 4th on the waiting list. My friend David, who has been working in Beijing for several years, said that it was worth the wait and that, anyway, tables moved fast here. He was right on both counts; 10 minutes later we were assigned a table and told to go and choose our meal from the magnificent displays and amazing fish tanks.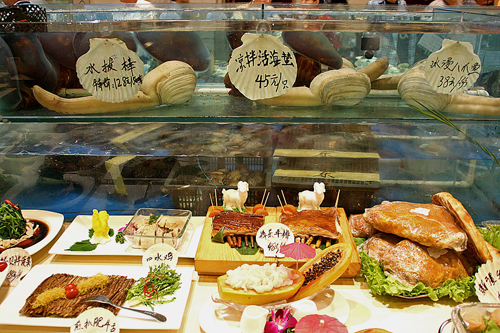 The Dalian Seafood Restaurant in the Chaoyang district, almost directly opposite the huge Landao Shopping Centre, must be one of the great restaurants of Beijing. It has certainly made it onto our list of favourites. If you are a lover of fresh seafood and fish, as we are, then this has to be one of the best bargains in Beijing. Everything looks and smells as if it has just been plucked straight from the sea. Strangely enough it is actually a Muslim run enterprise but alcohol flows freely.


The restaurant's centre-piece is a rectangular area of fish tanks, filled with all kinds of fish and sea creatures. In front of the fish tanks, there are countless trays of ( Continue reading "Alive and Flipping:The Dalian Seafood Restaurant, Beijing."