Ganzi /Garze/甘孜
(by Margie)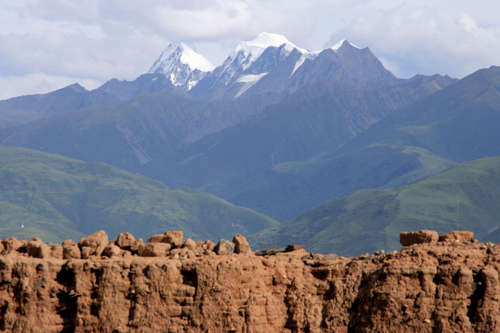 Ganzi /Garze /甘孜 Revisited. Ganzi is a place to visit more than once in your llifetime. If asked about our favourite place in China, Ganzi would be one of the first to spring to mind. Ganzi to Dege (click here).
Ganzi /Garze /甘孜 Revisited: Our First Visit
We have passed through this small town in the heart of Tibetan Sichuan a few times since 2004, and last year was another opportunity. Ganzi has everything – except nightlife perhaps – a traveller could possibly want: wild and majestic mountains rise up just beyond its last houses, offering amazing hiking opportunities; scarcely explored, ancient monasteries dot the landscape in every direction; the large Ganzi Si looms high above the Tibetan quarter, offering great views of the surrounding countryside.
Down below, in the town centre, there are quiet, old streets of wonderful traditional architecture, bustling shopping streets, lined with colourful shops selling a whole array of exotic Buddhist paraphernalia, a hidden temple or two, as well as a cool Continue reading "Ganzi /Garze /甘孜 Revisited"