Update:
In 2003 it was free to enter Xijiang 西江镇 Miao minority village, Guizhou and there wasn't a tourist in sight. Now tourism is big business. The entrance ticket appears to be a whopping 90 yuan.
Kaili 21/8/2003
When we get into the lift and look down at our feet, we discover that yesterday's floor mat, which read 'Wednesday', has been replaced by a 'Thursday' one. We wonder if this is a new fashion and whether there might be a special member of staff, responsible for keeping the lift mats up to date.
At the bus station we catch an 8.30 bus to Leishan, which takes just one hour. The scenery is great, we follow a beautiful river that runs through green fields with rolling hills behind.
The countryside is dotted with prosperous-looking wooden farmsteads, all with front balconies and rows of corn-cobs, hanging out to dry.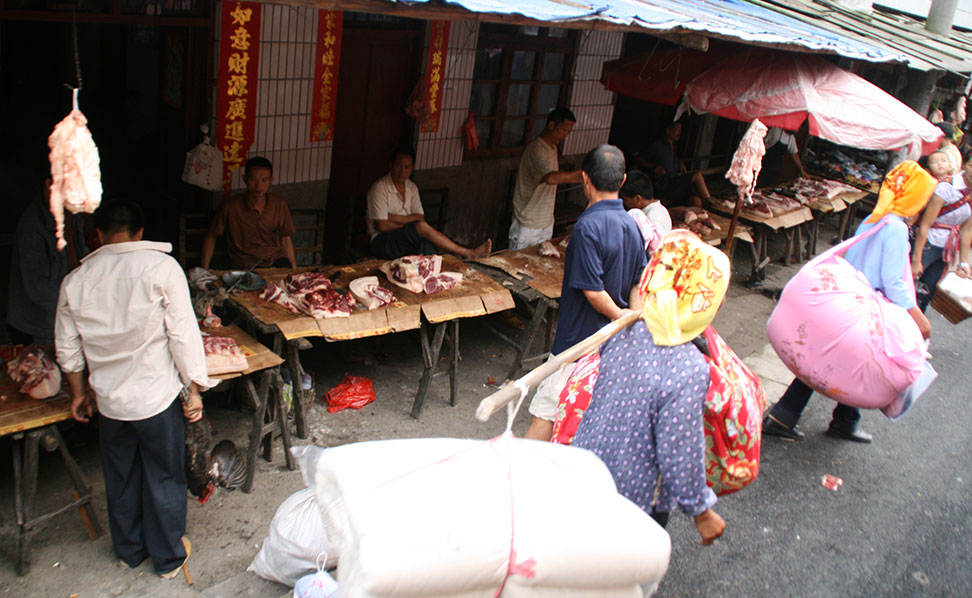 Near the river, there are several picnic areas with little wooden pavilions, kiosks or small restaurants, where families come and spend the day relaxing, eating, dipping their feet in the river. This might answer my question as to what on earth the Kaili people do in their free time.
We pass through several villages along the road each one having their market day. Continue reading "Xijiang西江镇: Thursday August 21, 2003, Taking our packs on an excursion: Kaili – Xijiang – Kaili – Guiyang"