Bolivia Invades China
(town)
Earlier this year, Madrid's barrio of Usera; a  gritty, slightly run-down area, and home to a totally authentic Chinatown, was turned into a riot of color and boomed with the sound of South American music as Spain's Bolivian community danced up Calle Dolores Barranco, one of the main arteries in Usera, and the beating heart of Madrid's Chinese Community.
Only a few weeks before the Bolivian parade,  thousands of Madrileños (people who live in Madrid) had lined the same street to watch Madrid's Chinese community celebrate Chinese New Year and welcomed in the year of the Pig. It appears that the two communities are going to battle it out every year to see who can put on the best show in Calle Dolores Barranco (both parades were pretty good).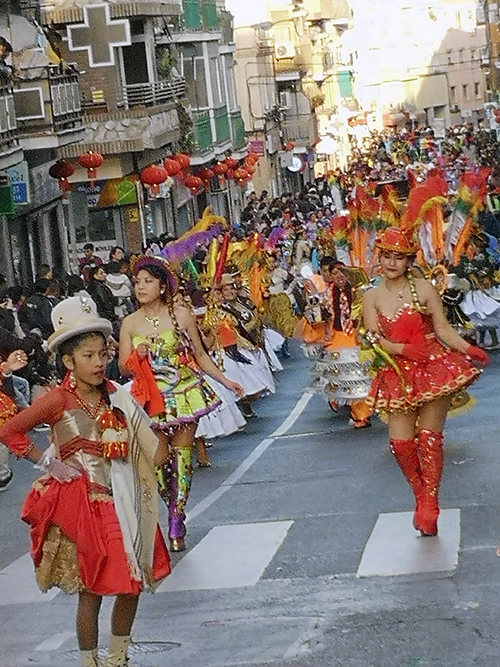 I must admit, though I am a great Sinophile, I think the Bolivians edged it this year with a display of extravagance and vibrant music that lasted three hours compared to the much shorter Chinese New Year Parade. I am sure the Chinese comunity are going to up the ante at next year's New Year parade.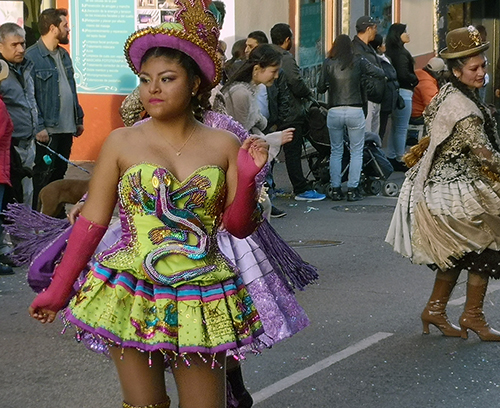 For people who don't know Madrid; Usera is a District south of the Manzanares River that cuts through the city. It's quite close to the historic center and near the hotly promoted Madrid Rio green area. This area was created by putting the enourmous ring road, the M30, underground and building a park above it. In the last decade Usera has become home to thousands of people from China.
They have created a Chinatown were any Chinese citizen could probably live without ever having to venture any further out into Madrid. All services and whims that a Chinese person would want are catered for so that they need not feel they have left China.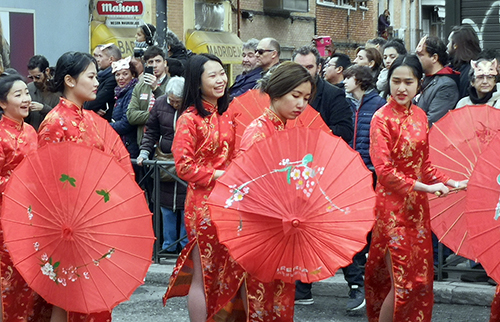 There are numerous streets where nearly all business signs are in Mandarin characters. From restaurants, supermarkets and hair salons to real estate businesses, lawyer's offices, and churches, the presence of the Chinese community is everywhere. Unlike other Chinatowns in Europe, such as London's Chinatown which is more orientated to tourism, the Chinese community in Usera, live, work and have their businesses in this area.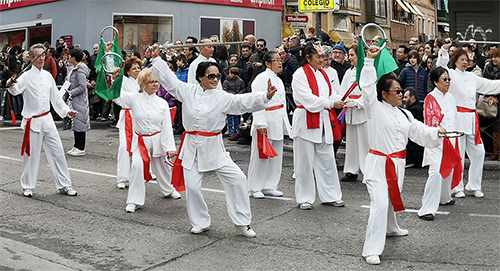 The two main streets are Manuela Usera and Dolores Barranco. These two streets are intersected by many much smaller streets that undulate between them. Basically, from Calle Olvido, closer to the river, until almost Calle Mariano Vela near the park, Olof Palma.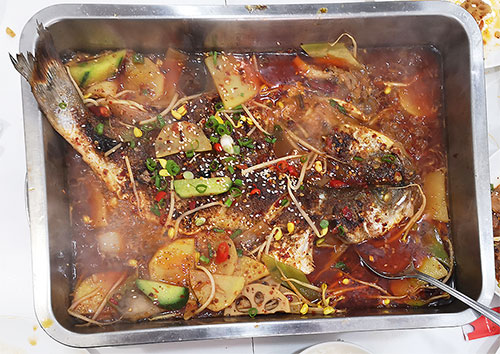 Usera is also home to a large Latin American population, especially from Columbia, Ecuador and Bolivia. This year, the Bolivians put on a fantastic show with their colorful carnival parade.  The festival was called FIACBOL, Carnaval Boliviano en Madrid 2019. In 2018 the FIACBOL parade took place in the Paseo de la Castellana, one of Madrid's main streets.
More recently young Madridleños have begun moving into the area as rising rents and house prices have pushed younger people further from the city center
And yes, the word gentrification is being banded around and there are rumors that Calle Dolores Barranco could be pedestrianized in order to make way for a touristy Chinatown. The neighbours are not impressed. Calle dolores Barranco is a busy commercial street where people live and make a living from small businesses. The last thing that the street needs is to be turned into a gaudy tourist trap. Let it be and keep it authentic.
If you missed this year's parade but fancy seeing traditional Bolivian and other South American dancing just go along to Parque Pradolongo, the fourth biggest park in Madrid, every Saturday and Sunday afternoon and you'll be treated to quite a show.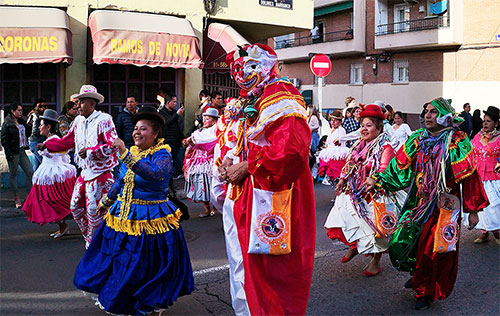 This park is where Madrid's Latin population practices their traditional dances. A visit to Pradolongo makes for a great off- the – beaten track excursion when visiting  Madrid.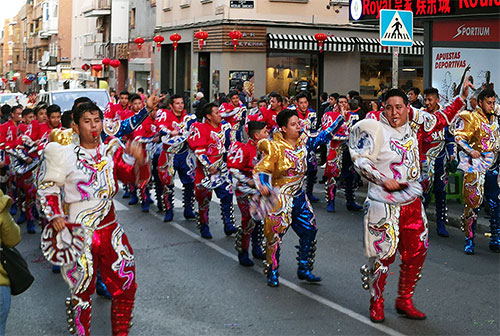 You can finish the excursion off with a fantastic meal in one of the many fabulous Chinese restaurants in Usera, where every culinary corner of China is represented.