Li Qun 力群 Wood Cuts 木刻绘画

Here are just a few of the beautiful wood cuts we were able to enjoy when we visited the rambling and extraordinary Wang Family Home in Shanxi Province a few hours from Pingyao.
We had no idea that there was a Li Qun exhibition on when we visited. It was a fantastic surprise. Some of his wood cuts are really stunning works of art.
For more on Li Qun Click here: I hope you enjoy the photos we took. I am afraid there is some reflective glare on one or two of the photos due to the wood cuts being protected by glass.
Here is a summery of  his philosophy on art:
Art for Serving the Masses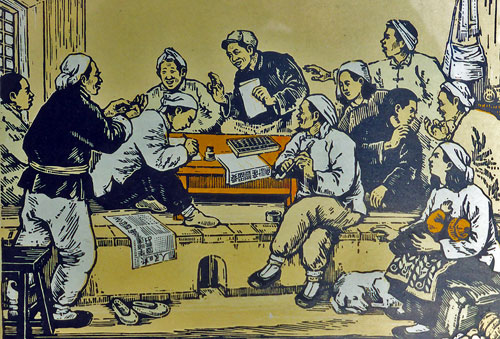 "Li strongly believes that art should serve the interests of the masses–the workers, peasants and soldiers. Continue reading "Li Qun 力群 Wood Cuts 木刻绘画 in the Wang Jia Mansion"