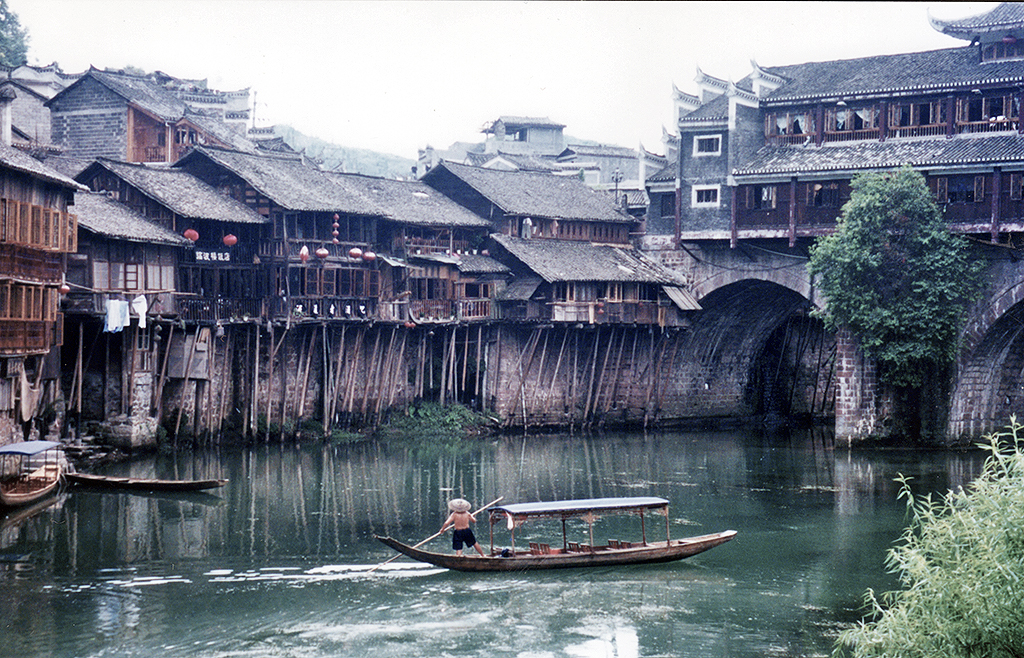 Discovering a hidden gem is one of the great motivations for travelling off-the-beaten-track in China. After hours of bouncing up and down on an uncomfortable overcrowded bus along bumpy pot holed roads you find yourself in small town China where little has changed for years and the old architecture is still intact.
What's the catch? Sometimes you find that half of China has got there before you!  Way back in 2003 and the year of SARS, we thought we had found a hidden Gem only to discover the Chinese were keeping it a secret from foreigners. Welcome to the stunning riverside town of Fenghuang 凤凰 in Hunan Province 湖南.
Finding Fenghuang 凤凰(Phoenix City)
It was one of those early evenings in small-town China in 2001; we'd already eaten and the after dinner entertainment options were conspicuous by their absence. The only fall-back was to retire to our room with a few beers and watch CCTV9, the mildly interesting English Language Channel. We tuned in to 'Around China', a cultural and travel programme dedicated to the promotion of traditional and/or exotic aspects of Chinese culture. On the programme, they were discussing a type of opera that was only found in a remote town in Hunan Province whose name I couldn't catch.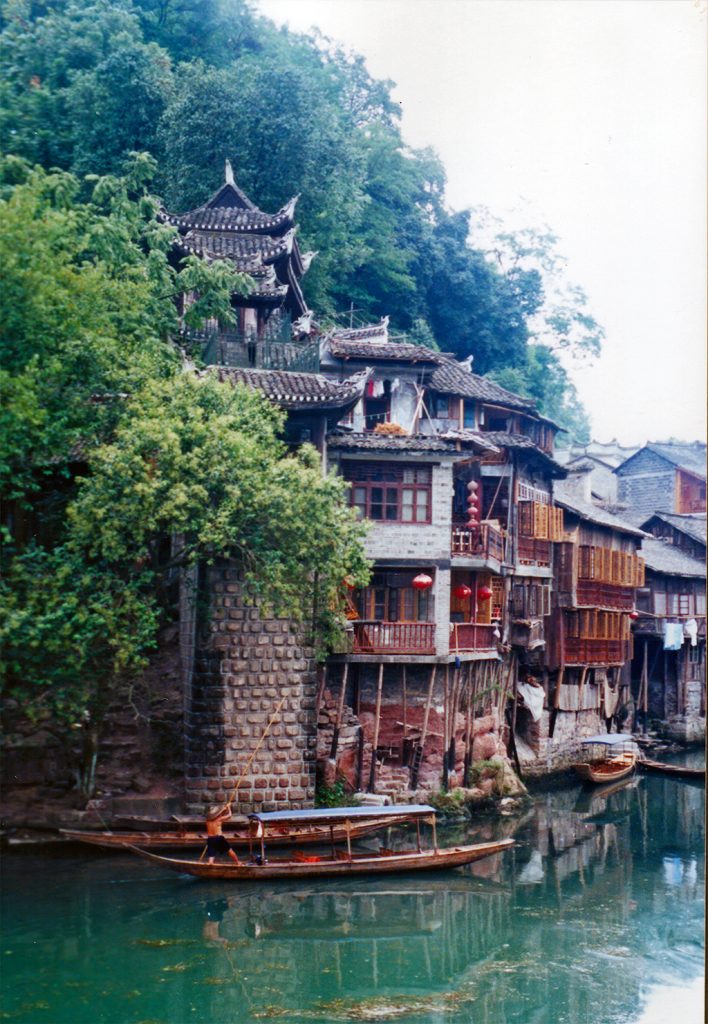 We were immediately drawn to the screen, wondering, 'where is this stunning place with covered bridges, ancient houses on stilts and pagodas?' At the end of the clip, I managed to catch its name, 'Fenghuang'. Grabbing the guidebook, I tried to find it, but there was no such town. We decided to look for more information about this elusive Fenghuang so that,if one day the opportunity arose, we could visit it.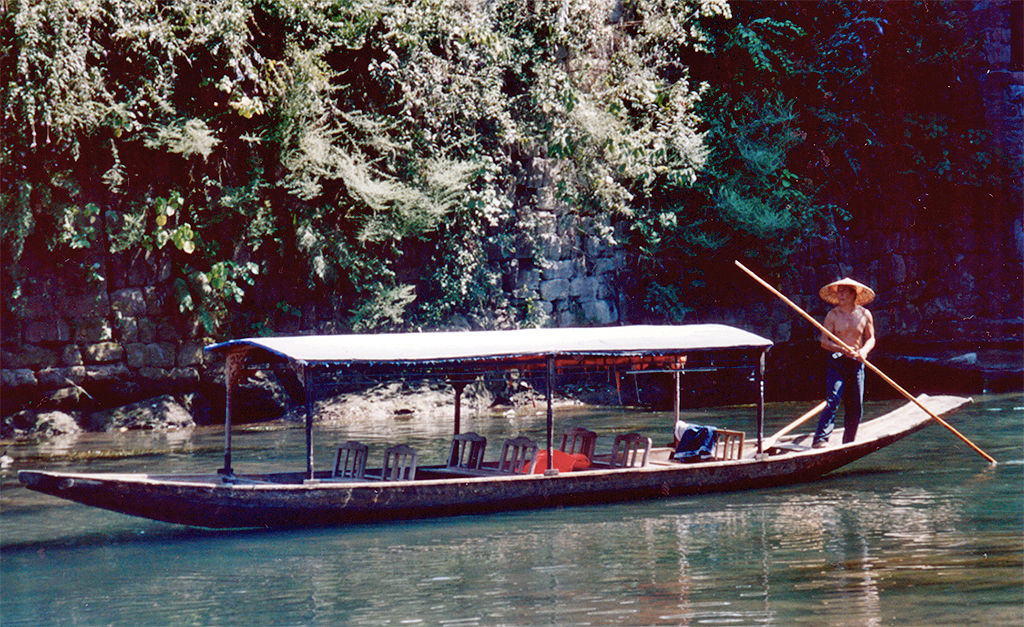 This opportunity eventually came in 2003
This opportunity eventually came in 2003. We were travelling from Anshun in Guizhou province (famous for the Huangguoshu Falls as well as its Sunday Market) to the natural wonders of Zhangjiajie in Hunan province, when we realised that our train was actually stopping very close to Fenghuang. So we decided to break up our journey and satisfy our curiosity.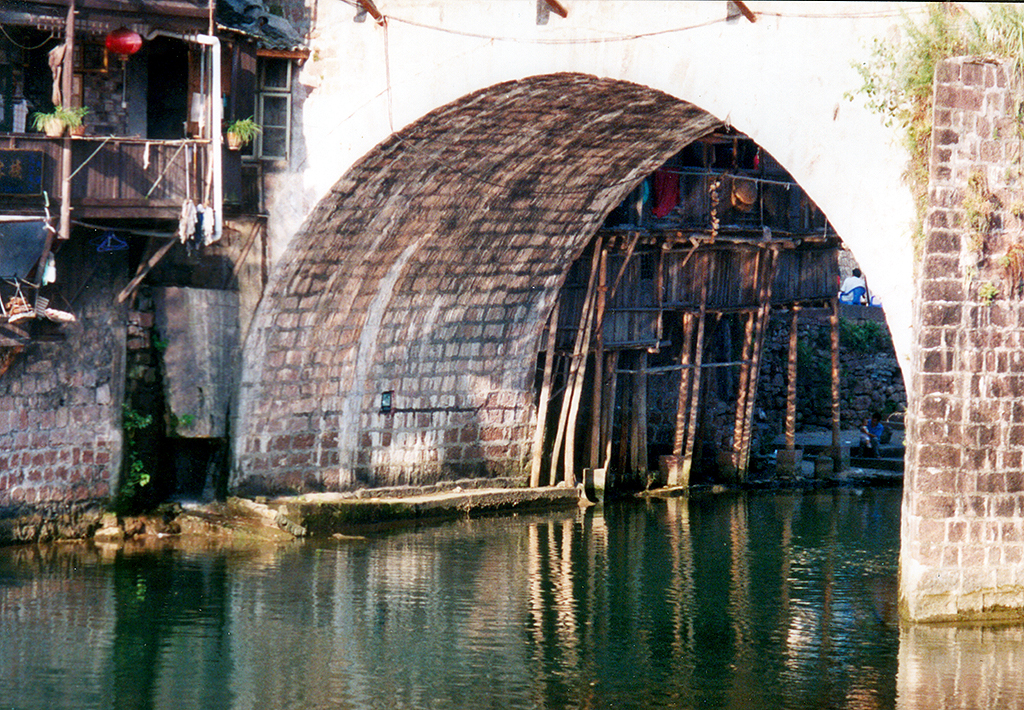 Under the bridge Fenghuang 2003
Arriving at the bus station in the dark, after a beautiful three-hour ride from the rail junction of Huaihua, we were at a loss as to where we might sleep. Fortunately, there was Mrs Li with some flattering photos of a room in her house. Without too much fuss, we agreed on 60 yuan for a double with shower. We followed Mrs Li into the warren of narrow streets that make up Fenghuang's old city, our bulky backpacks attracting some curious stares from the passers-by.
Eventually, we arrived at Mrs Li's house and even though the room, and especially the bathroom, didn't quite match what we had seen in the photos, tiredness and lack of orientation resigned us to staying.
Discovering a Hidden Gem: Fenghuang. A Hidden Gem No More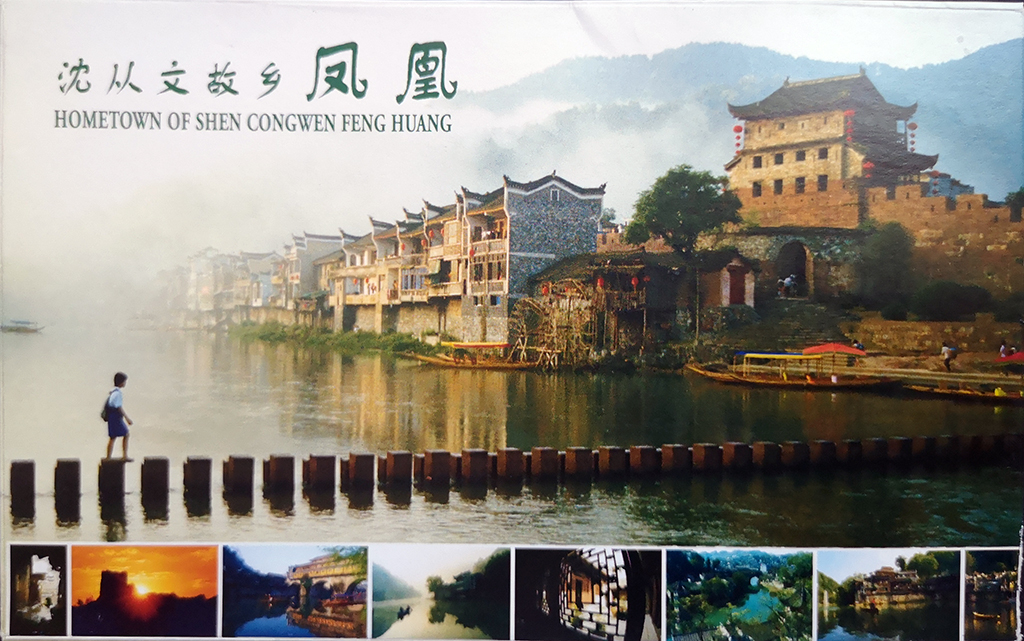 When we ventured out of our room the next morning, we were expecting to find an undiscovered gem. Fenghuang's remote location in the far west of Hunan, bordering on Guizhou, as well as its absence from all guidebooks, had led us to imagine we would have the whole city to ourselves.
Imagine our surprise then, when we found that Chinese domestic tourism had already arrived in the so-called Phoenix City (Fenghuang means Phoenix and according to legend two of these sacred birds flew over the city in ancient times) in a big way, complete with tourist guides armed with flags and megaphones, leading their charges from one scenic spot to another…  Though Fenghuang might be a gem, undiscovered it certainly was not! Perhaps, the Chinese had just been keeping it a secret from foreigners. Nevertheless, the town is still far from overrun and the majority of Chinese tourists are students, many of them art students, who spend their time painting the famous sights and river scenes.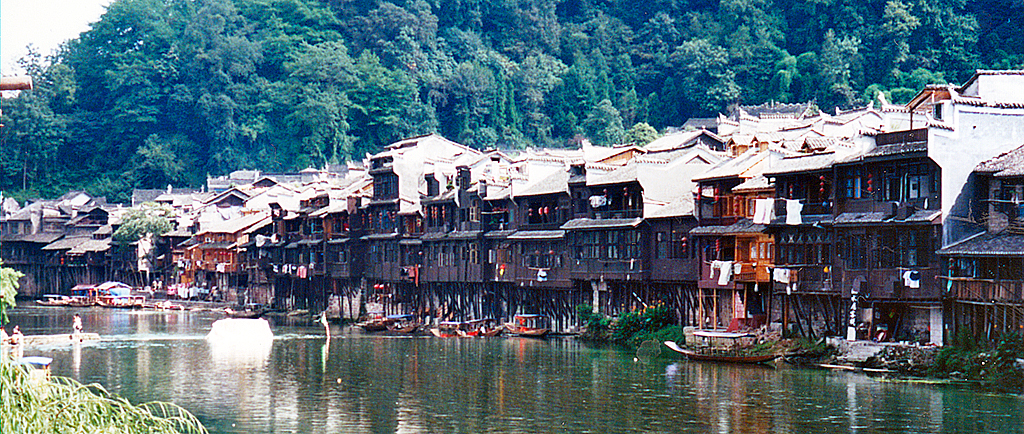 A number of shops catering for the growing tourist industry have sprung up along the cobbled main street, set in attractive wooden houses. While many of these sell the usual knick-knacks that can be found at tourists sights all over China, others sell high quality batiks and attractive ethnic clothing. Another speciality are the sweets that are made in the streets and sold in very attractive packages. The spicy ginger sweets are the best we've ever tried.
Discovering a Hidden Gem: Fenghuang. History and Background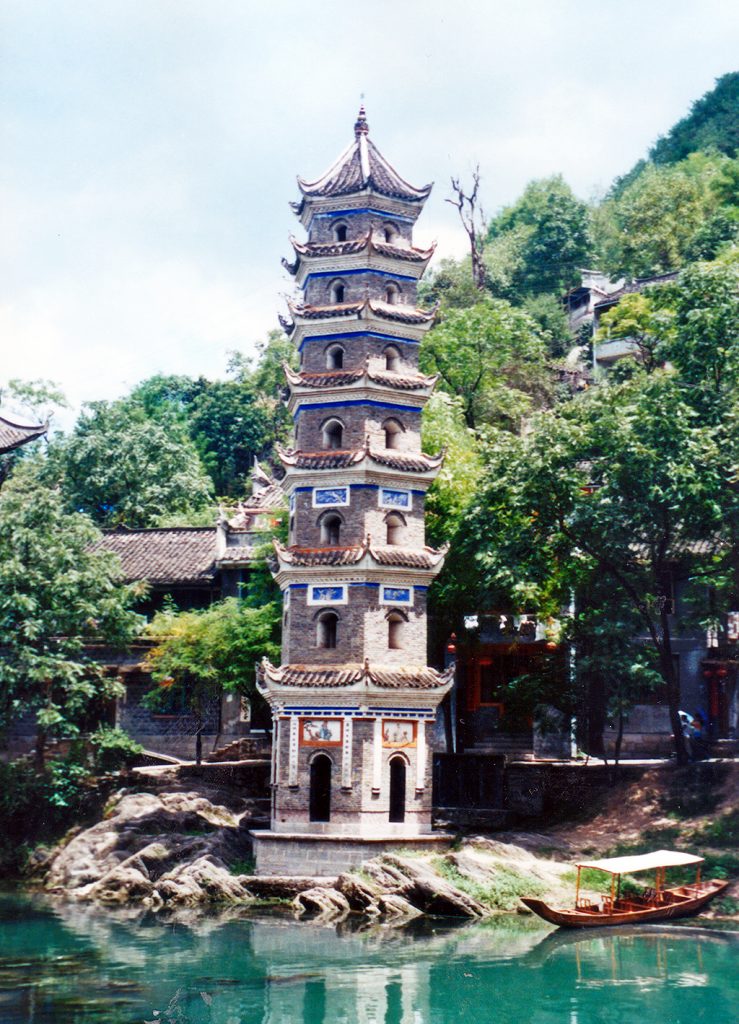 Fenghuang has a long history. It was an imperial garrison town serving the dual purpose of keeping a watchful eye on the restless Miao and protecting the salt route. Fenghuang owed its prosperity to the salt trade in which it played a pivotal role. Many of the grand merchant mansions were built from the profits derived from this trade.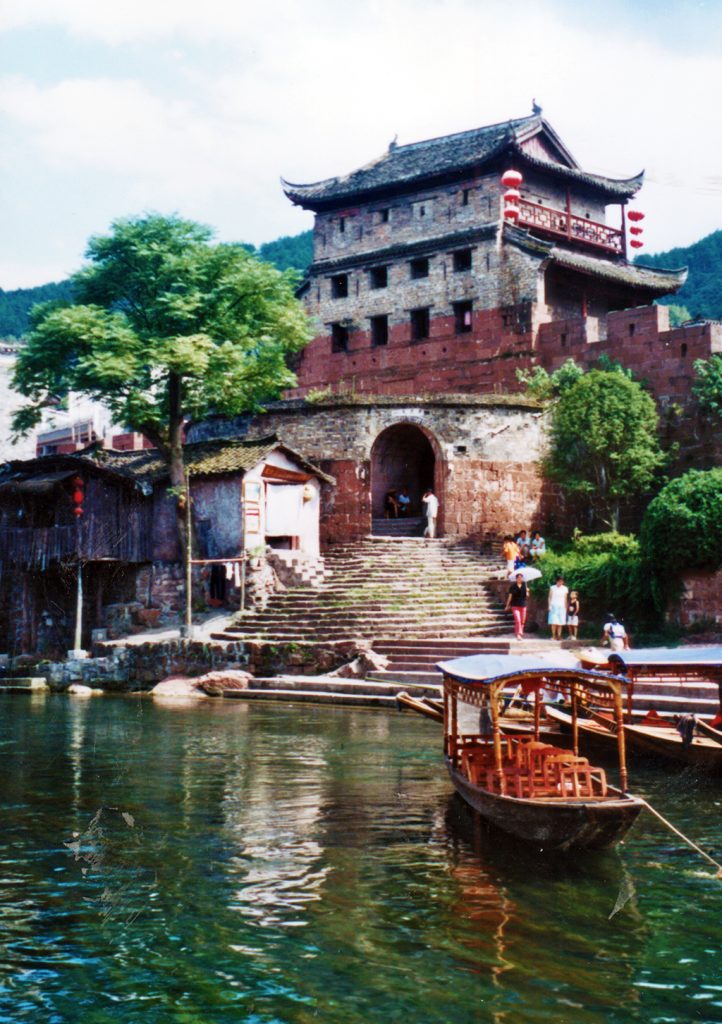 The population of Fenghuang is a mixture of Han Chinese and Miao and Tujia ethnic groups.  Contrary to the official view point, the relationship between the majority Han Chinese and the Miao has not always been harmonious. During the 1850's, a huge rebellion by the Miao in this area saw them pitted against the imperial soldiers in a fight that cost millions of lives.  Clashes between Han Chinese and the Miao continued right up to the founding of the Peoples Republic of China. The Southern Great Wall passed close to Fenghuang and its remains are a testament to the fierce struggle between Imperial China and China's ethnic groups.
Discovering a Hidden Gem: Fenghuang. Fenghuang's Attractions
Once we'd recovered from our initial shock at finding the town full of tourists, we set out to discover what had brought them all here.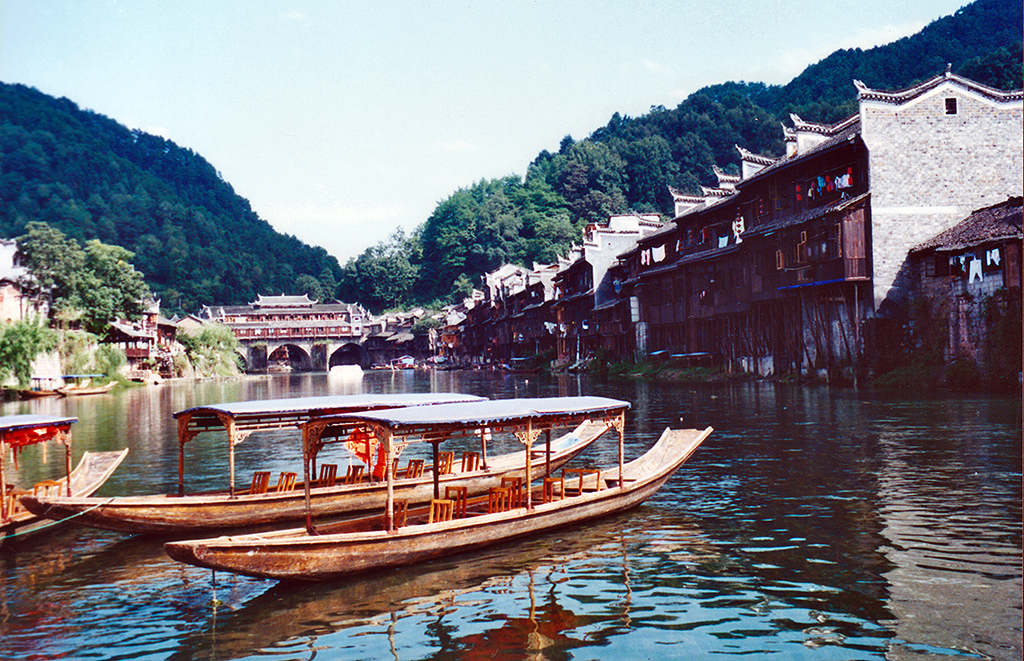 First of all, there is Fenghuang's setting and scenery. Lying in a scenic valley, surrounded by lush green hills, with a placid clear river running through its centre, Fenghuang is the archetypal image of a classical ancient Chinese town. The architecture in the historical part of town is an interesting mixture of Ming and Qing dynasty wooden and stone houses, with some local Miao minority influences adding to its uniqueness.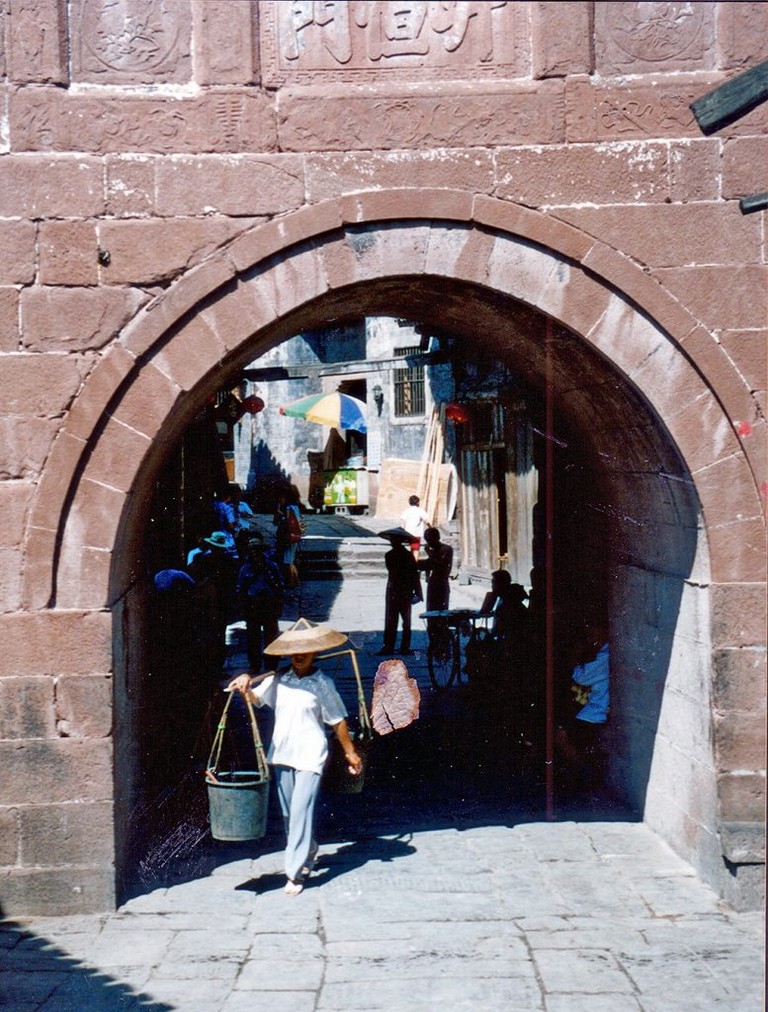 There are narrow lanes, old gates and ramparts. A large section of the old city wall has been restored and provides great views over the rooftops, the town and the river. The most striking buildings, many of which have been converted into atmospheric restaurants and bars, overhang the river and are propped up on wooden stilts. During the day, you can appreciate the outlines of the houses reflected in the green-blue waters of the river, at sunset the river takes on an orange hue, while at night hundreds of little lights shine on its black surface.
Discovering a Hidden Gem: Fenghuang. The Sights
Then there are the sights, although it has to be said that the first of these, the 'Hongqiao' covered bridge, is a bit of a let-down. The bridge, which is said to be about 300 years old, looks spectacular from a distance. However, a closer inspection reveals that the top part is a new construction and serves as a shopping centre with tacky souvenir stalls and an entertainment arcade.
More interestingly, you can visit a number of old mansions around the town, built by ancient aristocratic and merchant families. Some of these buildings are very atmospheric and contain detailed carvings, antique furniture, shady courtyards, as well as theatre stages where Fenghuang opera, known as Yangxi opera, used to be performed. Yangxi opera has its roots in Shamanism and local Miao customs and operas were often staged to ward off plagues and famines.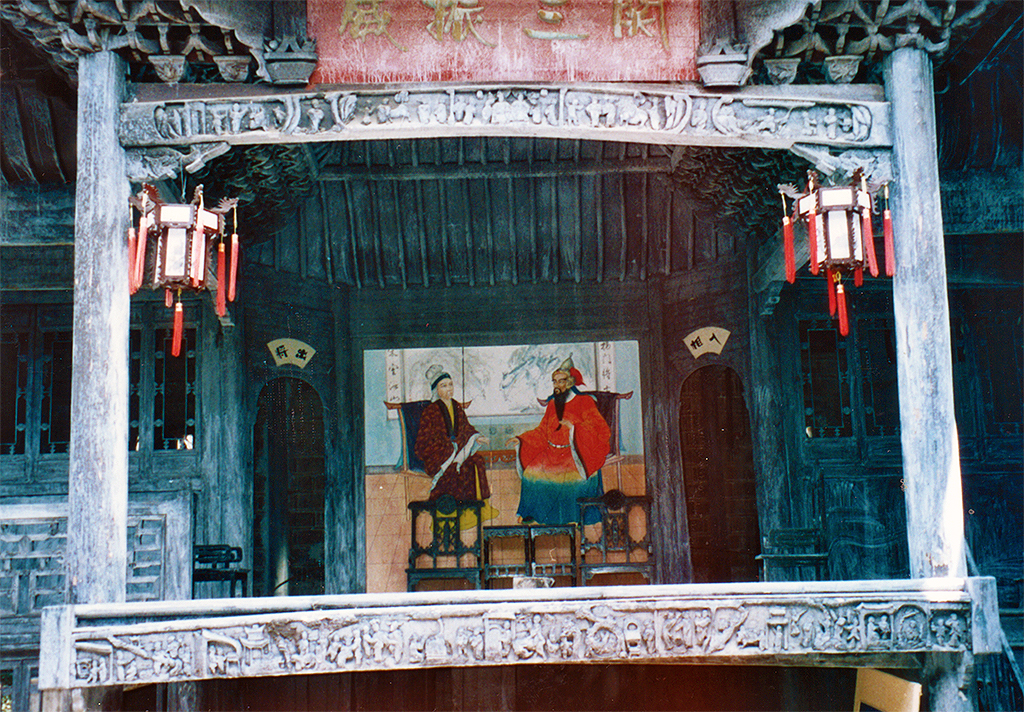 Discovering a Hidden Gem:Shen Congwen
One of the mansions open to the public once belonged to the famous writer Shen Congwen, known for combining the vernacular style of writing with classical Chinese writing techniques. Shen Congwen based many of his stories on the local traditions and customs from around this western area of Hunan and portrayed the violent clashes between the Chinese and the local Miao ethnic group. You can visit his tomb by taking a pleasant walk away from the town, along the river and past some pagodas and temples.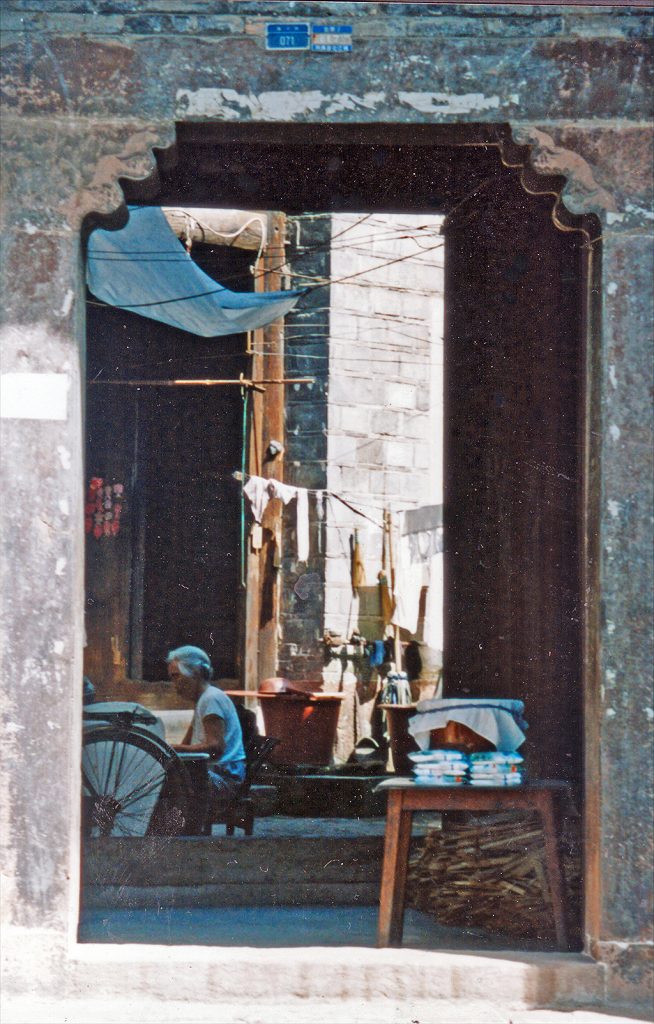 If you get tired of walking around, there is an alternative way of viewing Fenghuang, which is to hire a small boat, punted by a man with a huge bamboo pole. Many Chinese spend hours going up and down the river, knocking back 'baijiu' (Chinese rice wine) and generally making merry. At night, these boats have lanterns hanging from their roofs, making it all look very romantic.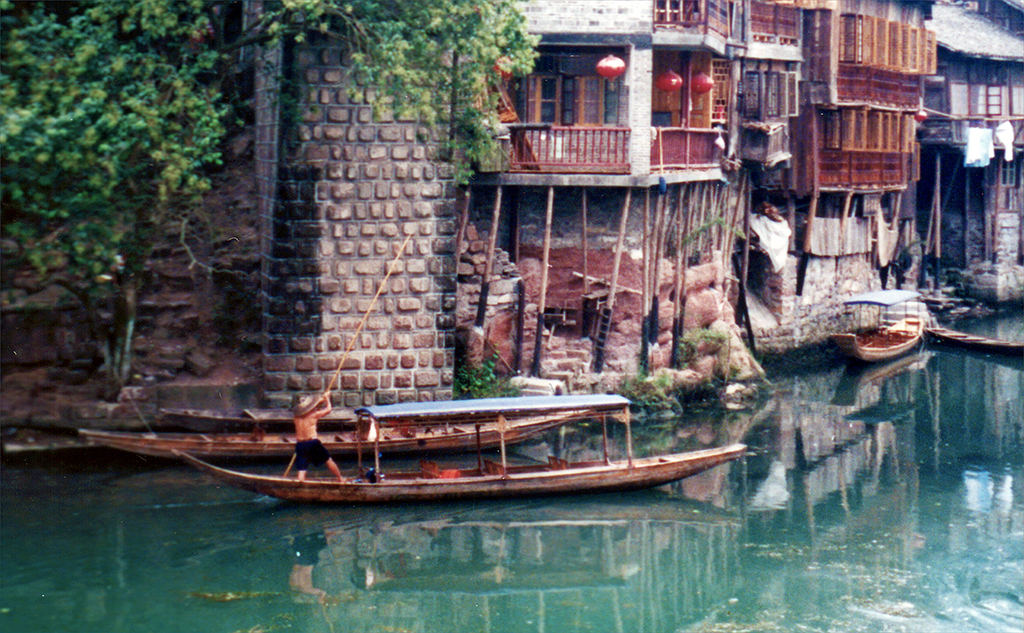 Discovering a Hidden Gem: Fenghuang. Practicalities
Transport:
Fenghuang used to be accessible only by bus. There are three approches from to the town. If you are heading to or from the nature reserve at Zhangjiajie, then you need to use the town of Jishou. There are regular buses between Fenghuang and Jishou. If you are going to Zhangjiajie, you need to catch the first bus at 6.30 from Fenghuang to Jishou (2hrs), in order to catch the first train from Jishou to Zhangjiajie at 9.08. A hard seat ticket costs 22 Yuan. The bus from Fenghuang drops you at the opposite end of Jishou from the train station and a taxi to the station is probably the best option, if you want to get a train ticket.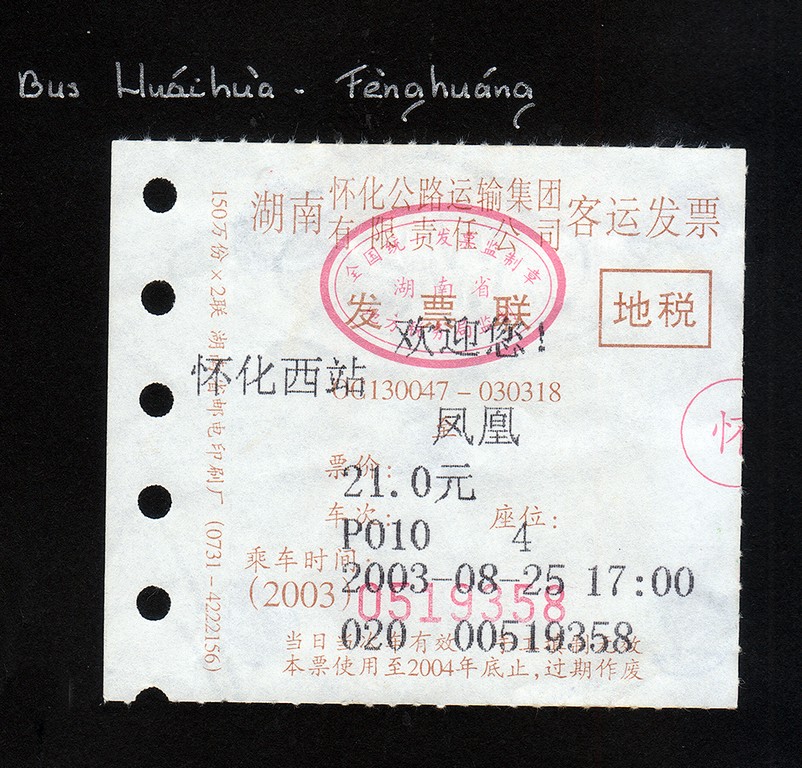 There are also regular buses from the railhead town of Huaihua on the Changsha – Guiyang rail line. It is a beautiful two and half hour ride.
Finally, there are buses from Fenghuang to Tongren in Guizhou, for those wishing to climb Fanjing Shan.
Update
Times have changed. Fenghuang is soon to be on the high speed rail network, so getting there will be a whole lot easier; for better or for worse!

Fenghuang should be added to China's high speed network this year (2021) making it very easy to get to Fenghuang from most places in China.
It will be part of the Zhangjiajie / Huaihua high speed line.
Places to Stay: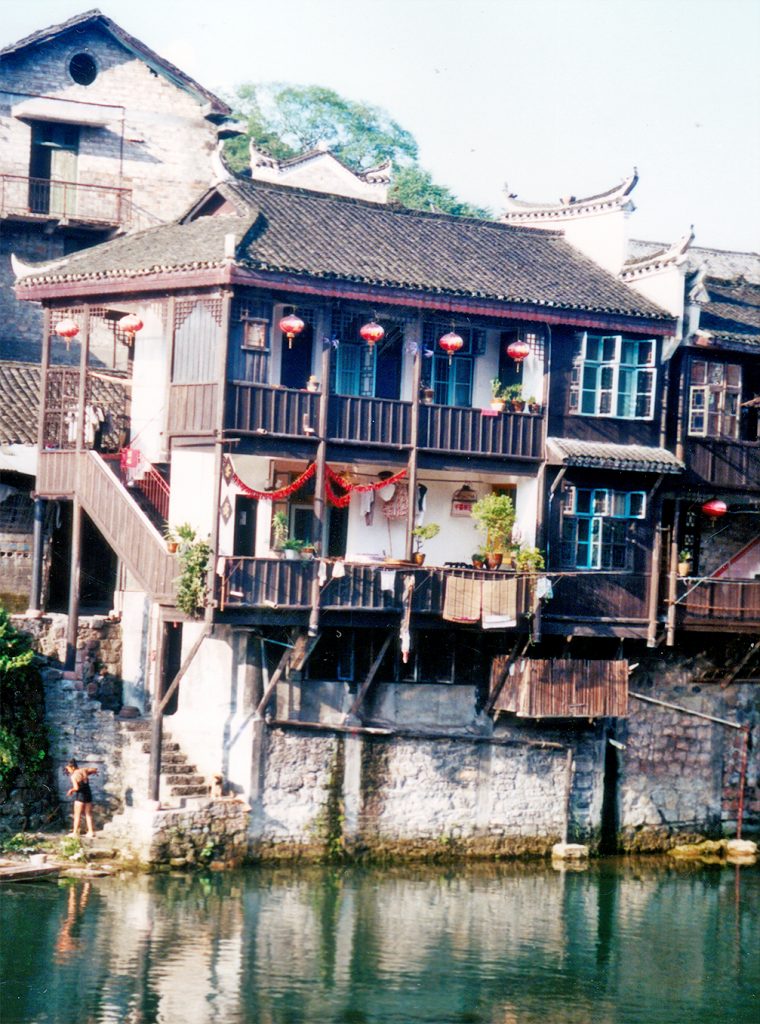 We stayed in a family guest house on the edge of the old city, where we paid only 60 Yuan for a clean room with (primitive) bathroom. After we had checked in, we discovered several modern hotel options in the new town, as well as a whole string of atmospheric wooden Inns (Kezhan) by the river. These cheap hotels are basic but clean and many rooms have balconies overlooking the river.
Places to eat: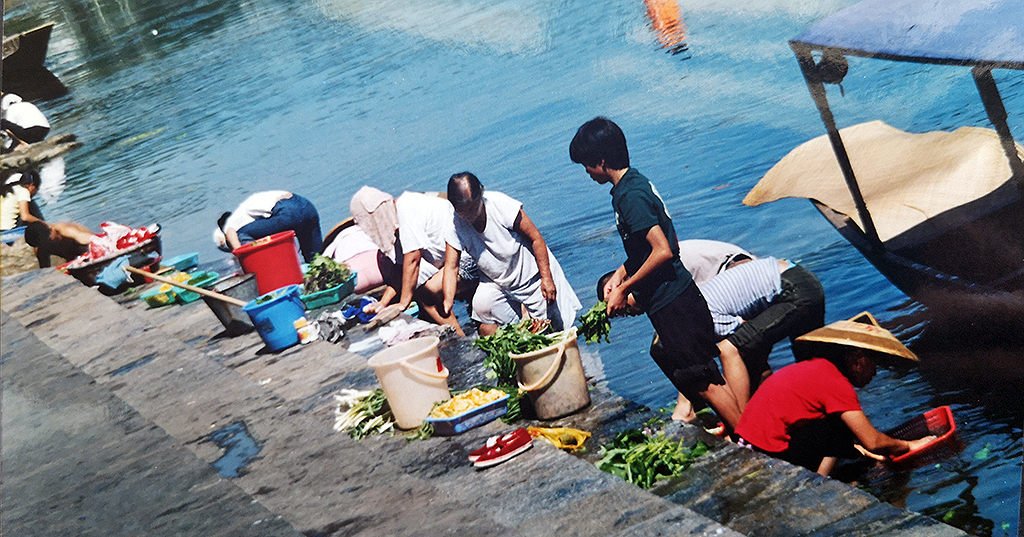 The riverside restaurants serve excellent food. Lots of them are point and choose joints, where the chef will cook up something wonderful, from your choice of ingredients. The tiny fried shrimps and small fried fish with chilli are particularly good.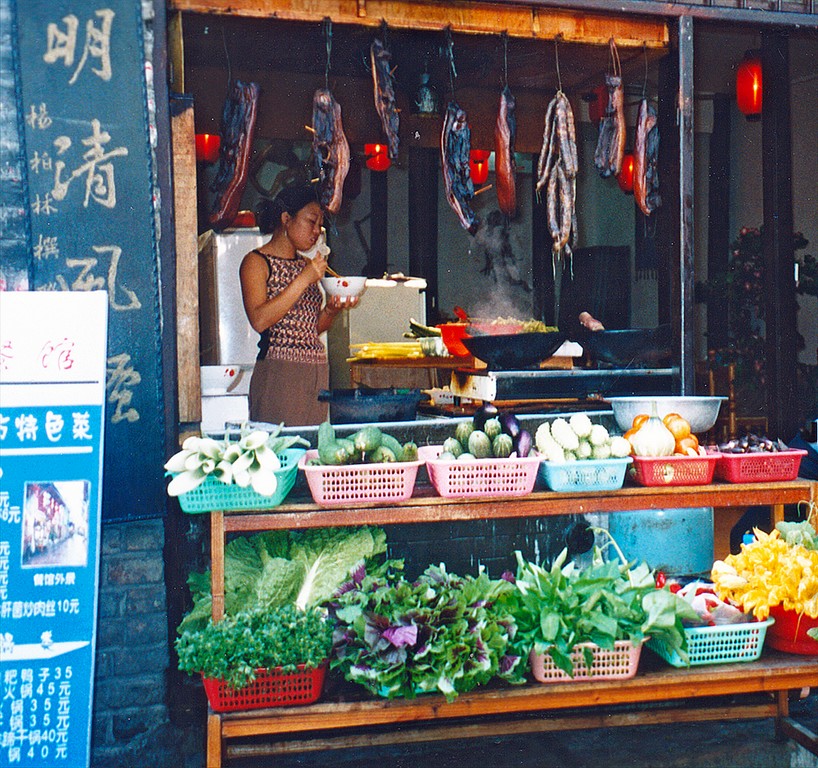 If you haven't been to Guizhou, Fenghuang is a good place to try Miao dishes, especially the hot and sour chicken, or hot and sour fish. We particularly liked one excellent restaurant just off the old main street, run by a friendly young couple. It is recognizable by the huge selection of fresh vegetables outside and the cured meats hanging in the front window (See photo).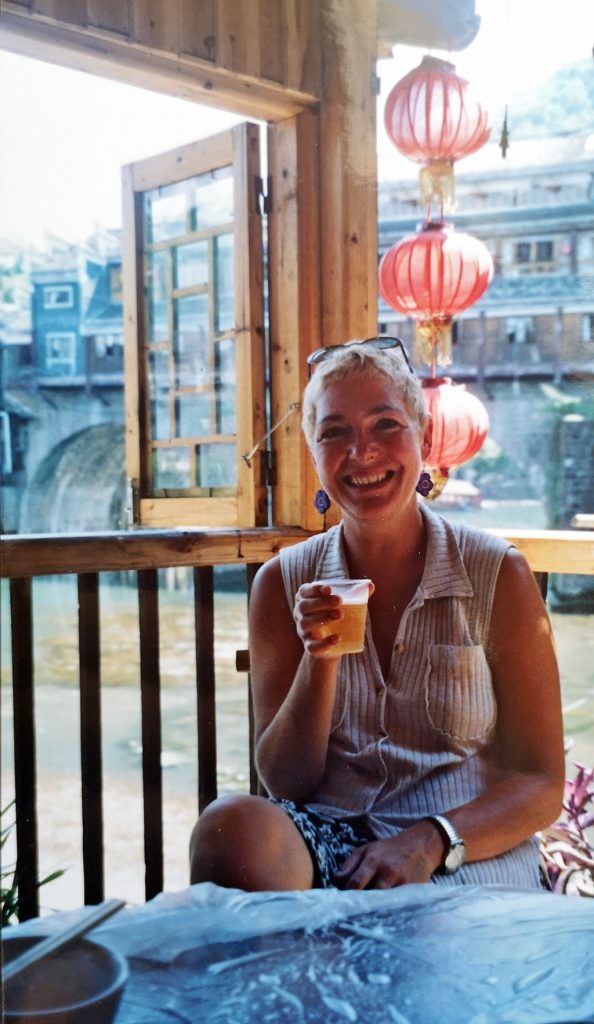 They do a great sweet and sour cat fish as well as good vegetarian dishes. Lastly, in the modern town there is a night market that has a good selection of snacks and local specialities.