The Route of 2011, Stage 3: by Margie

Yinchuan & The Xi Xia Tombs / 银川与西夏王陵
For more on Yinchuan and around click below:
Stage three: Yinchuan (银川) and the Xia Tombs
Intro
This was the beginning of what was supposed to be the highlight of our China trip of this year: a visit to the Badain Jaran Desert near a town called Alashan Youqi. A few sentences in the Lonely Planet had put me up to this adventure; under the caption 'Bayan Khot' it said: "One daily bus goes to Alashan Youqi … at 7.10 am. " Moreover, a boxed text in the Inner Mongolia chapter mentioned "… the remote but stunning Badain Jaran Desert…", which was apparently a 30-minute drive away from this Alashan Youqi. However much I looked on the Internet, I found little else. In fact, there didn't even seem to be a road on the maps I consulted.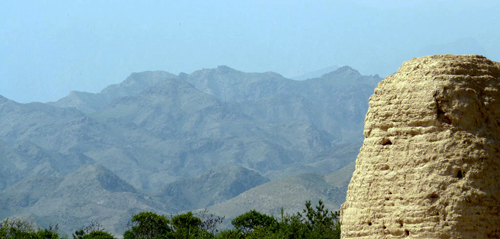 And so, while driving through the depressingly familiar mixture of white-tiled urban sprawl, manic traffic and choking pollution that took us from Yinchuan bus station to the centre of the Old Town, doubts kicked in. With a feeling of near panic I thought of my friend who I had persuaded to take a week off work from his job in Beijing (北京) to join us on this trip.
Would he not regret spending his holidays in gritty Yinchuan, rather than going back to sunny Spain? I began to have serious doubts if I had done the right thing, embarking on a journey I still wasn't entirely sure was possible, and guilt set in. As it turned out, Continue reading "Yinchuan & The Xi Xia Tombs"