Guangxi Zhuang Autonomous Province
Yangmei: So near yet so far! Only 30 kilometres separate the modern, green and dynamic city of Nanning, capital of the Zhuang Autonomous Province of Guangxi, from the ancient village of Yangmei. However, the differences between the two places are so great that they might as well exist on other planets.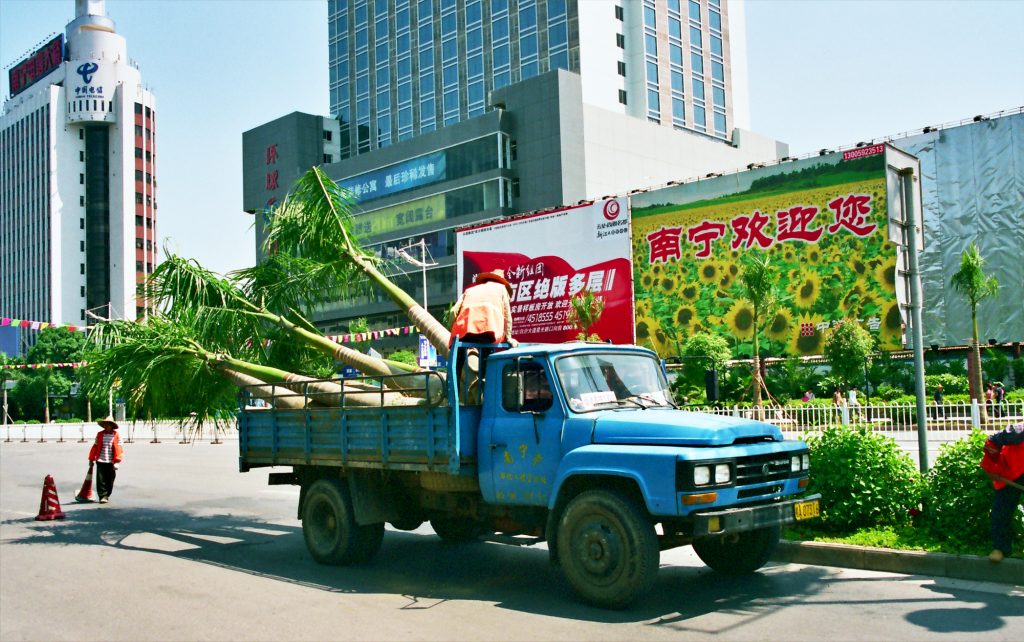 The smart motorway leaving Nanning runs out after about 10 kilometres, when the buses takes an abrupt turn into a country lane. The rest of the journey takes an incredible 2 hours, as the bus passes through local markets, gets stuck in a traffic jam of three-wheeled motorcycle rickshaws, makes a slow river crossing on a rusty ferry and stops at every village on the way, delivering passengers and parcels.
Yangmei: So near yet so far! It takes a long time to get there
The scenery is rural and pretty. Most of the people in this area belong to the ethnic group of the Zhuang, which is virtually indistinguishable from the majority Han Chinese, both in physical appearance and dress. They earn their livelihood from the cultivation of sugar cane and bananas. You can see ample evidence of the latter as the bus makes its way through the endless plantations that stretch along both sides of the road for as far as the eye can see.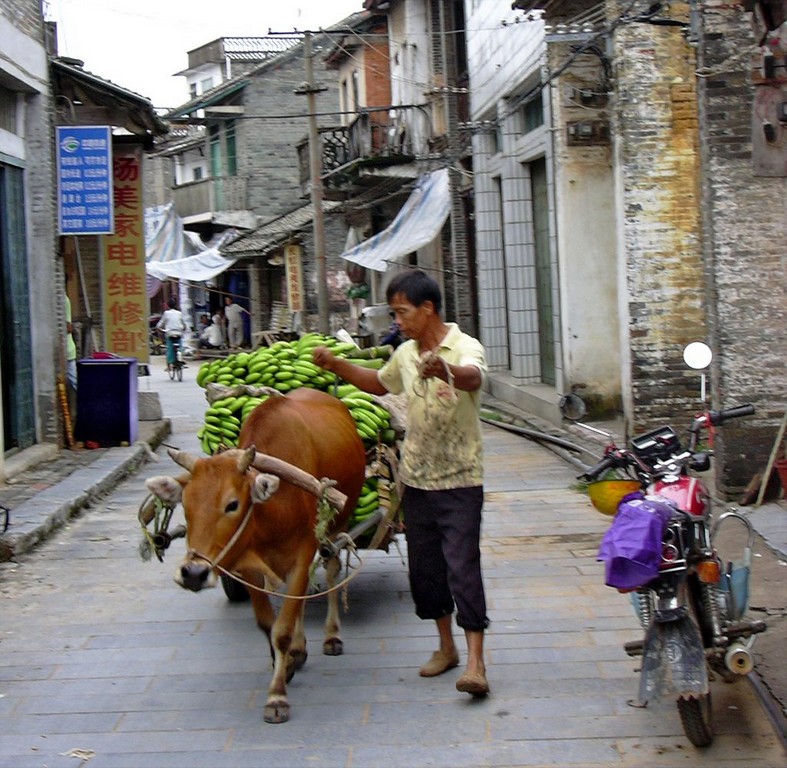 Yangmei might have been like many other rural villages in China, abandoned by its population, heading for the cities, and fallen into oblivion. Fortunately, Yangmei has been saved by its incredible collection of Ming and Qing courtyard houses in grey brick and its fantastic setting on the bend of a river, amidst sub-tropical countryside.
What is even more incredible is that so far it hasn't been converted into some kind of Qing-Ming dynasty theme park, like so many other, once beautiful and charming villages in China.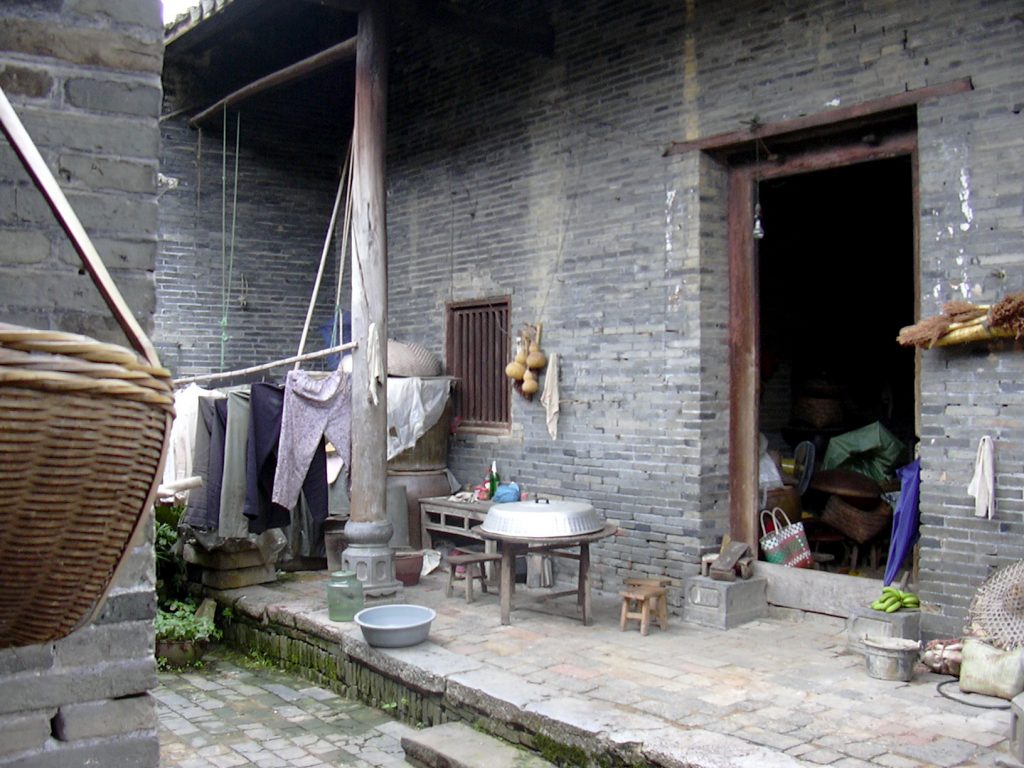 Yangmei: So near yet so far! Authentic Character
For the moment, the village preserves its authentic character; local people still live in many of the buildings you can visit and the majority of the population is involved in agriculture, rather than the tourist trade.
A couple of grannies selling hand-sewn miniature shoes and stuffed, cloth butterflies and a couple of open-air restaurants by the river, seem to be Yangmei's main concession to tourism.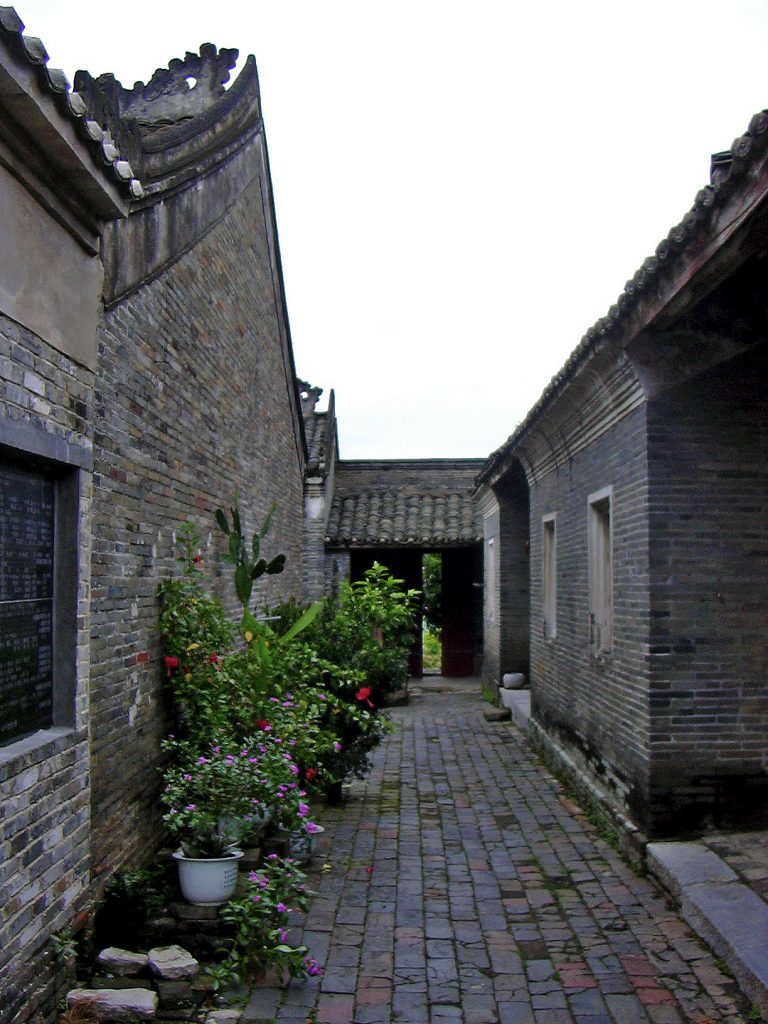 The village has no great sights as such. It is just a nice place to wander around for a few hours and soak up a bit of the old China. Wooden signs show visitors where to find the old Ming and Qing dynasty mansions, tucked away down narrow alleys, or set around lotus ponds. Many of Yangmei's early residents came from Shandong Province which is why a lot of the old Ming and Qing buildings were built in the sturdy northern style.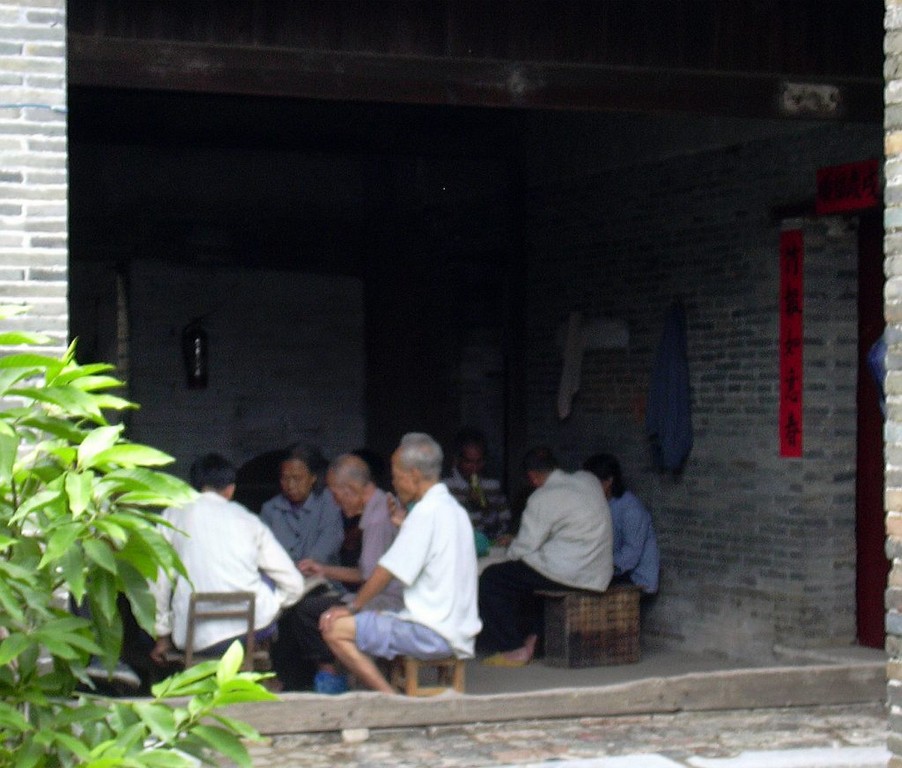 Local people, most of them advanced in years, congregate in the courtyards or the village's small flagstone squares, where they smoke pipes and play Mah-jong. Some try their luck at fishing in the ponds.
Apart from the mansions, there are also a number of temples scattered around, most of them undergoing serious restoration, as they were badly damaged during the Cultural Revolution.
Being Imortalized in Yangmei
The Confucian temple, just outside the village, seems to have discovered a novel way of collecting funds for its renovation, by offering visitors the opportunity to be immortalized on its memorial plaques.
For ten Yuan you can have your name and country engraved in a slab of black marble by a venerable old grandfather in a blue peasant jacket, Mao style, and thick spectacles. These plaques are then used to cover the walls and doors of the temple, providing a kind of stone visitors' book.
After a few hours of wandering around, one tends to get a bit peckish. Near the river there are a couple of family-run restaurants that specialize in local products.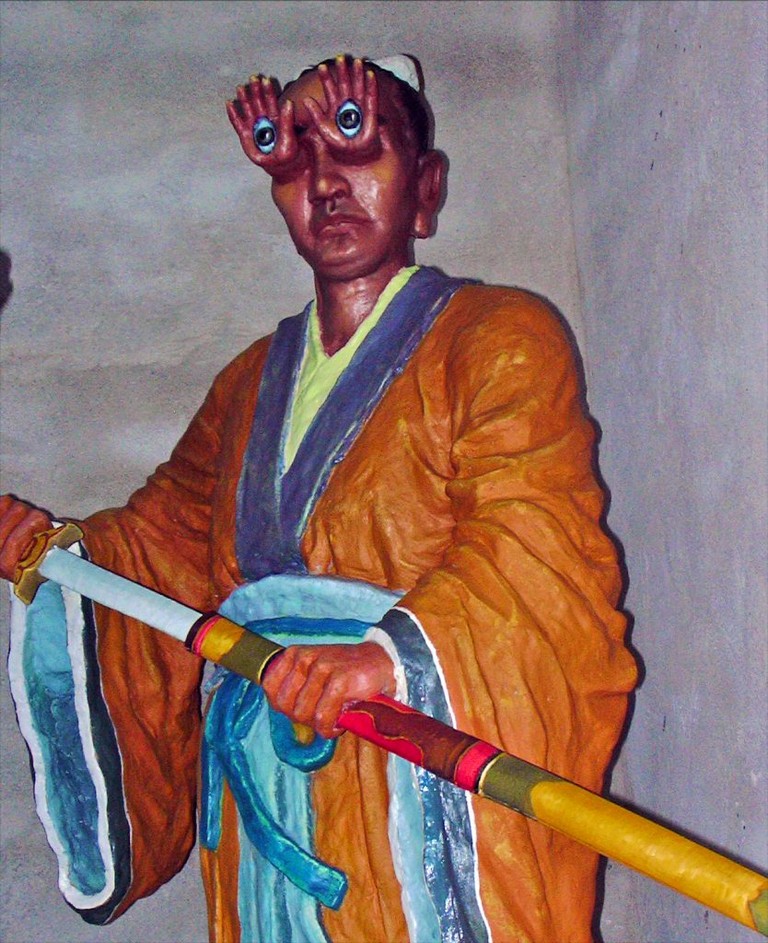 Yangmei: So near yet so far! What to eat
River fish is the favourite and can be cooked in a number of ways. The tasty food, cold beer and shady riverside location all make for a pleasant way to while away the rest of the afternoon, until it's time to catch the last bus back to Nanning at four o'clock sharp.
If you like bananas, you should do what all visitors from Nanning do and stock up on a couple of bunches! Another famous local product are the pots of homemade pickles that can turn the ride back to Nanning into a rather pungent experience.
Coming and Going:
Buses for Yangmei leave from an obscure small local bus station in Nanning, about ten minutes from the train station. Walk down Chaoyang Lu, go past the Yinhe Hotel, go down one block, take the first street on the right and then turn right again, into Huaqiang Lu: the bus station is next to house number 198. Buses seemed to leave every 1½ hours, with the first one at 8.50. The last bus back to Nanning is at 16.00. Count on about two hours for the 30km trip.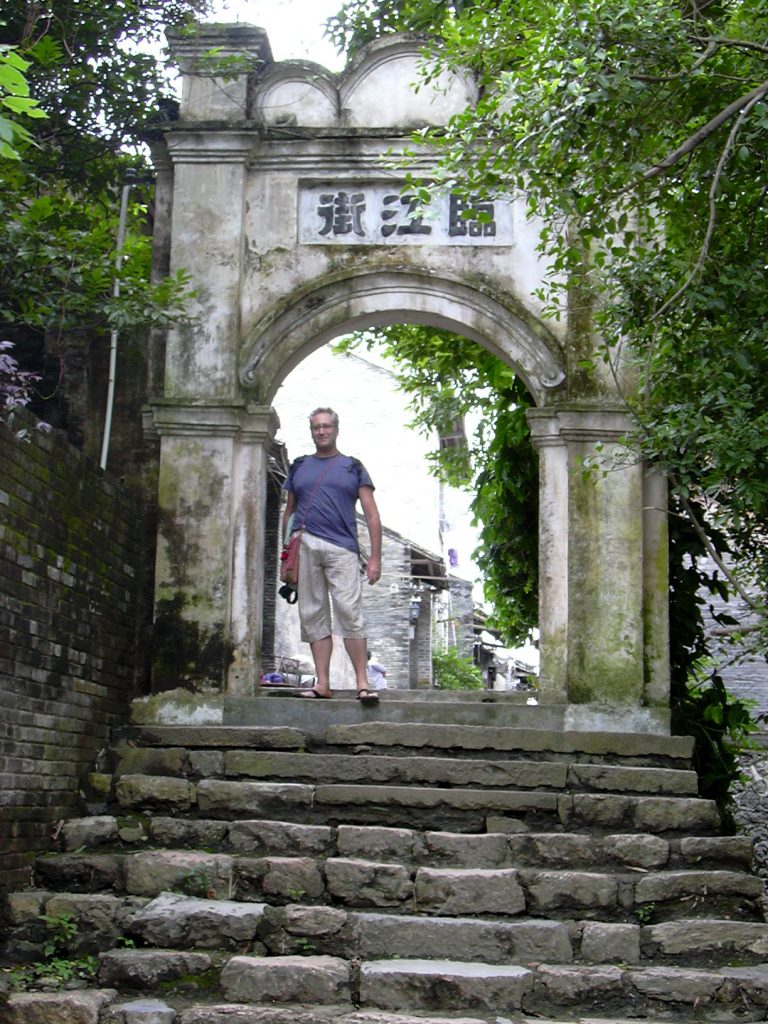 Places to stay:
We saw at least one basic local guesthouse that would probably be okay for a night. Moreover, a new small hotel, in keeping with the local style of architecture, looked as if it would be opening soon.
Places to eat:
The restaurants by the river offer the best eating possibilities. Good fresh fish, taken straight from the tanks, is the best choice. Meat eaters might like to try the local chickens, all of which looked pretty big and healthy.