Lao Tou Restaurant 老头浙菜饭店: Zhejiang style 浙菜 cooking in the heart of Madrid's Chinatown Usera
One of the most popular restaurants in Madrid's Chinatown in the neighbourhood of Usera, Lao Tou, is an homage to the cuisine of Zhejiang 浙菜, known as Zhècài. Zhejiang is the birth place of the majority of the Chinese community living in Madrid (and Spain).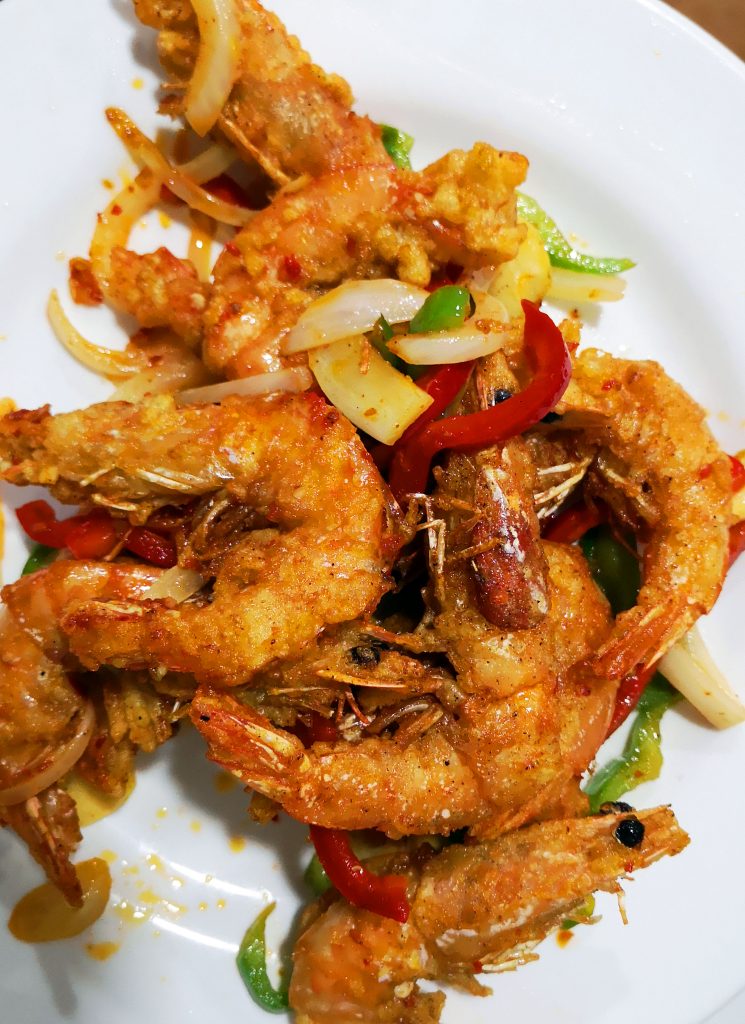 Not only is Lao Tou popular with the Chinese residents in Madrid, it is also increasingly frequented by curious Madrileños and Chinese tourists visiting the capital.
What makes the restaurant special?
Firstly, the ambience: Lao Tou is boisterous, noisy and chaotic. The combination of Chinese and Spanish having a good time means that noise decibels go through the roof. Added to the animated conversations of the clientele is the clanging and banging made by the to-ing and fro-ing of the waiters as they bring a constant stream of dishes and drinks from the kitchen and bar. And to cap it all, there is the hiss of the wok and the sound of metal hitting metal as the chefs stir the food in the woks with their spatulas.
Then there is the food. Anyone following our blog will know that we love spicy food and our favourite Chinese cuisine comes from Sichuan and Hunan, called Chuāncài 川菜 and Xiāngcài 湘菜 respectively. Zhejiang Cuisine is very different. Rather than using a lot of spice, the aim of Zhejiang cooking is to concentrate on the natural flavours of the ingredients, using only a few spices to enhance the taste. Not much oil is used and the flavours are fresh.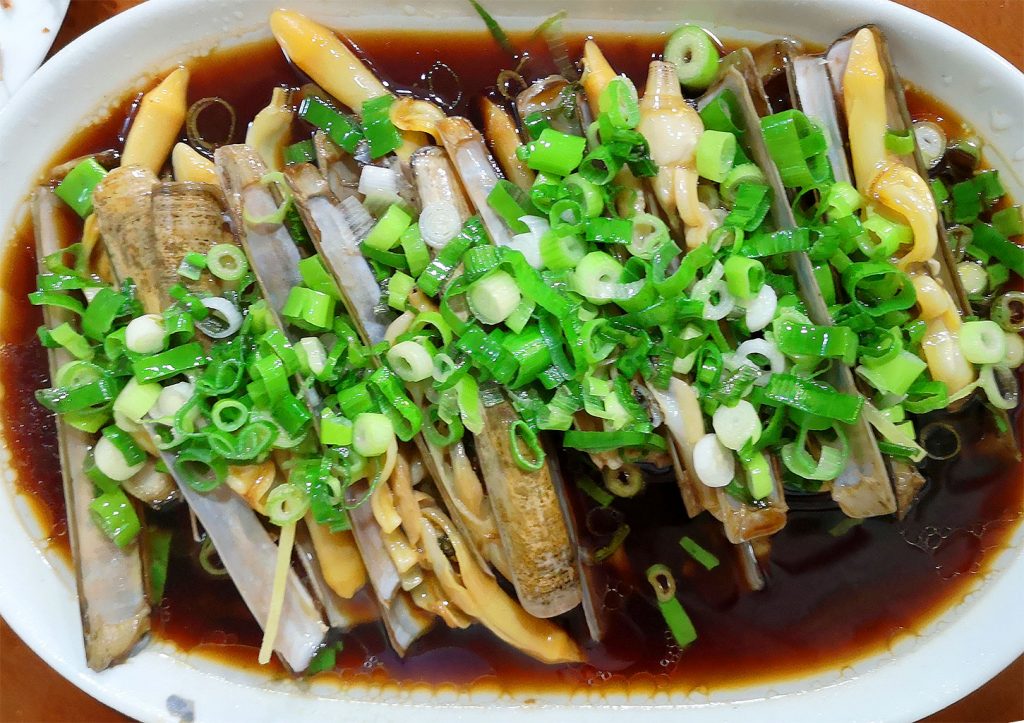 Most of the Chinese community in Madrid come from Qingtian, a town close to the huge, commercial city of Wenzhou in the south of Zhejiang Province. As this area is near the border with Fujian Province, there is a lot of influence from Fujian Cuisine 闽菜, known as Mǐncài. 闽菜. Mǐncài uses a lot of seafood and fish and that is what makes Lao Tou such a great restaurant.
Fresh Spanish seafood, cooked in 浙菜; Zhècài /闽菜; Mǐncài style makes for a real treat. Great fish: seabass and turbot. Wonderful shellfish: clams, razor fish and cockles, to name just a few. For carnivores there is also a huge selection of offal, cold and hot, as well as chicken, duck and pork specialities.
The Dishes:
Here are some of the cold dishes we started with.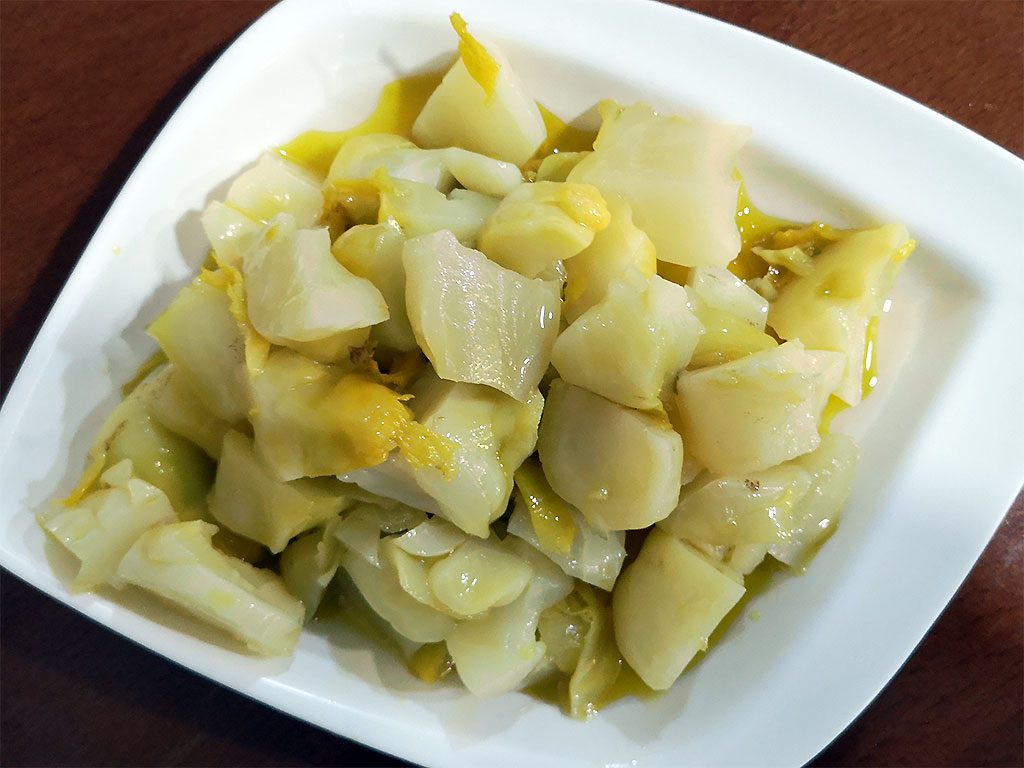 Wa wa cai 娃娃菜 (Verdura adobada, Spanish translation): a cold dish of pickled cabbage hearts, slightly salty with a tinge of sweetness and a crunchy texture. I'd never had it before and neither had I heard of it, but it's delicious!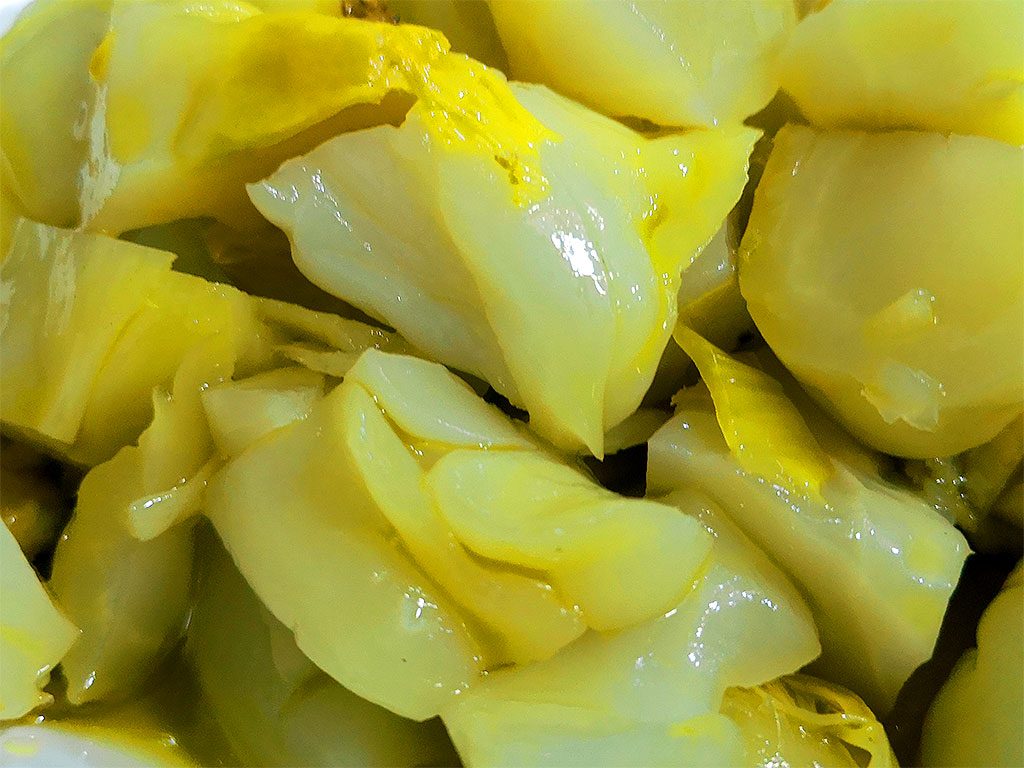 As it's not on the menu, you have to point to it in the glass cabinet between the bar and the kitchen.
Cold Fish Cake 鱼饼 in slices (Pastel de Pescado): tasty slices of cold fish with garlic and ginger, accompanied by a light soy sauce. It has a great texture too!
Cold dried and roasted fish 黄鱼 (secado de pescado): a really tasty fish that comes off the bone easily.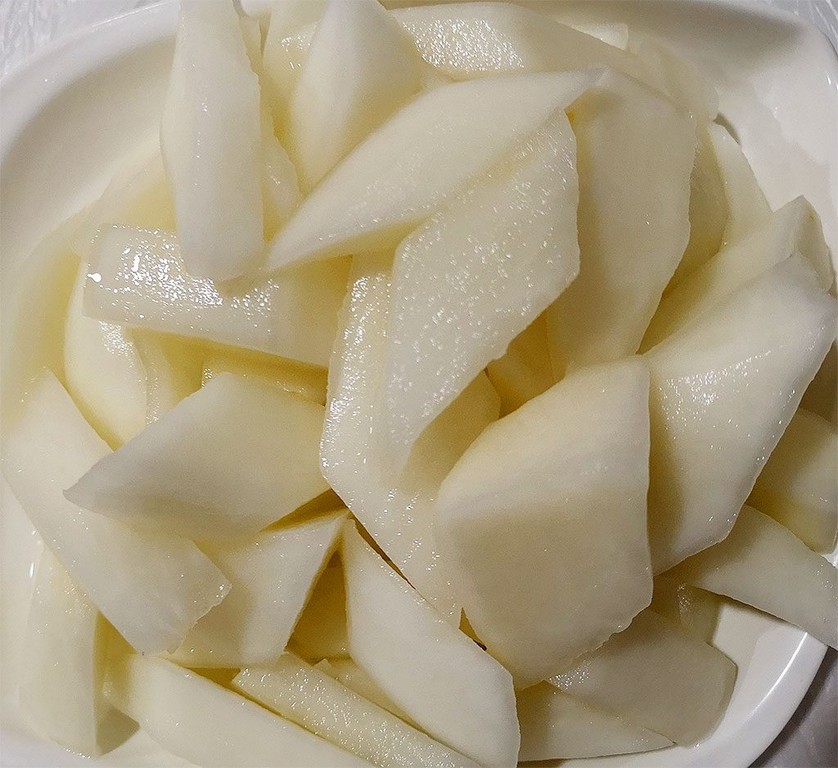 Pickled Turnip 萝卜条 (nabo encurtido) : similar to the pickled cabbage hearts; crunchy and delicious.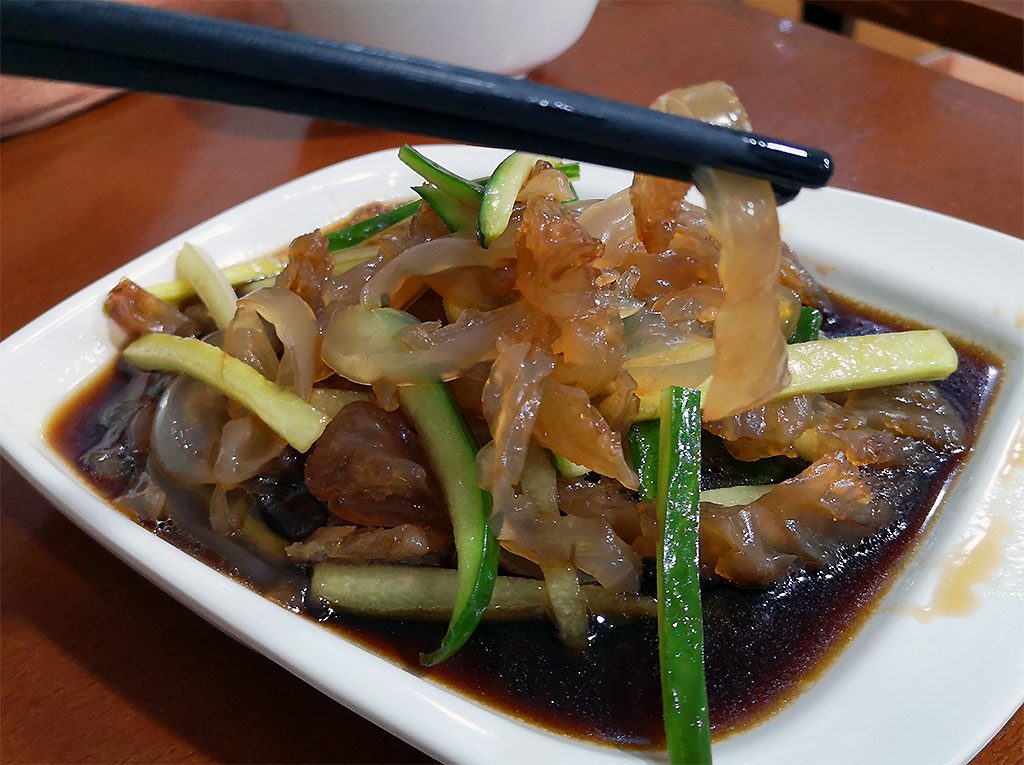 Jellyfish salad 海蛰头 (ensalada de medusa): a generous portion and excellent taste . However, the jellyfish could have been more tender and less chewy. This is usually one of our favourite Chinese cold starters, but this one was a little disappointing.
The other classic cold dishes on the menu include cucumber salad, tofu with black eggs (one hundred, or one thousand year old eggs) and fried shrimps with fresh coriander, among others. For adventurous meat eaters there are duck's feet 鸭爪, tongues 鸭舌 or a whole head 鸭头 and veal tripe 牛百叶.
Mains:
The star dish of Lao Tou seems to be steamed fish head (I think it is hake). We haven't tried it yet. Nearly everybody else in the restaurant was ordering it, but Margie isn't so keen on fish head, so we went for other options.
The razor fish 蛏子 (navajas) and clams 蛤蜊 (almejas) were fresh and tender and delicately cooked in soy sauce with spring onions and ginger. Most importantly, there was no sand in the razor fish.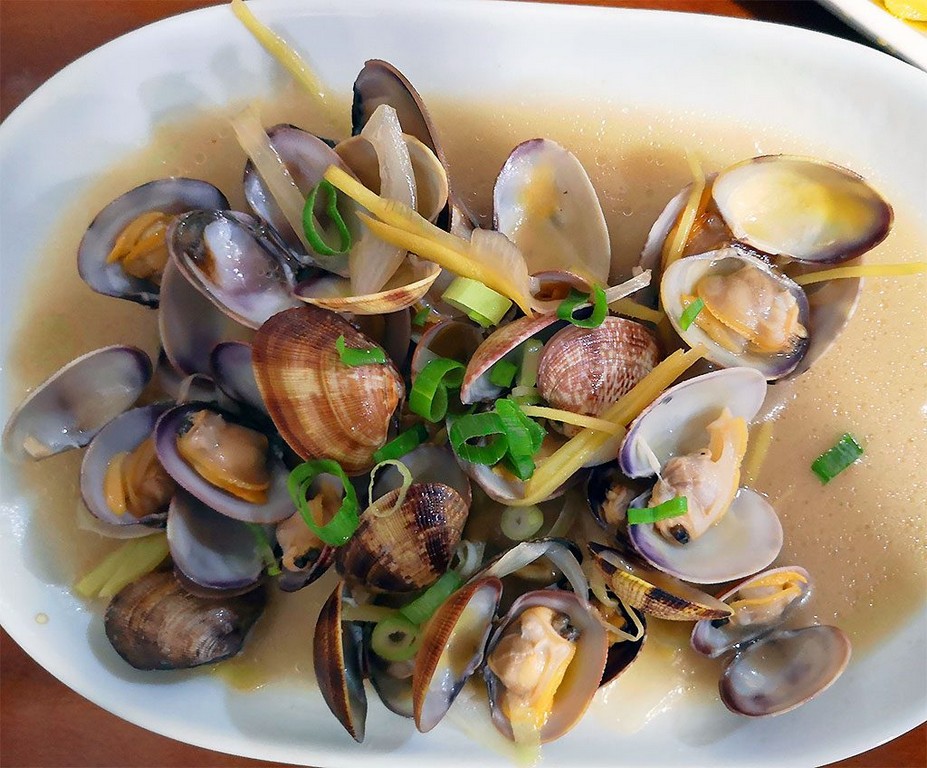 However, the cockles 蚶 (berberechos) cooked in Shaoxing wine (Huangjiu 黄酒) were the icing on the cake: fresh, succulent and imbibed with the flavor of the wine.
We also had a huge, mildly spicy pot of fresh seabass鲈鱼 (lubina), which was beautifully presented. The slices of fish were very tender and almost boneless; it could have been a bit spicier for our liking, but – as I said – that's not really what Zhejiang style's about. The restaurant does a similar dish with congealed blood.
Don't miss out on the salt and pepper deep fried prawns 椒盐虾: great texture and great taste!
Finally, there is a good selection of vegetables as well. I'd recommend the sautéed Mange Tout 荷兰豆 and if you are feeling adventurous, give the Chinese Yucca 山药 a chance, or the Jiao Bai (Sun) 茭白(笋), a type of crispy water bamboo.
They also do Okra Qiū kuí 秋葵 Chinese style, in a thick, sticky sauce。
All in all, Lao Tou comes highly recommended. At the weekend you may well have to wait at the bar before you get one of the coveted tables.