A trip to Wase Market held every 5 days is a fantastic off the beaten track excursion if you are passing through Erhai Hu Yunnan Province.
Getting to Wase from Xizhou 喜洲
Getting to the Saturday market at the Bai village of Wase wasn't as easy as we had first thought. Most people in Xizhou , the town on the opposite side of Lake Erhai where we were staying, had told us that there was no ferry and that we should try to get to Wase by hopping on and off the numerous buses that go around the lake.
To make matters more complicated, none of the locals agreed as to whether it was better to go round the North, or the South way. Only the owner of the Golden Flower Restaurant on the central square of Xizhou was convinced that there was a boat.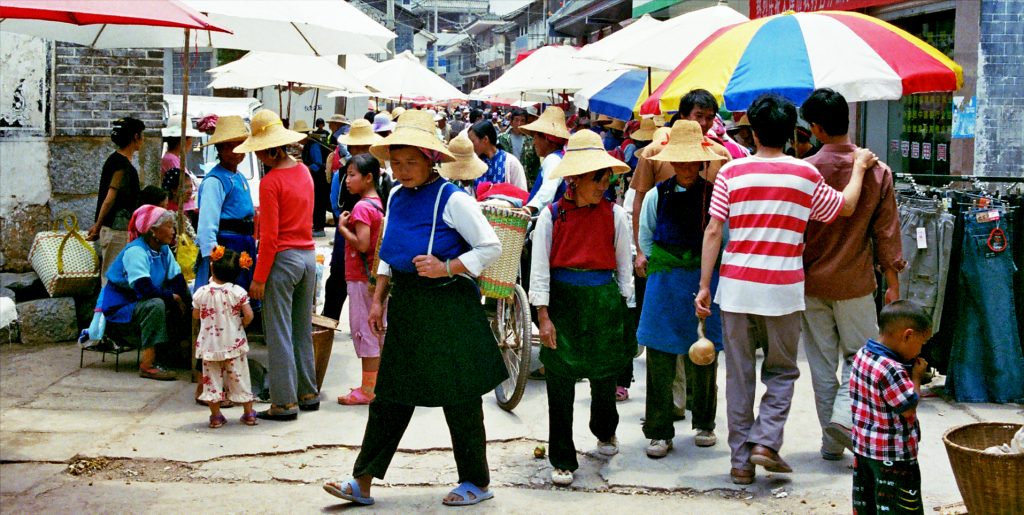 On Saturday we got up early and tried our luck on the road, waving our arms energetically at any north-bound bus, but to no avail. In desperation, we tried asking about the ferry again. The first man I approached categorically denied the existence of any boat.

A second man was equally adamant that there was indeed a boat, and he was backed up by a number of local Bai women, who happened to be passing by. According to them, there was a ferry leaving at 9.00 from the pier at the village we thought was called Huoyijia, about 2 kilometres away. I think now the village was called Jiangshan Cun.
"How do we get there?" I asked with a certain urgency, because it was by now 8.50! They called over a young man on a motorbike with a trailer behind. We quickly agreed on a price and hopped on.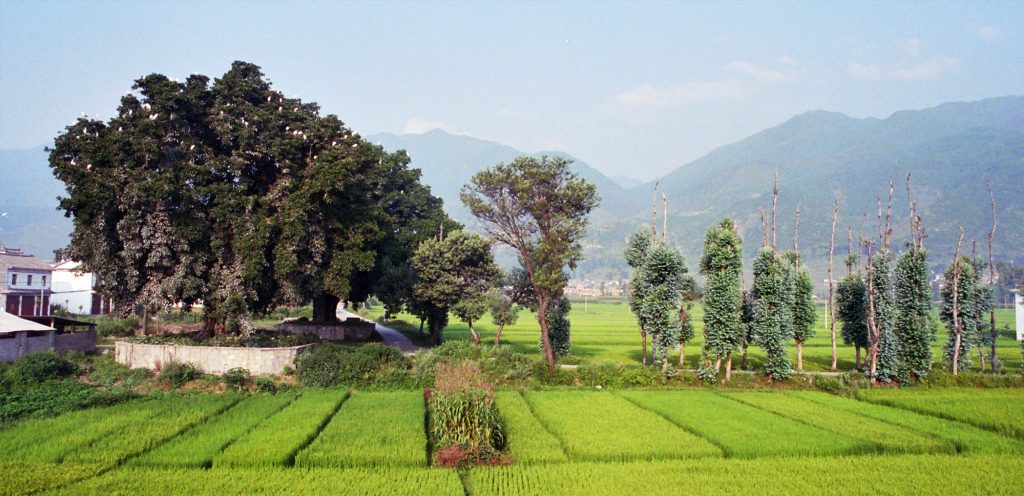 A trip to Wase Market: Missing the Boat
Unfortunately, the dirt road from Xizhou to Huoyijia/Jiangshan Cun is nothing but a series of bumps and craters; in short, more dirt than road. In order for the trailer not to overturn, the driver had to engage in endless manoeuvres, which reduced our speed to a snail's pace.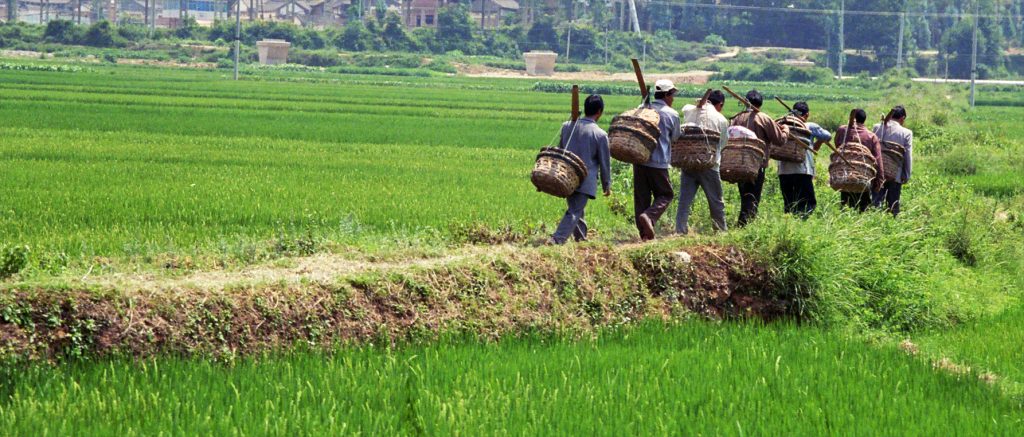 Soon we found ourselves being overtaken by smiling children and cheerful old ladies on bicycles. If there was such a thing as a boat, only unpunctuality would help us catch it!
At 9.07 our trailer finally made it to the quay, where we could only stand and stare in disillusionment and disbelief at the ferry, fading away into the distance across the lake. It was a classical example of the implacable working of 'Murphy's Law'! It would eventually take a further two hours, two buses and a taxi, following the southern route this time, to get to Wase, and its lively and interesting Saturday Market.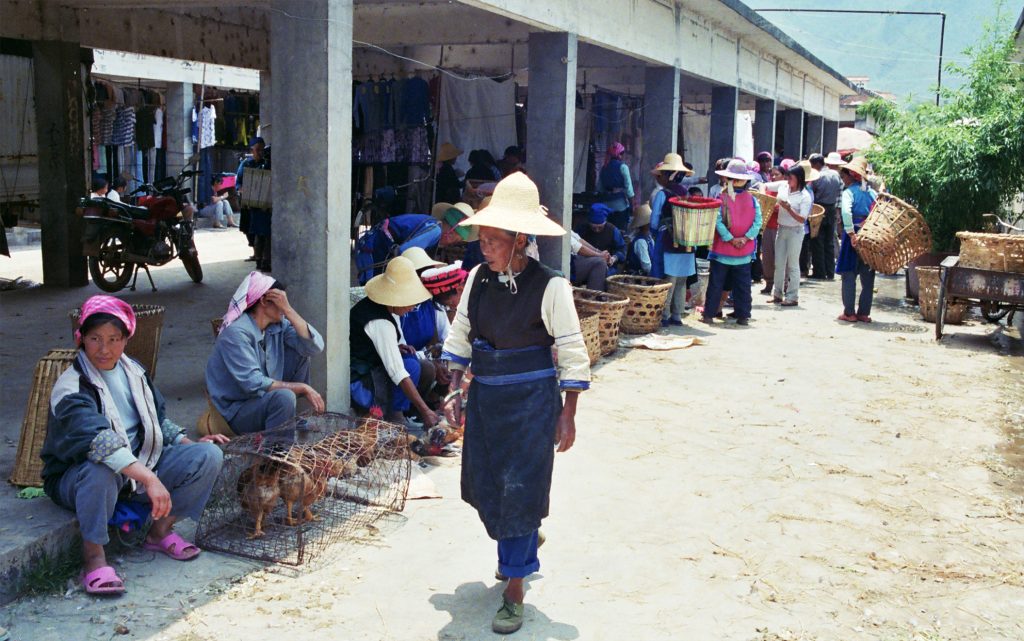 A trip to Wase Market: Brushing Shoulders with the Bai
We were dropped off at the top of a narrow alley, leading into town. The alley was chock-a-block with fruit sellers and donkey parking lots, with piles of wooden yokes and saddles stacked up breast high.
When we managed to shoulder our way through the crowds, we emerged onto a large square, near the boat pier, with hundreds of stalls, mostly selling an amazing array of fruit and vegetables. The only souvenir stalls in town, selling batiks and ethnic embroidery, are located here as well.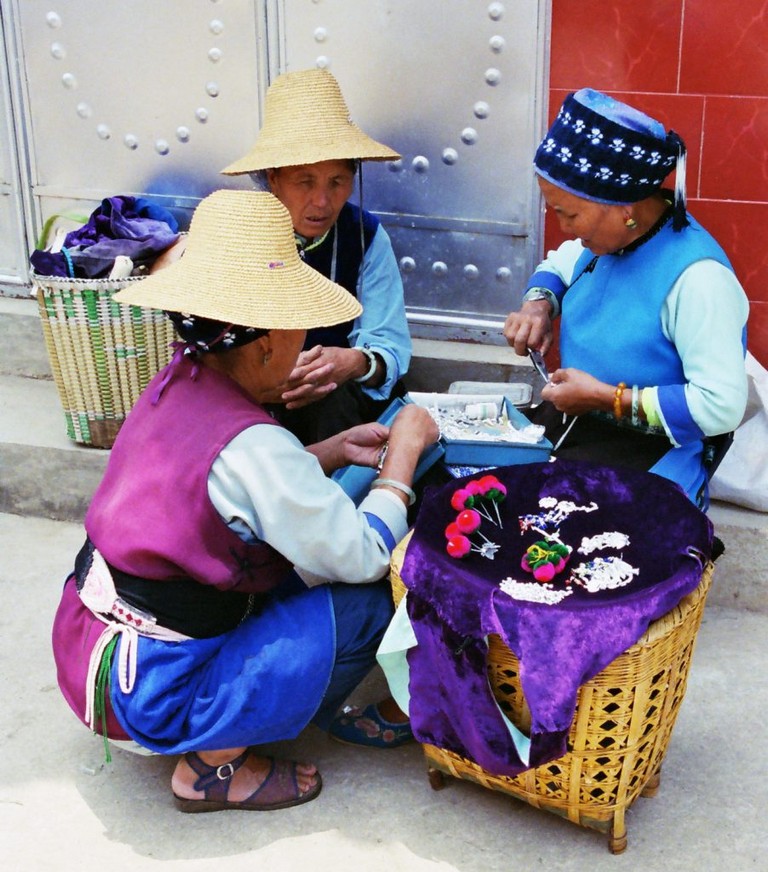 The square is a buzzing, but friendly hive of activity, with hundreds of colourful Bai women pushing and shoving backwards and forwards, using the huge wicker baskets they carry on their backs as buffers.
A trip to Wase Market: A lot of Haggling
Cries of haggling fill the air as produce is picked up, inspected and either exchanged for money, or tossed contemptuously back onto the pile it came from.
As usual, men seem to be in short supply; they are mainly found peacefully smoking a pipe, or playing cards in one of the packed restaurants on either side of the square.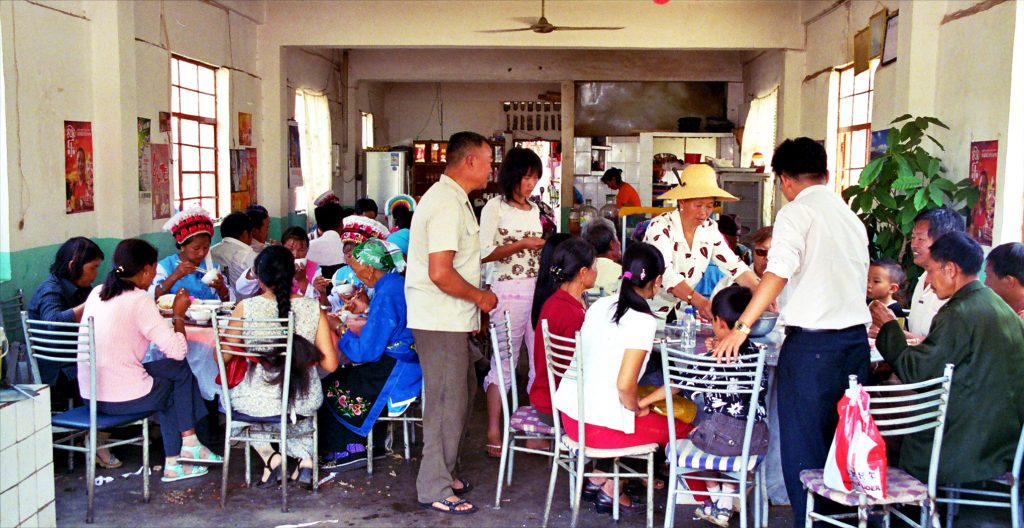 Moving on from the square, the market continues down the main street for at least another kilometre. Here you can stock up on household goods, such as plastic buckets, scoops and ladles, iron woks and other cooking pots and pans, wicker baskets, brooms, colourful balls of wool and lengths of cloth.
More exotic items include the embroidered parts of headdresses and belts, embroidered shoes, silver jewellery, or even wedding dresses.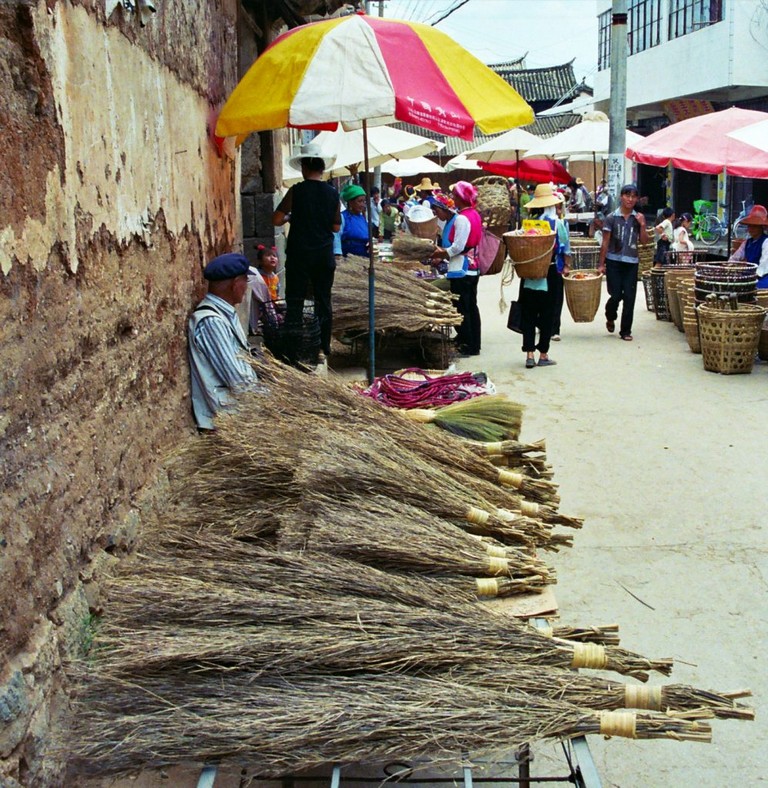 For all the variety, there was one item we missed at Wase market: the large, odd shaped bamboo fish traps that abounded around Lake Erhai, fifteen years ago. Perhaps they have been replaced by the more modern nylon fishing nets that we often saw stretched out along the lake shore.
Apart from the stalls, there is the usual varied collection of street artisans and other 'professionals', such as dentists, hairdressers and ear cleaners. Eventually the market finishes at a small animal market where chickens and pigs come to meet their end.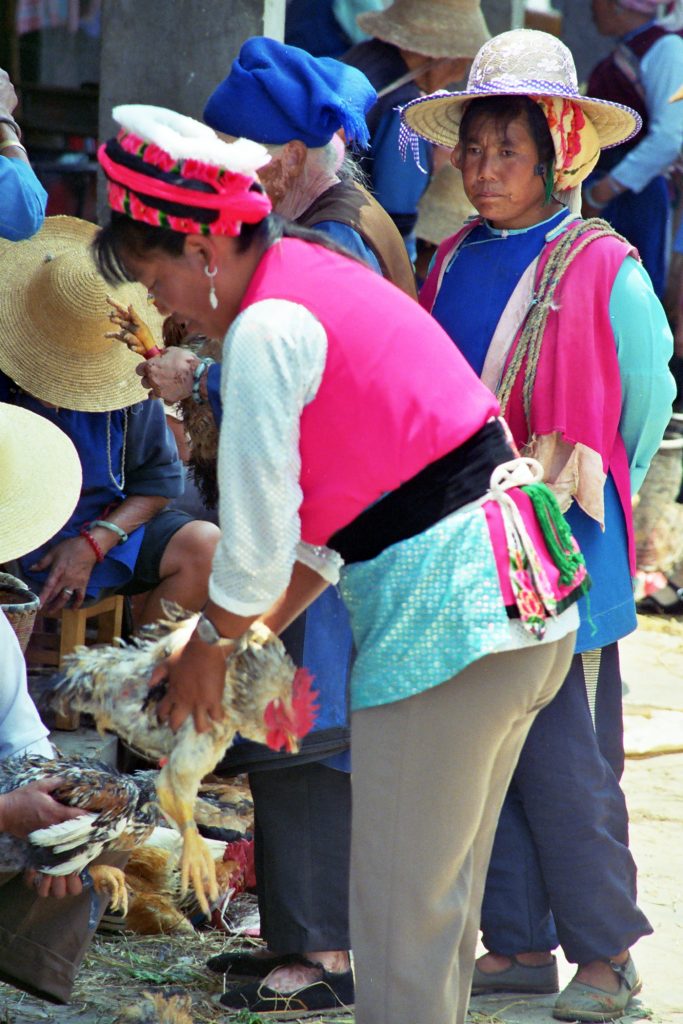 Ghost shopping.
What is curious about this market is that it not only provides for the living, but for the ghosts of the dead as well. There are several stalls selling paper clothes, shoes, houses and other luxury articles; all presumably meant to make 'life' in the after world more pleasant. One stall in particular was selling the most exquisite miniature paper shoes, and the Bai ladies were buying them by the bag-full.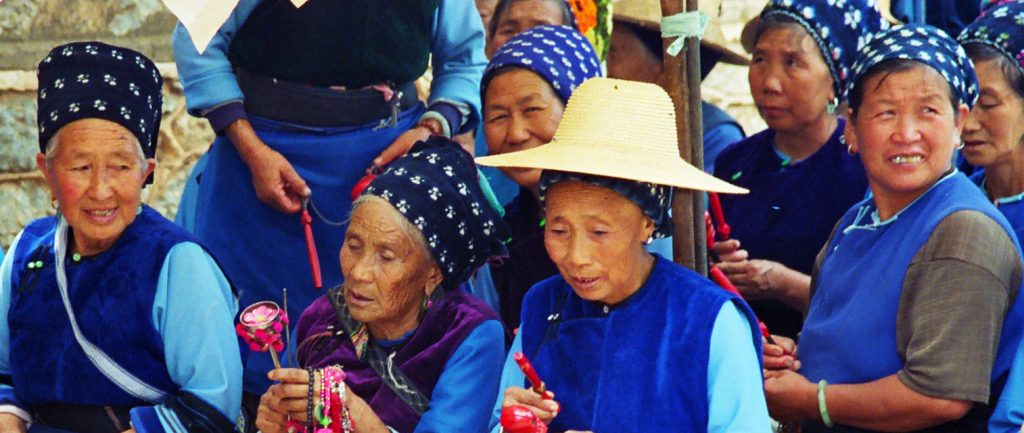 At one point we were drawn away from the main street by a large group of middle-aged and ancient ladies, sitting on wooden benches, singing and tapping small wooden instruments.
To one side, there were several other grannies, busy folding and burning coloured pieces of paper. When we asked them what they were doing they explained that they were singing, or praying, to the dead and burning prayers. It was apparently the auspicious and appropriate time of the month for doing this.
Practicalities:
Location: Wase is situated on the eastern side of Lake Erhai, about 350 kilometres north of Kunming, the capital of Yunnan. Apparently, the Wase market used to take place every 5 days, but it is now held on Saturday mornings, and runs well into the afternoon.
Besides the obvious attraction of the market, the town is full of wonderful traditional Bai homes and mansions, characterised by their sturdy adobe walls and painted doorways.
There are numerous other markets in the various Bai villages around Lake Erhai. The most famous and popular is the Monday market at Shaping, about 33 kilometres from Dali.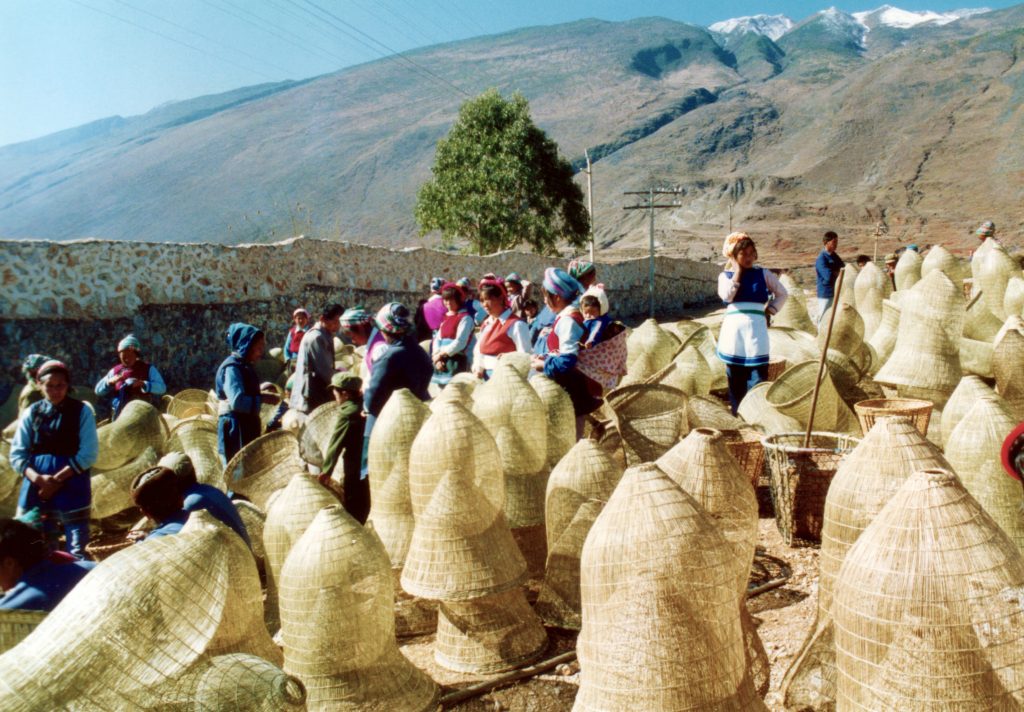 Even in January 1991, Shaping market was already pretty touristy, though interesting. These days, Wase's Saturday market hasn't been swamped by the tourist hordes from Dali yet.
Coming and Going
By Boat:
we can personally vouch for the existence of a boat that leaves from the pier at Huoyijia village / jiangshan Cun, on the western side of the lake near Xizhou, at 9.00 on Saturdays (at least in 2006 it existed). According to locals, it departs again sometime between 12.00 and 14.00.
People in Wase were far from unanimous in confirming that the last boat returns to Huoyijia / Jiangshan Cun at 17.00. We didn't stay around to risk it, as the last bus back to Xiaguan is at 16.00. If you are staying in Dali, you might be able to organise a boat over (we saw one tour group getting to Wase that way), but expect to pay through the nose, unless you are in a large group.
By Bus:
if you are staying in Xizhou (far more recommendable than Dali), or anywhere else around the Lake, you can get to Wase by bus in both directions, though locals advised us to take the southern route via Xiaguan rather than the northern route via Jiangwei, because buses are more frequent.
The trick is to take any passing bus to Xiaguan, where you will be dropped off at the western bus station. From there, you can take a local bus or taxi (6 Yuan) to the eastern bus station, from where there are regular departures to towns and villages along the eastern part of the Lake, including Wase.
The Journey from Xiaguan to Wase takes about an hour and a half. The new road opened in 2006 means that from Haidong onwards, the bus skirts the lake shore all the way, thus avoiding the laborious inland route that climbed over and around the mountains.
As a result, the views of Lake Erhai and the Island of Putuo Dao from the bus are excellent. The last bus back to Xiaguan is at 16.00. From Xiaguan to Xizhou there are buses until at least 19.00.
Places to Eat:
After a couple of hours of wandering around, its worth stopping for lunch in one of the restaurants around the main square.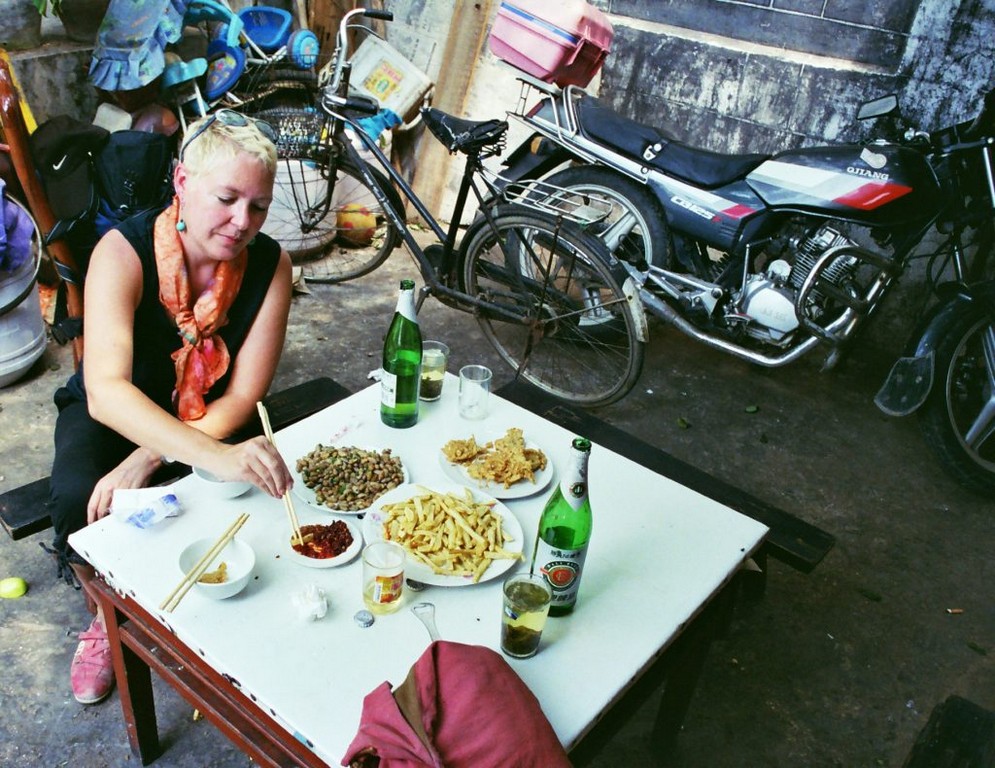 The local fish from the lake is particularly good, especially the deep-fried fish strips in batter. Some of the restaurants are quite used to dealing with foreigners, as they are frequented by tour groups, boated over in style from Dali.
Places to stay:
There is apparently a government guesthouse in Wase, though we are not sure whether we saw it. The courtyard restaurant on the left-hand side of the square (facing the water), which is where we ate, may have doubled up as a guesthouse, but we are not sure.