Chengyang Bridge and the surrounding Dong villages (2003)
Nothing quite prepares you for your first sight of the bridge. Chengyang Bridge is what is known locally as a Wind and Rain Bridge. These covered wooden bridges were built with the purpose of literally protecting the farmers from the wind and rain and allowing people to sell their wares, sheltered from the elements.
The Bridge
Moreover, the bridge at Chengyang was built to help the locals cross the swollen Linxi River during the rainy season. The Chengyang (or Yongji) Wind and Rain Bridge is 64 meters long and 3.4 meters wide. Not one nail was used in its construction, which is said to have taken more than ten years and was completed in 1916.
On top of the bridge there are a number of beautiful eaved pavilions with one of them housing a small shrine. The whole structure rests on a number of sturdy stone columns that span the Linxi River.
Rural Charm and the Dong Minority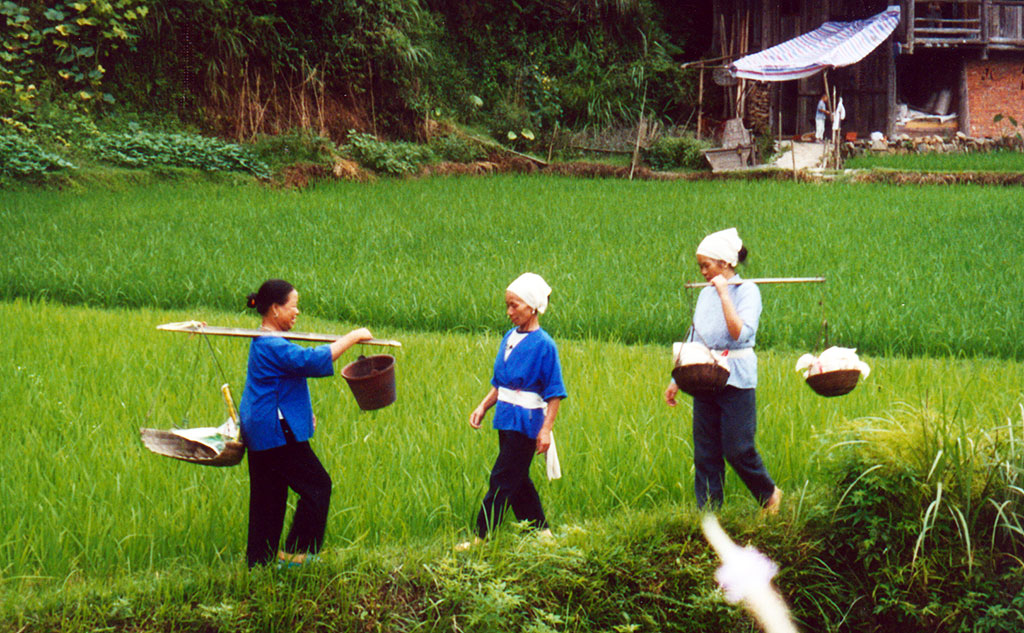 However, Chengyang's charm lies not only in its bridge. The whole area is beautiful and embodies much of what attracts so many people to Asia: the peaceful, rural scenery of rice paddies, swaying bamboo, slow moving waterwheels and traditional wooden villages.
Then, there are the colourful local Dong people with their unique culture and language, which is related to Thai. As they mostly live in isolated, forested areas, the Dong people have only recently come into contact with the outside world.
The Dong are best known for the elegance and the exotic features of their architectural designs. Apart from Wind and Rain Bridges, the second most important architectural characteristic of Dong villages are the Drum Towers.
The Drum Towers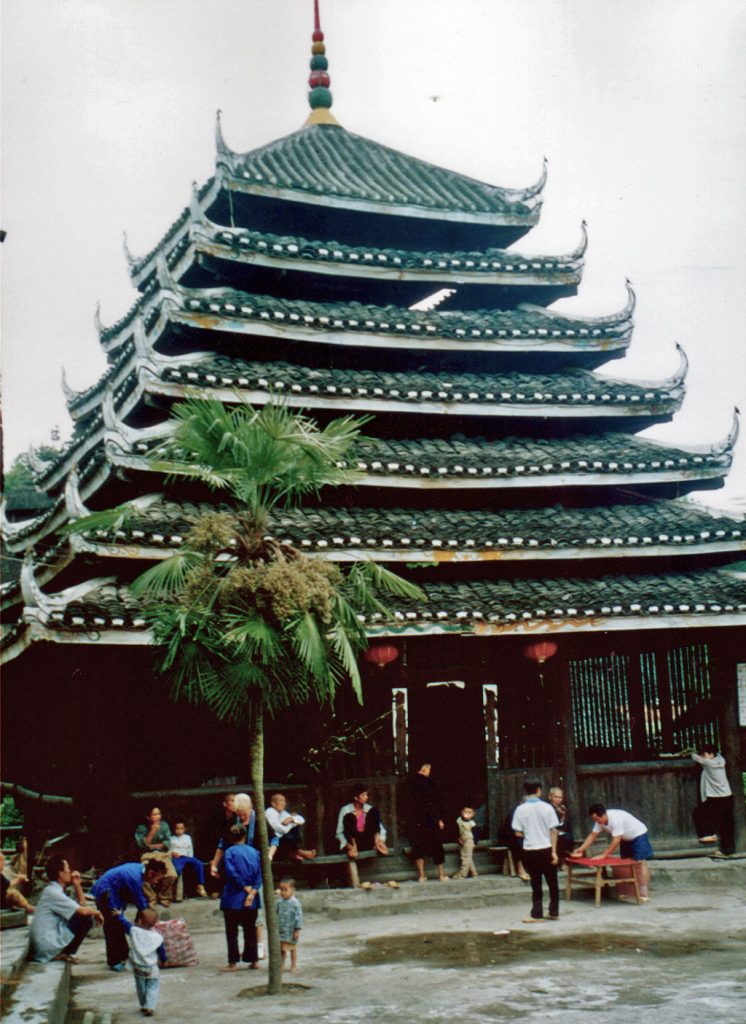 These incredible pyramid structures on stilts can be quite stunning, with beautifully carved statues and images of gods and musicians. Once used to warn the villages of impending danger, they now serve as a kind of communal hall, where locals gather to chat, play cards and enjoy a drink. And from what we saw, they can get pretty drunk!
There are plenty of hiking opportunities around Chengyang, taking you past many Wind and Rain Bridges, big and small, and through numerous Dong villages, all with their respective Drum Towers.
Chengyang Bridge and the surrounding Dong villages: The Villages
The village right by Chengyang bridge is called Ma'an and from here you can embark on a round walk that passes through two other villages, called Pingzai and Yanzai.
Around the Bridge and in Ma'an you may get accosted by Dong ladies, trying to sell you the purple ethnic jackets and embroidered halter tops that are typical in this region, but in the other villages there is nothing touristy whatsoever.
Overall, the Dong people seem pretty impervious to foreigners, neither being overly friendly, nor shy. During our stroll through the villages we came across a funeral and a jam session with long bamboo flutes, another Dong specialty, and on both occasions our presence didn't cause a stir.
We can only hope that mass tourism, Chinese style, won't wreak havoc on their culture.
Chengyang Practicalities
Before crossing the bridge you have to buy an entrance ticket, which at that time cost a mere 8 Yuan, and which also gives you access to the eight surrounding Dong villages. Once you have got your ticket, you can stay as long as you like.
Accommodation and Food:
We stayed at the atmospheric Chengyang Bridge National Hostel, a weathered wooden structure with a large veranda, right next to the Chengyang Bridge. Rooms are nice, with large beds covered in mosquito netting and views over the river and the waterwheels. Bathrooms are shared, but clean. One word of warning: arachnophobes, such as Margie, may be unpleasantly surprised by the large, fast-moving spiders that tend to hang out in the bathrooms!
Food at the hostel is simple but good and the covered veranda is a great place to enjoy evening beers and meals. Simple snacks are available in some of the villages as well.
The friendly and helpful owner of the hostel, who calls himself Lao Wu, is an excellent source of information on what to do in the area. Among other things, he can provide you with hand-drawn maps and instructions for walks. He also hires out his minivan for excursions, or to take people to the bus station.
Onward Travel:
If you are heading to Zhaoxing, there is a direct bus leaving from Songjiang at 6.30 am. The owner of the hostel may give you a lift to Songjiang to catch this bus for around 40 Yuan, especially if he is going into town to pick up supplies.
If you wish to stay longer and explore some of the other Dong villages in the area, then Songjiang is the best base from which to reach them.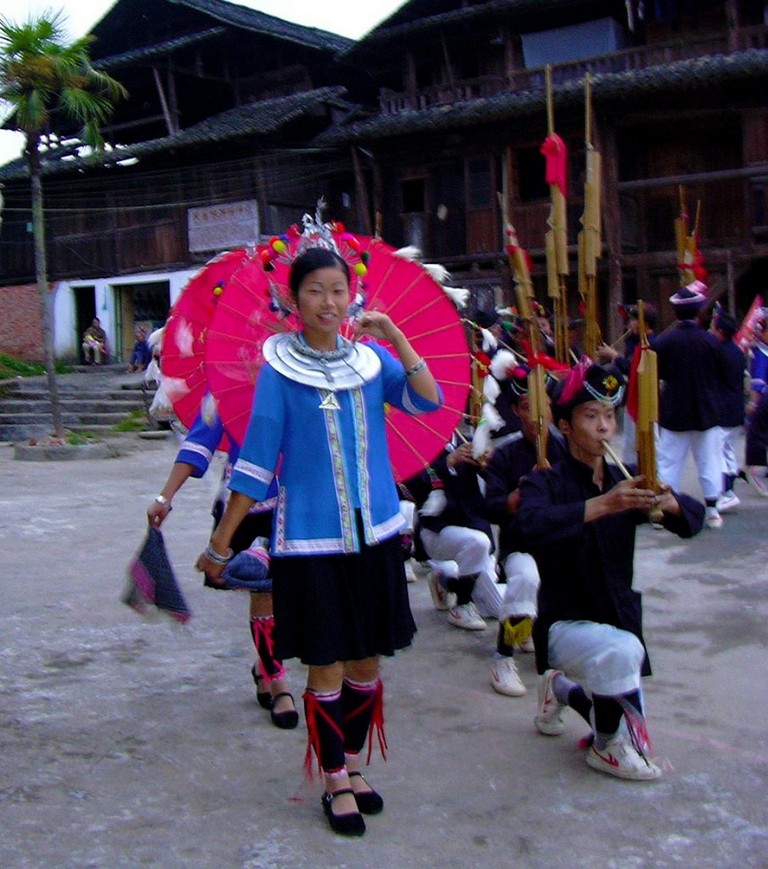 Update
These days Roads are better and faster. Furthermore there is now a highspeed rail link joining these areas. Incredible when you think about it; 20 years ago this was an exotic off the beaten track experience.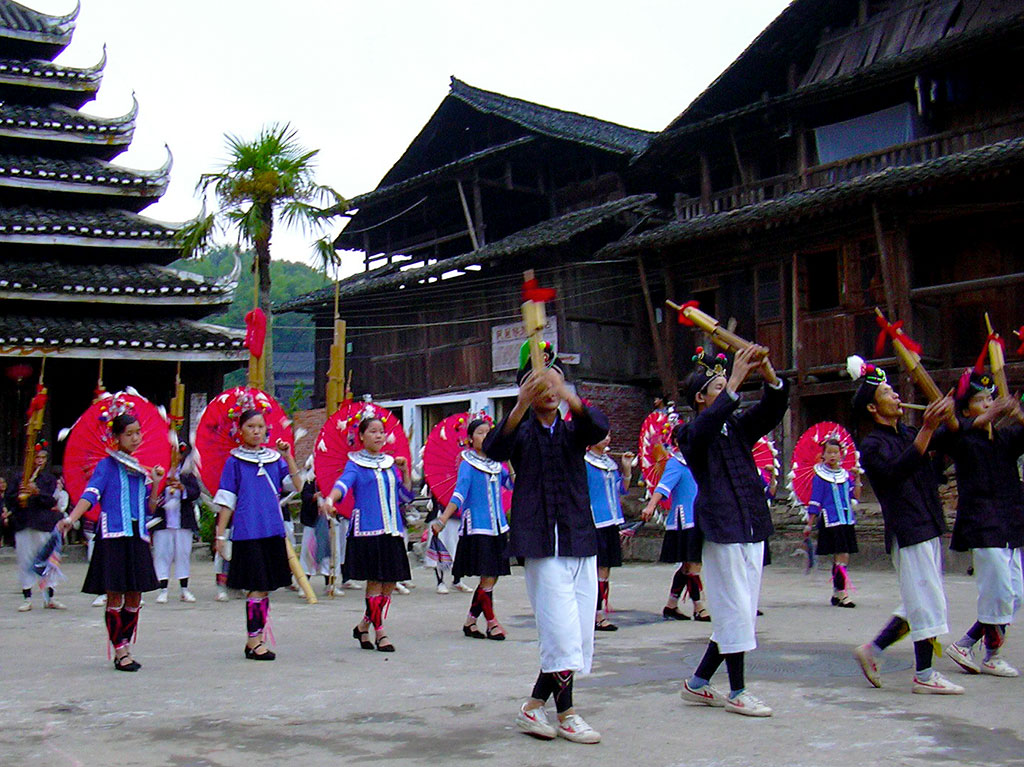 We would love to know if the Chengyang Bridge National Hostel still exists?