Zhaoxing, the ultimate Dong village is must for anyone interested in Dong minority architecture and culture. And even if Zhaoxing has become somewhat tamer and more touristy since we visited, it is still a gem you cannot miss if you are travelling in these parts.
Zhaoxing: The Ultimate Dong Village: About the black and white photos
These are real black and white photos taken using a cheap black and white film i picked up in Beijing. The colour photos are from later in the day and the following day after changing rolls.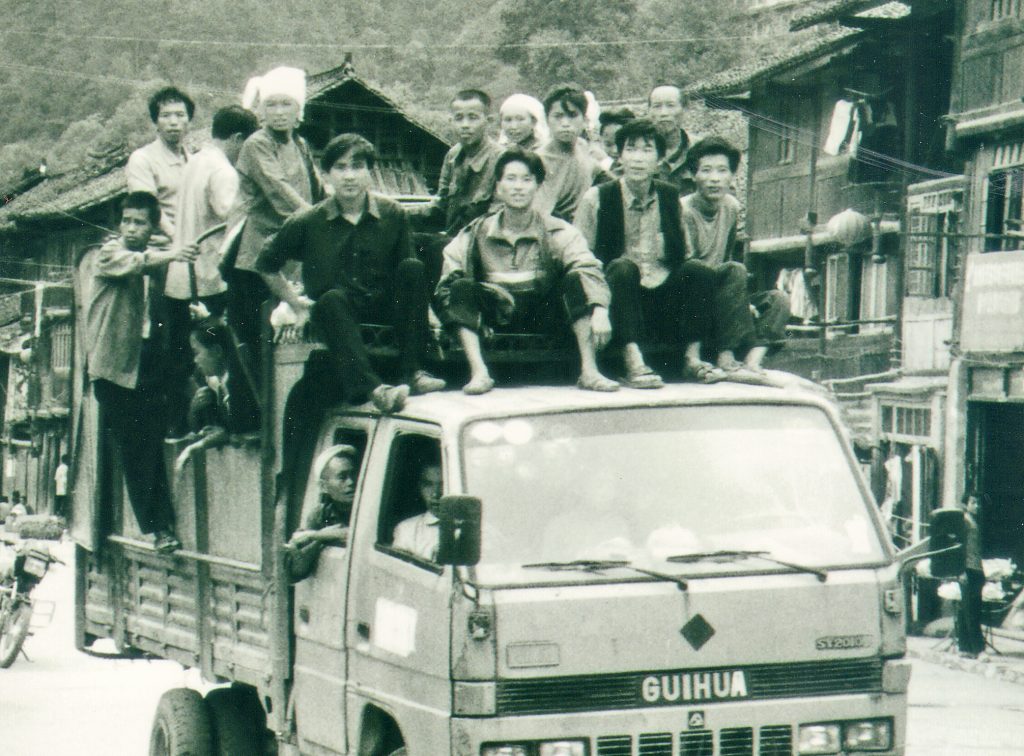 The ride from Songjiang to Zhaoxing takes around 5 hours: first the road hugs the shores of a broad river with quite a bit of river traffic, before becoming an unsealed road that winds its way up and down over the mountains (see update at the end of the article). There are ample vistas of shiny, undulating rice terraces, narrow valleys, distant drum towers and covered bridges.
Zhaoxing is one of the few towns in China whose beauty you will never forget. It's a traditional Dong town, entirely built of wood, with 5 drum towers, an equal number of theatre stages and arcaded streets.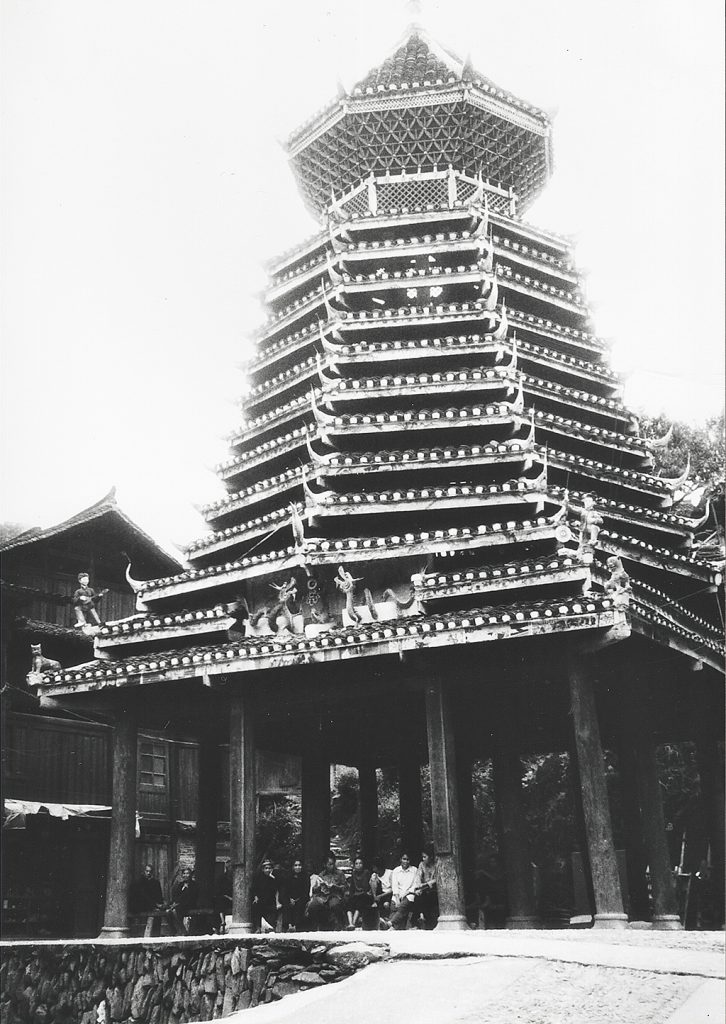 Zhaoxing: The Ultimate Dong Village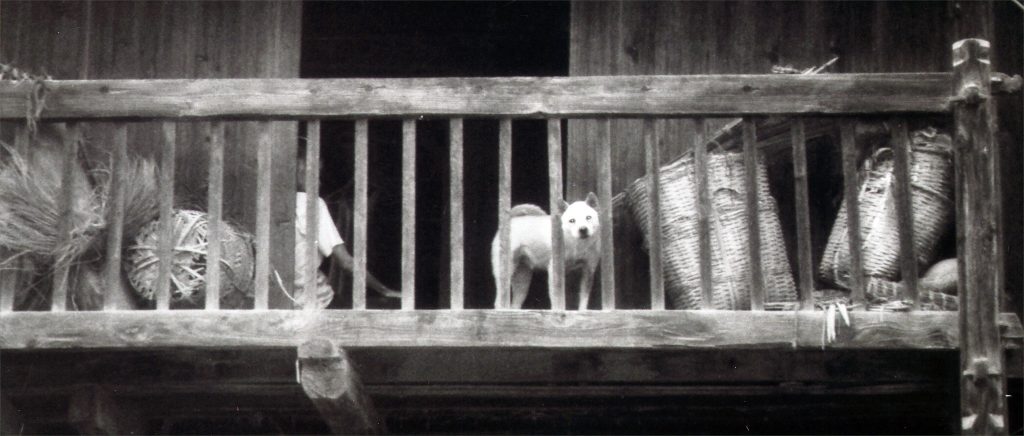 In 2003 the town remained completely intact and authentic; there wasn't a white tile building in sight (apart from the local school on the edge of down), nor had they carried out any of those tacky reforms aimed at the tourist trade. There were just a couple of guesthouses, small restaurants and one or two tasteful shops, selling antiques, rustic farm implements and ethnic clothes.
The town is extremely compact with a clearly defined beginning and end. The main street is bustling with vegetable and meat stalls and there are chillies everywhere; fresh chillies, chillies being dried, pounded, ground or preserved.
Update 1: Thunder Mountain chillies
Since our vist to Zhaoxing I have become a great fan of chillies and cultivating them too. Looking again at these photos I am more and more convinced that the chillies they are selling are the famous Thunder Mountain (Leigong Shan) Chillies grown in Guizhou. They are said to be the longest chillies in the world and their seeds are sought after by chilli freaks like me. My only doubt is that they look a little thicker than Thunder Mountain Chillies,
There is a busy traffic of carts, pulled by shiny, well looked-after little horses, bringing in fresh produce. Villagers from the surrounding countryside are ferried into town in jam-packed minivans, or piled high on pick-up trucks.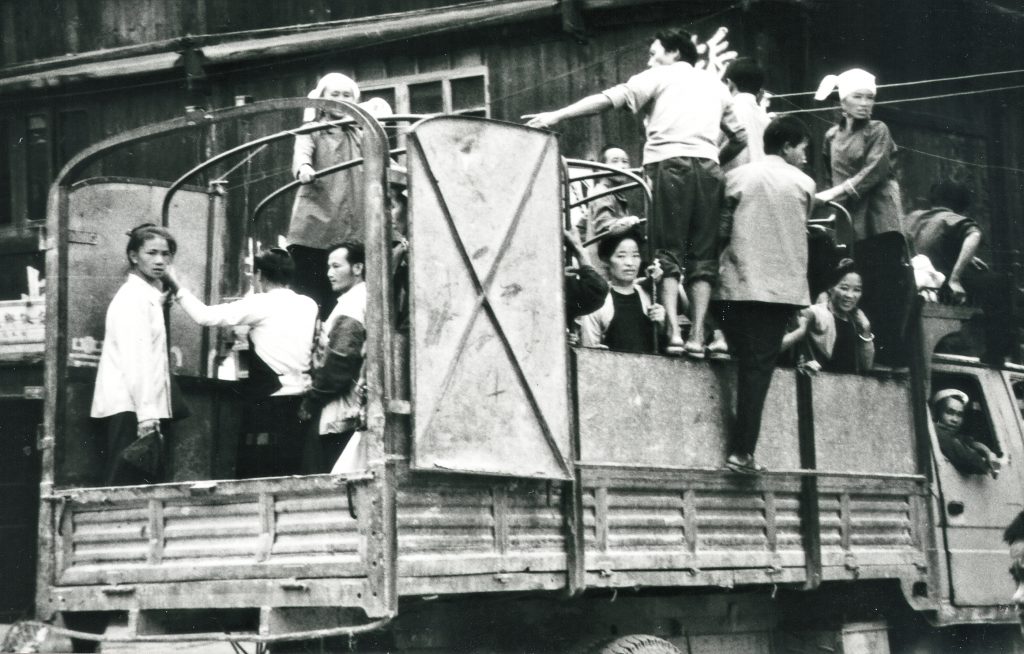 Set back from the main street there are several squares, some centred around imposing and elaborately decorated Drum Towers, others set by small theatre stages where local opera performances still take place, especially in June.
Zhaoxing: The Ultimate Dong Village: Chilling Out
Locals, mostly elderly people and grannies looking after babies, occupy the benches underneath the Drum Towers, or lining the streets, and while away the hours.
One of the funniest sights we saw, was an old man un-harnessing his horse in front of his little house, unlocking the door and walking straight in … with the animal!
As for its surroundings, Zhaoxing is set in a deep valley, enclosed by rice terraces and forests on all sides.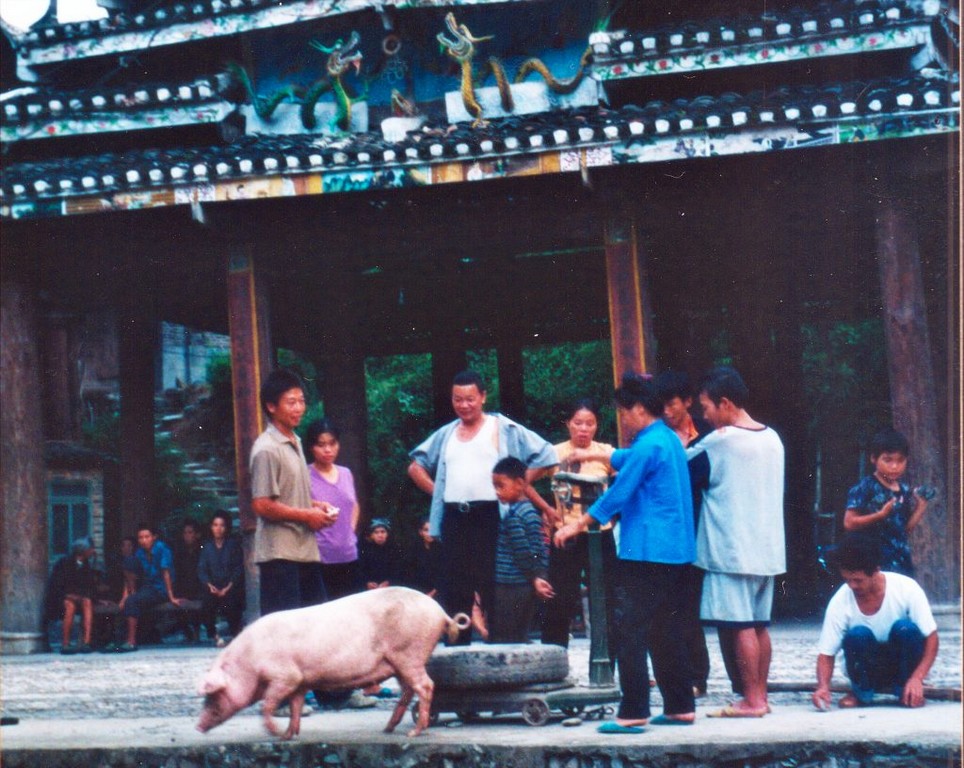 As in many parts of Guizhou, especially in summer, the sky is often dull and grey, which lends a slightly gloomy atmosphere to the countryside. Yet, occasionally a ray of sunlight breaks through the clouds and ignites the rice paddies into a blaze of bright green, completely transforming the ambience.
Climbing up the rice terraces behind Zhaoxing, you will be rewarded with marvellous views over the whole town. This way, you'll be able to fully appreciate its completeness and uniqueness.
For further exploration, there are many paths leading out of the village towards other, smaller, but equally beautiful Dong settlements such as Jitang and Tang'an. The local guesthouses can provide maps and recommendations for hikes to surrounding villages.
Zhaoxing practicalities:
Accommodation and Food:
We stayed at Lulu's Homestay, a small hostel run by a friend of the owner of the Chengyang Bridge National Hostel and located right behind one of the Drum Towers. He must have rung ahead, as the daughter of Mr Lu, who spoke a little English, was waiting for us at the bus stop when we arrived.
Rooms in the three-storey wooden house are clean and simple, with a shared bathroom, and internet access is available. The family also made very good food, with plenty of fresh vegetables and large portions. They were in the process of building a much larger wooden guesthouse, just a few doors away.
At the time there was another, more upmarket hostel, with a restaurant and a shop selling ethnic clothing and souvenirs, near the main street.
Onward Travel & Update: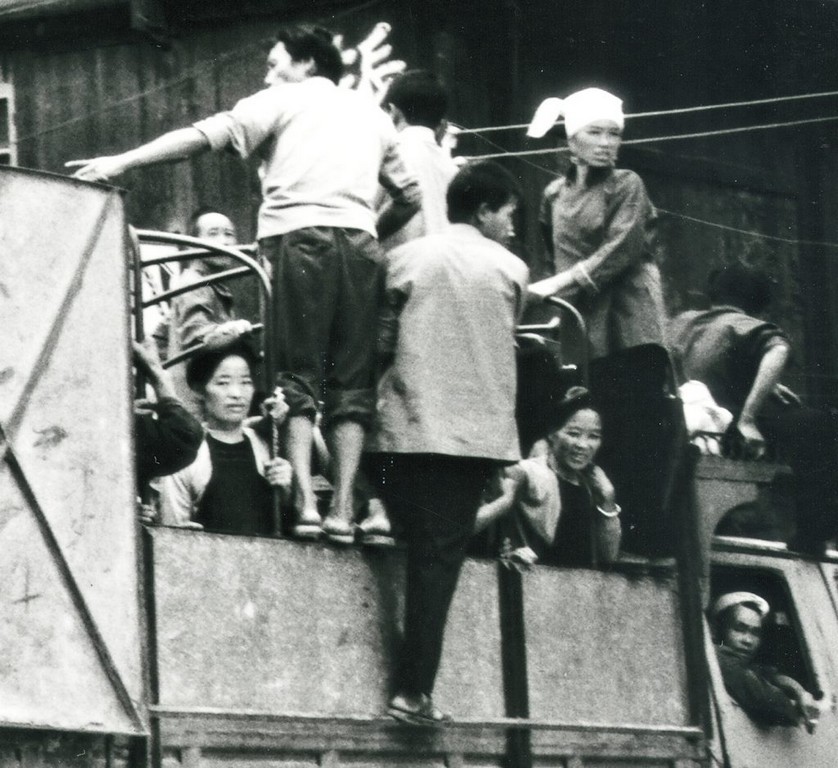 In 2003 we continued from Zhaoxing to Kaili. To do this we took an early morning bus, at approximately 7 o'clock to Liping (one to one and a half hours) and then changed buses for Kaili, which took another eight hours.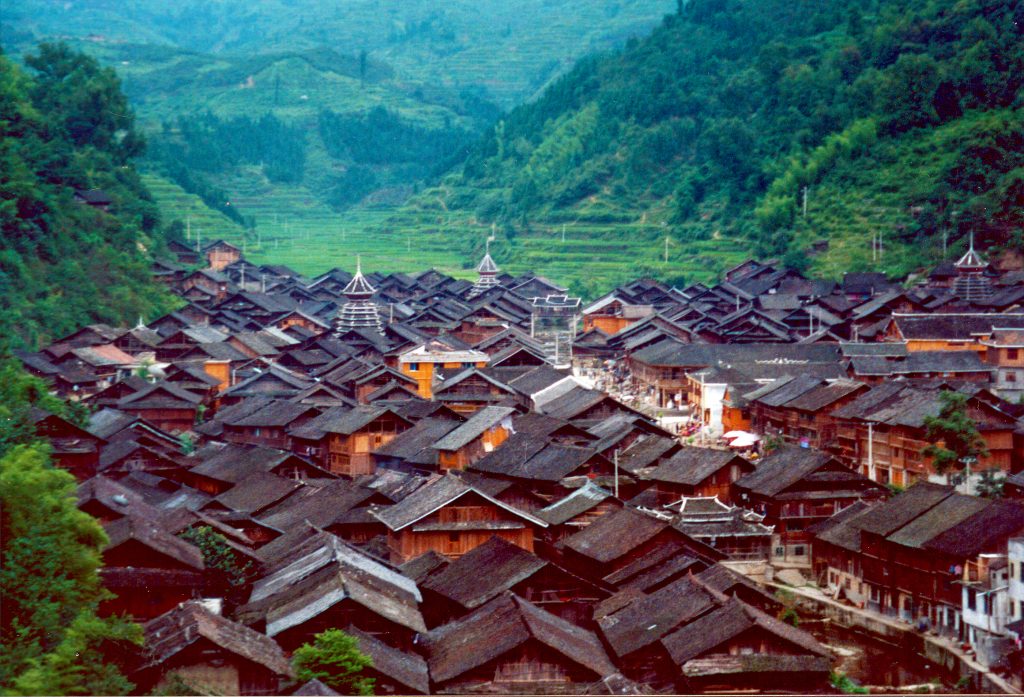 However, we could have interrupted our journey in Rongjiang – a town we finally ended up visiting this summer – in 2007.
Travel Update
The high-speed train that runs between Guangzhou and Guiyang makes getting to Zhaoxing faster. The closest stops are Sanjiang or Congjiang. Congjiang station is much closer and is less than 10 kms way from Zhaoxing. Regular buses connect Conjiang Railway Staion to Zhaoxing and cost around 2 Yuan.
From Sanjiang there is a toll road motorway that reduces travelling time to around one and a half hours. Buses may take longer as the usually take the old road to stop at other towns along the way. I fondly remmeber the 5 hour ride in 2003 as it passed through some beautiful river and mountain scenery.