The Long Horn Miao (visited in 2007)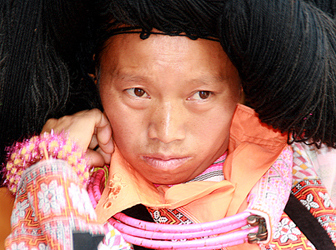 I've never felt comfortable about visiting small villages, only to gawp at the exotic inhabitants. When trekking or walking in the countryside, passing through a remote village can be a rewarding experience and a nice break, but I am always glad to move on, unless I am going to eat there or stay the night. So it was with some conflicting thoughts that we set off to visit the Long Horn Miao.
Below are our thoughts on the visit. For Further information on how to get to the Long Horn Miao villages and how they do their hair go to: HolaChina: Your Gateway to China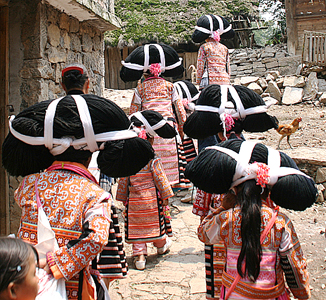 Final Reflections
I am not an Anthropologist, my degree is in East-Asian History. So it is difficult for me to pontificate on what should or should not be done about the Long Horn Miao villages. I enjoyed the visit. I took some great photos. The scenery is stunning, the costumes and hair are fantastic and the villagers friendly. Nevertheless, I can't help wondering what impact tourism will have on their society. Are we, as some of the first tourists, only the shock troops that will pave the way for hordes of well-heeled Chinese and Western tour groups on 'adventure' holidays who will commercialise and eventually destroy the Long Horns' traditional lifestyle? It is something that worries and disturbs me – though I can imagine many of you thinking 'you shouldn't have gone then..'.
On the other hand, and looking on the positive side, tourism might help the Long Horn Miao to preserve their culture. By learning to take pride in their ethnic culture and being able to earn a living from it, the exodus of the younger Long Horns to the towns might be halted.
Change is inevitable, and the modern world has already caught up with the Long Horn Miao. The young children go to school in Soga, which is only an hour and a half away from the large town of Liuzhi, which in turn is connected to Anshun and Guizhou's booming capital, Guiyang.