Photo From the Yunnan Book on the Hani
The Hanizu
One of China's least known Ethnic minorities
Photo From the Yunnan Book on the Hani
We first came across the Hani, one of China's more than 50 ethnic minorities, a few years ago when we had the fortune to spend a number of days in Yuanyang (Yunnan Province link) and the surrounding rice terraces of the fabulous Ailao mountains. Apart from the Hani, the Ailao mountains are home to a number of other minorities such as the Yi, the Yao, or the Miao. However, it was the Hani who were most in evidence in and around Yuanyang, and it was fascinating to watch them going about their daily lives, whether buying and selling in the vibrant markets, strolling around the town square at dusk, tending to their famous rice terraces, or walking back towards their idyllic 'mushroom' villages with their farm animals in tow.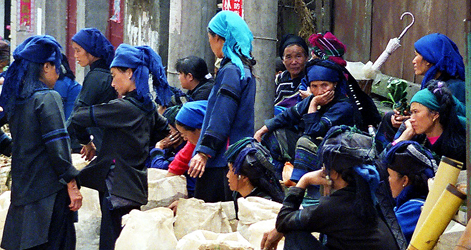 Who are the Hani?
The Hani, who number about 1.29 million in China, used to be renowned for being fierce warriors, but these days it is their remarkable farming techniques, especially rice terrace farming, that have made them famous. The finest examples of this spectacular agricultural feat can be seen near Yuanyang.
The Hani are made up of various subgroups – each with its own customs, dress and dialect – which can be found not only in China, but in Laos, Thailand and Myanmar as well. In China, they have settled in southern Yunnan where they have established communities in the prefectures along the Red River (Honghe) and in the Mekong (Langcang) area of Xishuangbanna. They are also found in Pu'er, Jiancheng near Simao, and Yuanjiang county near Yuxi.
The location of their settlements is a result of centuries of migration, due to wars, famines and natural disasters, from the elevated Tibetan lands near the Burmese border. It is therefore no surprise that the Hani speak a language that is related to Tibeto-Burman, and is classified as part of the family of Tibetan languages. However, as opposed to Tibetan or Burmese, no writing system exists for the Hani language.
Clothing
While Hani men are generally indistinguishable from their Han counterparts, though on festive occasions they often wear black or white turbans, it is the women who continue to wear distinctive ethnic clothing, which varies widely, depending on the region in which they live. Some common traits are heavy silver jewellery, the use of decorative silver coins and a strong liking for black cloth. Other colours worn by the Hani are indigo and petrol-blue, as well as green. If a Hani lady's headdress is very colourful and decorated, this means that she is single. On the other hand, if her jacket is decorated with silver coins, she is married.
Mushroom Houses
The Hani from around Yuanyang have specialised in building what are popularly known as Mushroom Houses or Mogu Fangzi in Chinese. These are Square adobe structures with slightly pointed thatched roofs. Seen from a distance a Hani village might remind one of a Hobbit's house from The Lord of the Rings.
Beliefs
Photo From the Yunnan Book on the Hani
The Hani have a variety of gods and wizards who they worship. They hold a number of festivals throughout the year in order to pay homage to and venerate these spiritual beings. The biggest of these festivals are the Kuzhazha Festival and the Tenth Month Festival. The latter coincides with the first dragon day of the tenth month and is the occasion when you can witness the Hani celebrating their legendary long table banquets. Rather like a British street party. Tables are set out in a long line through the center of the town or village and food and wine are served to all villagers. Singing, dancing, games and general mayhem all follow.
More Information
Anyone who wishes to know more about the Hani should try to see the excellent film "When Rouma was 17" (Rouma de shi qi sui) directed by Zhang Yiarui and starring Shu Linyuan, Li Min, Yang Zhigang.
This sweet and sometimes humorous story is about a young Hani girl, Rouma, facing up to the complexities of modern life that are now penetrating the remote rural area where she lives. Apart from a good impression of Hani lifestyle, the film also provides some great shots of Yuanyang and the surrounding countryside.
We'll hopefully add more information to this article after our visit this summer (2008) to the Hani areas of Xishuangbanna.
For more on the Hani and Yuanyang go to:
HolaChina: Your Gateway to China