Bingzhongluo Gateway to Tibet 丙中洛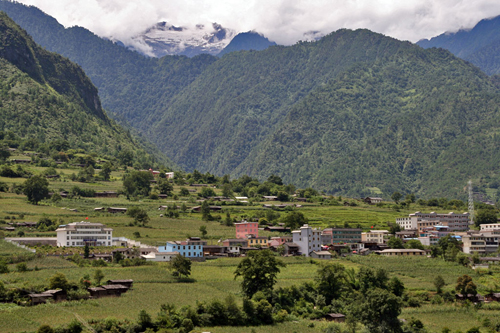 Bingzhongluo Gateway to Tibet is reached by the beautiful road from Gongshan 贡山 (see previous article).  The road ends at the one-street town of Bingzhongluo 丙中洛 (Bingzhongluo has expanded in recent years).
It is difficult to find a town in a more remote place in China that is accessible by road on public transport. More than 350 kilometres separate this outpost from Liuku 六库, the town at the mouth of the Nujiang valley 怒江谷, from where there are connections to the rest of Yunnan Province 云南省.
Arrive on a sunny morning, and you will find Bingzhongluo bustling with ethnic minorities shopping for provisions or chatting with friends.
Bingzhongluo Gateway to Tibet: The Nujiang River
Take in the town's dramatic location, set below the magnificent slopes of the snow-capped mountains gleaming in their various shades of radiant green, and above the raging waters of the Nujiang River, seemingly in a frenetic rush to reach Myanmar and empty itself in the Bay of Bengal, and you can easily imagine you've arrived in the Shangri-La of James Hilton's Lost Horizon.
On the other hand, should you arrive in Bingzhongluo late on a rainy, damp and misty evening, make your way past the flooded pot holes, dodge the mangy dogs fighting over scraps strewn across the street from the overturned bins, and you might ask yourself why you'd made the effort to get there.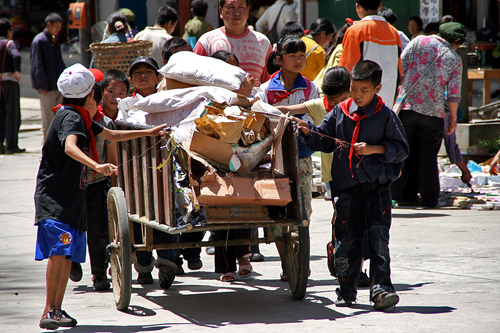 As always, the truth about Bingzhongluo lies somewhere in the middle. It's a kilometre long stretch of old wooden shacks, hastily built concrete shops, and China's trademark white- tile administrative buildings. And yet, despite this somewhat un- aesthetic mishmash, the drop-dead beauty of the surrounding countryside and the laid- back feel of the town, quite unlike anywhere else in China, lend this place a wondrous, end- of- the -world feel.
Bingzhongluo Gateway to Tibet: Makes a good base
If you are going to base yourself in the Nujiang Valley for a week or so, then Bingzhongluo is probably the best place to do it. Paths leading out of the village offer pleasant day hikes that can be extended to serious 3 or 4 day treks as well. It really is up to you (click here for Dong Feng).
The town has all you really need, one decent hotel, a couple of snack-worthy and extremely cheap local restaurants, a slightly bohemian Bai nationality teahouse cum-bar and plenty of onward transport options.
View over paradise village

There are not many tourists, and most are Chinese of the relatively rare backpacking and hiking variety, but there are enough to keep the local tourist industry going, provide valuable information about where to go and what to see, or share a taxi or minivan to a more remote trail head.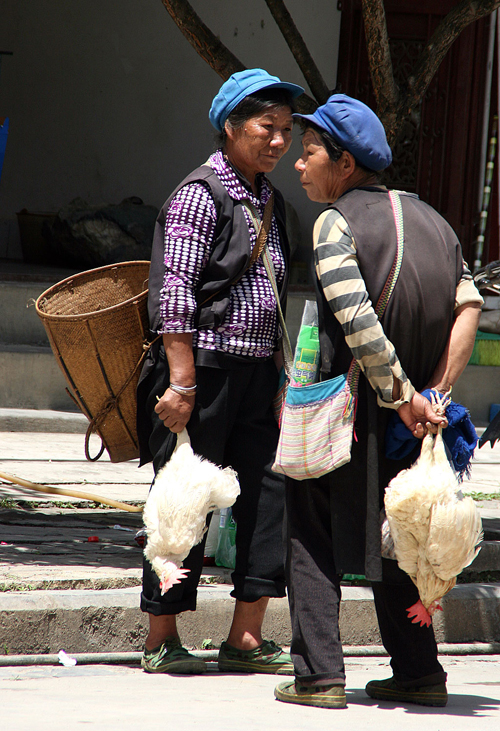 Minority Market: Lisu and Nu
Once every five days the market comes to town. You'll find a few Lisu and Nu minority ladies still wearing their traditional dress. The Lisu seem to like bright colours, especially red and yellow. The Nu on the other hand, tend to wear more austere black and blue. Many of the Nu ladies walk around with live chickens hanging off just about every part of their clothing.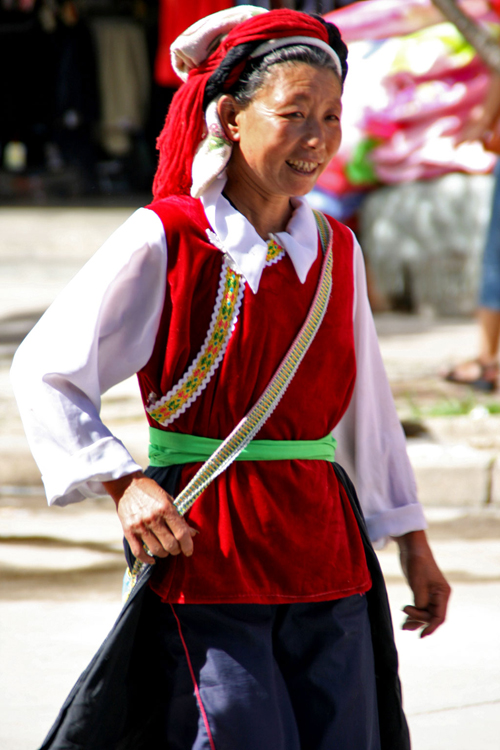 Bingzhongluo Gateway to Tibet: The Drung
The Drung, a Tibetan sub-group who also inhabit the region, sometimes show up too, but don't expect to catch their famous ladies with tattooed faces; they seem to be getting scarcer every year. Apparently, Drung women used to tattoo their faces to dissuade potential wife snatchers from other ethnic groups, especially the notorious Tibetan raiding parties. These days, the young women have given up on the custom, presumably because there is no longer a need for it.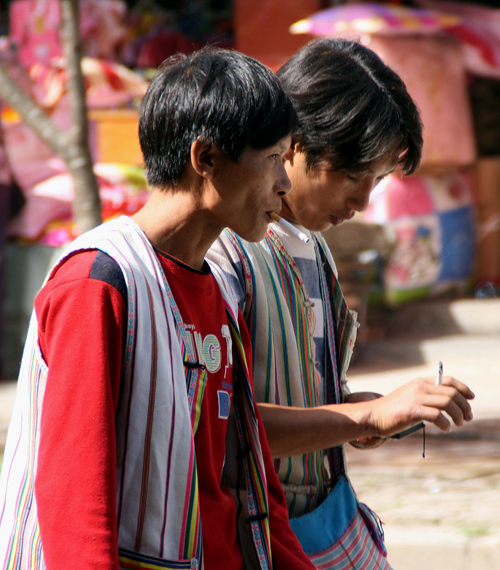 The market vendors are an enthusiastic lot, using microphones and megaphones to attract their equally enthusiastic customers. A crowd of avid, local ladies, pushing and shoving to get their hands on coveted articles, left the discount shoe shop empty, covered in plastic wrapping and the odd mixed-up shoe, within hours.
The street dentist seemed to be doing quite well too, despite the fearful photos advertising his services.
An Alchohol Problem
In spite of a certain hard edge to some locals' appearance, the only real danger here is alcohol related. It is not unusual to see inebriated men lolling about on the street, or even driving cars and motorbikes with an open beer bottle in their hand. Not surprisingly, road accidents are frequent.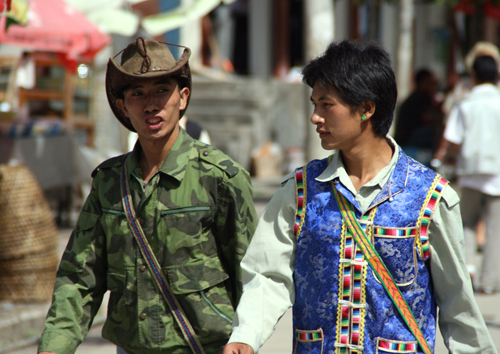 Another crime seems to be the theft of copper telephone lines according to the graphic police posters we saw all over the place, warning of the dire consequences should anyone be caught stealing them.
Stealing copper
 

Trekking and walks

There are boundless opportunities for exploration. We limited ourselves to local walks and a trip to Qiu na tong 秋那通(click here). For the more adventurous, you can trek up to Snow Mountain in 3 days.

Scenery Near Qiunatong

You can also visit the area around Dimalou 迪麻洛 (off the road back towards Gongshan) from where trekkers head over to Deqin  德钦 in 4 to 5 days. The road to the Drung Valley 独龙江 was closed due to mudslides when we were there.

 
Accommodation:
Guide books recommend the Chama Guesthouse 茶马客站, but all locals will point you to the new Yu Dong Hotel directly opposite. It's a very clean (for now), spacious hotel with great views and a friendly, pot-bellied, chain-smoking owner. Rooms go for around 60 to 80 Yuan and 140 for the suite. Some bargaining is possible for longer stays.
There appeared to be another new hotel about to open just off the main road. Besides, there are many small local inns with very basic and cheap rooms.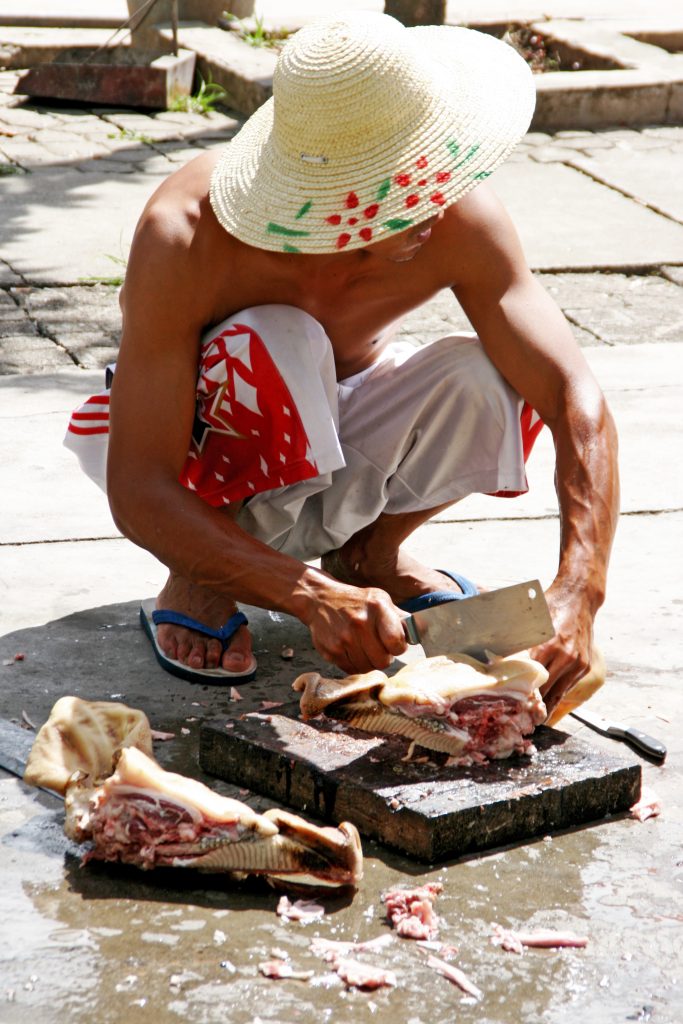 The Guide Alou, recommend in guide books, seems to be relocating his base from Dimaluo 迪麻洛 to Bingzhongluo, where he is setting up or (has set up) a guest house. It was closed when new were there as he was guiding a group to over to Cizhong.
Food:
The Niurou 牛肉饭店(beef) Restaurant
Again, all locals will point to the Niurou 牛肉饭店(beef) Restaurant, a simple affaire run by a friendly young Muslim and his wife. The restaurant is a bout 200 meters north along the road of the Yudong Bingguan.The food is pretty good and not limited to Niurou at all.
They always had a good and varied selection of fresh vegetables. If you are staying for a few days you can ask them to pick up different veggies for you in the market. The local wild mushrooms are great as is his tangy and spicy cucumber salad.
Near the market is local restaurant run by a welcoming lady (recognise the facade below. Does anyone know the first Chinese character?). We found this the best place for breakfast. Her fried egg and tomato dish and noodle soup were just what you needed before embarking on a long walk.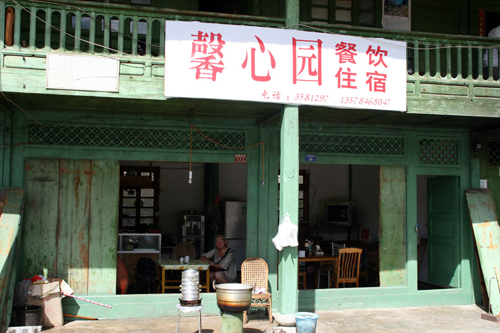 Nightlife was somewhat limited. But next to the Yu Dong Hotel is a Bai- run souvenir shop (the only one)-cum teahouse-cum bar where you can have a cold beer or an exotic tea. You might bump into Tibetan traders stopping by to try out the expensive teas.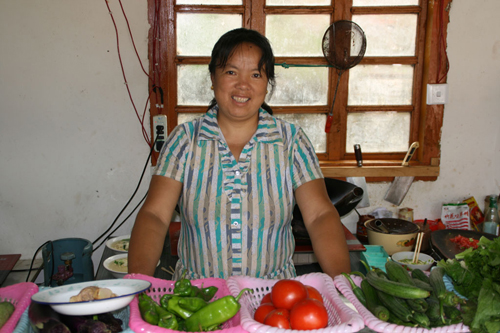 Getting there and away
Getting to Bingzhongluo is pretty straight forward; weather and road conditions permitting. There is one direct bus in the morning from Liuku 六库, from the bus station on the left bank of the Nujiang River (See previous article) plus there are frequent options to Gongshan 贡山 from where onward transport to Bingzhongluo is frequent. Mini buses go until relatively late in the evening, but you would miss all the stunning scenery in the dark.
Leaving town, there is one direct bus at 8.00 in the morning to Liuku 六库. It is a good idea to get the owner of the Yu Dong Hotel to buy tickets for you in advance. The bus parks overnight in the hotel compound. However, should the bus be full, there is frequent transport to Gongshan 贡山 from where you can get buses throughout the day to Fugong 福贡 or Liuku六库.
Getting around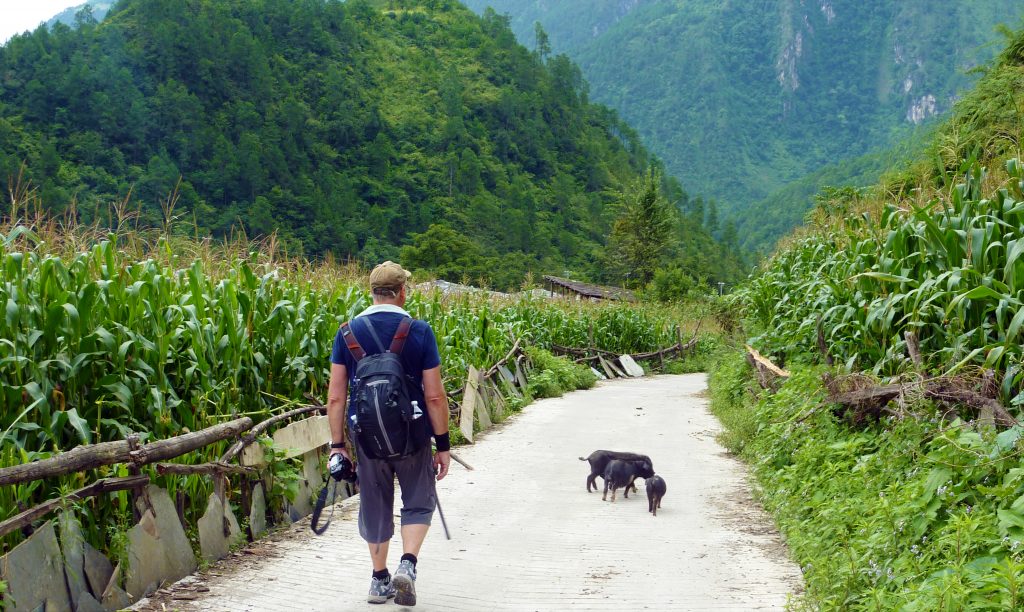 If you want to visit Qiunatong 秋那通, the pretty Nu minority village where the paved road runs out, and the beautiful area around it, a good option is to hire one of the local taxis.
They will take you there and pick you up again at the end of the day at the arranged time and place for about 100 Yuan. Most of the times, the taxi won't be exclusively yours, you'll be sharing it with the locals. Taxis also park overnight in the Yu Dong Hotel compound.
To Tibet
Beyond Qiunatong 秋那通 the paved road converts into a dirt track above the Nujiang River (Recently, the authorites have paved this road, but it is still prone to landslides and Foreigners are restricted to the border with Tibet). It is difficult to tell where Yunnan ends and Tibet begins. We walked for several hours along the dirt road and only saw a few locals. After about 3 or 4 hours, you will come to a point where all the snow- covered peaks come into view if the weather is kind.
We bumped into a couple of hardy Chinese cyclists from Beijing who said they were heading for Lhasa, following the old  Tea Horse Route 查马路. As we never saw them return, we assume they must have got there.
We are not sure whether it would be possible for adventurous Western travellers to follow in their footsteps (or tyre tracks), though there doesn't seem to be a permanent border post stopping you from trying. Bear in mind that, even if you get through, you would have to be completely self sufficient as far as food and supplies are concerned.
Moreover, you can expect problems once you get further into Tibet: with the roads, weather conditions, accommodation or local administration. In the best of cases, it would take at least 2 weeks to get to Lhasa. However, it's worth keeping an eye out for future developments of what must be an absolutely amazing route!