Chaozhou: Guangdong Province
Jiadi Xiang 甲第巷
Chaozhou is definitely one of Guangdong's more interesting cities. Apart from being home to some exquisite ancient temples, impressive Ming dynasty walls and buzzing markets, Chaozhou is also home to some fascinating colonial and Qing dynasty architecture.
This post looks at the Qing dynasty buildings in Jiadi Xiang甲第巷, a restored lane of Qing courtyard dwellings. There's nothing quite like it in China.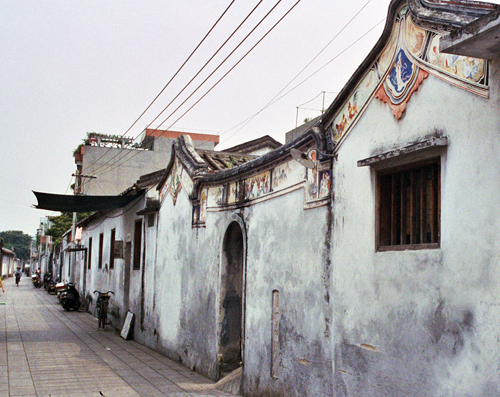 In Jiadi Xiang all the houses are embellished by colourful and elaborate wall paintings that surround the main doorways and follow the curving line of the eave roofs.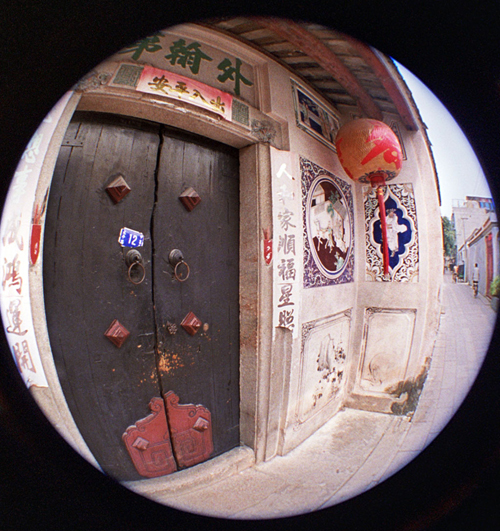 The paintings represent scenes of court-life, hunting and war, as well as still lives and landscapes.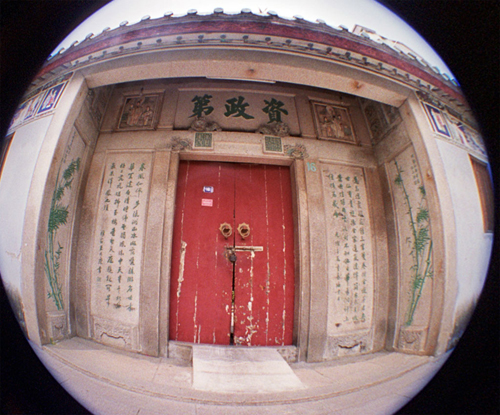 What is even more amazing is that the restoration appears to have been done for the benefit of the city and its residents, but without tourism in mind.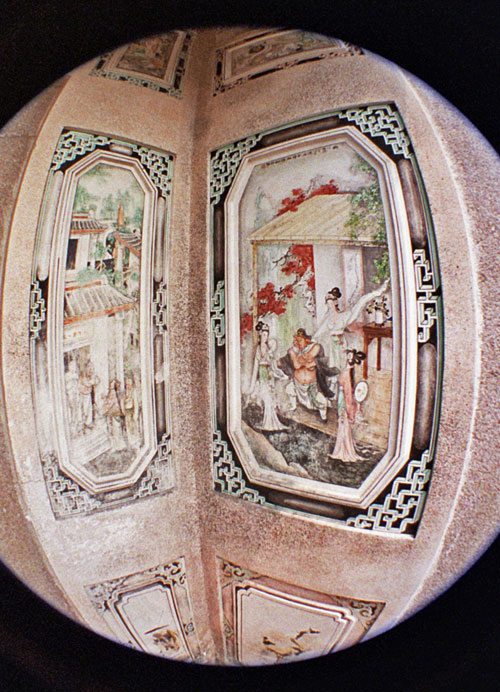 There are no entrance tickets or trinket vendors; just a wonderfully quiet residential street with painted doorways.
The residents seem surprised to see foreigners poking their noses around these historical buildings but, as they are justifiably proud of their beautiful homes, they are quite happy to let you have a look in. If only more of China could be like that!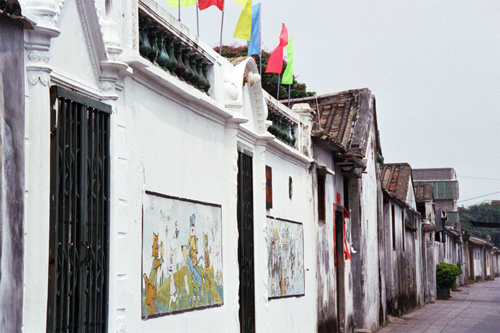 If you are allowed to poke your head into the courtyards, you'll find ancient wells that are still in use.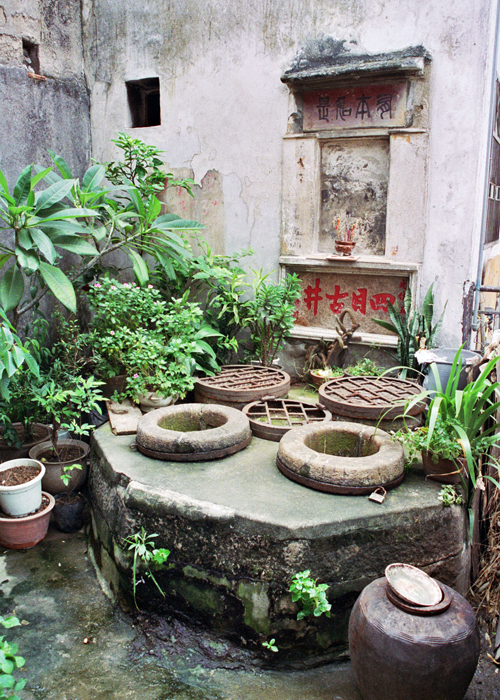 For the moment, the restored houses of Jiadi Xiang seem to exist in a, post-Cultural Revolution and pre-mass tourism, time warp.
Jiadi Xiang is a small alley off the central Taiping Lu slightly south of the beautiful Kaiyuan Temple.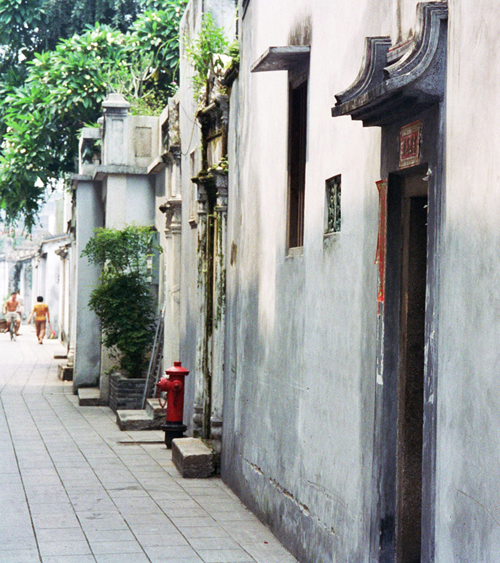 Update: It does now appear that rickshaw tours take Chinese tourists to Jiadi Xiang. Try to time your visit early in the morning or late afternoon.
CHAOZHOU PRACTICALITIES.
Accomodation:
Most hotels seem to be clustered around the bus station; just take your pick from the budget and mid-range options on offer. We paid 120 yuan for a simple, no-frills double above the bus station.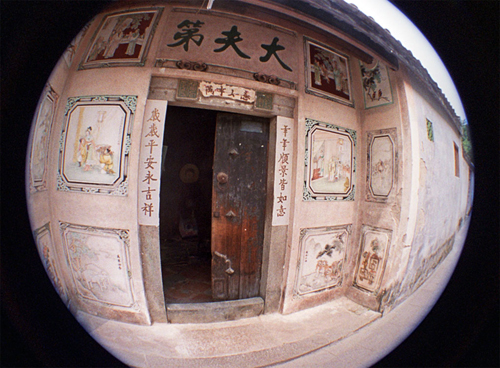 Eating:
On the culinary front, one dish not to miss in Chaozhou is the oyster omelette 蚵仔煎. These characters have so many regional ways of saying them that you'd better look on Wikipedia and choose. I used the Taiwanese/Fujian expression O-a chien which everybody in Chaozhou understood. In Mandarin they are called Kezai Jian.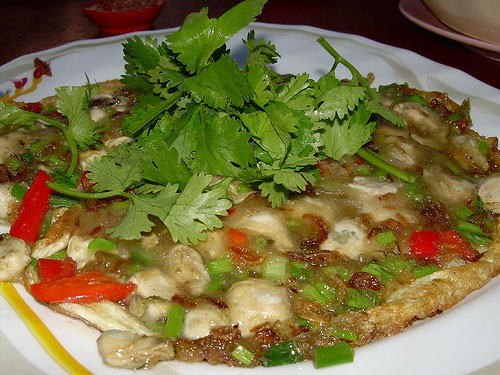 A great place to eat them is at the night market inside the city walls near the Guangji gate. If you go early, you may be a bit disappointed, as the market doesn't really get going until after 11.00 p.m.
Other famous Chaozhou dishes are crispy fried squid, steamed crab, fried spinach and local roast goose with sour plum.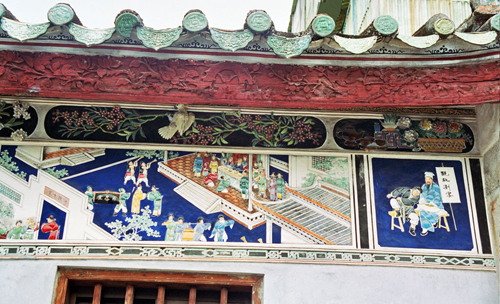 For onward travel, do not bother going to the train station; it is a long way out of town and taxi-drivers will charge you double for taking you there, as they probably won't get a ride back. Moreover, the station is brand-new, half-empty and receives very few useful trains.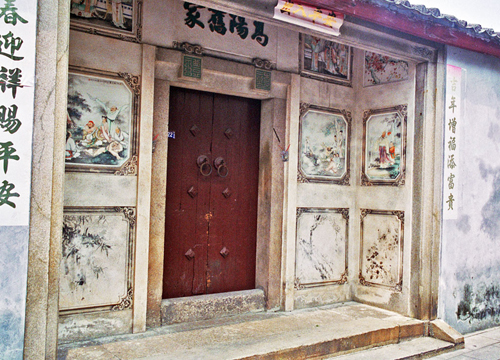 To Fujian and the Hakka Tulou, it is much better to head out by bus, though you may have some trouble with the bus station staff, many of whom do not speak Mandarin, but only Cantonese. There are very few direct buses to Yongding, but there are alternative ways of getting there. We eventually took a bus headed for Zhongping, via Longyan, which dropped us off quite close to Yongding, in the heartland of the Hakka regions of Fujian.
To travel to Xiamen and Quanzhou in Fujian you may have to first go to Shantou (one hour) and take a bus from there.