It could be Spain, France or Portugal, but it's not. The houses are gorgeous colonial era buildings, lovingly and meticulously restored back to their original condition. The broad tree lined avenues are an oasis of luxuriant green. Locals play card games or badminton and newlyweds and models pose to have their photos taken against the spectacular backdrop of elegant buildings. Traffic is conspicuous by its absence.
Welcome to Guangzhou! Or better said; welcome to Shamian Dao (Island), the haven of peace in one of China's most frenetic cities.
We stayed on Shamian Island while we explored the rest of Guangzhou and parts of Guangdong. It provided a wonderful retreat after a day of sightseeing, market exploring or pigging out in one of Guangzhou's famous Dim Sum restaurants.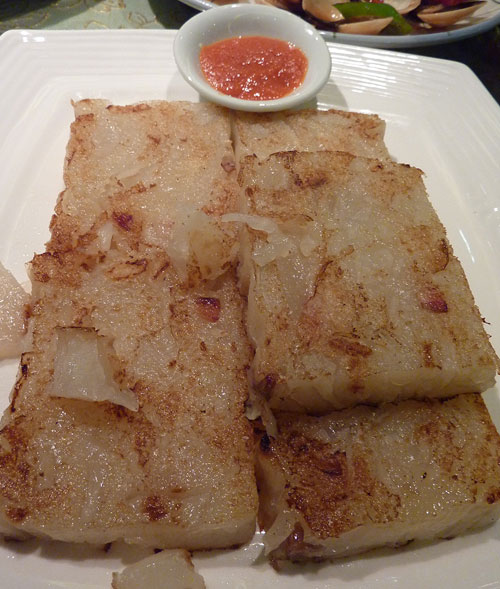 It wasn't always like this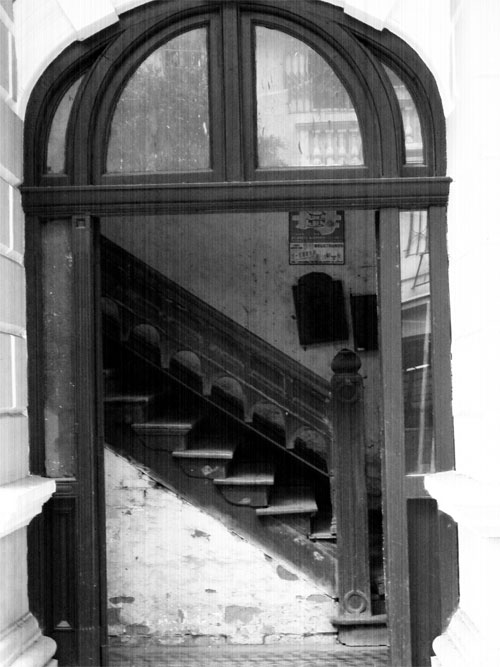 More than 20 years ago we stayed in the Youth Hostel on Shamian Island. I vaguely remember the island as a potentially pretty place but everything had looked so dilapidated in the March drizzle of 1991. Years of neglect had left the old buildings looking shabby and forlorn, leaving the visitor with a slight melancholy feeling about the whole Island.
This sullen mood was further heightened by having to walk through the adjacent notorious Qingping Market every time you entered or left the island. The live animal section of Qingping Market in 1991 was a distressing place for anyone with sympathies for animal rights (see future article on Qingping Market).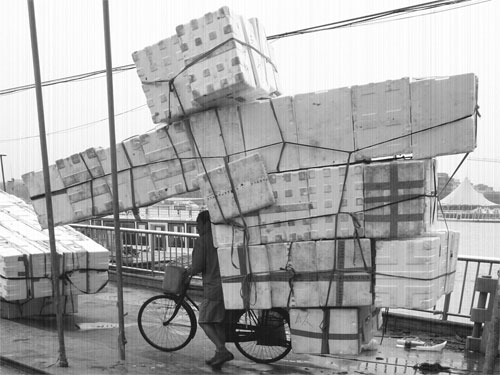 Today however, Shamian Island is a transformed place, while Qingping Market is a pale shadow of what it once was. Any regular follower of this blog will have gathered that we often lament the destruction of old Chinese architecture and moan ad-nauseam about the spread of the mind numbing white /pink tile constructions that replaces it. On Shamian Dao, and in down town Guangzhou in general, for once we can say that the changes that have taken place are for the better.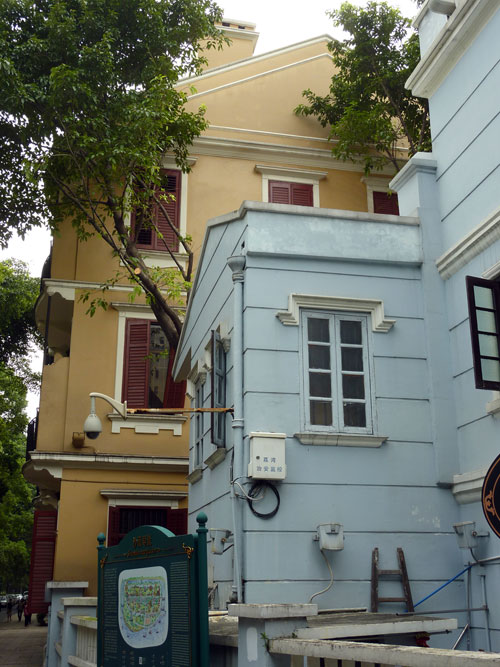 The restoration work on the old colonial buildings has brought out their splendor for all of Guangzhou's residents and tourists to enjoy. It really was quite amazing. Every time we stepped out of our hotel we felt as if we were in some Mediterranean city populated by Chinese.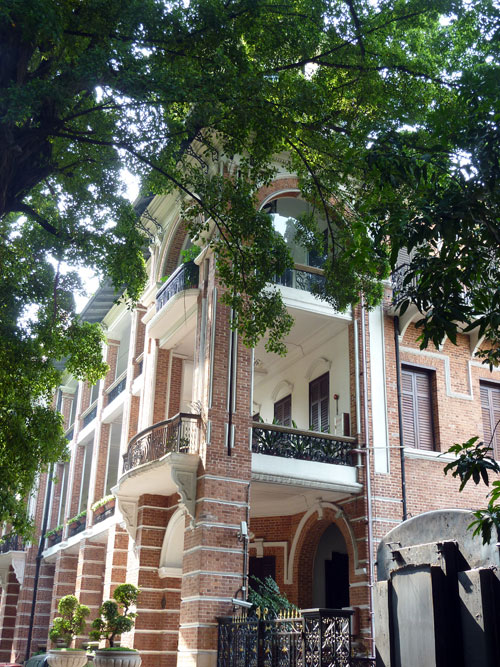 It was also great to watch the Chinese tourists enjoying the place too and appreciating their recent history. Many buildings now have plaques outside them explaining their history over the past centuries.
So how did Shamian Island come about? (history)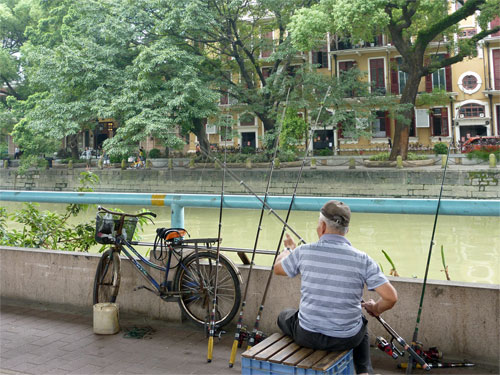 Shamian Island is a sandbank on the Pearl River. During the 19th Century foreigners were allowed by the Qing government to set up warehouses, trading offices and even churches on the island and nearby areas.  In the aftermath of the Opium Wars the Island was controlled by the British and French. This is when most of the grand buildings were built.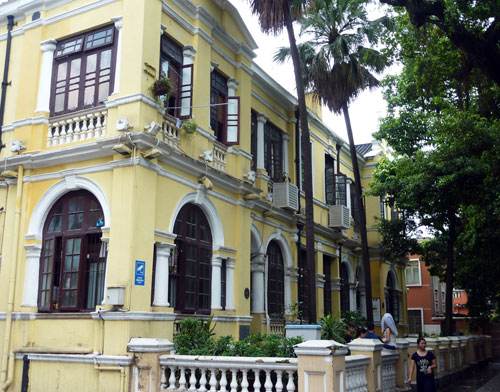 After the Chinese revolution in 1949, the buildings and churches were converted into government offices and factories. Nowadays, the process has gone into reverse. Many private businesses have set up shop on Shamian Island, especially companies that specialize in weddings.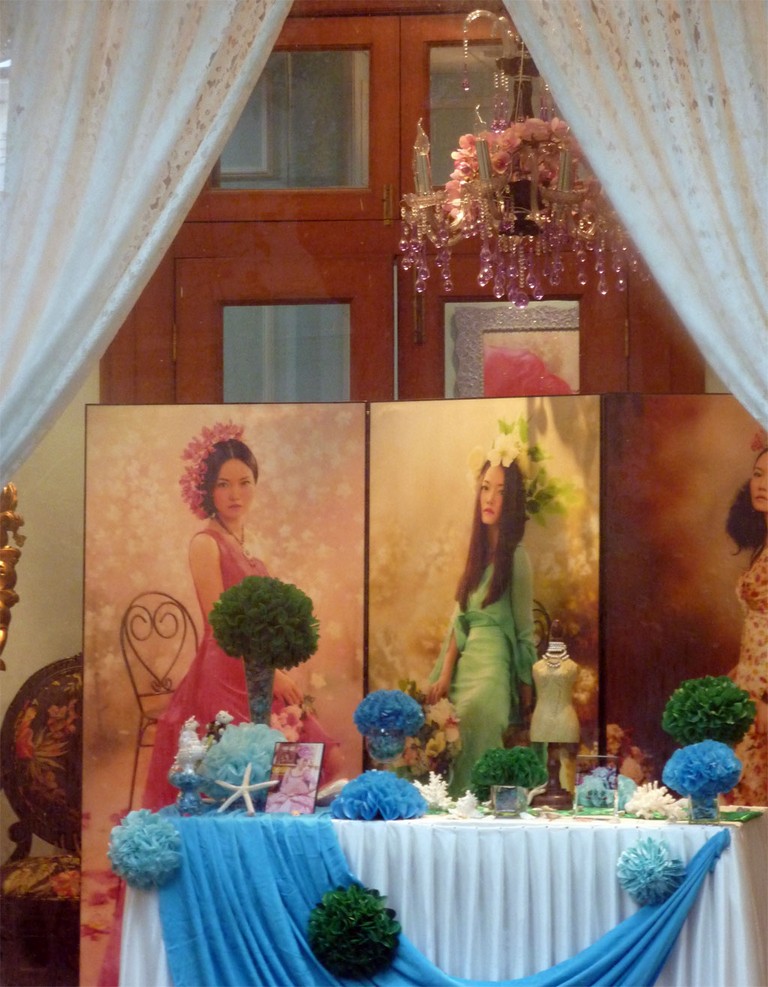 There is also a specialist massage center popular with locals and foreigners alike.
How to enjoy Shamian Island
Strolling around the island at any time of the day is a wonderful  experience. Shamian Island is all about people watching and soaking up the unique colonial atmosphere. Only Xiamen's Gulang Yu has anything like it in China.  Early morning sees local residents come out to exercise, chat and even dance. During the day Chinese tourists, models and newlyweds pose for photos in front of the magnificent buildings.
The leafy boulevards provide the best place to just sit and contemplate the comings and goings of people from all walks of life.
At night there are various Chinese cultural performances performed spontaneously in the riverside park. These activities include Cantonese Opera and various dance groups performing traditonal Chinese dances.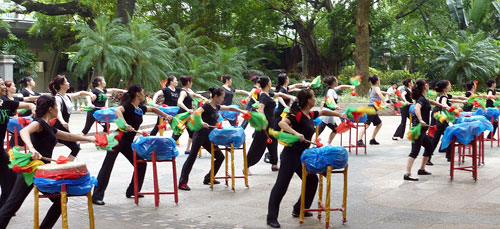 All of this comes with the backdrop of the lit up Pearl River. Grab a cheap beer from a local shop, find a nice bench, and sit back and enjoy the free entertainment.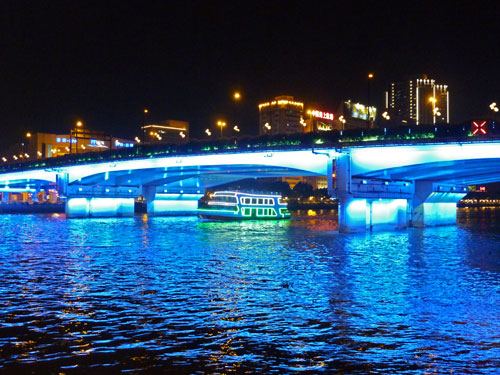 There are also a number of bars and restaurants. Some are rather posh but are worth the splurge to soak up the old colonial atmosphere. Unfortunately, Starbucks has nabbed one of the most beautiful buildings.
Accommodation
We treated ourselves to the Victory Hotel around 480 Yuan a night. It is the most we have ever paid for a hotel in China. The roof top pool is a great place to unwind after a day of hot and sweaty sightseeing. There are cheaper options on the Island including the Youth hostel and the Chinese Overseas Hotel. The legendary White Swan Hotel was closed for renovation.
Eating and drinking
Lucy's in the riverside park has good Asian and western food. Their Thai curry with Udon noodles was quite spectacular. Unfortunately, outside happy hour (Mon – Friday 14.00 -19.00) the beer is rather expensive at 33 Yuan for a pint (this almost beats London prices). You are better off picking up a beer from the shop next door 5/6 yuan and sitting on one of the comfortable benches in the park.
Next to the Victory Hotel we discovered the excellent You Xingqi 有腥气 (literally: have fish fragrance restaurant) restaurant. It specializes in Congee hot pots (a type of rice porridge) but has an extensive picture menu. You can choose your shell fish, eels and shrimps form the buckets outside. The rice and eels is delicious. Prices are very reasonable given the quality. The place is always packed.
Getting there:
Take subway Line one to Huangsha Metro station and cross the bridge.