Chejiang Village 车江
Guizhou Province 贵州省
Chejiang 车江
Just a few kilometers out of Rongjiang is the Dong Village of Chejiang 车江, A rustic place with a couple remarkable structures including an enormous Drum Tower.  Chejiang is a peaceful and lad-back where locals get on with life and curiously observe the odd foreigner who strays into their village.
Chejiang is really a cluster of Dong Minority 侗族 hamlets, spread out along the road heading east from the bridge. Bus number 1, leaving from in front of the Qingfeng hotel will take you there in less than 10 minutes.
The highlight of Chejiang is an enormous Drum Tower that can be seen from quite a distance. It has been fenced in and provided with a ticket office (un-staffed after 5 o'clock), but in the late afternoon, after 5 or 6 o'clock, village life around the Tower resumes.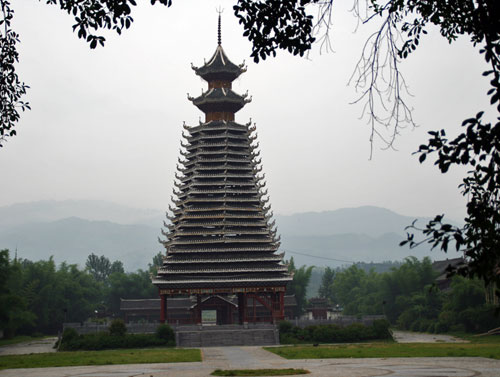 Local ladies take their buckets to a well on the premises, while old men squat under the huge, ancient trees behind, or go fishing in the river.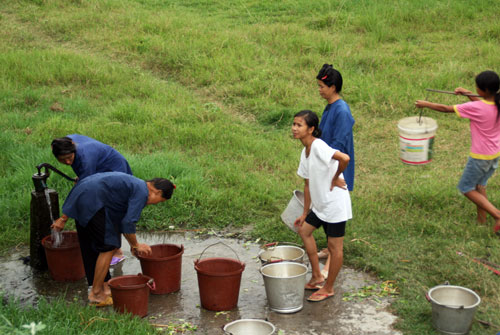 Even more interesting is a stroll down the lanes and past the traditional houses of these unspoilt villages, where life has carried on pretty much unchanged for centuries. Inside the dark houses, you can spy on the women weaving textiles on heavy looms, spinning wool, or cooking over wood fires.
Meanwhile the men tend to the fields and animals, or simply hang out, smoking pipes.
Only the TV antenna's and the banter on mobile phones indicate that the modern world is even catching up with life around here.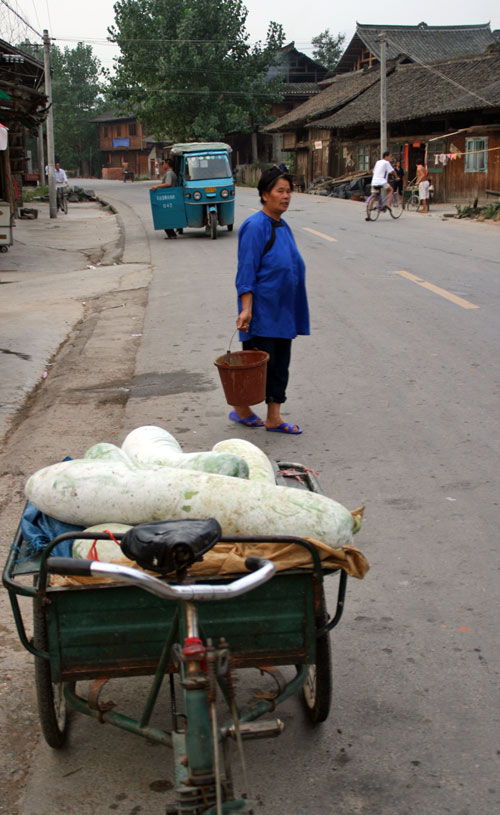 Walking back to Rongjiang along the road in the late evening light allows you to savour one of those rare moments of rural tranquillity in China.
The Dong Minority 侗族, returning from the fields and the markets, settle down to talk outside their houses, while wisps of smoke rise above the roofs, as families prepare the evening meal.
Update:
Getting to Chejiang has been made easier by the high speed rail line that links Guiyang to Guuangzhou. High speed trains now stop at Rongjiang. With an increase in domestic tourists the local authorities have started to prettify and commercialize Chejiang taking away some of its bucolic charm.
Click here for how to get to Rongjiang and for where to stay and eat.