Taihu Brewing 臺虎精釀 comes to Madrid
The quiet and attractive barrio of Pacifico just outside the historic center of Madrid may not the place you'd expect to find one of the most exotic beers from Taiwan's famous Taihu Brewery. But just step inside the amazing and cozy beer shop, Espuma, (C/. Juan de Urbieta 13, Local 16, 28007, MADRID, Metro L1 y L6 Pacífico y L1 Menéndez Pelayo.), and you'll find yourself immersed in the world of craft beers.
The owners are real experts on craft beer and brewing and have started to make their own delicious beer Witoria. Apart from the many delicious beers for sale in bottles and, increasingly, in attractive tins, they always have two beers on tap for customers to try.
Taihu Smoked Plum Lichtenhainer臺虎烏梅
On this particular day when I visited Espuma, they had on tap Taihu Smoked Plum Lichtenhainer 臺虎烏梅. It's a beer that doesn't leave anyone indifferent: you'll either love it, or find it downright weird! For me, it was weird on the first sip; then love on the second one.
It's the use of these smoked plums that gives the Taihu Smoked Plum Lichtenhainer 臺虎烏梅 a smoky fruitiness that no other beer can match; furthermore, it has a refreshing sour tartness that quenches any thirst, even when it is 35º outside. I hope the barrel, the only one they have in the shop, won't run out too soon!

The flavor of sour plums, smoked or sweet, is one of my favorite flavors from China and Taiwan. These sour plums, together with rock sugar and other ingredients like sweet osmanthus, are used to make a refreshing cold drink known as Suanmeitang 酸梅汤 often sold in street markets. Even though it is called a soup in Chinese, it is actually a drink. Besides refreshing, Suanmeitang is also believed to be good for your health, as it improves digestion and may inhibit the buildup of lactic acid.
Espuma came across the beer at the Founders Madrid Beer & Music Fest in the Patio of Conde Duque Madrid where Taihu Brewing had a stand. Intrigued by the unusual flavor, they decided to purchase a barrel and take it to their shop.
Here are some professional reviews of the beer from ratebeer.com:
(Click here for Spanish version)
A Taiwanese twist on the German classic. The 40% Cherry wood smoked malt and 40% malted wheat lend smoke heft and body to the palate. We quick sour with a house culture, kefir-derived lacto blend down to 3.2 for a robust tartness. The Taiwanese smoked plum adds a deep fruity/smoky balance on the nose and a refreshing grassiness on the finish, complex but crushable.
The type of beer used in the Smoked Sour Plum is the Lichtenhainer. This description comes from www.beeradvocate.com:
"Lichtenhainer is also a pale beer brewed from lightly smoked malt, though only barley malt is used. The approximately 8º Plato wort is very lightly hopped and only boiled very briefly and exposed to either a spontaneously appearing or deliberately started lactic acid bacteria infection that gives the beer its weakly sour taste. The mostly young beer, which isn't expected to be clear, is usually served from a barrel."
Combining both smoky and sour tastes in one beer is unusual—but not unique. At least not in the past: In the first half of the 19th century, Berliner Weisse was also brewed with smoked malt".
About the Brewery: Taihu Brewing (臺虎精釀):
The Taihu Brewery is Taiwan's number one craft beer brewery. It has 5 five founders, three Taiwanese and two Americans. Due to Taiwanese laws forbidding brewing inside the capital, brewing takes place in an industrial area outside Taipei. However, the company has a number of taprooms at prime locations throughout the city to satisfy the demands of its thirsty customers (see below).
Taihu's head brewer is Winnie Hsu, the lady responsible for "putting the tiger in Taihu beers". She studied brewing beer in Atlanta and Phoenix in the USA and later in Germany where she perfected her technique. Click here for an interesting interview with Taihu's head brewer.
Apart from the amazing variety of beers, which include IPAs under the name Hop Lanterns, and a host of experimental beers including one made with Kumquat oranges, Kumquat Kölsch (金桔科隆), Taihu Brewery has also developed a Coffee IPA (blond) that uses Coffee from Kenya. This IPA is exclusively sold in Starbucks Reserve location in Shanghai.
The attractive logo below uses the two characters that make up Taihu 臺虎. Tai 臺 is for Taiwan and Hu 虎 is for tiger.
Another thing that really makes Taihu's beers stand out are the incredible designs of the labels on the tins, created by the Taiwanese artist Yao Ruizhong(姚瑞中). Each can represents a different Taiwanese landmark. Take a look below.
The red of Wuling Maple Farm, Taichung (台中武陵): 'Mai Xiang' (麥鄉), or Taihu Bright Ale':
The blue of Si Shou Moutain, Taipei (台北四兽山): 'Taihu IPA (臺虎IPA)':
The purple of Beinan, Taitung (台東卑南): 'Xiao Mai'(臺虎小麥), or Taihu Weisse':
and the green of Guanziling Hotspring, Taichung (台中關子嶺): 'Kumquat Kölsch (金桔科隆)':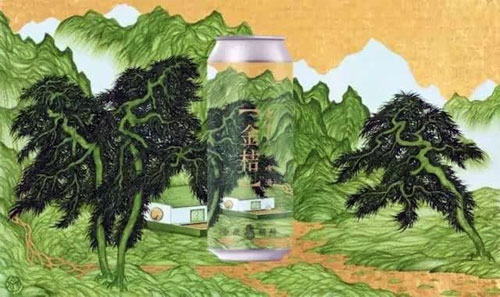 Where to try Taihu beers in Taiwan:
You can find Taihu Tap Rooms at least 5 locations in Taipei and one in Taichung. The Tap rooms, Chuoyinshi 啜飲室 literally meaning sipping rooms, have a bewildering selection of beers on their chalkboard. Interesting snacks accompany the beers. If only they had been there in 1997 when I studied Chinese in Taipei!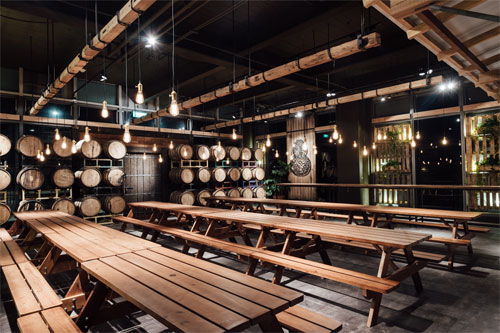 For a short time while the barrel lasts you can also come to Espuma.