Sabor Sichuan 川百味 (Taste of Szechuan)
New Name: 川辣香都 The Sichuan Capital of Fragrance and Spice
Calle Gabino Jimeno 6: Usera, Madrid
Authentic Sichuan Food in Madrid: Do you like Spicy Food?
Authentic Sichuan Food in Madrid. Madrid is a fabulous city for eating out. For the adventurous, boundless opportunities for exciting dining exist all over the city. However, those who crave spicy food, and I mean really spicy food, are often disappointed by the dearth of options.
Some Peruvian restaurants make brave attempts to keep up their spicy tradition, but most succumb to the whims of their autochthonous diners by watering down the kick. Kitchen 154, a mecca for spicy food in the market of Vallehermoso, does a pretty good job. Cruel, there own chili brand, is pretty fiery .
This after all is the country were the giant Tabasco Sauce company has almost given up the ghost. Sales in Spain are about its worst in Europe. Spanish tolerance of hot spice or chili is pretty low.
Thank heavens for Sabor Sichuan (Taste of Szechuan) 川辣香都 The Sichuan Capital of Fragrance and Spice . This small little restaurant in the barrio of Usera , south of the River Manzanares, and  in the heart of Madrid's China town is a godsend. It has recently changed owners and name, but the food is just as good as before.
If you have ever been to Sichuan or Chongqing and continue to crave that lip burning and tongue numbing Mala 麻辣 spice then Sabor Sichuan is the place to come to satisfy that craving.
The previous owners were from Chongqing 重庆, a city renowned for its hotpot restaurants 火锅饭店. The new owners are from Leshan 乐山, the home of the Giant Buddha 乐山大佛. The restaurant concentrates on typical Sichuan dishes found all over the province rather than on hotpot 火锅.
Authentic Sichuan Food in Madrid: The Menu
The menu is not extensive but sufficiently varied to warrant numerous return visits. Their main specialty, Wanzhou Kao Yu 万州烤鱼, a Chongqing specialty consisting of a whole roasted fish with an assortment of vegetables in a hot spicy sauce; it's delicious but not our favorite dish.
We prefer to select an assortment of smaller cold dishes that are then followed by a few seafood and vegetable dishes. There are even more options, hot and cold, if you eat meat.
The stand out cold dish is 川北凉粉 Chuanbei liangfen, cold mung bean noodles in a delicious Sichuan chili suace. If you are looking for them on the Spanish translation, they are called something like pastel de guisantes (not a very clear translation). You need to be an expert with chopsticks to deal with these slippery noodles. If no-one is looking use the spoon.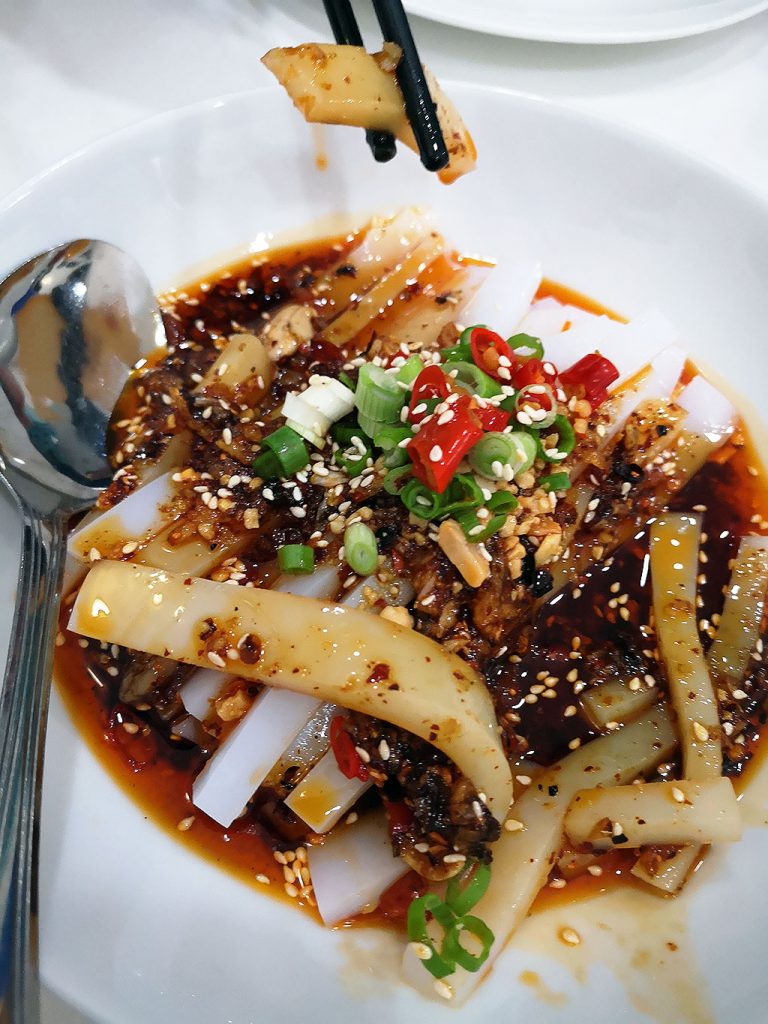 Another delicious classic is thousand year old eggs (black preserved eggs) with green peppers. Slimy, spicy, gooey and Yummy!
Update
In the new reataurant 椒皮蛋 green peppers and 1000 year old eggs doesn't seem to be on the menu anymore.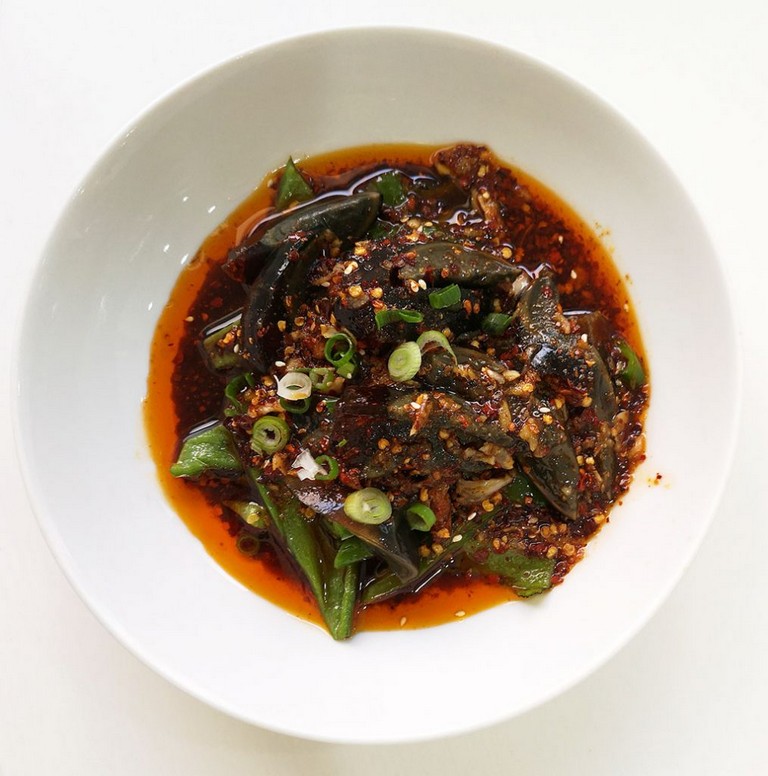 Meat lovers will enjoy the spicy tendons or the famous Sichuan cold Chicken dish 棒棒鸡 / bon bon chicken . Another option is the cold Sichuan noodles. Fabulous!
Following on from the cold dishes you either choose one of the huge fish options. Something you should definitely try at least once. Or you go for various smaller dishes of meat, seafood or vegetables.
Our favorites are the spicy hot plate squid 铁板鱿鱼 , Mapu dofu 麻婆豆腐, tofu with a hot sauce (with or without meat), Yuxiang Qiezi, spicy Chinese aubergine (with or without meat). I love the prawns with asparagus (not spicy).
Update:
The prawns with asparagus have been replaced by Crispy King Prawns dry cooked in a wok with vegetables: Daxia Ganguo 大虾干锅.
Meat lovers will enjoy a great selection of spicy offal dishes. The spicy tendons 凉拌牛筋,do a brisk trade. Chinese clients also seem to adore the super spicy frog's legs.
You can also have various noodle and dumpling dishes as well. The wontons 馄饨 are pretty good. If you speak Chinese or are willing to point, the traditional vats on the bar counter contain homemade radish / turnip pickles 白萝卜泡菜 . They will give you some free and they are a truly amazing way to start the meal with a cold beer.
Getting there:
The restaurant is located in the small street, Calle Gabino Jimeno, number 6. It's a two minute walk from the exit of Usera Metro station, Line 6.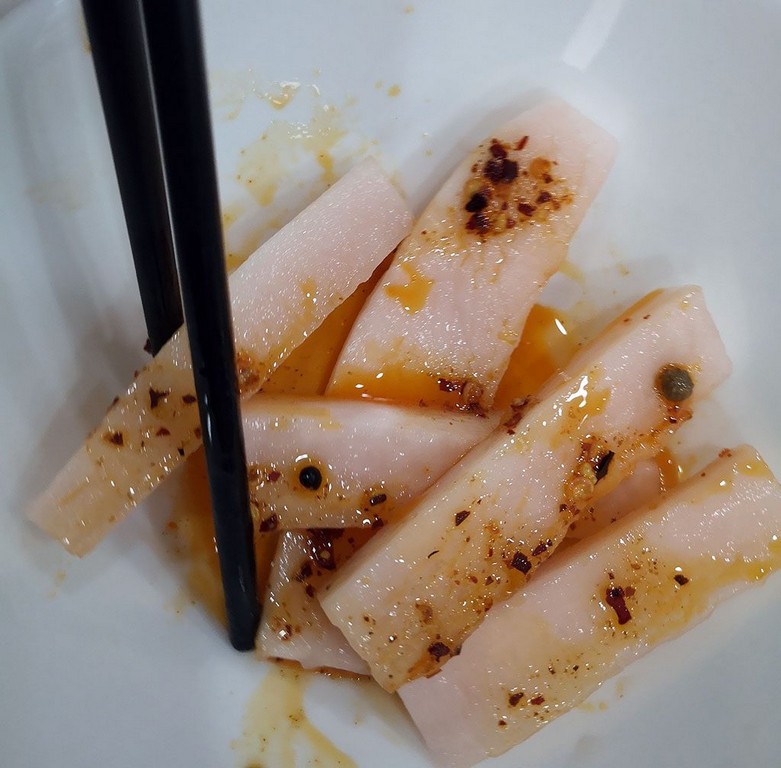 Cost:
Not expensive. Most dishes are between 4.50€ sand 10.00€. The exception being the whole roasted fish Wanzhou Kaoyu 万州考鱼 that costs 18.80€. It is almost a meal on its own for two people. Other fish dishes cost between 12.00€ and 13.50€. The fish they use is Sea Bass (Lubina in Spanish or 鲈鱼 Luyu in Chinese).
A local specialty from Chongqing, China called Wanzhou Grilled Fish.
Click here to read more: See article.