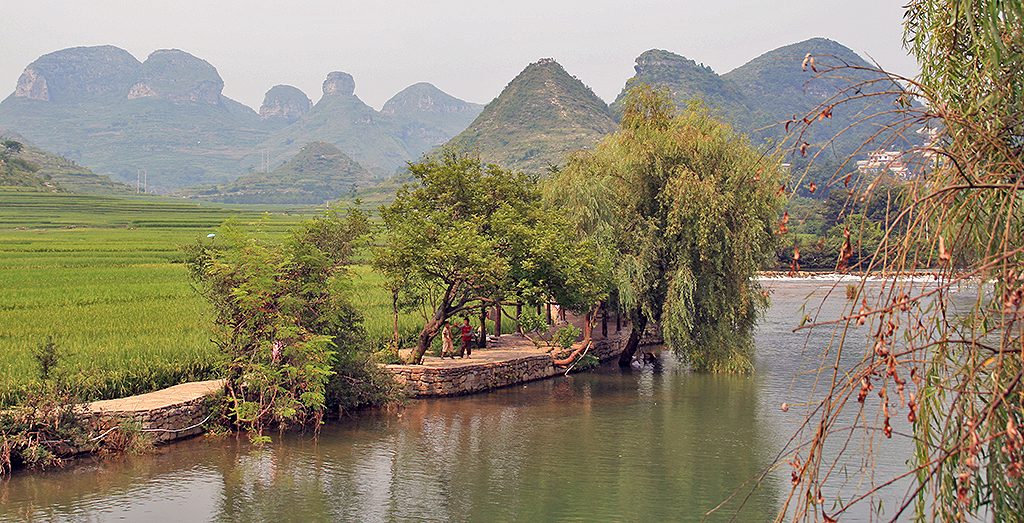 Shitou Zhai 石头寨(visited in 2007)
the Dreaded Entrance Ticket or Ménpiào 门票 at Shitou Zhai 石头寨.
'Menpiao, Menpiao, yinggai mai menpiao门票,门票应该买门票' (buy an entrance ticket, you need to buy an entrance ticket). When someone from a hidden booth or shack shouts those dreaded words just as you enter what you think is an undiscovered bucolic paradise, you roll yours and ask yourself. "How much is this going to cost?". In the case of Shitou Zhai; quite a lot.
The stone Bouyi (ethnic group) village of Shitou Zhai 石头寨 , not far from China's largest waterfall at Huangguoshu  黄果树 and easily accessible by public transport, is said to have been around for some 500 years, and judging by the condition of some of the houses it could well be true.
The Bouyi build stone houses that resemble dwellings in European medieval villages. Anyone who has visited the remoter parts of the Spanish provinces of Castilla and Leon, or Galicia, will recognise the style immediately.
The Dreaded Entrance Ticket
These days, visitors are met at the entrance by friendly young women, dressed in traditional clothes, who act as guides – included in the steep 40 Yuan ticket (the dreaded Menpiao: That unexpected expense when you arrive in a village in rural China) – and give you a reasonably interesting demonstration on batik making techniques, provided you can speak Chinese.
They then take you for a walk around the village. Some of the old stone houses are still quite impressive, but many are just ruinous shells with nobody living in them.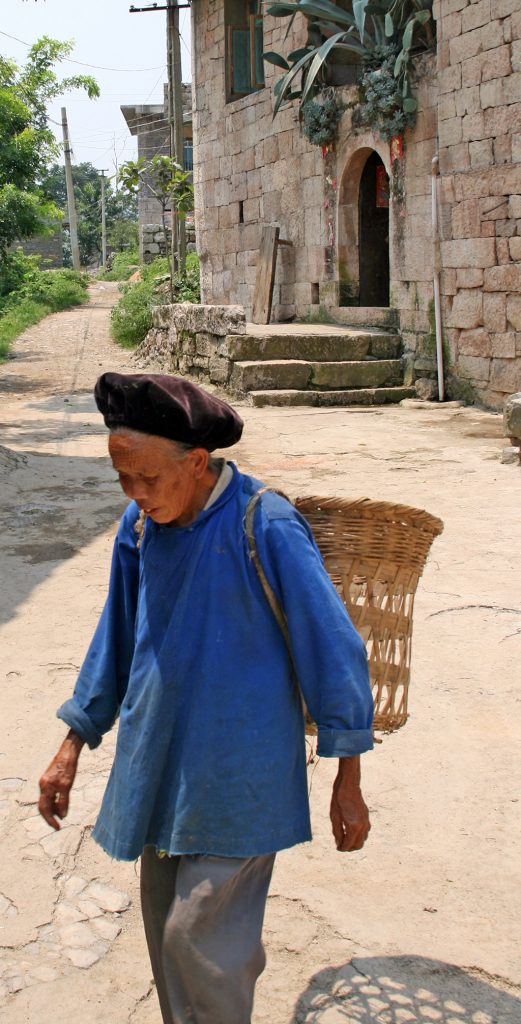 Producing Batik In Shitou Zhai
You might catch a glimpse of a few local Bouyi dressed in their dark-blue, dyed and embroidered clothes, but not many.
However, you will find plenty of opportunities to purchase batik products (蜡染 /Làrǎn) , your guide will be more than happy to point them out. While you are browsing, you may bump into wholesalers from Anshun 安顺 , many of whom buy their stock in Shitou Zhai.
It's a good idea to check out Anshun 安顺 prices first (especially the shops lining Nanhua Lu, near the bus station, specialised in Bouyi batiks (蜡染 / Làrǎn and Miao clothes) and then buy here. Prices are very reasonable, as long as you bargain.
Stunning Coutryside Surrounding Shitou Zhai
If Shitou Zhai is a bit of a let down, the surrounding countryside is stunningly idyllic. Slow rivers and water canals meander through rice fields, buffalo and village children swim in inviting pools, and enchanting paths lead off to other stone villages (without ticket) and towards the beautiful karst mountains.
If you continued for another 3 km after Shitou Zhai, through the rice fields, you'd reach the river ( Baishui River (白水河 ) only a few kilometres before it cascades over the rocks and turns into Huangguoshu falls.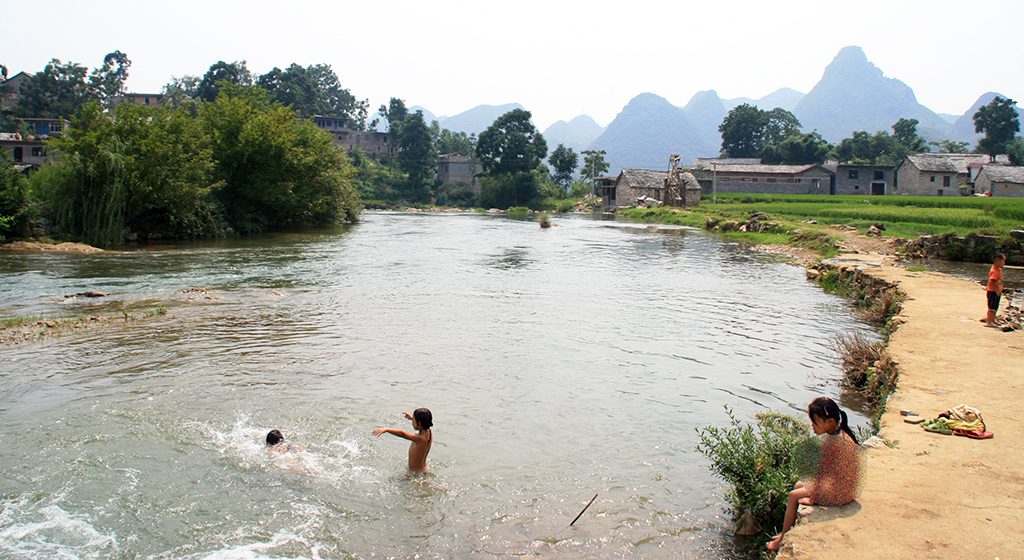 Practicalities:
Getting there and away:
You should get on a Huangguoshu– bound bus from Anshun 安顺 and ask the driver to drop you at the turn-off for Shitou Zhai, from where it is a pleasant 2- kilometre walk, following a slow winding river (Baishui River 白水河 ) and grazing buffalos to the village.
Returning, there are many buses that pass through Shitou Zhai going to the town of Zhenning, from where buses depart every 10 minutes to Anshun 安顺 .
Food:
Not Much! There are (were) no restaurants, but there is a small village shop where you can buy drinks, snacks and sweets.