Shalu Monastery夏鲁寺: August 2007
The Shalu Monastery in Tibet is a fantastic example of Tibetan Culture. The murals on the walls are spectacular and the surrounding village is 100% Tibetan.
From our Diary
We visited the monastery of Shalu 夏鲁寺 on the second day of our excursion, as a side trip on the way from Gyantse to Shigatse. Shalu was actually off limits to foreigners and we didn't have it listed on our permit. Our excursion was a spur of the moment decision.
However, our Tibetan driver nonchantly said there would be no problem. And hey this was 2007! Travelling in Tibet was hassle free and foreigners could drop into almost anywhere they wanted.
The talk among travellers in China in 2007 was that very soon foreigners wouldn't need permits to travel around Tibet anymore; such was the optimism due to the up and coming Beijing Olympics in 2008.
Little did people know that within a few months, all the good intentions the Chinese authorities had about opening up Tibet would be shattered by the riots in Lhasa and Tibet closed to foreigners for quite a while. Even now (2019), Tibet is still nowhere near as open as it was back then in 2007.
Getting to Shalu Monastery
About 20 kilometres before Shigatse, our van turned left off the main road and went onto a bumpy track full of potholes and puddles.
We passed sturdy farmhouses, some of them still under construction, and large fields full of grazing yaks. Wheat grew everywhere and the whole area looked quite prosperous.
Shalu Monastery History
The monastery of Shalu was the seat of the Bu tradition of Tibetan Buddhism, named after its founder Buton Rinchendrub, a famous 14th century scholar.
An earthquake in 1329 destroyed the original Shalu Monastery, However, Buton rebuilt the Monastery in 1333 under the patronage of the Chinese Mongolian emperor of the Yuan dynasty.
Many Han Chinese artisans and Newari artists from Nepal participated in its reconstruction giving it its distinctive architectural style exemplified by the green-tiled arched roof and steep eaves of the central hall, the Shalu Lakhang.
Shalu Monastery's Murals
Apart from the architecture and the many large statues of important religious figures, what mostly grabbed our attention were the incredible murals.
Like in Samye, the tall walls that go behind the main altar are covered from top to bottom by amazing paintings, dimly lit by an occasional light bulb.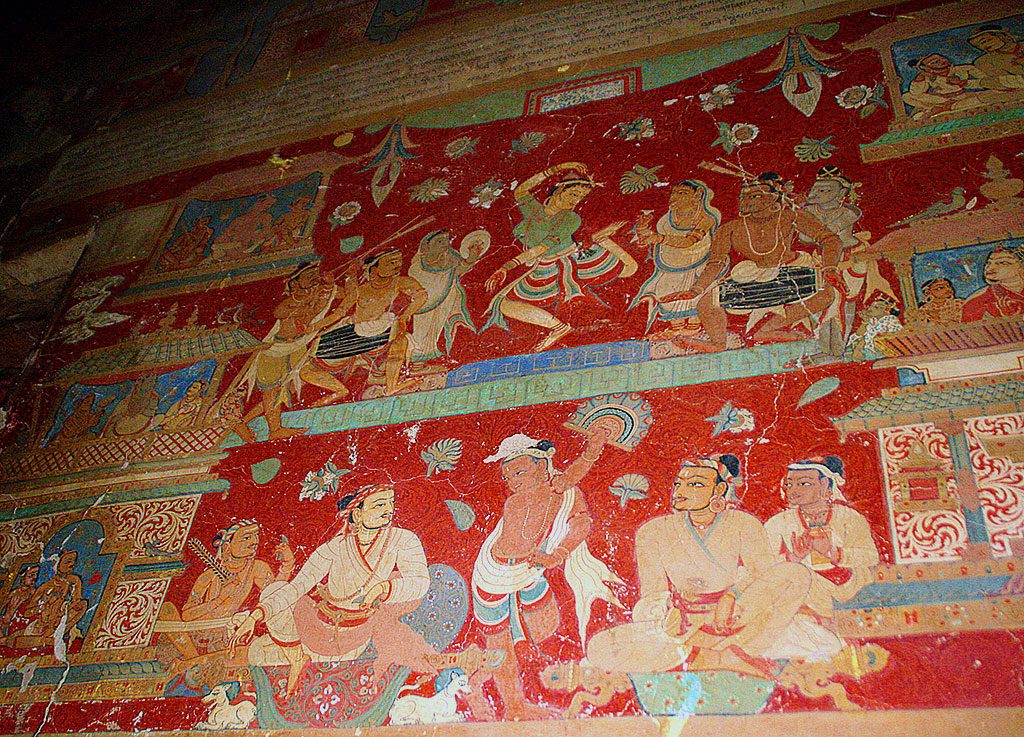 Apart from the usual, slightly repetitive, Buddha figures, there are many exquisite and exotic scenes of a non-spiritual nature, such as caravans of distinctly Arabic-looking merchants leading camels, slim Indian-looking courtiers at play, or beautiful young ladies.
The murals in the side chapels, attributed to Nepali painters, mostly depict large elegant Buddhas in lotus position, demons and many-armed gods, surrounded by floral motifs. Given their shining state, they must have been retouched recently.
The Gruesome Murals
Not all the murals were so beneign. Gruesome scenes of animals and humans being flayed or disembowled also lined the walls.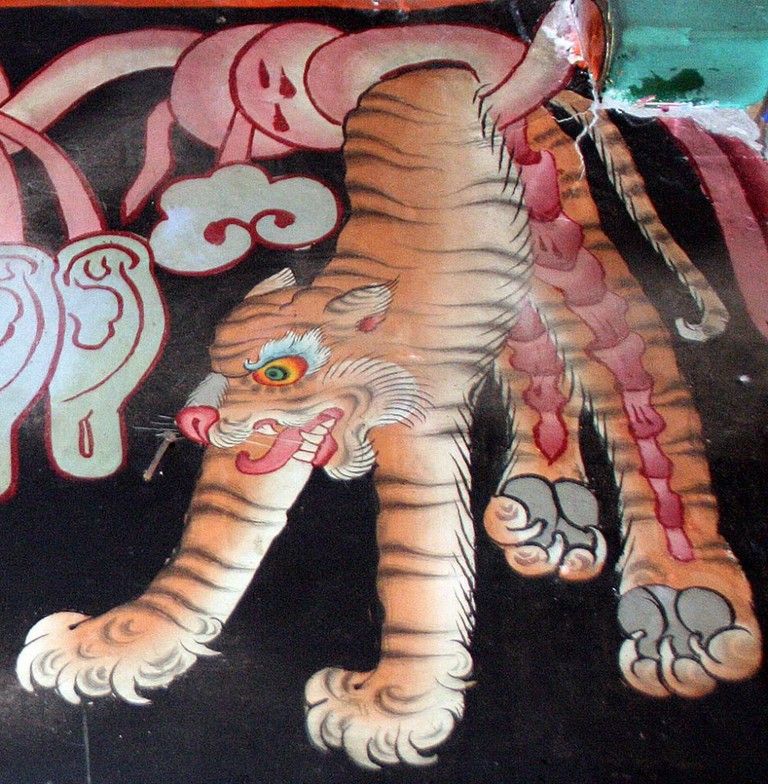 During our exploration, friendly monks unlocked most of the smaller, side and upper storey chapels for us, allowing us to appreciate the treasures inside, such as ancient statues and thankas.
The sight of all these precious objects and paintings, clearly venerated by the monks, gave us a real sense of ancient history and tradition.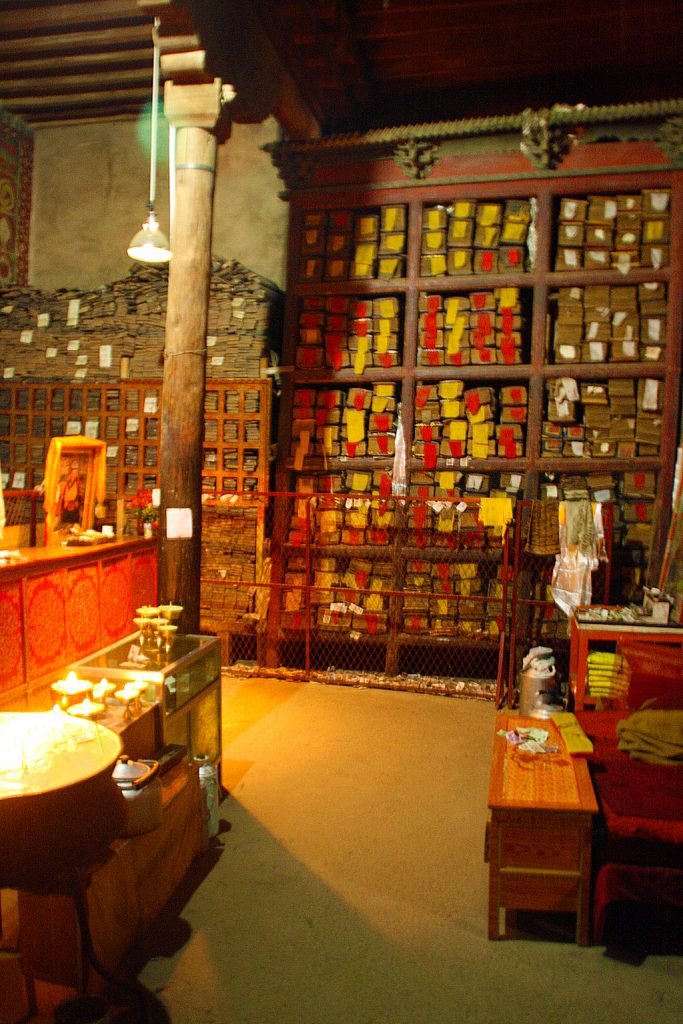 The Library
The monks lead us into the library which is normally kept firmly under lock and key. The collection of manuscripts and scrolls at Shalu is huge and very important for Tibetan Buddhism. Then, as we came out of the library we bumped into a young German who was staying at the monastery studying Buddhism and learning Tibetan. How on earth did he manage to get a permit to do that in Shalu?
Shalu Village
Shalu village is completely traditional as well, it's a warren of towering white-washed houses, protected by walls and intersected by narrow muddy lanes.
Interestingly, while we were exploring, the Shigatse – Shalu bus, an old battered vehicle, turned up, showing us that this is another excursion you could easily do on your own.
Shalu Monastery has undergone restoration
The Chinese Government began the restoration of Shalu Monastery in 2009, two years after we visited.
Getting there and Away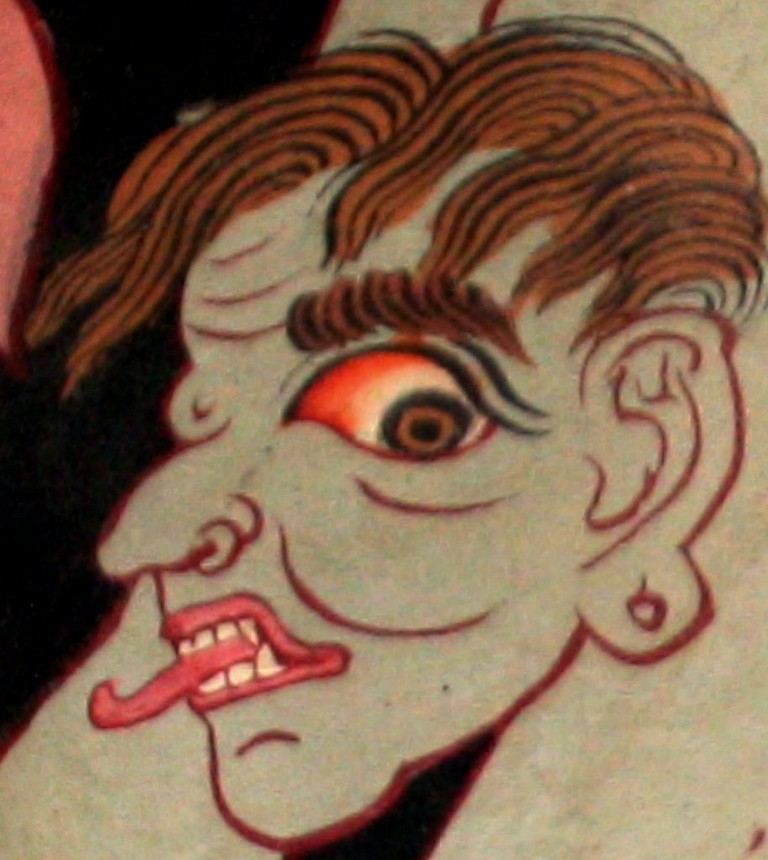 We had hired a Car and driver in Lhasa to go to Gyanste and Shigatse. Shalu Village lies somewhere between the two towns. As mentioned above, we saw local buses from Shigastse arrivng in Shalu. The only problem will be permits, and whether under stricter control the authorites will turn a blind eye to foreigners visiting Shalu.
Accommodation:
The monks in Shalu told us that they had some guest rooms. However, we just visited on a day trip and stayed in Gyantse and Shigatse.
Gyantse Practicalities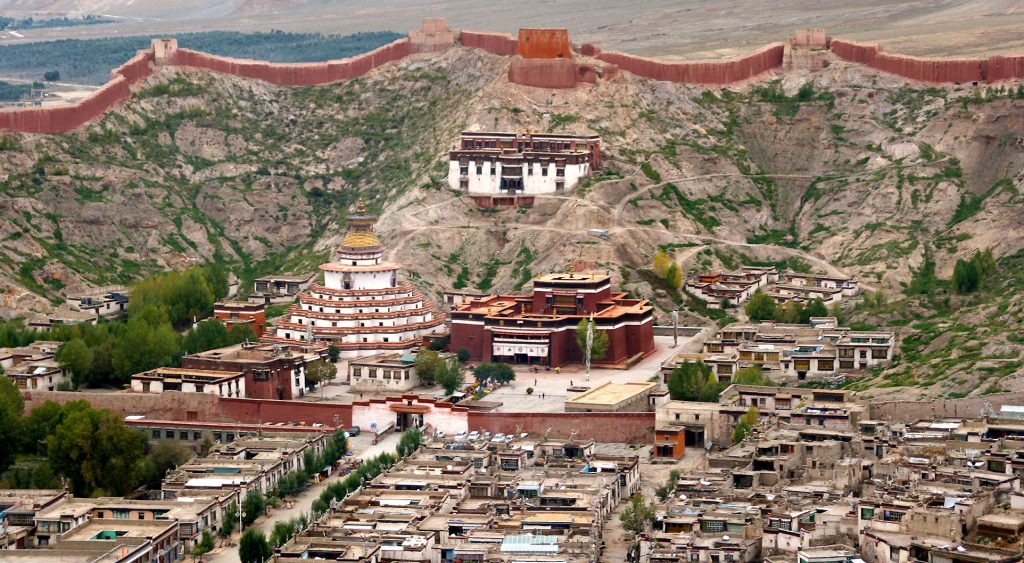 In Gyantse we stayed at the Jianzang hotel which lies on the main street of the modern part of town (Yingxiong Nanlu) and is certainly one of the nicest places we stayed at in the whole of Tibet, or even China. Embellished with bright, colourful murals and lovely potted plants and flowers, the hotel also has large, clean and comfy rooms. We paid 180 Yuan for a double with bathroom, though there were cheaper rooms and dorms as well. The hotel also has its own rooftop restaurant and staff are very friendly.
Food:
You will have no trouble finding several places to eat along the same main street. The Yak bar and restaurant, for which you have to go upstairs, is a pleasant, laid-back place with Tibetan sofas and low tables, specialising in western-style food such as chips, pizzas and burgers. We decided to give the guidebook-recommended Zhuang Yuan a miss after one look at their menu, outraged at the idea of paying nearly 30 Yuan for a portion of chips.
Instead, we walked into a large Chinese restaurant, a few doors away and identified by a green sign, where we had an excellent meal.
Shigatse Practicalities
We stayed at the Shigatse Post Hotel, a new-ish place (2007) right opposite the posh Shigatse Hotel, down Shanghai Lu. Painted and furnished in Tibetan style our double room came complete with thankas and white ceremonial scarves, all very bright and clean; good value for 180 Yuan.
Going down Shanghai Lu towards the centre we found plenty of food, though restaurants were mostly of the simple, snack food variety. A ten-minute walk from the hotel will take you to the night market.
For more on Gyantse Click here: https://holachina.com/?p=10645