Qikou Inn 碛口客站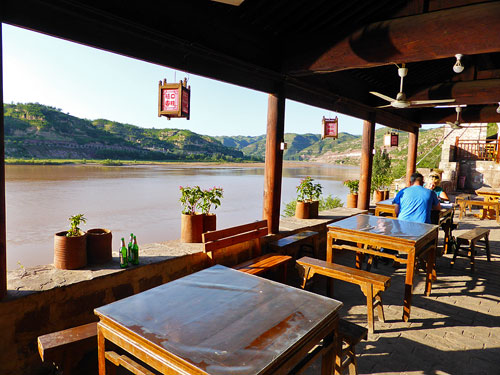 This must be one of China's most charismatic hotels! It may not win any prizes for luxury, but its location and ambience are unbeatable.
The Inn or hotel, reportedly built some 300 years ago, is set right on the banks of the Yellow River 黄河, just before one of the river's huge, sweeping bends. On the other side, the dry and barren hills of Shaanxi 陕西省 province stretch as far as the eye can see.
For centuries, Qikou town 碛口古城was an isolated but significant outpost as, for kilometer after kilometer, along either bank of the Yellow River, there were no other towns in sight.  In its heyday, it served as an important trading port between the provinces of Shanxi 山西省 and Shaanxi 陕西省, with hundreds of boats docking at its wharf. Today, standing on the few remaining, rickety wooden boards and overlooking the placid brown waters, all this activity is hard to imagine.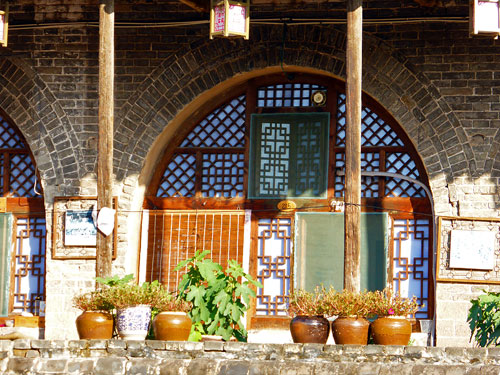 The Inn has had an equally colorful history, first as home to the various merchants who plied their wares along the Yellow River and later as a base for the Red Army during the War of Resistance against Japan.
It's a handsome, two storey, grey-brick building with two courtyards, a small tower and a lovely, covered terrace overlooking the river. Rooms are cave- like, with huge, rounded, latticed windows and bamboo screens hanging in front of the sturdy wooden doors. The beds are Continue reading "Qikou Kezhan (Inn) 碛口客站: One of China's most Charismatic Hotels"