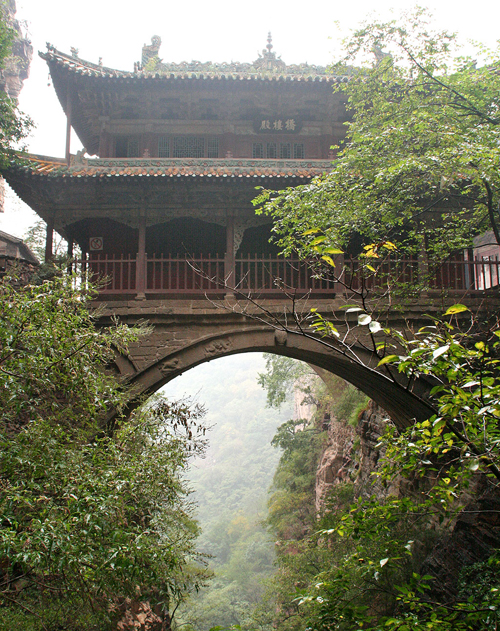 Cangyan Shan Mystic China is not the easiest place to get to on a day trip from Shijiazhuang. We found out too late that the one and only daily bus (at least in late September) from Shijiazhuang to Cangyan Shan leaves at 8.00h.  As we had already missed it, it was a case of either not going, or hiring a taxi.
We spoke to a driver waiting outside a hotel and agreed on 300 Yuan for the whole day. It took us about 2'5 hours to reach the mountain, along a nightmarish motorway, full of overtaking lorries.


In spite of his protestations to the contrary, our driver had never been to Cangyan Shan before and kept stopping at other mountain temples on the way, hoping they were what we were looking for. As it turned out, this was a bit of an unexpected bonus, as one Buddhist nunnery we stopped at was very attractive. After giving us an exhaustive tour around, the friendly nuns were able to orientate the driver on how to get to the real Cangyang Shan, a mere 5 kilometres away.

The Hanging Palace
The highlight on the holy mountain of Cangyan Shan is the Hanging Palace, a double roofed hall, originally built during the Continue reading "Cangyan Shan Mystic China"