Rongjiang Sunday Market (Guizhou Province, 2007)
Arrival
Our bus bumped into Rongjiang's run-down and grubby bus station after a gorgeous five- hour, 160- kilometre bus ride from Kaili. Rongjiang, a scruffy town spread along the banks of two rivers, the Duliujiang and the Zhaigaohe, sits firmly within the Dong heartlands. Though the town has very little to interest travellers, it makes a good base for excursions to nearby Dong villages, some of which, such as Chejiang and Zenchong, are extremely beautiful. There are also a few interesting Miao villages, like Bakai.
We arrived in Rongjiang on a Saturday, as we were interested in visiting its large Sunday Market.
The Sunday Market

Rongjiang's Sunday market is not as huge or hectic as the one in Anshun, or as colourful as the market at Chong'an, near Kaili. Still, it is an interesting place to wander for an hour or two and watch the local Dong minority going about their business. Many of the Dong, especially the women, dress up in their finest to come to the market: some wear bright blue jackets with appliquéd and embroidered borders along the sleeves and cuffs, combined with dark, baggy trousers, while others prefer shiny indigo jackets and short skirts. Dong people tend to have strong, sculpted features, similar to their South-East Asian neighbours in Thailand or Burma.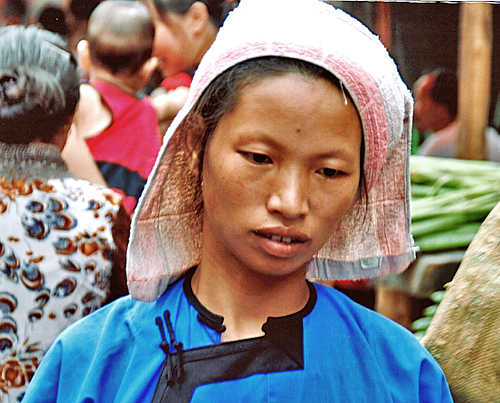 You might also catch a few different groups of Miao, such as the 'Top-Knot Miao' proceeding from Basha, a village near Congjiang, whose name refers to the typical hairdo of the men who wear their hair tied up in a high bun, or the 'High Mountain Miao', or 'Gaoshan Miao', from the nearby village of Bakai, with their beautifully patterned and embroidered trousers.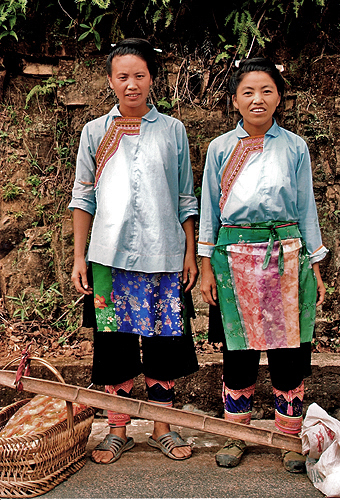 The Dong traders make quite an effort to sell their wares and the vegetable displays are particularly beautiful and elaborate. The market has two parts: Continue reading "Rongjiang Sunday Market"