Luocheng ( the ultimate teahouse town)
Location: Sichuan Province, China, in the vicinity of Leshan (2-3 hours)
The ancient town of Luocheng is a gem for those looking for traditional teahouse culture. Luocheng is renowned for its boat architecture: the two sides of its main street narrow down at both ends and widen gradually towards the middle, thus creating the oval shape of a boat.
Straddling the street and forming, as it were, the prow to complete the boat- like appearance of the town, stands a beautifully restored theatre. It is covered in traditional grey tiles and flamboyantly decorated with historic scenes and smiling Buddhas.
However, the absolute highlight of Luocheng is the swell of teahouses lining the main street, sheltered by the overhanging wooden porticos of the buildings. Overlooking this sea of bamboo tables and chairs, occupied by querulous old men in faded Mao jackets, arguing over heated games of cards or Mah-jong, while smoking small stubby pipes carved out of roots, visitors can truly imagine themselves in a time warp.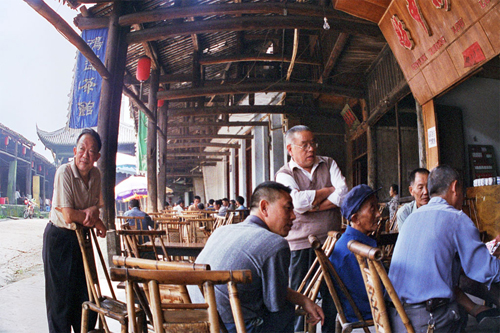 Joining the regulars over a cup of tea, you can really get an impression of what village life must have been like in the old days. The whole place still oozes authenticity and atmosphere; two elements that are often lacking in many of China's more popular historical places. In fact, Continue reading "Luocheng: Is This The World's Best Teahouse Town?"