Discovering Wuyuan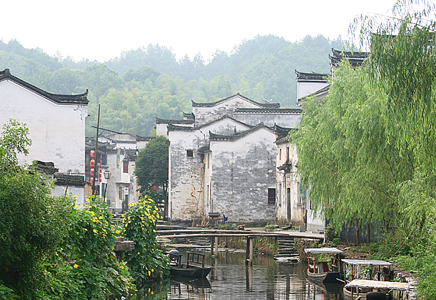 About 3 years ago while killing time between classes, I lazily typed into Google "the most beautiful village in China" and up came a few entries, one of which was written by a local girl from a place called Wuyuan. In poor English she raved about the beautiful scenery in this remote area of Jiangxi province. The few photos that accompanied her article showed picturesque white villages of superb Huizhou Architecture and rolling green fields brightened by the stunning yellow of ripening rape seed.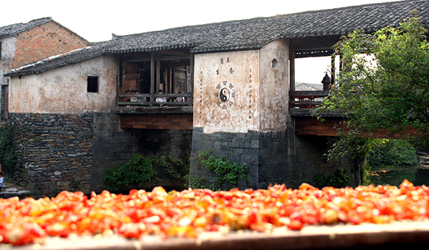 Immediately hooked, I typed in the word "Wuyuan" directly into Google and found a few more entries, which enabled me to locate the place and figure out how to get there. Over the following months and years the number of entries for Wuyuan in Google increased steadily, as did my interest in visiting the area. Last year we finally had the chance to do so, and below is what we found.
Wuyuan TownThe actual town of Wuyuan is not particularly attractive; in fact, it is fairly boring. Wide avenues streets, white-tile buildings and Chinese-style town planning – i.e. a newly-built 'traditional' wooden bridge leading up to a giant empty square with bizarre sculptures and tacky fairy lights – have left Wuyuan devoid of any character it might once have had.
However, don't be put off by first impressions; the town of Wuyuan is really nothing more than a gateway to a fascinating area of the same name which is home to some of China's most charming and unspoilt villages. Moreover, if you need to spend a night here, hotels are cheap and plentiful and the restaurants around town aren't bad.
The villages of Wuyuan are a showcase of China's Huizhou architecture, developed by rich merchants from the area of Huangshan (as Huizhou is now known). Having made their fortunes from the relocation of the Imperial capital to Hangzhou in 1132, they wished to construct houses and temples that reflected their wealth. Huizhou mansions are two or three-storied white-washed buildings, set around one or more courtyards with sloped roofs, designed to collect the maximum amount of rainwater. Principles of geomancy were extremely important to the layout of the houses, as the merchants were interested in accumulation riches and good fortune. The collection of rainwater was symbolic of their desire for accumulation. Over time, the merchants branched out into other areas of business and spread all over China, leaving behind a legacy of beautiful mansions.
Nowadays, the valleys and hills of the lush and fertile area of Wuyuan are still dotted with whole clusters of these beautiful, white two-story buildings with eaved roofs and exquisitely carved beams and doorways. Spring is the ideal time to visit…..For more go to:HolaChina: Your Gateway to China