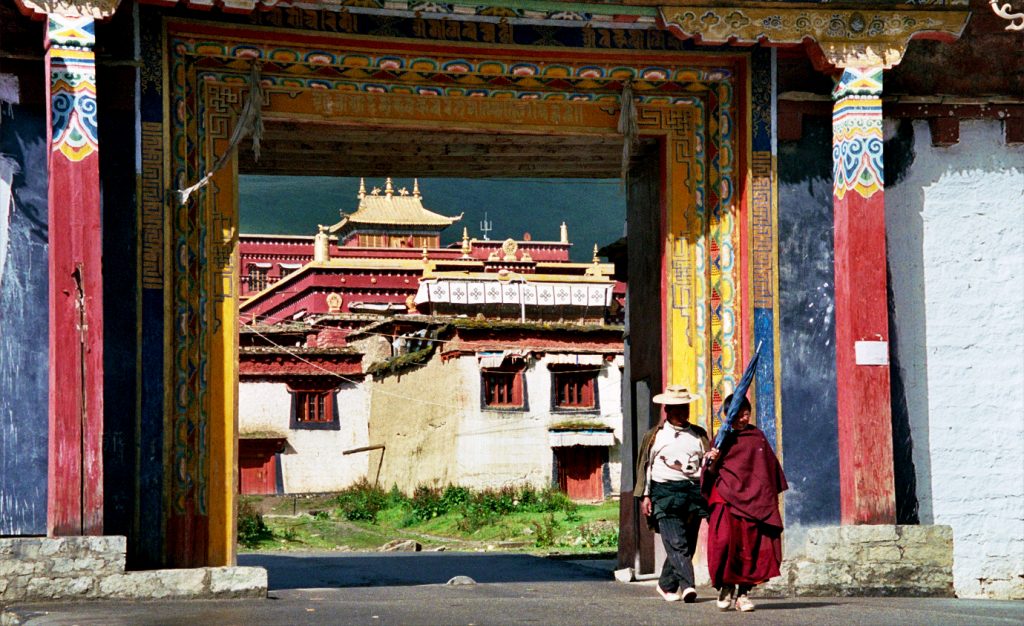 Litang; China's Wild West maybe a little tamer these days as transport connections improve and the authorities build more tourists facilities. However, it is still a place for great adventures in Western Sichuan's wild Tibetan lands.
The journey to Litang from Kangding takes about 7 or 8 hours ( a little less these days weather permitting) and takes you through some pretty rural scenery.
For the first two hours or so, the bus goes through farming land and past some gorgeous two-or three-storey Tibetan farmhouses; these are sturdy stone and wood dwellings with a courtyard and flat roofs for drying chillies, grains and vegetables, quite often surrounded by a wall.
Incongruously, many of the farmsteads sport satellite dishes these days and some have been converted into guesthouses.
Later on, the bus moves through higher and hillier scenery, where meadows and small woodlands alternate and you start seeing herds of yaks. Eventually, you hit the high plateau, where Litang is situated.
Litang, sitting in a wide valley surrounded by snow-capped mountains at an incredible altitude of 4,200 meters above sea level, is literally China's Wild West.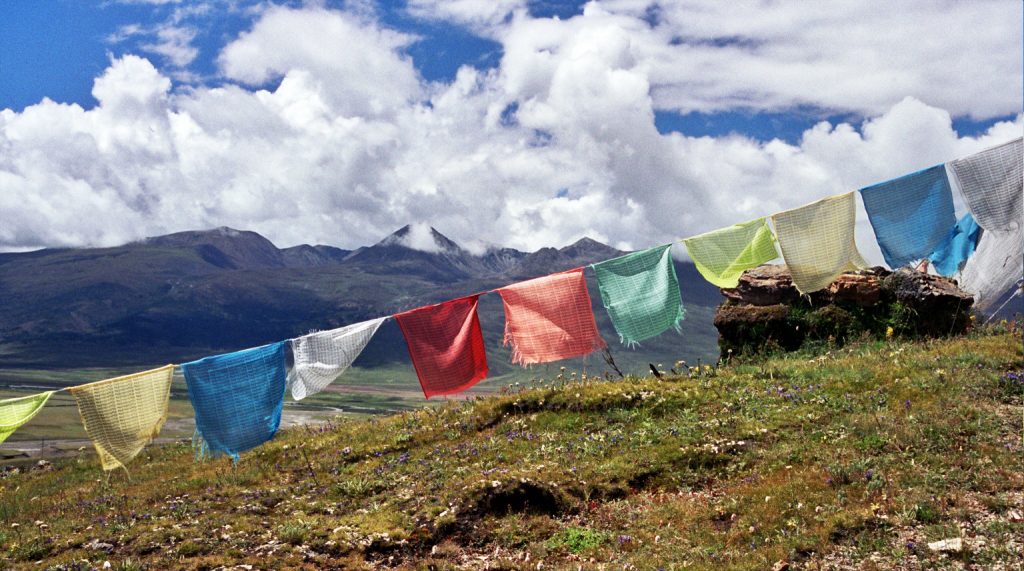 Litang China's Wild West: The Town in two Parts
It is a frontier town, on the fringes of government control and full of wild people. As soon as you step off the bus, you will feel the altitude: what with the weight of our backpacks and the lack of oxygen, it seemed that our lungs and head would explode.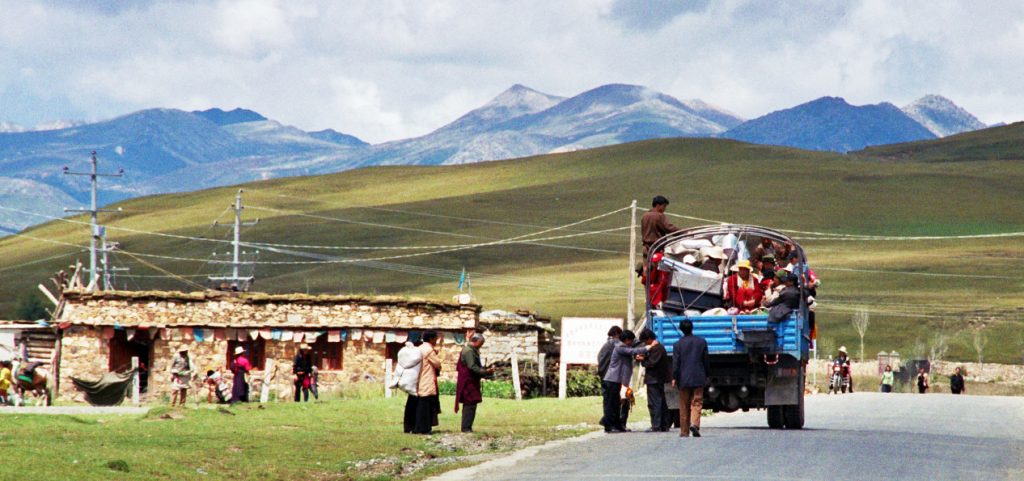 Like all the towns in the Tibetan areas of Western Sichuan, Litang is divided between a new Chinese town and the old Tibetan quarter. Recently, huge numbers of Chinese have been encouraged to migrate from the low-lying areas of the Sichuan basin to the Tibetan highlands, with the promise of jobs and business opportunities.
The Chinese part offers the traveller food and accommodation facilities that only a few years ago didn't exist.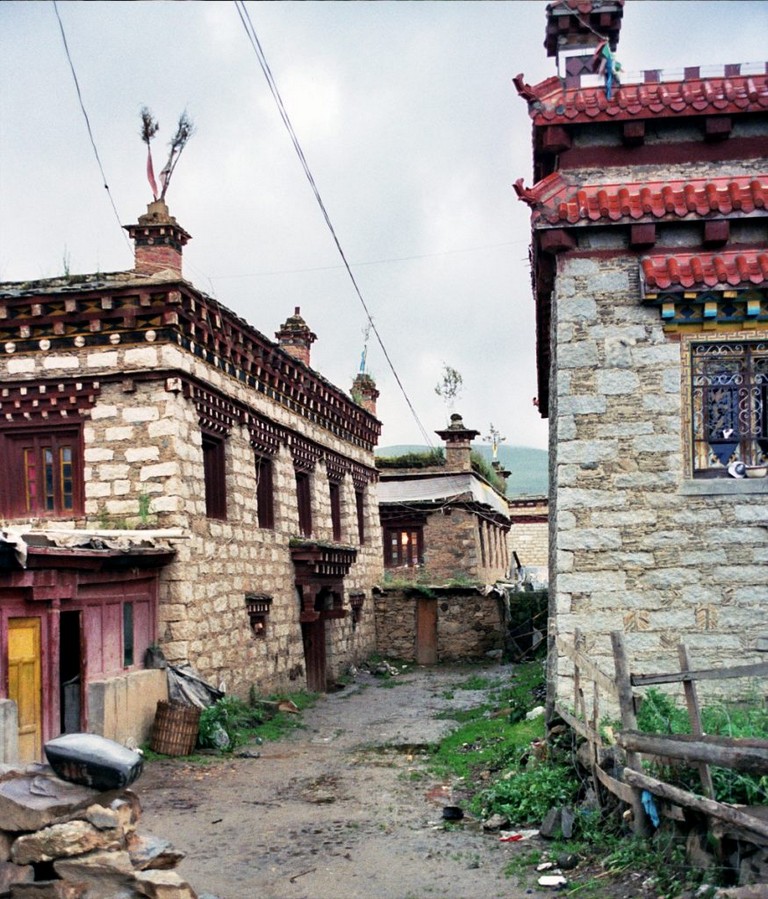 However, it is the Tibetan town that holds all the interest: it is a fascinating maze of Medieval-looking mud-alleys lined by sturdy, traditional Tibetan homes, and dominated by the sprawling monastery complex on a hill overlooking the town .

Open gutters run through the middle of the streets, and a central well provides water for most of the households. Tibetan ladies gather there to fill their buckets, or wash their hair or clothes.
Litang China's Wild West: The Chöde Gompa
The Chöde Gompa is a huge rambling place, complete with courtyards, halls, temples, surrounded and overlooked by dark wooden galleries decorated with paintings you can barely make out in the semi-darkness, kitchens and sleeping quarters for the monks.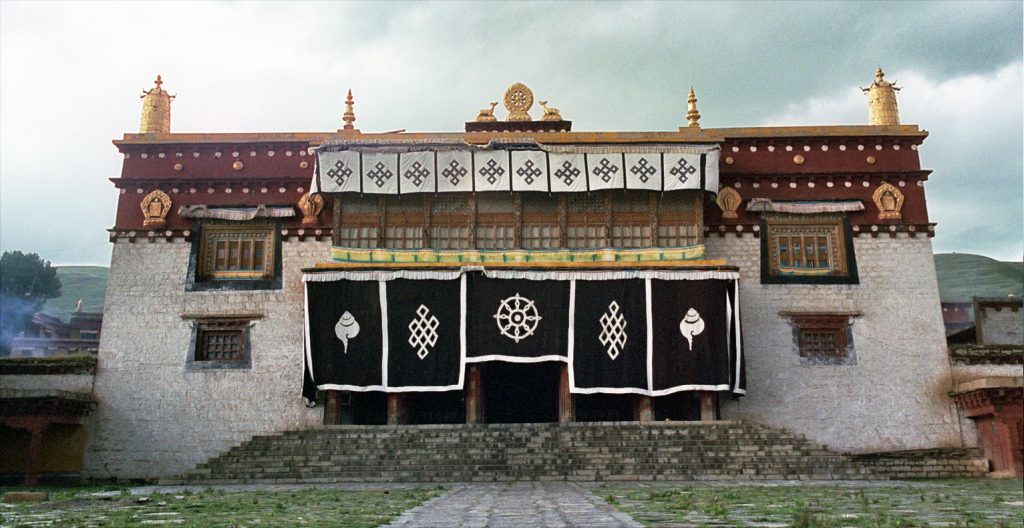 On our visit, we found everything open, but not a soul in sight; not even to sell us a ticket.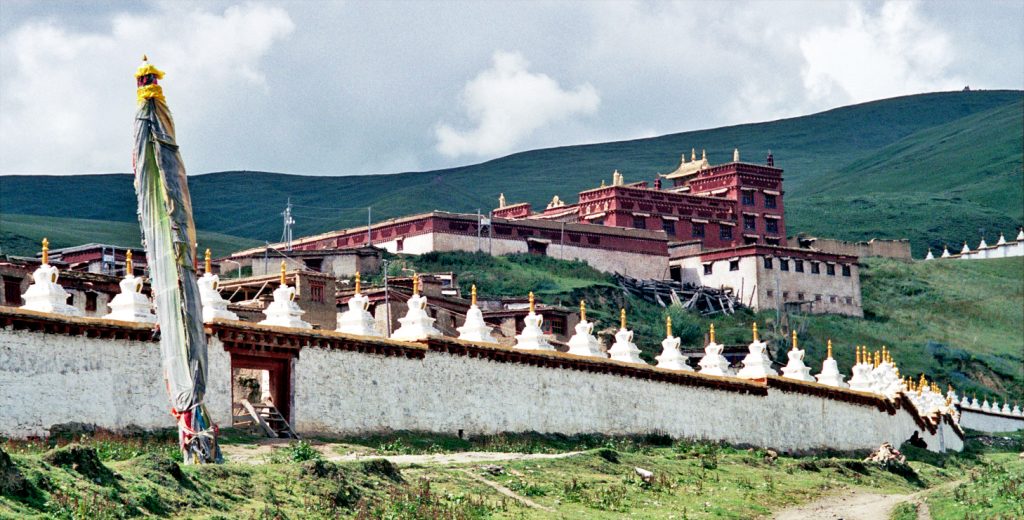 Back in the new town, there are several markets, shops and food stalls to keep you entertained.
Trendy Khampa youngsters on decorated motorbikes race up and down the main street, sporting huge sunglasses and leather jackets and flashing golden teeth; while their more conservative counterparts still prefer to ride into town on horseback.
Litang: Sky Burials
What is a Sky Burial
Litang China's Wild West, has in recent years become an increasingly popular destination to observe Sky Burials, Tibetan funeral rites. Sky burials are the way Tibetans have been disposing of their deceased for centuries.
The burial involves cutting open the deceased's corpse and removing the body's organs. This is followed by dismemberment; all limbs are then smashed into pieces and mixed with tsampa (barley flour with tea and yak butter, or milk).
monks known as rogyapas ("body-breakers") carry out the burial rites. Finally, the rogyapas spread the remains out around the burial site so that vultures and other scavenging birds can come and eat the body parts and clean out the flesh from the carcass.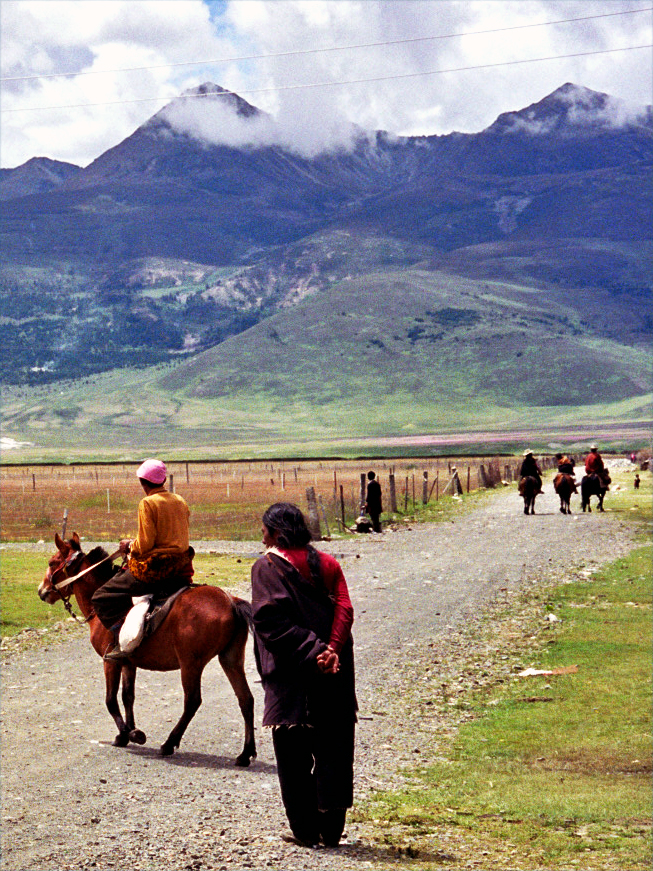 Litang; China's Wild West: The Grasslands
The grasslands and high country around Litang offer great opportunities for trekking and hiking and exploring remote monasteries.
You only have to walk a few kilometers out town to stumble upon the nomadic life of the Khampas. Herders graze their horses and yaks, and Khampa farmers and traders, many with large knives holstered in their belts, ride in and out of Litang on their horses giving the whole area a real Wild West feel.
The Khampa women, often dressed in their most elaborate costumes, provide the colour and allure of the grasslands.

Qudenggabu
If you leave town via the eastern part, you can visit the Qudenggabu, a fairly new stupa, on your way. In spite of its recentness, this place attracts a large number of pilgrims, circumambulating the structure, spinning prayer wheels and reciting mantras.
Moreover, a couple of kilometres out of town, you will come across a simple hot-springs resort, where you might be tempted to have a soak, depending on the level of luxury you are enjoying in town.
ACCOMMODATION: A very Dodgy Hotel
Speaking of which, we stayed in a Tibetan-style hostel, just to the right of the bus station. The place was nice enough, we had traditionally furnished rooms with carved and brightly painted wooden furniture, colourful rugs and blankets. There was a common sitting area and a toilet in the corridor.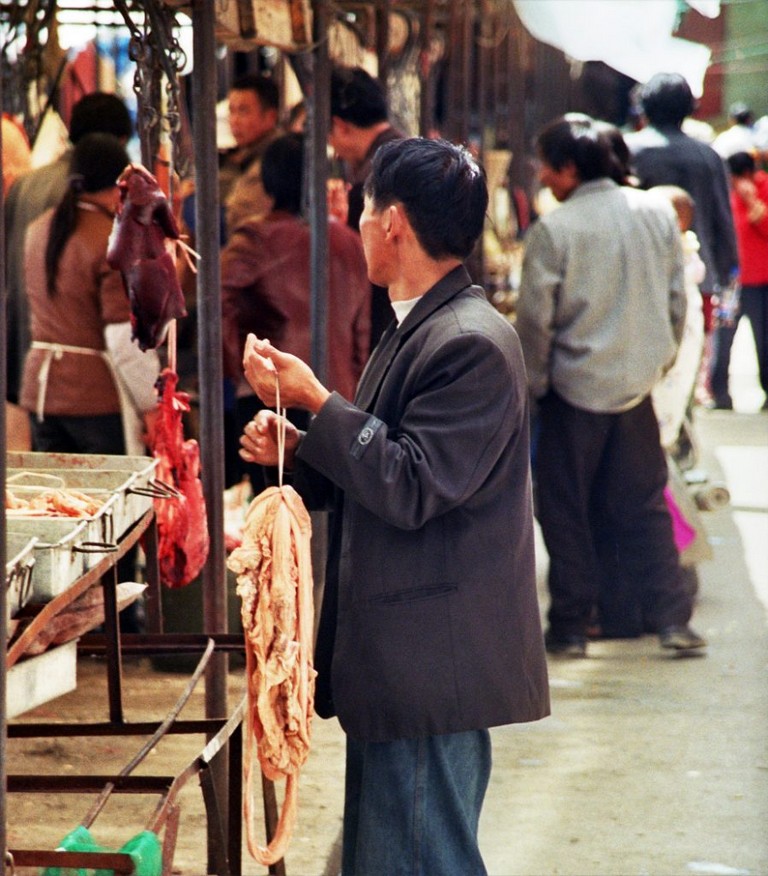 However, as we discovered on our first night, the place also doubled as an annex to the seedy bar, cum brothel, across the road. All night long, there were shouts, drunken brawls, slamming doors and thudding footsteps on the landing. We reached our limit on the second night, when a fearsome Khampa warrior with a knife in his belt just strode into our room, stood there grinning and pointing at us, and just refused to move.
On awaking the next morning, our last one, we found a wild-haired nomad squatting on our, the hostel's, toilet with the door wide open and a vacuous expression on his face… time to go.
Litang Practicalities:
As we discovered later, there is no need to stay at the hostel/brothel we stayed at; if you swing a left from the bus station and walk about 10 minutes into the centre of town, there is a proper hotel on a corner, on the right hand side of the street, with a glass-fronted reception. They have en-suite rooms with hot water.
Festivals: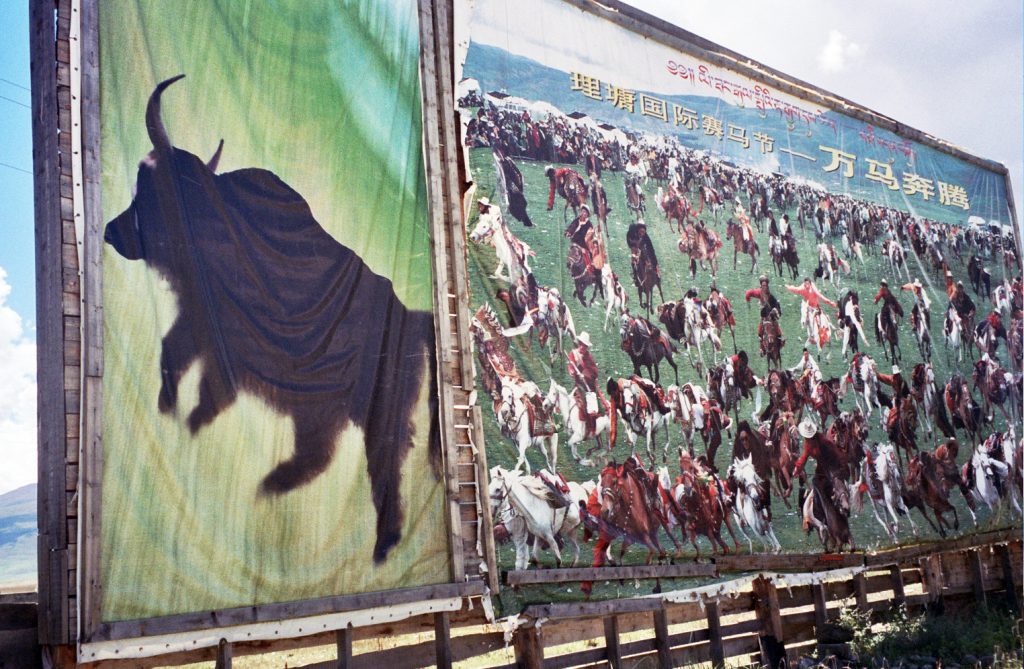 The best time to visit Litang is in the first half of August, when the horse festival takes place. Nomads come from all over to participate in wild, breath-taking races.
Onward travel:
If you want to travel on to Yunnan, Litang is where you should go. From here, you can catch a bus to Xiangcheng, where you will have to spend the night, and then Zhongdian in Yunnan.