Ganzi 甘孜 to Manigango (Manigange 马尼干戈) and onto Dege 德格 Over the Chola Pass 雀儿山
Ganzi to Manigango and onto Dege is a journey you will never forget. As the crow flies, it's not that far from Ganzi to Dege, the last town before the Tibetan border and home to the famous Bakong Scripture Printing Lamasery. However, separating the two towns is the forbidding 5,400 meter Chola Pass 雀儿山, one of the highest roads in the world.
Setting off
Our bus set off more or less on time, and for the first couple of hours we crossed over grasslands, passing numerous villages and monastery towns. Some even had signs in English, welcoming visitors.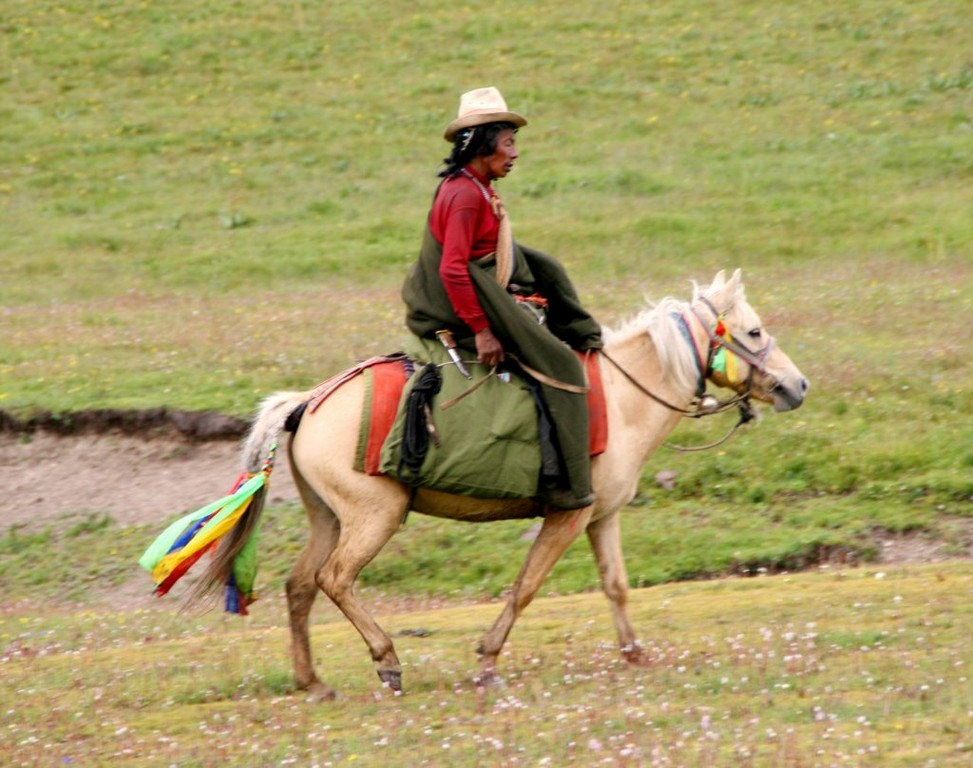 As we approached Manigango, after about two-and-a-half hours, the scenery became more dramatic and we could see Khampas on horse-back herding yaks, and nomad settlements dotting the pastures.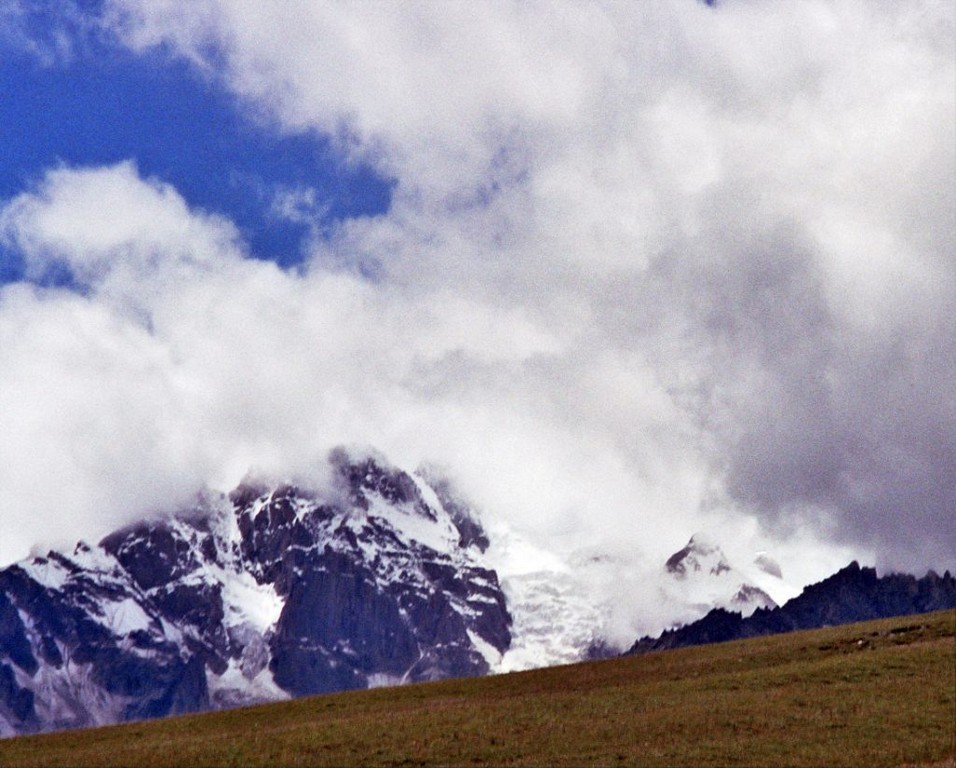 Although horses are still the predominant means of transport for the Khampas, motorbikes are gaining in popularity, even out on these remote grasslands, judging by the number of bikes whizzing past the bus with two, three and even four people on them.
Welcome to Manigango
On entering Manigango for our lunch break, the sky suddenly turned black and the heavens unleashed a tremendous downpour, which left the muddy streets even muddier.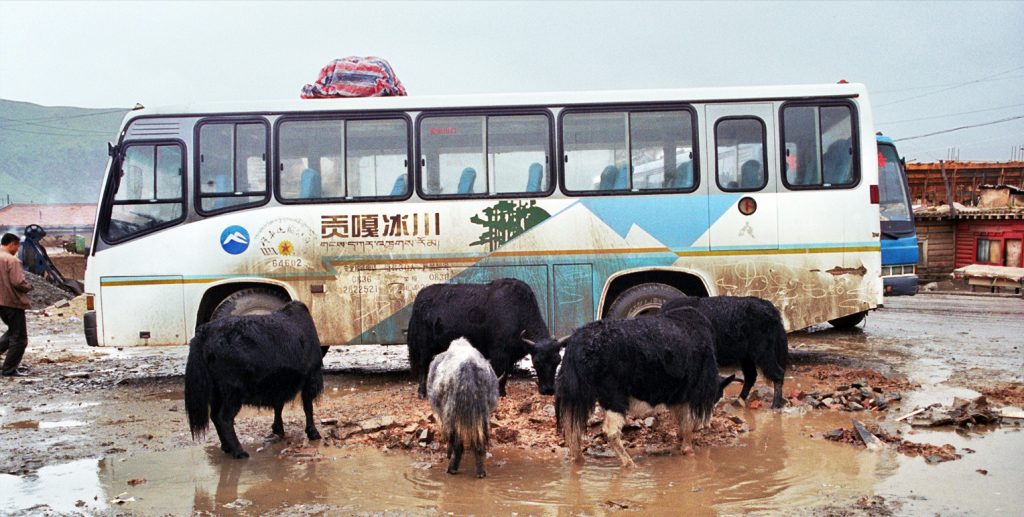 If any town ever looked like a Wild West one-street film set, then Manigango was it. For many Sichuanese, the name Manigango is associated with wild bandits robbing and even killing Chinese and Western tourists alike.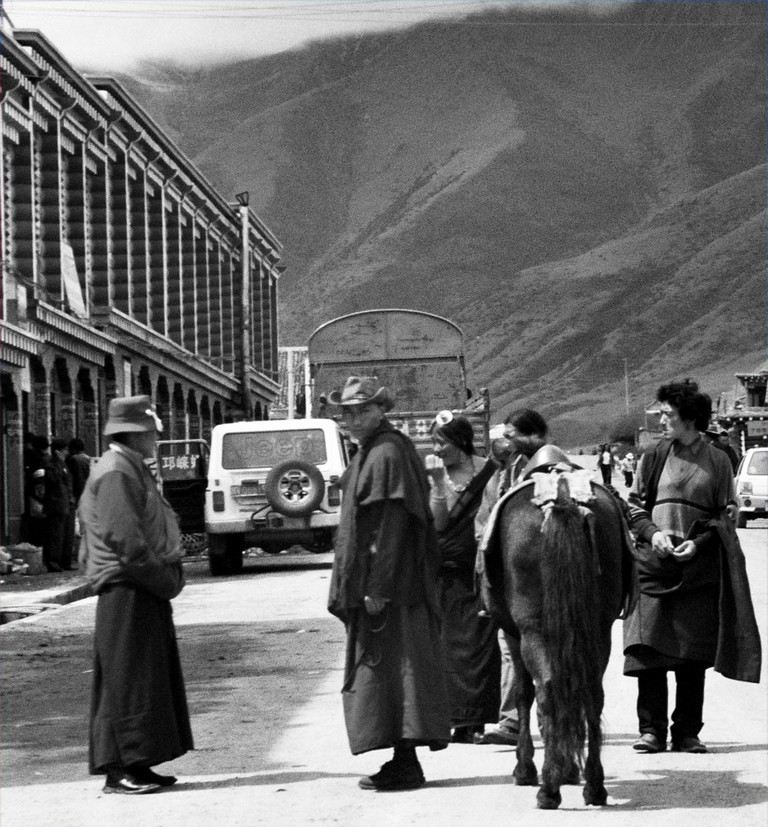 It does appear that until recently a problem of security did exist around these parts. However, on arriving there, the town seemed quiet enough.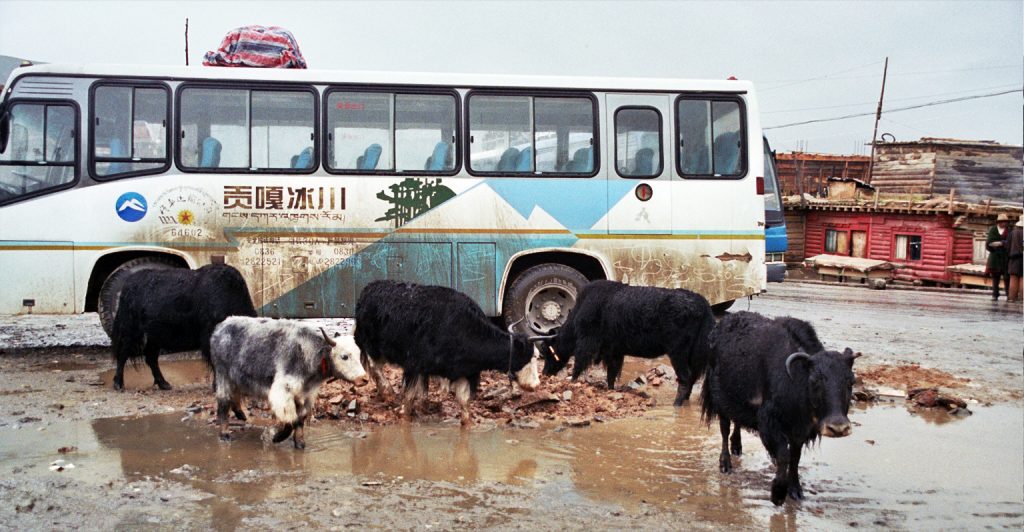 In August 2004, Manigango had only one mucky street, and one vile public toilet, located in a crumbling wooden shack, just off the building site for a new hotel.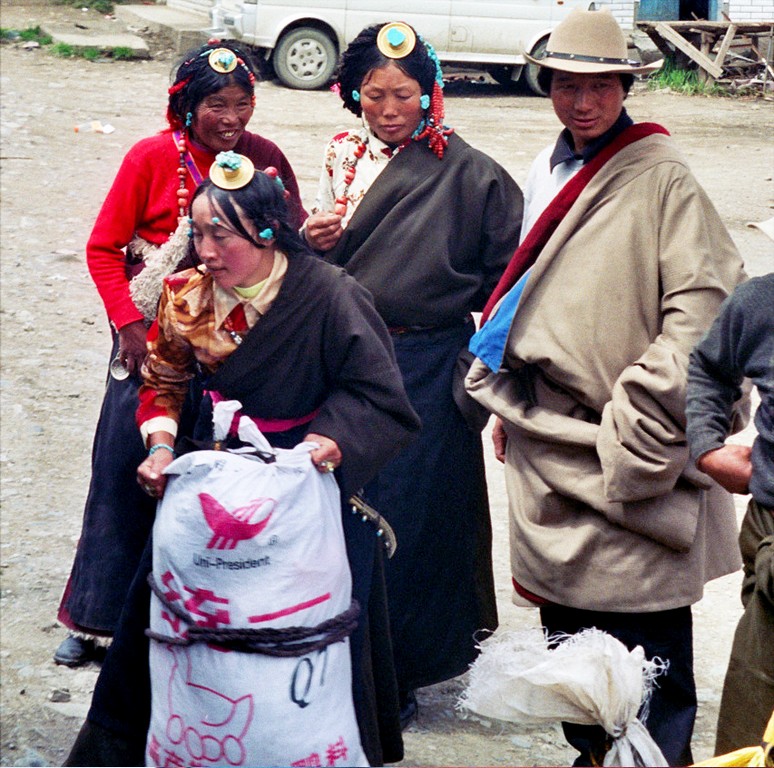 Its main purpose was to serve as a kind of transport hub for travellers changing buses for Dege and Chamdo in Tibet, or heading towards Serxu and then on to Yushu in Qinghai.
There was quite a decent restaurant at the bus stop, with lots of boiling cauldrons, dishing out some rather tasty food. To get to the restaurant however, was another matter: passengers had to jump over puddles, avoid roaming yaks and run the gauntlet of an army of beggars that attached themselves to every incoming bus.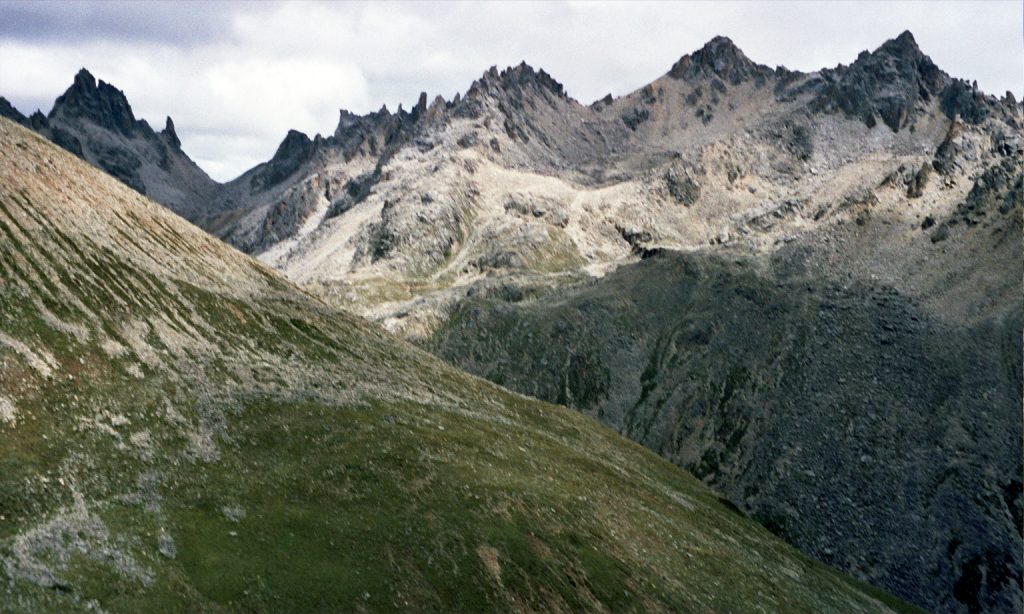 Next to the restaurant, another large hotel was under construction, most likely a sign of the times: Manigango seemed to be gearing up to becoming something of a tourist town.
Ganzi to Manigango and onto Dege
What's more, it's quite likely that it will succeed; the town may not be much, but the surrounding scenery is fantastic and a mere 20 kilometres away on the road to Dege is the Xinluhai lake, one of the most beautiful and pristine in China.
For the time being, we were merely content to find something to eat, a place to pee – of sorts – and leave muddy Manigango and its beggars behind. The bus started to climb steadily over the grasslands, huge snow-capped mountains came into view and suddenly the Xinluhai lake appeared before us.
The lake is set in alpine meadows, dotted with pine trees, that slope steeply towards the turquoise waters. On one side, there is a dramatic backdrop of threatening grey, jagged peaks and a glacier that comes all the way down.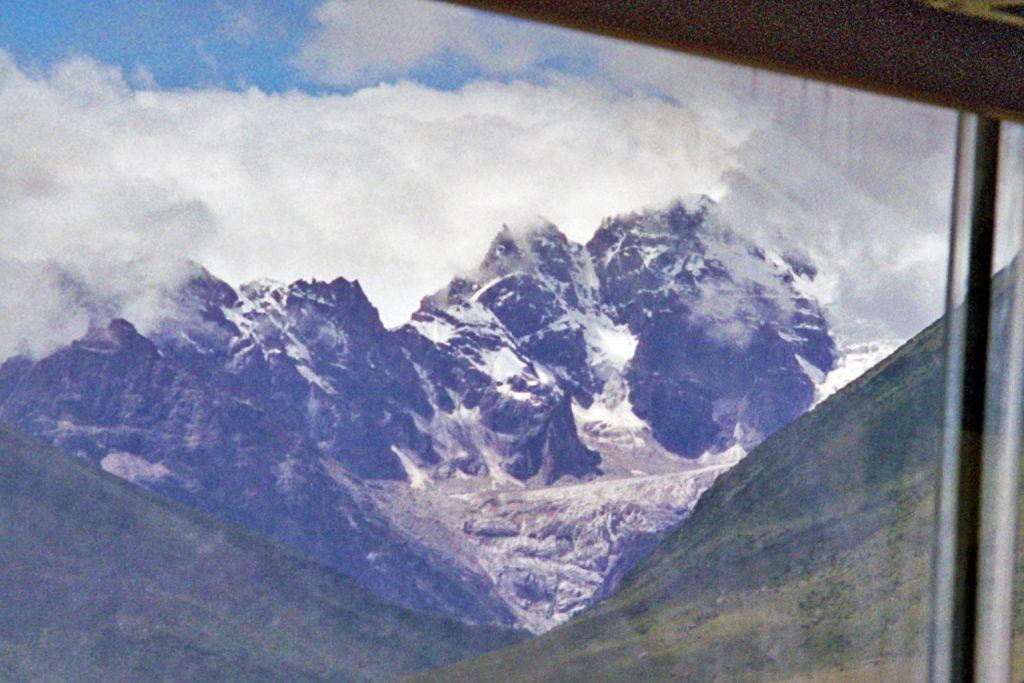 After the lake, the bus started the huge ascent up to the Chola Pass. Going up from Manigango is not so bad, as your bus is on the inside and you cannot see the precipice down below you. This is especially important when having to pass an oncoming truck, or overtake one that has broken down. Eventually, our packed bus crawled to the top, and all the Tibetans on board cheered and celebrated by throwing hundreds of paper prayers out of the window. We were ready to join them, having bought some in Ganzi for the occasion.
Once the bus has made it over the pass, the rest of the journey is a piece of cake. We just rolled downhill for two hours, through deep pine valleys and following gushing mountain rivers until we pulled up at the crummy bus station in downtown Dege.
Returning back over the Chola Pass in sleet and snow was far worse!
Update
Five years later we came through Manigango again on our way from Yushu (just before the earthquake) to Ganzi. Somethings had improved. We overnighted at the Manigange Pani Hotel, then still the only option. Unfornutately, this was one of the worst nights of my life as I was suffering from servere Altitude Sickness that I had come down with in Yushu. These days there are other accommodation options in Manigango that might be better than Pani Hotel.