Detian Waterfall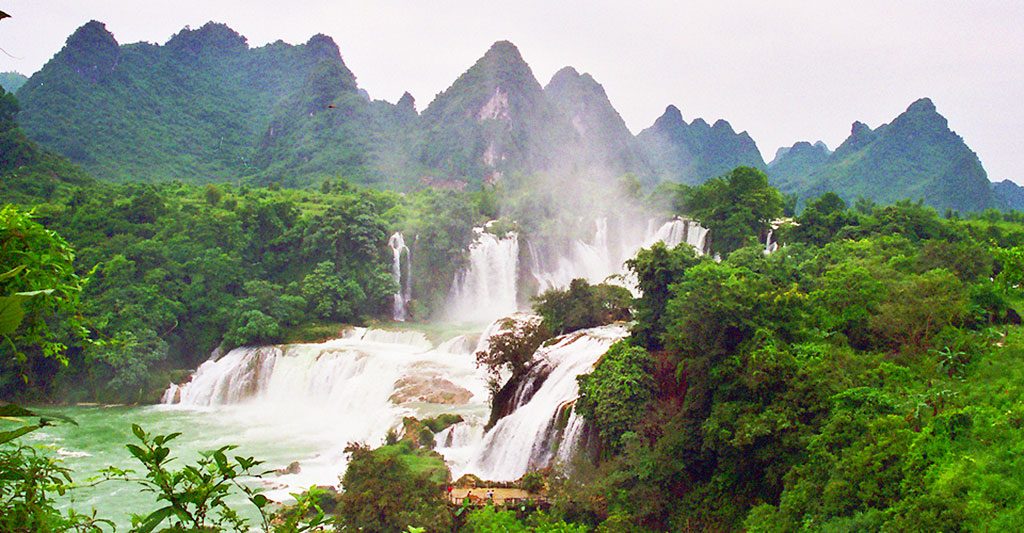 First with an expression of horror, then a polite nod of the head, and finally a beaming smile was how the young lady in the travel agency attended us when we asked about taking the Chinese tour to the Detian Waterfall.
The Horror: Enter two foreigners in a Chinese travel agency, asking about joining a Chinese tour. "I don't speak English, do they speak Chinese? What am I going to do?", was written all over the poor girl's face, as we sat down in front of her.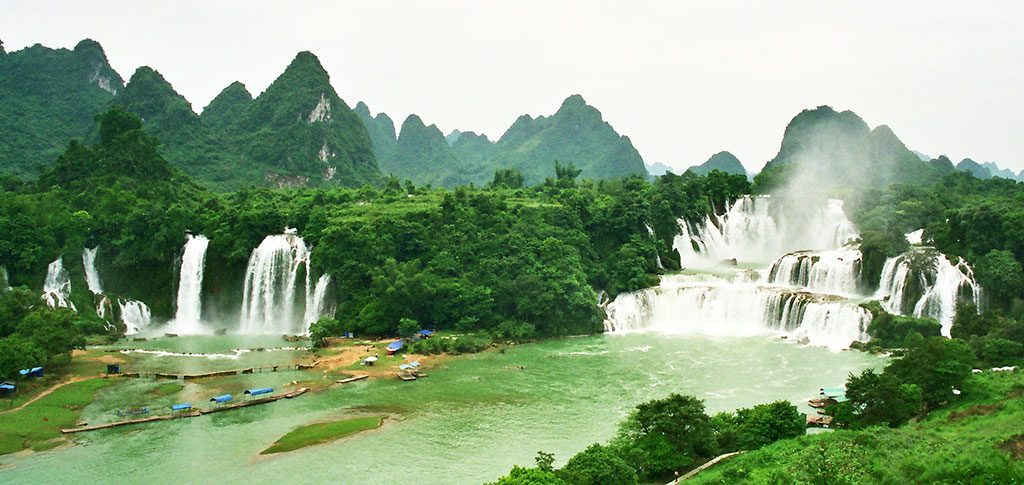 The Polite Nod: "I think the foreigner is speaking something that resembles Chinese and I think I can just about make out what he is saying".
The Beaming Smile: "The foreigners want to join a tour to the Detian waterfall tomorrow and wish to pay now!"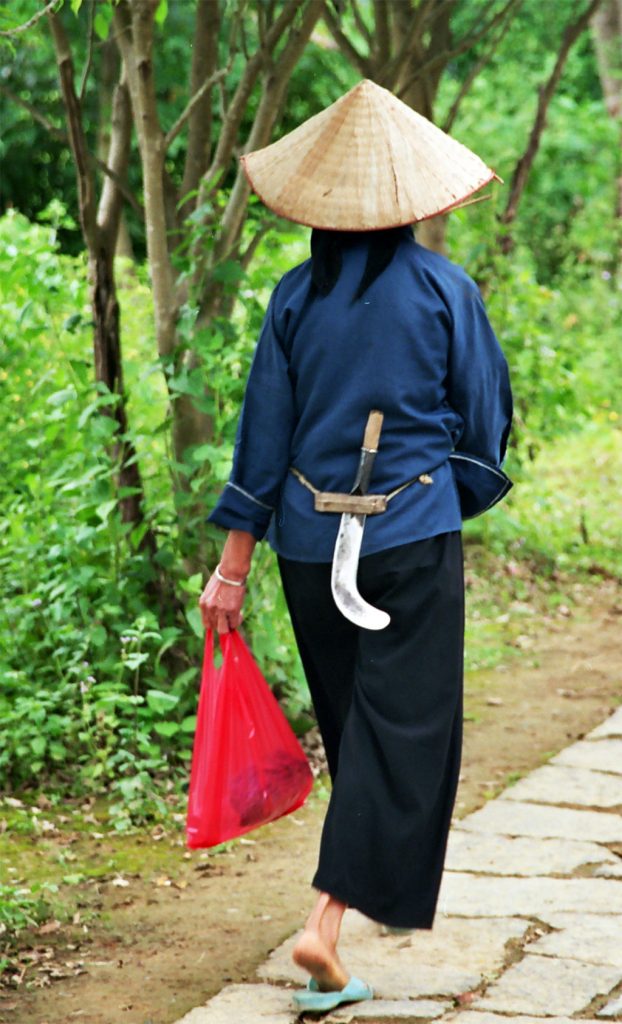 "We don't usually take foreigners on our tours, due to the language barriers", the young lady said apologetically.  I replied that we didn't normally take tours either, but we were short of time and needed to be able to visit the falls in one day and return to Nanning the same day. Language, I said, wouldn't be a problem. "Miss Chen will meet you in the lobby at 7.00 am tomorrow", she answered.
The Detian Waterfalls, situated in China's Southern Guangxi Province (Guangxi Zhuang Autonomous Region), are among of the most spectacular in China, if not Asia. Their location alone, a remote area populated by diverse ethnic minorities, interspersed by winding rivers, karst peaks and sugar Candy Mountains covered with lush vegetation, is a draw card in itself. The fact that the falls also form a natural border between China and Vietnam adds an extra magnetism.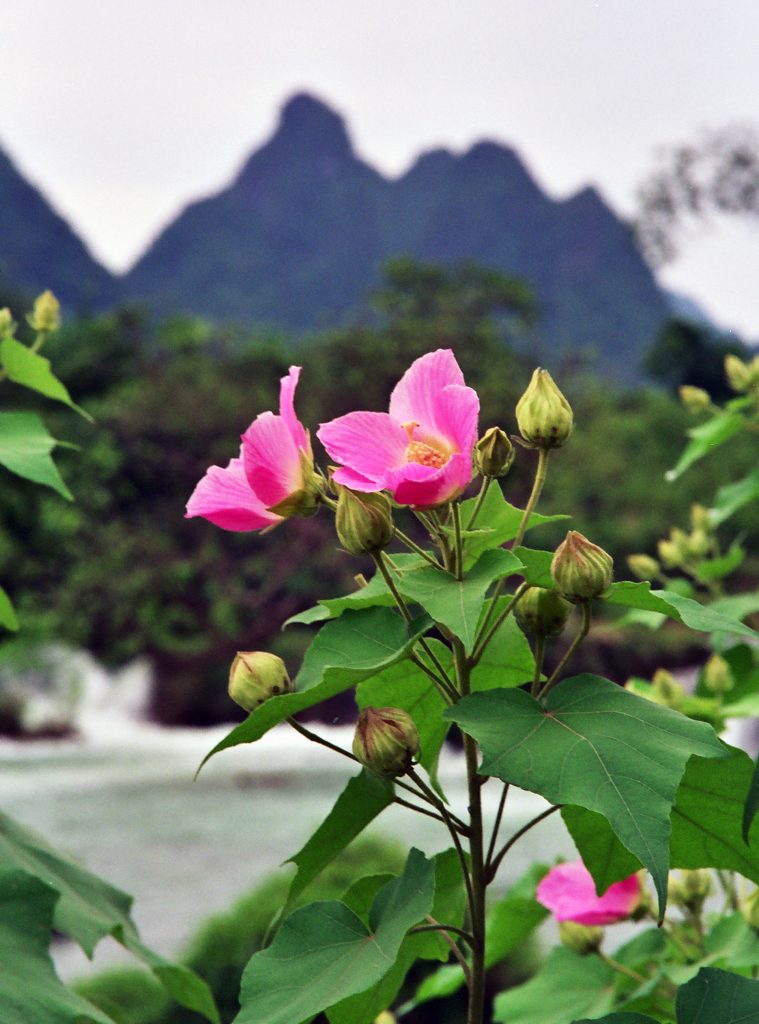 The Tour:
Miss Chen was late, and for a few minutes we wondered if we had been ripped off, or if I had completely misunderstood the instructions. In fact it was neither. "Miss Chen", the receptionist told me, "wants to have breakfast and so do the rest of the tour members". We had skipped it, thinking that we might hold everybody up. So we stood waiting patiently. Eventually, wearing thick rimmed classes, the stern looking Miss Chen arrived. My heart sank when I saw she was carrying one of those dreaded coloured flags; the ones that Chinese tour leaders carry high above their heads and wave frantically in order to try and keep their group together in the mayhem that predominates in many Chinese tourist destinations. At least she didn't have a megaphone…
It turned out that we would be travelling on two minibuses. As soon as our fellow travellers laid eyes on them, a massive scrum ensued in which we didn't stand much of a chance. A fat slob with a pig's snout, who incomprehensible was accompanied by a very pretty girlfriend, lunged for the door of the second minibus, closest to us, and held on to the handle, elbowing everybody else out of the way; showing his selfish character for all the world to see. It was only through sheer luck that we ended up with quite good seats, as the elderly ladies who had previously occupied them decided to make a dash for the other, newer-looking minibus.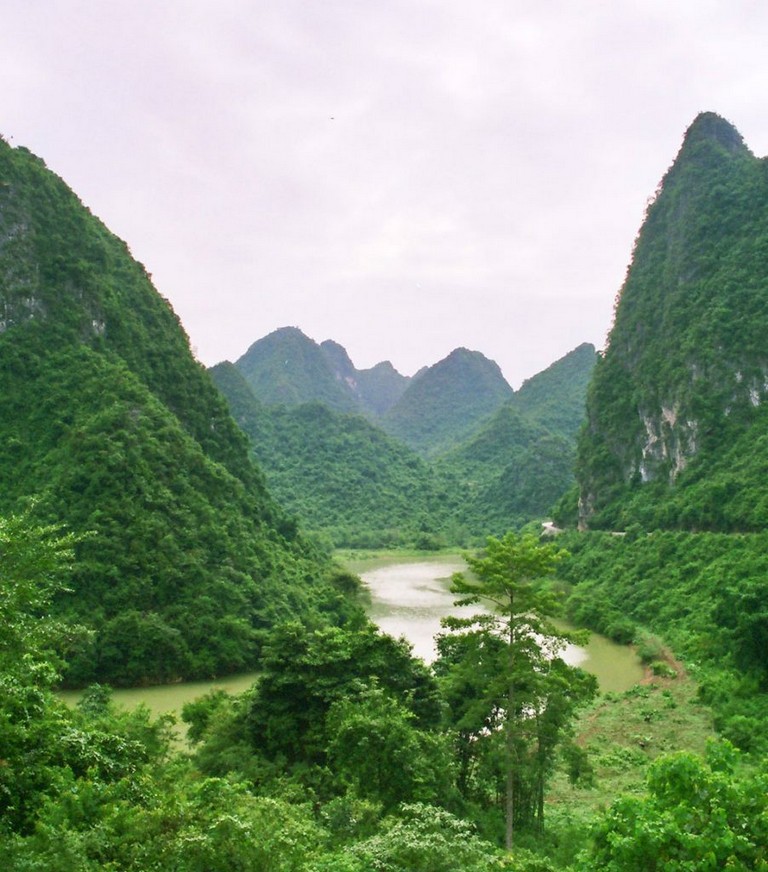 As often happens in China when you want to depart, you suddenly find that two members of your tour group have gone AWOL. They were finally traced and dragged out of a nearby medicinal shop by the sharp-tongued Miss Chen. They boarded the bus smiling and laughing; Margie and I cast them vicious glares. The rest of the group seemed nonplussed, preferring instead to concentrate on the Charlie Chan film on the video screen.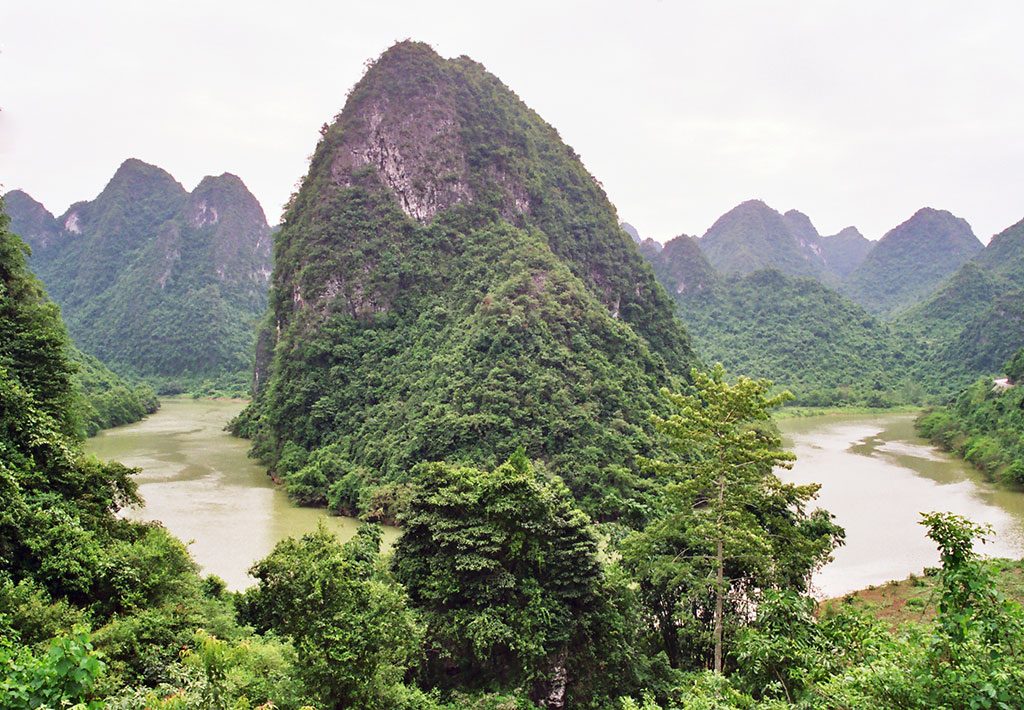 I had my speech prepared, but wasn't asked to produce it. Whenever we had been on Chinese tours before, we had been given the tour leader's microphone to present ourselves to the rest of the group. While it is not really my scene to do such things, I must admit it is a good icebreaker. The speech goes something like this: I apologise for my bad Chinese and my terrible trouble with the tones. Then, just to show I am not a total imbecile, I throw in a few Chengyu (Chinese idioms). This normally results in a round of applause, lots of smiles and a great ambience. The atmosphere on this tour seemed a bit more subdued.
The first hour was uneventful. The bus whizzed us southwards on the newly built motorway, passing flat fields of sugar cane and the odd banana plantation. These are the heartlands of the Zhuang minority, one of China's largest minorities, whose customs and dress have been so assimilated into Han Chinese culture that these days it is difficult to tell the Zhuang and the Han apart. Most of our tour group spent their time dozing.
The Petrol Incident:
It only needs a crisis and an incompetent tour guide to bring about group solidarity and gel everybody together. For reasons still unknown (to us), China in the summer of 2006 was having serious problems supplying enough petrol to the pumps. Our bus driver had forgotten (or hadn't bothered) to fill up the tank the night before. Suddenly he pulled into a petrol station and we found ourselves in an enormous queue behind some of largest trucks on China's roads. Before we had time to tell the driver what a jerk he was and to reverse out, trucks immediately hemmed us in from behind.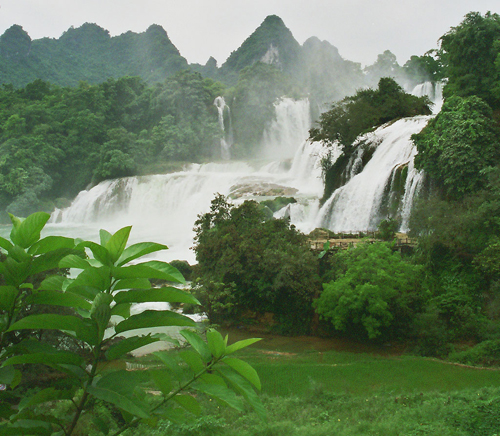 The previously lethargic group, waking up to the fact that most of the day-trip could be spent sitting in a petrol station, suddenly snapped out of their stupor. They laid into a verbal assault on the, until then, calm, distant and authoritarian Miss Chen. Any semblance of authority instantly melted away, as she broke into unintelligible gibberish, trying to save her and the driver's face.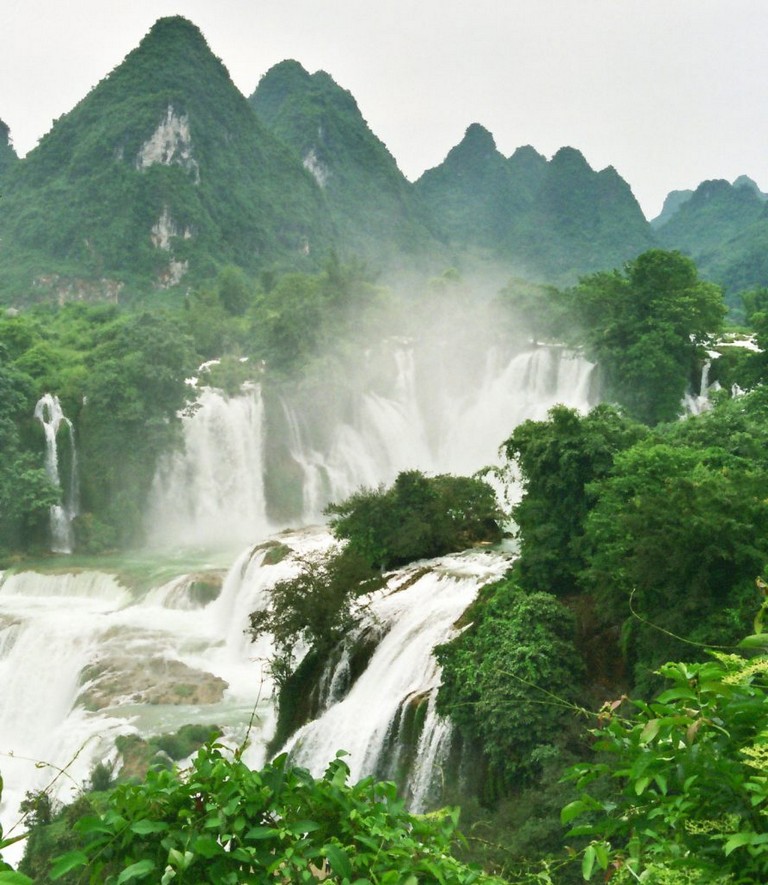 For half an hour the situation looked pretty grim; we had moved no more than ten meters, and with several hundred more separating us from the pumps, we decided it was time to get Miss Chen to do something.  We first tried to persuade her verbally and when that didn't work, we almost had to physically drag her over to the office of the petrol station.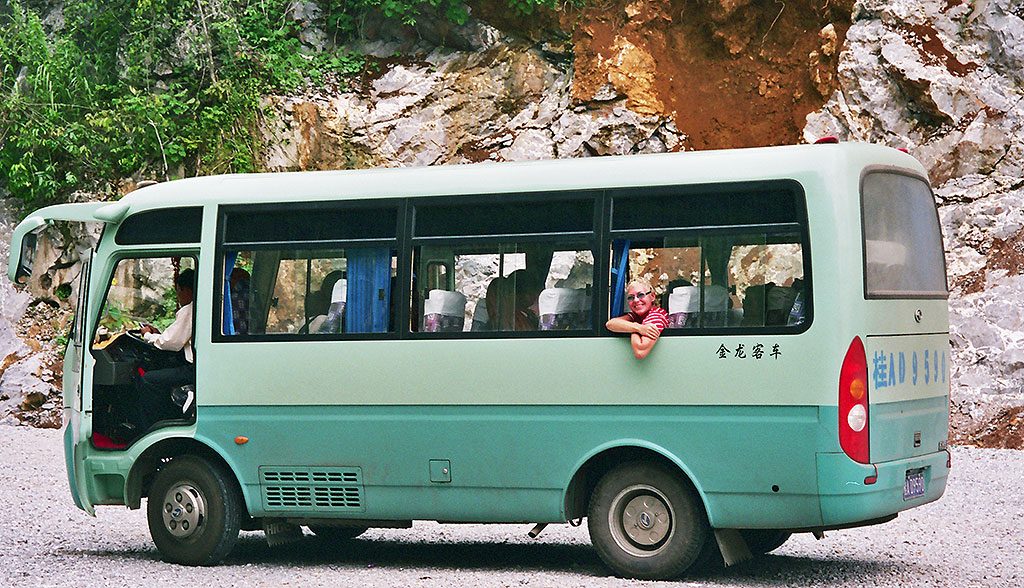 She protested, but we demanded she got us filled up and out as soon as possible. Reluctantly, and probably not used to having a full-scale revolt on her hands, Miss Chen disappeared rather sheepishly into the pack of lorries.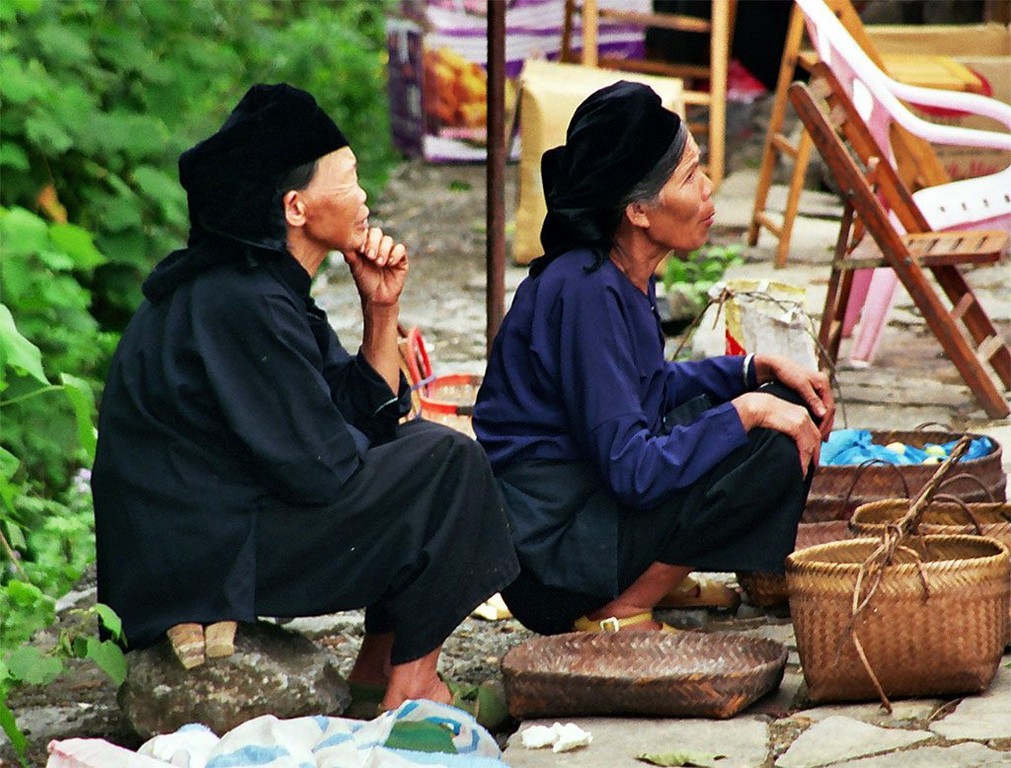 Whatever she said or paid did the trick; she returned with a group of petrol station attendants who promptly began to manoeuvre the lorries and open a space for us. Suddenly, we were at the front of the queue and within minutes we were back on the road again.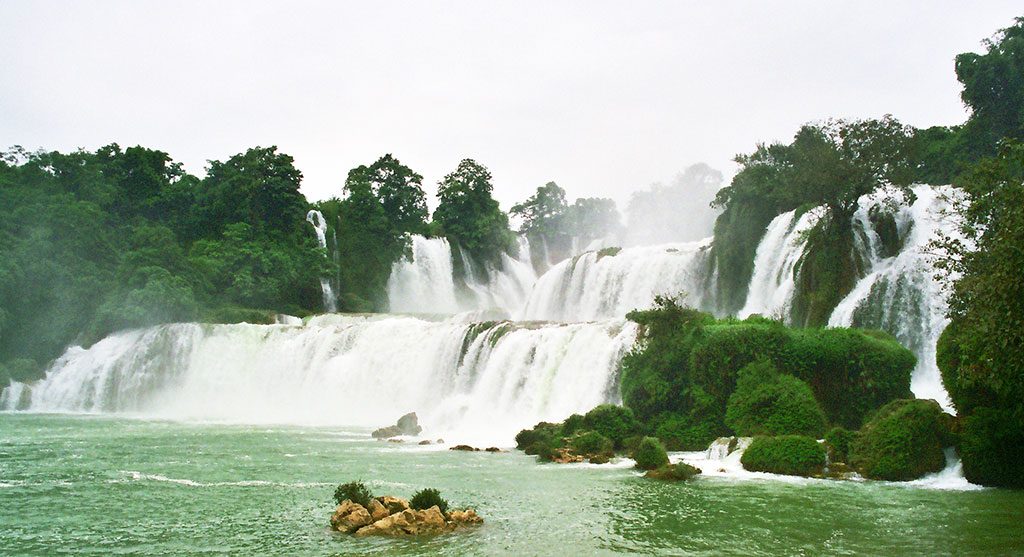 The Journey:
The now humbled Miss Chen began to open up and show her more human side. Her interest in us picked up when we told her we were going to the Hua Shan Rock Paintings the next day. "Let me handle it, I have a friend who can organise a boat", she told us confidently (see the Hua Shan article).
Almost as soon as we turned off the motorway, the scenery began to change dramatically and the jagged karst peaks of Longhu Shan came quickly into view. The rest of the journey continued through a fairy tale backdrop of lush mountains, conical hat-wearing farmers, wallowing water buffalo and winding streams. The occasional grubby, grey, featureless towns were the only blot on the otherwise idyllic landscape.
The last part of the trip follows the river dividing China and Vietnam. Our fellow passengers were now wide awake and forced the bus to stop on several occasions, whenever they saw signs of life on the other side of the river, for the obligatory photo session. For us this was a bit of an anticlimax, as we had crossed over from Vietnam only a few days earlier.
Of course, before we arrived at the waterfalls, we had to have the customary lunch stop. A group of us chose a restaurant with views over the river into Vietnam. I must admit it seemed as if the entire population of Vietnam was asleep, as we didn't see a single person (much to the disappointment of our Chinese fellow travellers). I now wonder if they felt the same pangs of disillusionment we felt on those occasions when we tried to see a tiger in an Indian wildlife park.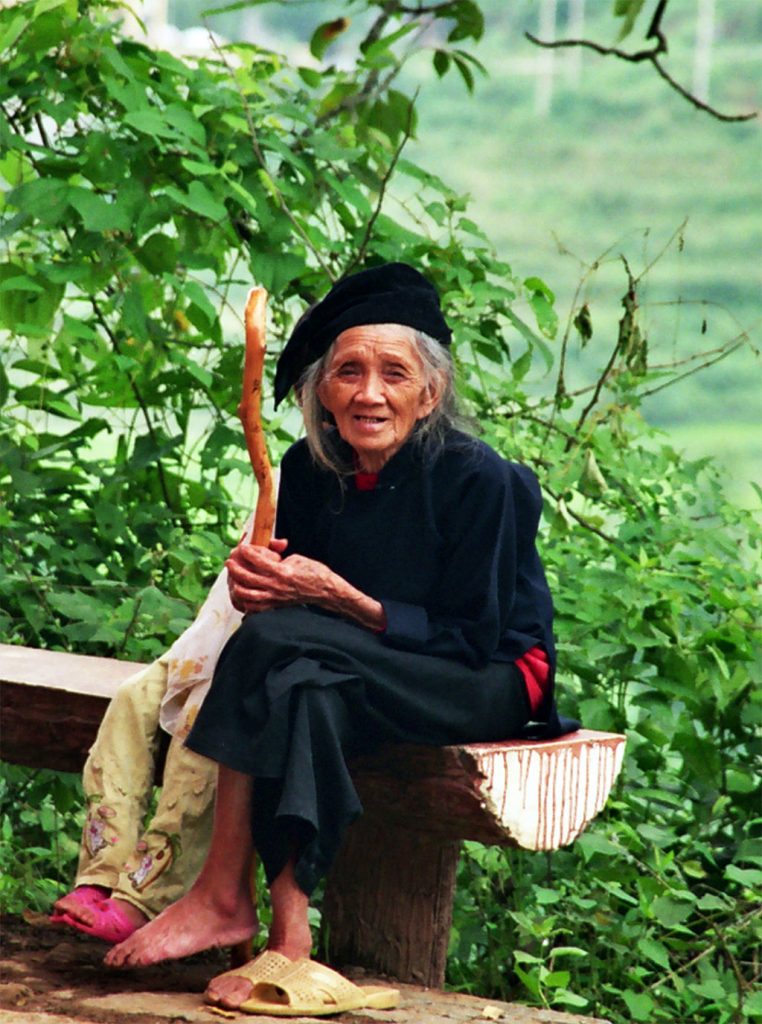 However, lunch did provide an interesting insight into just how much China has changed. While talking about places we had visited in Guangxi, I raved about the Dong villages around Chaoyang Bridge we had stayed in a few years earlier. The two smartly dressed girls at our table smiled and giggled and told us that they came from the village by the bridge. I looked at them astonishedly.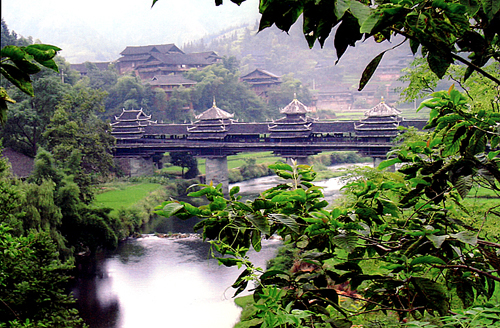 I remembered the poor, but colourfully dressed, exotic peasant girls participating in traditional village dances in front of the old Dong drum tower for the few tourists that passed by. When the dances were over, they immediately went off to tend to the fields and the buffalo. I couldn't relate that image to the two, make-up wearing, modern girls in front of me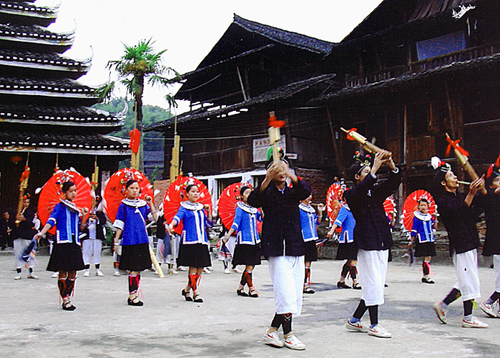 .
"We study economics and tourism at Nanning University and we are just on a sightseeing trip today", one of them said. "Sometimes we still dance for tourists at Chaoyang Bridge when we visit our families; it's quite fun and we earn a little money for the village". How things change, I thought!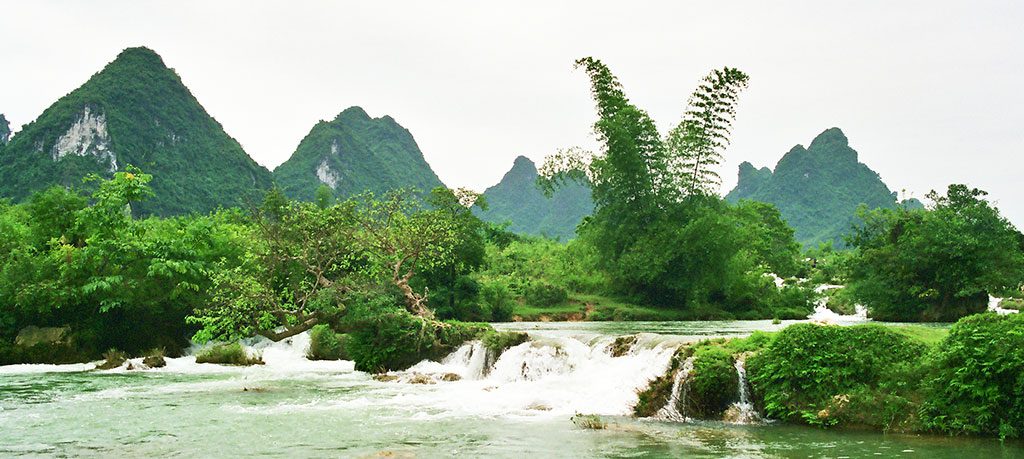 The Falls:
The Detian Falls are undoubtedly impressive. When we visited in early September, they were still at their most majestic: water crashes down over jungle clad rocks; the noise is tremendous and the drifting spray, mixed with the thick dense foliage, adds to the intense humidity of the area. The views over the falls are incredible from wherever you look.
The only down side is that on the Chinese side it is all a little too tame, controlled and organised; not only the falls, but the whole area. For a place so remote, the paths are just a bit too neat, the signs just too well posted, and the trinket sellers simply shouldn't be there. Just glance over at the Vietnamese side of the river, and you can see that everything is a lot less developed over there and the opportunities for exploration much more abundant. At least the area wasn't over- run and Miss Chen didn't bother to take her coloured flag with her. Actually, she only made it as far as the first tea house and said she would wait for us there for two hours.
Right where the Chinese and Vietnamese borders meet, there is flea market selling alcohol, cigarettes and tacky souvenirs. That too was curious, but quite tame. You can tease the Chinese border guards that you are just going to nip into Vietnam for a moment, but they won't laugh. They've heard the joke before.
Local tribe people from Vietnam add a dash of colour to the scene. Moreover, you can take a raft out in front of the falls, which might just take you into Vietnamese territorial waters; not a great crime, as long as you don't try to get off the raft on the other side.
The Verdict:
We thought both the scenery and the falls were pretty spectacular. However, it was a very long day trip with a lot of travelling; between 8 and 10 6 hours on a bus. For that, you get about 2 hours at the falls, which is plenty, as there aren't many opportunities for walking or exploring.
Practicalities
Coming and Going:
We booked our tour at a small travel agency inside the Yinhe Binguan, where we were staying. They charged us 180 Yuan for the day trip. Agencies outside the hotel were offering a similar trip for 200 Yuan. Two-day packages were also available. We were told that the ride would take around 3 hours, but even without stopping for petrol, or to take scenic pictures, it took our bus 4and a half hours to get back! If you try and do it by public transport, you are in for an even longer day.
If you are coming from Vietnam, you'll be entering China via the town of Pingxiang, which isn't an unpleasant place to spend a night. From there, you could then make your way to the Falls and onwards to Nanning, without having to backtrack so much.
Places to Stay:
In Nanning: We stayed in the Yinhe Binguan on Chaoyang Lu, right by the train station. This hotel was then charging 150 Yuan for standard doubles with computer and internet.
In Detian: there were a series of damp and overpriced hotels by the waterfalls, but we were quite glad we weren't staying; once you have gazed your fill at the Falls, there isn't really much else to do. However, if you are on your way down to Vietnam, it might be a good way to break the journey.