Luodai Old Town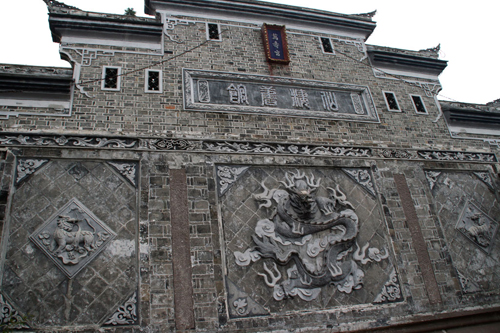 Luodai Hakka Guildhalls and Teahouses. The ancient town of Luodai near the teeming Sichuan capital of Chengdu is a curious place. When one thinks of the Hakka people (Kejia in Chinese, or 'guests', also known as China's gypsies) the first thing that comes to mind are the amazing round or square earth buildings, the Tulou, of Fujian and Jiangxi. Other Hakka claims to fame are the Taiping rebellion, or the Hokien cuisine, which is found in many South East Asian countries.
What doesn't normally spring to mind is an impressive collection of Hakka guildhalls in a far- off small town in Sichuan! But that is exactly what Luodai is all about and why I had always wanted to go there.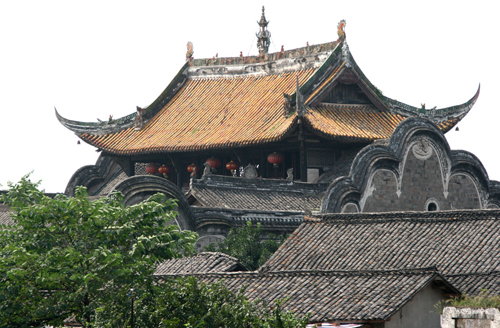 The Hakka, originally from Hubei Province, suffered discrimination and persecution, and were forced to disperse; first towards the coast and then overseas.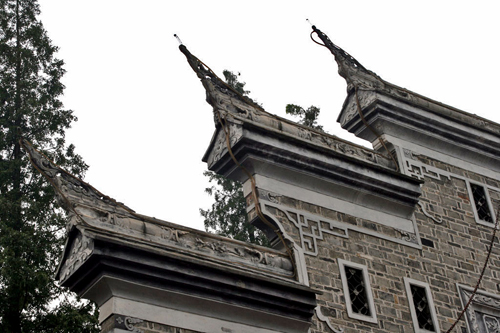 Later on, some successful Hakka business people set their sights inland again and moved towards the South-West where they formed communities and Guilds, in order to consolidate their clans.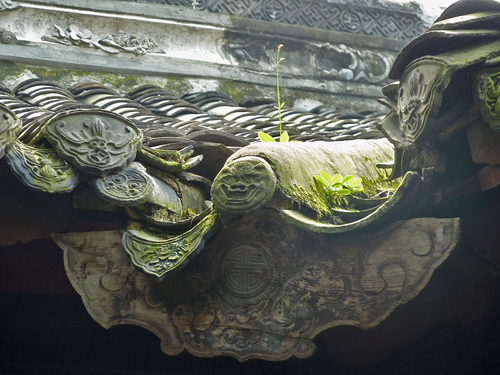 The guildhalls of Luodai are a standing testament to the Hakka Diaspora, and the local population is still overwhelmingly Hakka.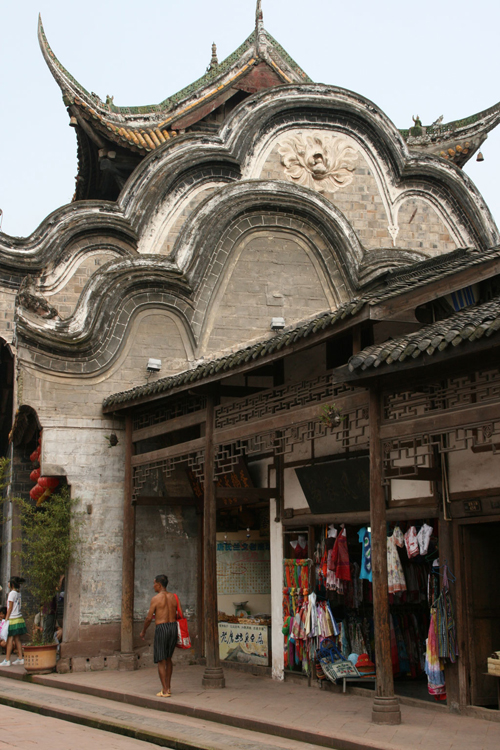 An easy day trip from Chengdu
These days, getting to Luodai is pretty easy. The town figures on the Xiananmen bus station map of sights and even has its own ticket office in the street behind the station. Buses run every twenty minutes or so, from 7.30 am to 6 or 7 in the afternoon.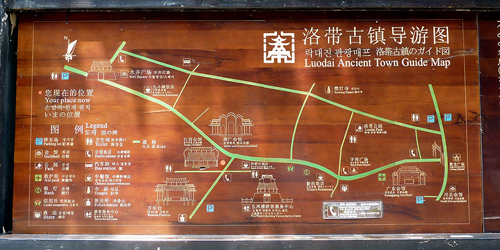 It took us less than one hour to get to Luodai bus station, from where we were pointed towards the Old Town. We enthusiastically dived into the narrow, old streets, completely devoid of tourists, convinced that we had finally found a real, undiscovered gem… Of course, we should have known better.
Classic South-Western China
We soon hit one of the main drags, an attractive street of classic South-western Chinese structures, low and flat with black-tiled roofs, white-washed walls and wooden doors. Many shops have portals held up by ancient pillars.
Unfortunately, most of these shop houses have been taken over by the usual naff and noisy souvenir stalls, marring some of that pleasant feeling of having stepped back in time.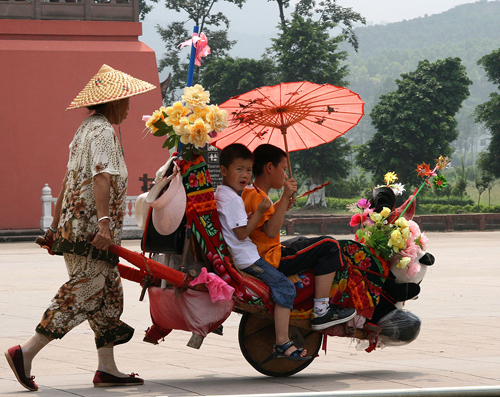 It felt a bit like Pingle all over again, but with grander buildings and far fewer tourists, though granted, this time we had been smart enough to plan our visit for a week day.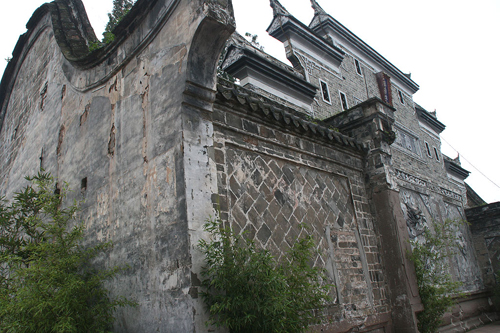 Luodai's Impressive Guildhalls
Touristy or not, Luodai has an impressive collection of traditional Hakka architecture. Among the guildhalls, the Guangdong Guildhall is the most famous; a grand building of large courtyards and enormous halls, reputed to be one of the biggest and best preserved in China. Nowadays, it houses a small museum dedicated to Hakka life. Other Hakka halls of note are the Jiangxi Guildhall and the Hugang Guildhall.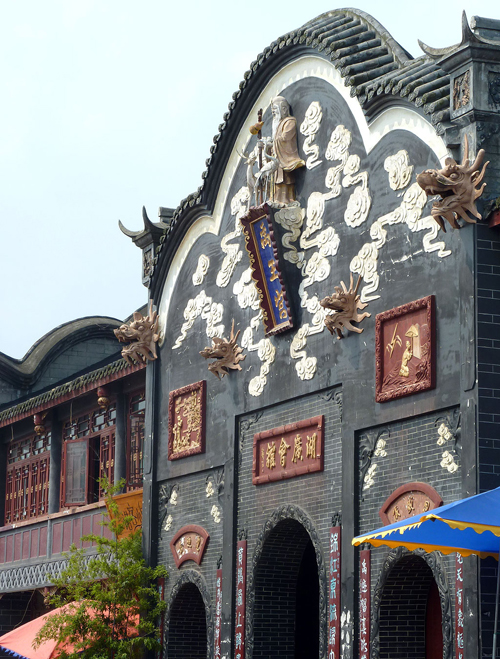 Most can be found by strolling along Luodai's ancient main street, or diving into the side alleys. All the guildhalls are recognisable by their wonderfully flamboyant eaved roofs, many of which sport elegantly carved little creatures scampering up and down those eaves.
I must admit, I found the beautiful exteriors far more interesting than the fairly dull and empty interiors; though one or two had been converted into pleasant teahouses.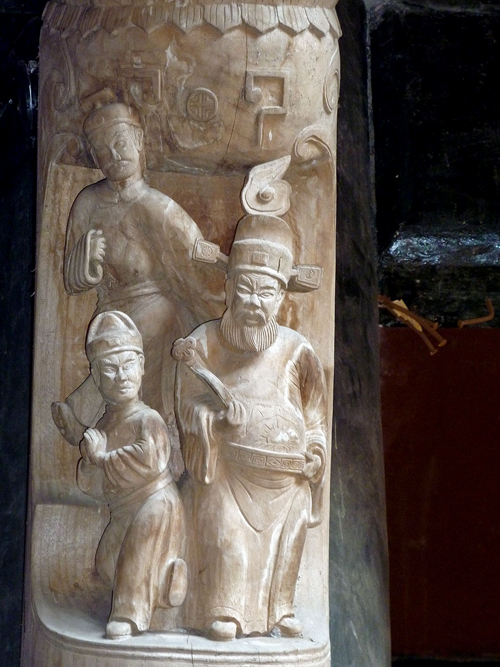 In any case, it's worth snooping around the odd dilapidated guildhall to get a feel of how time has treated these structures: grass covered roofs, cracked walls and abandoned courtyards leave you wondering what they must once have been like at the height of their opulence.

A Great Lunch by the Pond
Wandering around the back streets you may find other havens of peace, such as the lovely teahouse and adjoining restaurant by the lotus pond.
The latter serves terrific fish, various types of local mushrooms and other dishes. It's a lovely spot to kick back, put you feet up and drift off into old China.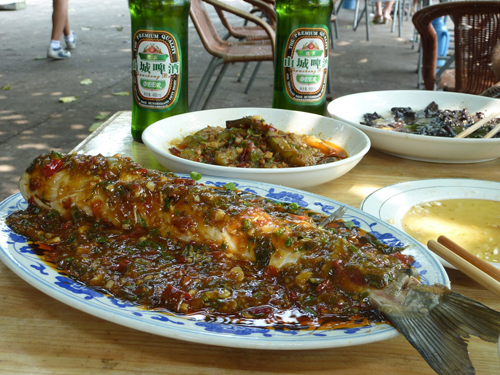 Luodai's Fantastic Teahouses
At the end of the main street, just outside the prettified Old Town, we found a dusty local park, chock-full of rudimentary teahouses of the kind that has almost disappeared from Chengdu.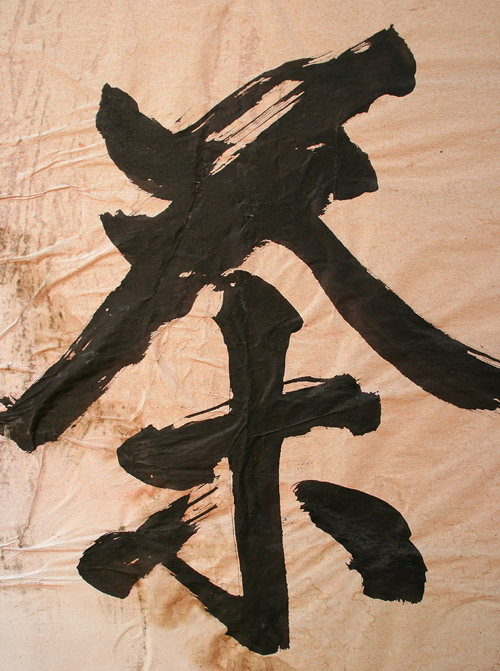 Wicker chairs, wooden tables, rickety cupboards stacked high with porcelain teacups and waiters in dingy vests, scurrying around, carrying long- snouted tea pots and endlessly replenishing the customers' cups.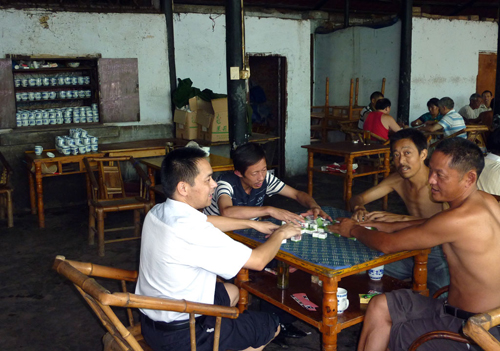 Skinny old men, stripped down to the waist, trouser legs rolled up, cigarettes dangling from their mouths, bent over their hand of cards; squat, chubby women were engrossed in their games of Majong,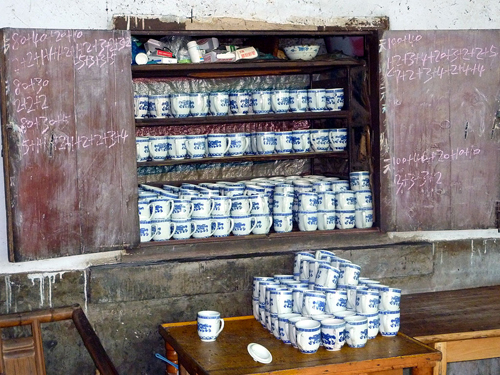 munching on roasted seeds and loudly slurping their tea.
In this laid-back ambience, none of them seemed to mind us snooping around and they gracefully allowed us to take pictures.
For me, it was worth coming to Luodai just for this experience alone!
Luodai Practicalities:
You can reach Luodai by taking a bus from the Luodai ticket office, in the street just behind the Xiananmen bus station. Buses run every twenty minutes or so, from 7.30 am to 6 or 7 in the afternoon. There are frequent buses back to Chengdu, approximately every half hour, from Luodai's bus station on the edge of the Old Town.
Luodai makes for an easy half-day trip from Chengdu,though it's not as interesting as Lanzhong , or as quaint as Luocheng. However, if you don't have the time to go and see other famous guildhalls such as the one in Zigong or Chongqing.