Pingle 平乐 Versus Songji 松溉
Pingle and Songji
A Tale of two Towns. Pingle and Songji are two traditional ancient towns in the South West of China. The first, Pingle, is a couple of hours away from Chengdu, the capital of Sichuan, while the second, Songji, is a mere two hours from the metropolis Chongqing.
The architecture in both towns is similar: the houses have black slate roofs and white walls supported by dark wooden beams; the streets are narrow and cobble- stoned. Moreover, both towns share a riverside location: while Pingle is built along both banks of a river, the streets of. Songji run downhill towards the Yangtze. As for village life, drinking tea and playing board games are still the favourite pastimes of the locals. However, after that the similarities stop. Pingle has become a hugely popular tourist destination for Chengdu residents and domestic tourists visiting Sichuan.
As a result, it is full of souvenir shops, its streets lined with teahouses, inns and restaurants. Songji on the other hand is a slightly melancholy, time- forgotten town without a single souvenir shop, just one hotel and a few local restaurants and traditional teahouses. We visited both this summer and here are our impressions, taken from the Diary:
Pingle平乐

… First impressions aren't good. The toilets at the otherwise modern bus station that necessity has forced us to use are high up on the 'Worst in China' list: they are piled high in shit, there's no water and the stench impregnates the station and beyond. Outside a steady drizzle is falling.  The next realisation is that Pingle is far from being a hidden gem; in fact, it is entirely overrun by Chinese tour groups. Our guide book, the trusty Lonely Planet, had warned us that "modern life (was) encroaching", but had also assured us that "enough old-town life (remained) for a pleasant day-long excursion from Chengdu".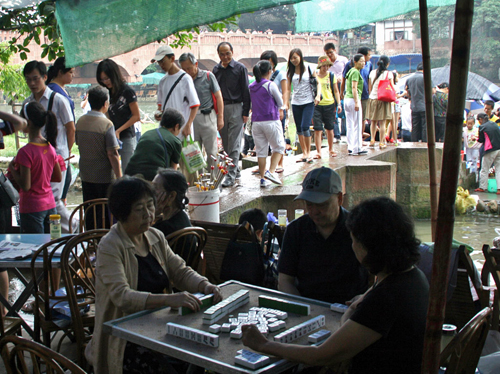 As it turns out, the whole town is one great souvenir shop, selling all kinds of crap, from giant water pistols to screaming toys. We pass the town's blacksmith (proudly advertised as the last remaining 'traditional' one) and cynically speculate whether he spends his whole day heating and whacking the same piece of metal for the benefit of the tourists, while the knives and other things on sale are mass produced in Guangdong.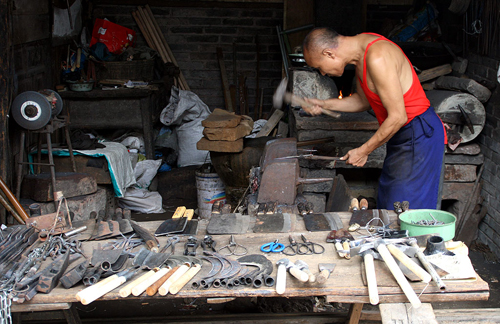 As we head into the old town, a human traffic jam begins to clog the narrow streets. At one point along the river bank total gridlock is reached …


Of course, not all is grim. Delightful examples of traditional Ming and Qing architecture abound, but all too often these beautiful buildings have been taken over by the above mentioned tacky shops. In many instances, the original wood has been ripped out and replaced by cheap plaster and bright neon lights, leaving everything inside looking bare, cold and bland.

The riverfront area is lined with inns, restaurants and teahouses, some of them quite tastefully restored, with their mah-jong playing customers spilling out along the riverbank. The lovely old stone bridge is the best place from where to contemplate the Old Town, as well as a reminder that Pingle was once a major commercial and administrative centre and, even further back in time, an important stop on the Southern Silk Route.


But don't look down at the river! Not if you want the illusion of being in ancient China to linger. For below you, on what should be a placidly meandering river, a panorama of absolute bedlam is unfolding. The first sight that greets your eyes is the flotilla of covered floating rafts, punted by old men wearing conical peasant hats and pushing lazily on bamboo poles. The rafts are decked out with tables and chairs, occupied by families playing cards, or groups of friends drinking beer and rice wine.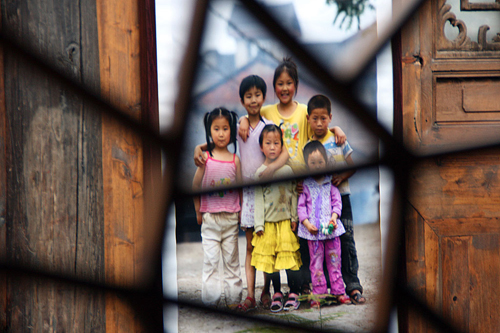 Meanwhile, in the shallower parts of the river, the chaos is absolute: there, huge groups of tourists, all dressed in colourful plastic coats not unlike bin liners, are engaged in water battles, noisily sucking up the water into their brand-new giant guns and spraying each other, shrieking and squealing.


Summing up: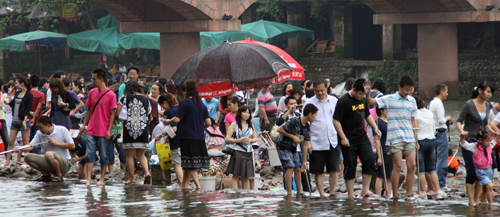 Sounds naff? Well, it depends on what you want or expect. If you are looking for an unspoilt traditional village, well yes, you'll be disappointed. However, if you relax, get into the same mood as the Chinese and look upon the crowds as a positive sign, along the lines of: 'if all these people come here, then this place must be worth it', Pingle can be quite enjoyable. I must admit that by the end I was utterly fascinated: just to observe how China's newly urbanised middle classes return to an ancient village, probably not unlike the one they or their parents abandoned not that long ago, and use it as a place to unwind is quite something!


A tip on how to enjoy Pingle: We visited Pingle on a weekend in August, which was obviously peak time. At other times of the year and during mid-week, I'm sure it will be less saturated. Although Pingle makes for an easy day trip from Chengdu, it is probably worth staying the night to see the place in another light, so to speak. By late afternoon most of the hordes will probably have gone, back to Chengdu on the afternoon bus.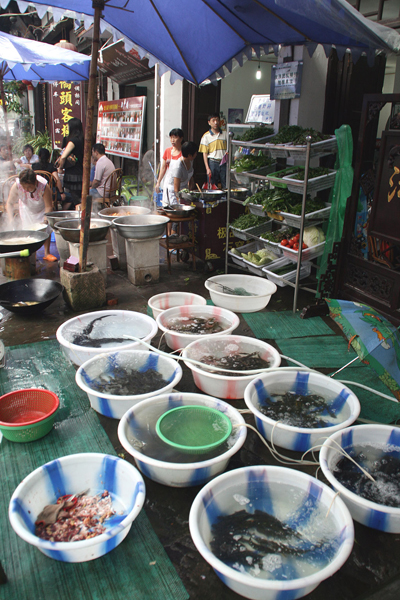 Eating and Sleeping:
If you fancy staying in Pingle, there are loads of inns by the river with cheap, basic and clean rooms. Some of them seemed very pleasant, so have a good look around.

Restaurants line the river front and back streets. River fish doused in fiery Sichuan pepper and chillies is the order of the day. Choose your dinner from the tanks and plastic tubs outside. Prices vary widely depending on the type of fish. To avoid a nasty surprise when you receive the bill, establish the price per Jin (500g) and get your fish weighed before you eat it (nobody is trying to cheat you, but some types of river fish are really expensive, especially the ones with fewer bones and plumb flesh).

Coming and Going: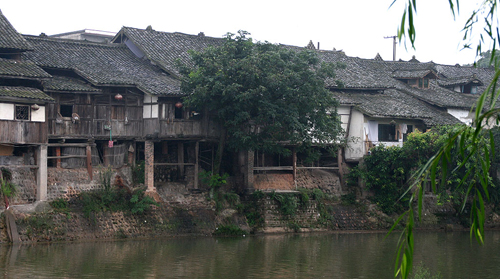 Pingle is easily visited on a day trip from Chengdu. There are a few morning buses from Xinanmen bus station, the last one around 9.20, or 9.30 at the weekend. The last bus back from Pingle was at 17.30. It takes about 2 hours to get there. If you miss the direct bus, go to the Jin Sha bus station, which is located in the west of downtown Chengdu, and take a bus to Qiong Lai City (1 hour on the motorway), from where there are many mini buses to Pingle (30 minutes).
Songji松溉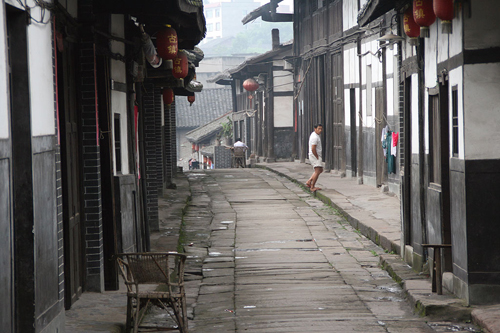 'Where do we begin', we ask ourselves?

… On arriving in Songji, the lack of tourists, coach parks, street signs and shops disorientates us. 'Where do we begin', we ask ourselves? With nothing to guide ourselves by, Margie and I approach some bemused locals who are staring at us in a way we haven't seen since our first visit to China in 1990. We enquire about the location of 'Songji Ancient Town', signs for which we had seen posted on billboards, some kilometres before arriving. Given that the new town already looks old, the local residents don't really seem to know what we want. 'Songji gucheng zai nar?' (Where is Songji Ancient town?), I repeat several times before eventually someone cottons on and points us in the direction of some broken steps.  Suddenly we find ourselves in a maze of narrow cobbled streets and dilapidated traditional houses; this is Songji Ancient Town…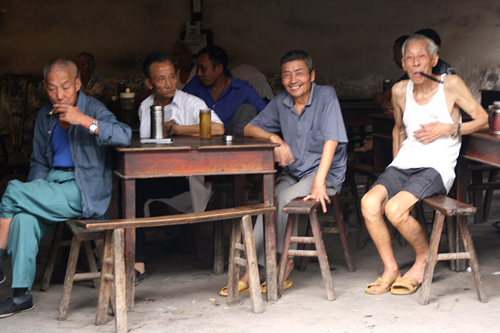 a riverine town


Like Pingle, Songji is a riverine town, in this case on the banks of the Yangtse River. It was once an important port and local ferries, passenger and cargo, still ply routes between neighbouring towns along the river. Similarly, like Pingle, the historic centre of Songji still preserves an impressive collection of South-western traditional architecture. But this is where the similarities end.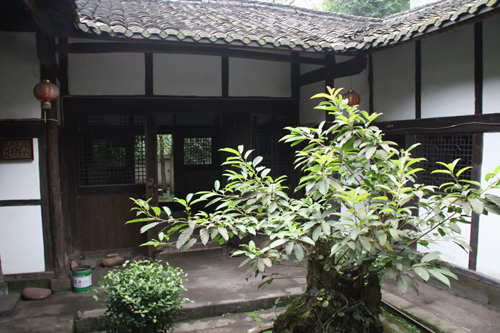 As if suspended in a time warp

As if suspended in a time warp, the first thing you notice when you enter the old part of Songji is that it appears solely populated by the old and the infirm. We saw one frail, bent- over granny, feeling her way around her humble home, who looked at least a hundred! Furthermore, it seems that all of the male inhabitants while away their time in the ubiquitous teahouses, some of which are extremely atmospheric and look straight out of a black and white, late 19th century photo. The only men of working age we saw were migrant workers, employed in what looked to be an effort to spruce Songji up for tourism. We caught some of them napping on makeshift beds in what once must have been a grand mansion, now converted into a doss house.
Songji is certainly rustic


Songji is certainly rustic and authentic and boasts a couple of pleasant old mansions to explore. Once again encouraged by our Lonely Planet, we set out looking for the Chen Family compound, home of the illustrious Chen family, some of whose members have made it big in America. The actress Joan Chen, who starred in Bertolucci's The Last Emperor and Ang Lee's Lust, Caution, is probably the best known of the present day Chens.
Finding the elusive Chens
Finding the elusive Chens proved no easy task: we had to ask scores of locals before someone finally gave us some reliable directions. Following a hand-painted sign in Chinese we walked down a side alley and came to a halt outside a wooden gate. Here, another sign told visitors to ring a mobile number, conveniently posted on said door, and someone would come and open it (for 2 Yuan). We were lucky to coincide with two young Chinese students, more or less the only other tourists in town that day, who of course had a mobile.

Summing up:
Wandering the streets of Songji we found ourselves in a bit of a quandary. It is true that travellers looking for a bit of authentic, unspoilt old China can find all that: hardly any other tourists, a complete old town with real residents, real teahouses and the feeling they have not seen too many foreigners before. And yet, at the same time, many of the old houses are crying out for restoration; they are dark, dank, damp and dilapidated, often on the verge of falling down. Inside most of them, we could see nothing but a bed, a couple of chairs, a bare light bulb, and a few meagre possessions; not much for an entire family. I must admit, I often don't take this in. I lovingly capture such scenes with my camera, as examples of true rusticity and the Real China. Margie, on the other hand, sees hovels and poverty…

Eating, Sleeping and River Transport: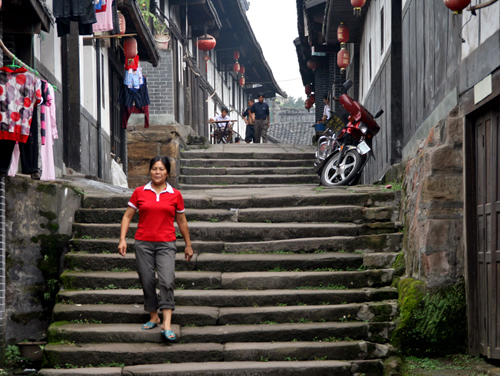 There's another pleasant, restored mansion in the Old Town, next to the central square, which houses a restaurant, teahouse and inn (we think), but we were enticed by the Yangtse River Wild Fish restaurant 长江野鱼饭店, right on the banks of the Yangtse, where the old town and the new meet by the river. With great views, good fish, cold beer and friendly service we sat back and chilled out. We could see regular ferries departing from the dock. I asked the staff if you could get to Luzhou in Sichuan, which would eventually make a great route into Guizhou province, via Chishui. They told me that the ferries only went to local towns in Chongqing province. However, I suspect that it might be possible to get to Luzhou by village hopping along the river.


Other Sights:

Unfortunately, our longer than planned chill in the restaurant meant that we ran out of time and didn't get to see the newly restored Dongyu Temple with its 9 metre high Buddha and gory scenes of Buddhist hell; a pity because I love those hell scenes.
Coming and Going: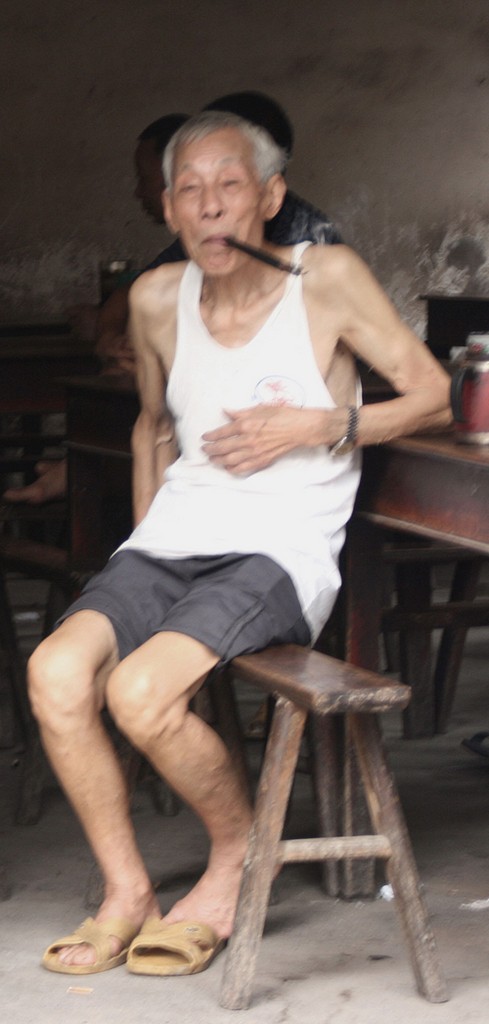 We took a bus from Chongqing's mammoth Caiyuanba bus station to Yongchuan, which takes about one hour along a boring motorway. From Yongyuan there are buses every 20 minutes to Songji, though it seemed we had to change bus stations. The friendly taxi driver taking us between the two bus stations convinced us that the best thing we could do was to take his taxi all the way to Songji for 80 Yuan. We accepted his offer and within 40 minutes we were there. Returning, we took a bus back from Songji bus station, one block from the river, which dropped us at Yongchuan's main bus station, without having to change.
Conclusion: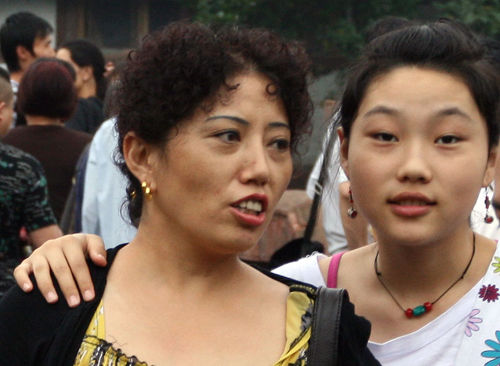 Our own Tale of two Towns once again had us arguing about how to combine conservation and development… Whereas Pingle had gone too far down the road of commercial exploitation, at the risk of losing its soul, Songji seemed badly in need of a booster, something to instil new lifeblood in the fading town…