Wuhan 武汉– September 2009
Introduction
We first visited Wuhan on a grey, wet December day in 1990. Yet, despite the weather, the city's colonial architecture, lively streets and abundant markets left quite a favourable impression. Unfortunately, at the time we were far too obsessed with our search (unsuccessful) for Chinese-price boat tickets to Chongqing, to have a proper look around.
However, from our chance meeting with two American teachers who were absolutely desperate for any Westerners to communicate with in English, we gathered that it was hardly a cultural hot spot.

This time, on our second visit, we noticed many changes: the city had become huge and, in parts, totally modern. Just like Chongqing. Yet, while we hadn't really liked revisiting Chongqing, we thoroughly enjoyed our stay in Wuhan.  This was mostly thanks to the attractive, central Hankou area which has preserved quite a lot of its old buildings, can be easily navigated on foot and offers many nice places to stay, eat and drink.
Add to this a handful of interesting sights, spread out over Wuchang and Hanyang, and you can see how anyone can spend a couple of pleasant days. These days, even the most homesick ex-pat should be able to find enough of his favourite creature comforts to keep him going.
(Almost not) getting to Wuhan


While we're standing by the entrance to the motorway just outside Wudang town, waiting to be picked up by a Wuhan bus, we get chatting to two other tourists who have just climbed the mountain: a grumpy, middle-aged man who is complaining bitterly about the delay, and his mother. She's a formidable old lady and the only Chinese person, ever, to tell me I'm doing the right thing, not having children! Children are nothing but 'ma fan' (hassle), she states right in front of her irritable son.
When the bus arrives, it is only two-thirds full, so we spread out over the back rows and make ourselves comfortable. The five-hour ride to Wuhan is as uneventful as the previous one to Wudang: it's all empty, brand-new motorways cutting through a predominantly flat landscape.
However, things heat up considerably, as soon as we get to Wuhan. We arrive at a bus station surrounded by grey, modern buildings, large busy avenues and with lots of road works going on nearby. According to Lonely Planet, our bus should have dropped us at the main long-distance bus station, very close to the centre of town and walking distance from the hotel we have chosen. And so we walk determinedly out of the station, into the blazing furnace of a Wuhan summer's day, only to get incredibly, confusingly lost. We keep asking people for directions, but they either don't seem to know the street we are talking about, or tell us, rather unhelpfully, that it's miles away and that we have to take a bus or a taxi.
Some of them even laugh at those sweating, worked-up foreigners until an increasingly furious Adam is convinced they are all having us on! It gets to the point where he threatens to turn around and head straight for the train station to catch the first train out of this horrible place!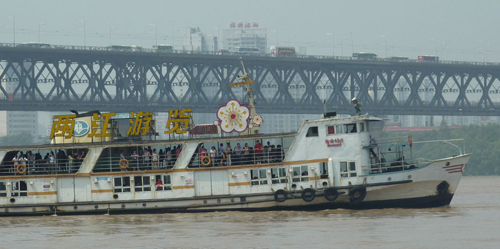 Once I've talked him out of this, we concentrate our efforts on getting a taxi, which isn't an easy task either. Taxi after taxi simply refuses to take us; because of the road works we find out later; and Adam is overheating again. Drastic measures are needed, so the next time he manages to stop a taxi, I simply hop in and refuse to budge, ignoring the lady driver's protests. This approach seems to work, for she is now forced to listen to Adam's directions and reluctantly starts her car, muttering all the time about the terrible traffic.
By now, it has finally dawned on us that we are not where we thought we were, but somewhere near the Hankou train station, miles away from the centre; and that those people were not having us on, they were simply telling the truth! We blush when we think about our churlish behaviour…
During the longish ride our driver warms to us a bit and explains carefully that she won't be able to take us right up to the hotel, due to a system of one-way streets, but will drop us as close as possible.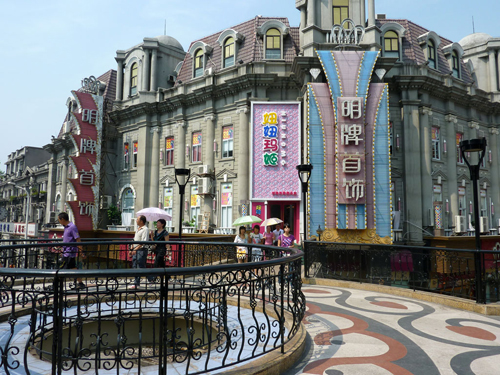 Getting out of our taxi, we are pleasantly surprised to find ourselves in an area of narrow, tree-lined streets, low-rise brick buildings, some of them historical, and plenty of small businesses, shops and restaurants. It's all on a very human scale, interesting and lively, and such a relief after the daunting, sterile avenues of Chongqing!
The hotel we have chosen, the Tomolo Boutique Hotel, is an equally pleasant surprise and we find it hard to tear ourselves away from its lovely, air-conditioned interior, but we have one more hurdle to overcome: we have to try and book train tickets back to Beijing before the booking offices close. In spite of the confusion on our arrival, we still have faith in Lonely Planet, which states that the nearest advance booking office is on Shengli Jie and closes at 17.00. It is 16.10 by the time we leave the hotel, so we hurry down the main street, Zhongshan Dadao, stopping frequently to ask for directions.
When we finally get to Shengli Jie, there is no such office and our enquiries meet with many contradictory reactions: yes there is an office nearby, no there isn't, it's already closed, it has moved….
In desperation, we keep on walking and, just when we're about to give up, we find it, just after Zhongshan Dadao on Haishou Jie. It's 16.50, the office is still open and it is absolutely no problem to book tickets to Beijing. Now we can relax and start enjoying Wuhan!
Orientation
Wuhan actually consists of three cities, or districts: Hangkou, Wuchang and Hanyang.  Hankou and Wuchang are separated from each other by the Yangzi River, while the smaller Han River divides Hangkou and Hanyang. Most tourists stay in central Hankou, while most of the sights can be found in Wuchang.  This is no problem, as a regular ferry service, with boats every twenty minutes, connects the two parts.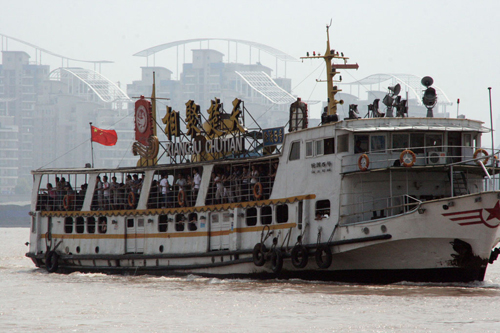 Enjoying Wuhan
As we discover on our first expedition, the Hankou area between Jiefang Dadao and the Yangzi riverfront has many narrow lanes and an eclectic collection of 19th century colonial buildings, in various stages of maintenance, or decay. It's a nice place for strolling around, shopping, eating and drinking. You can find some pedestrianised shopping streets, with the usual mundane selection of shops, complete with loud, droning music and screaming shop assistants trying to drag customers in, but at least here, the architecture lends them a special charm.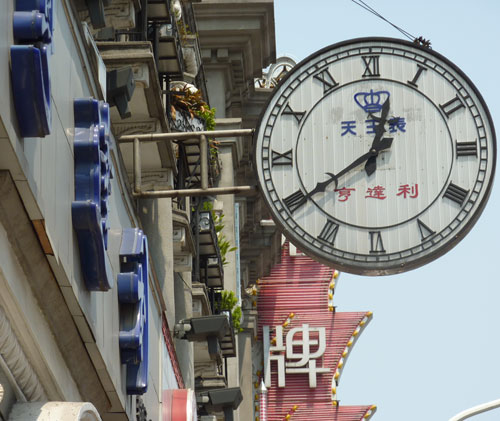 More importantly though, the whole area – in particular the smaller side streets – boasts a wide variety of restaurants, food stalls and tea houses, while Yanjiang Dadao, is known for its bars and pubs, some of them with pavement terraces.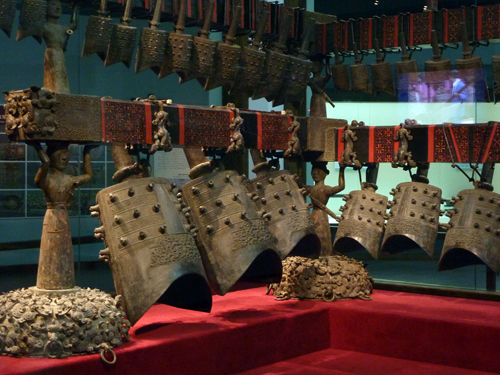 Wuhan's number one sight, as such, is probably the Hubei Provincial Museum (admission free). It's located in Wuchang, on the other side of the Yangzi. The ferry ride over is quite interesting, with good views of the river traffic, the Wuhan Yangzi Big Bridge and the cityscapes of both Hankou and Wuchang, with their curious mix of old and modern buildings. Once you're across, it's still a long bus or taxi ride to the museum, past Wuhan University, some rather tasteful modern high-rises and the enormous East Lake.
However, the museum is definitely worth the effort. Its highlight is obviously the famous Tomb of the Marquis Yi of Zeng, with its large, painted coffins and, especially, the set of 64 huge bronze Bells, held up by human figures; but the museum houses many other treasures as well.
Apart from admiring the Bells, you can also attend one of several musical performances a day, in which musicians, dressed in elaborate court robes, play replicas of the Bells and other ancient musical instruments.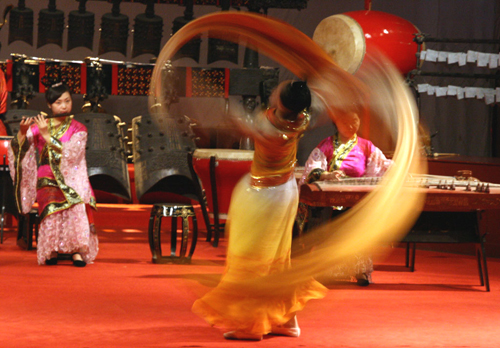 Across the road from the Provincial Museum, there is a huge Modern Art Museum, which may also be worth exploring.
For Mao buffs: Past the museum, on 56 Donghu Lu, lies one of Mao Zedong's summer villa's, where he returned annually for a couple of months' stay. The decor is entirely in 1950s style and one of the villa's most interesting features is Mao's large indoor swimming pool.
Also in Wuchang is the Changchun Taoist Temple. If you have seen your share of Chinese temples, this one won't surprise you, but you can see Taoist fortune tellers at work, dressed in flowing, white pyjamas and with their long, grey hair tied up in buns. Plus, there is an excellent vegetarian restaurant attached to the Temple.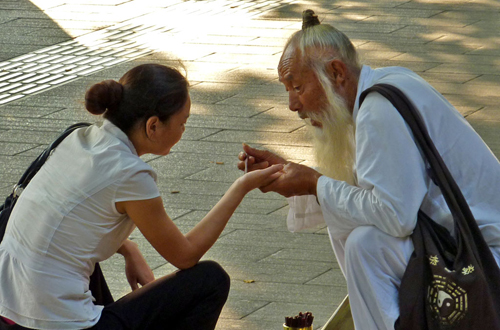 The last big site in Wuchang is the Yellow Crane Tower (admission 50 Yuan), the symbol of Wuhan. Though the Tower has been rebuilt many times and its latest reincarnation is actually quite recent, it's quite impressive, both outside and in, and offers good views of the surrounding park and of Wuhan city. During the summer months, the park stays open until 19.30.

Near the Yellow Crane Tower, just below Snake Hill is the Memorial Hall of the Wuchang Uprising, which took place on 10 October 1911. This uprising, which inspired similar revolts all over China, eventually led to the downfall of the Qing Dynasty and the election of Sun Yat-Sen as the provisional president of the new republic.

Between the Yellow Crane Tower and the ferry dock, there is an area of partly restored/rebuilt alleys, with lots of little eateries.
At its heart is Shouyi Garden Snack Street, where the stalls specialise in squid kebabs, grilled oysters, small, fried potatoes in red spicy sauce, as well as many cakes and sweets.
Predominantly residential Hanyang can boast at least one sight: the 350-year-old Buddhist Guiyuan Temple, famous for its 500 statues of Arhats.
Though the Arhats are al covered in uniform layers of shiny gold, their expressions are very distinctive, illustrating a wide range of character traits, such as greed, laziness or anger. We were quite taken by the Arhat who is sleeping peacefully in a little golden bed, though we forgot to count:
Apparently, you are supposed to count the Arhats, starting from whichever door you happen to enter.
When you have counted to your current age, you should write down the number above the statue you stopped at, and present it to the small shop outside, where you can purchase a golden card with your fortune on it, as well as a depiction of that statue.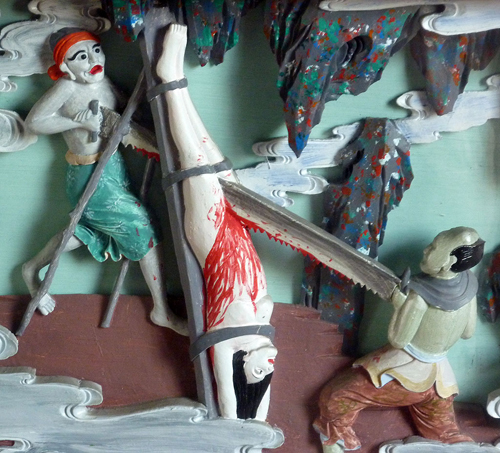 Apart from the statues, Adam enjoyed the gruesome reliefs depicting scenes from Hell, discovered in a side chapel, while I liked the hundreds of turtles of all sizes, piled up on the concrete leaves of a lotus in a green pond in the forecourt.
Wuhan Practicalities
Places to stay
We stayed in Hankou, at the excellent Tomolo Boutique Hotel at 56 Jianghan Sanlu, just off pedestrianised Jianghan Lu, where the off-season rate was 308 Yuan for a double room, breakfast included. As soon as we set eyes on our large, comfortable room: fluffy, almost 100% clean carpets, funky print duvets, a sofa and kitchen area, a colourfully tiled power shower… we decided to stay an extra night and have a rest. Additional features include the desk with free computer and easy internet access, available on every floor and the little welcome tray with fruit, sweets and nuts.

Other options: on our walks around Hankou, in particular on and around Jianghan Lu and Yanjiang Dadao, we saw many other hotels, some in historical buildings, others brand new, advertising huge discounts and room rates below 200 Yuan. We were in Wuhan in early September, which was clearly seen as the low-season.
Places to eat
There is no shortage of places to eat in Hankou, in fact we didn't have enough time to try all the ones we fancied, and the overall quality of the food is excellent.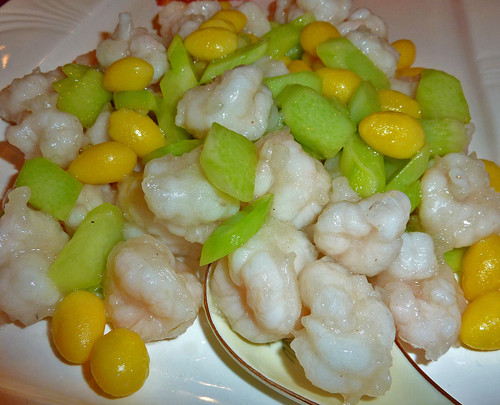 We tried the restaurant of the historic and atmospheric Jianghan Hotel (also with discounted rooms), which specialises in large terrines of special broth (supposedly very good for your health), in which you cook different types of, expensive, mushrooms. As we hadn't realised this, we ordered some dishes, which fortunately were very tasty too: a delicious lubina in a light soy sauce and succulent prawns with cashew nuts.
We had an excellent meal at the Xiǎo Beìké Jĭudiàn, or Little Shell Restaurant, a rather elegant place on the corner of Dongting Jie (nº 129), near Shengli Jie, which has two nicely decorated floors and a terrace.
As its name indicates, the restaurant specialises in fish and seafood, such as prawns, scallops and oysters. Judging by the number of Chinese customers, it was one of the 'in' places of Wuhan.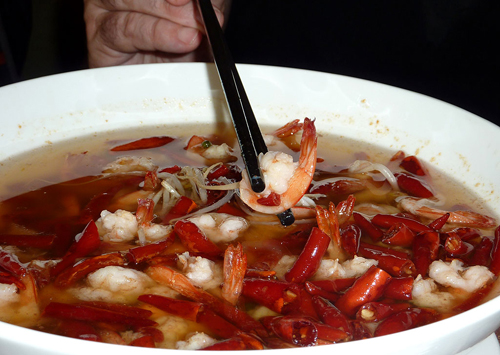 For those with a sweet tooth, we can recommend Honeymoon Deserts on Jianghan Lu: a cool, modern place specialising in real Chinese, or Asian, desserts with unfamiliar ingredients such as sticky rice, taro and exotic fruits, drowning in coconut milk or sticky syrup. Delicious!

If you are sightseeing in Wuchang, the vegetarian restaurant of the Changchun Taoist Temple is a great choice. The restaurant stays open all day, the food is tasty and inexpensive, and they even serve real beer.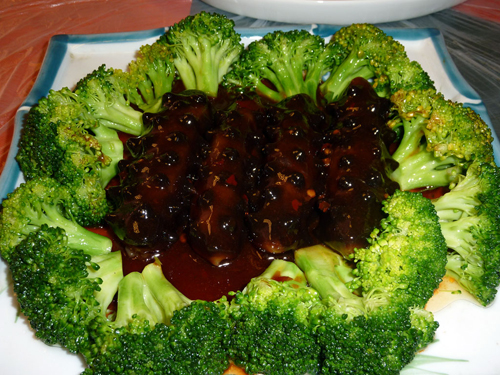 Or, if you prefer something more informal, you could try out the stalls of Shouyi Garden Snack Street, which we described above.
Places to Drink
On Yanjiang Dadao, we spotted several large, pub-like establishments, a bit like sports bars, as well as some smaller bars and clubs. We ended up having a drink in one of those places: It seemed a bizarre mixture of a club, pub and tea-house, as it had club-like secluded booths, the trappings and furniture of a pub, as well as the naff, piped music and snacks more commonly found in a tea-house.
We also located the Lonely Planet mentioned Bordeaux Bar but, at nearly 20.00, it was still closed.
Driven by curiosity, and my thirst for a Belgian beer, we did our very best to find the Café Brussels, but failed. At the spot where we had expected it to be, there was the appropriately named 'Sad Bar', a cavernous Whiskey bar on a corner, also still closed when we got there…
Getting There and Away

Wuhan is connected by bus and train to most major destinations in China, though the transport situation can be somewhat confusing, as we experienced first-hand, with train and bus stations both in Hankou and Wuchang.
However, the new Wuhan Railway Station that opened in December 2009 should make things a bit easier, by centralising most railway services. The amazing Wuhan – Guangzhou high speed trains, which have cut travelling time to a mere 3 hours, leave from this station too.

In September 2009, we were able to book train tickets in an advanced booking office on Zhongshan Dadao. This was definitely not the only such office in Wuhan; we spotted another one, also in Hangkou, from our taxi window. We had no trouble at all getting Z-train tickets to Beijing. Our train then left from Hankou station at around 21.00 and arrived in Beijing before 7 am. However, with the opening of the new station, all of this may have changed.