Wudang Shan 武当山
Text by Margie.  Photos include some of the best murals from Wudang Shan taken with the permission of the monks and nuns.
Climbing Wudang Shan should be on veryone's bucket list if you are travelling the backwaters of China's hinterland. This revered Taoist mountain, birthplace of Taichi and Unesco Heritage Site is more or less equidistant from Yichang and Wuhan. This is why, after disembarking from our Yangzi cruise in Yichang, we decided to make our way to the mountain from there.
Getting there
An early-morning bus from Yichang's modern bus station takes us to Wudang town in about five-and-a-half hours, lunch stop included. We are amazed by the brand-new and virtually deserted motorways on which we are travelling, through a pretty landscape of green fields, with a backdrop of distant mountains. Apart from thequality of the motorways, we discover another feature of the Chinese government's battle against road fatalities: burnt-out car wrecks displayed, rather like abstract modern sculptures, on pedestals in front of petrol stations and at rest areas.

As promised, we are let off the bus on the outskirts of Wudang. The bus has to briefly leave the motorway to drop passengers off, after which it turns around and continues on its way to Shiyan.
Wudang town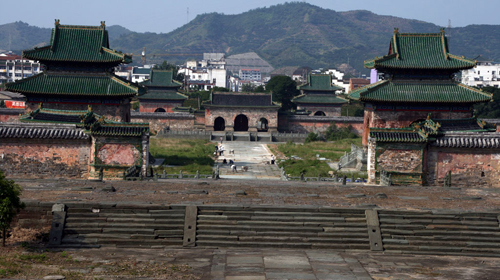 A short ride in a rickety, three-wheeled motor rickshaw takes us into the centre of town, where we check into a hotel and then go out exploring. To our surprise, Wudang town is quite run-down and shabby, not at all what you would expect from an important tourist spot: all the side streets are dusty and pot-holed, the shops and businesses are small with very limited stock, while the people in the street look decidedly rustic.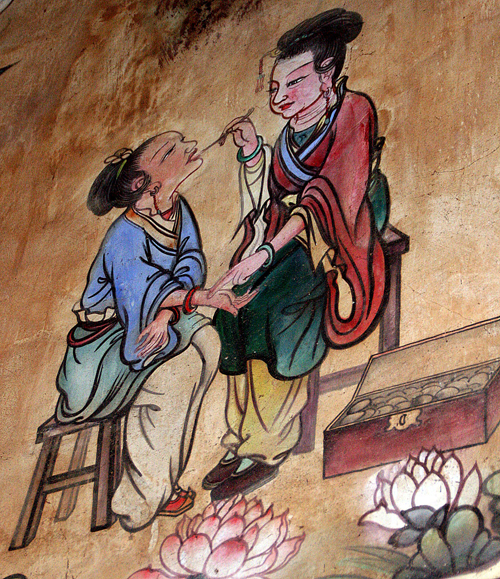 Wudang has evidently made a bid to spruce itself up, evidence of which is the brand-new Culture Square: a huge slab of concrete, pretty empty and devoid of life, surrounded by large, modern buildings. One of these is the highly recommended Wudang Museum of Taoism and Taichi, which we are looking forward to visiting.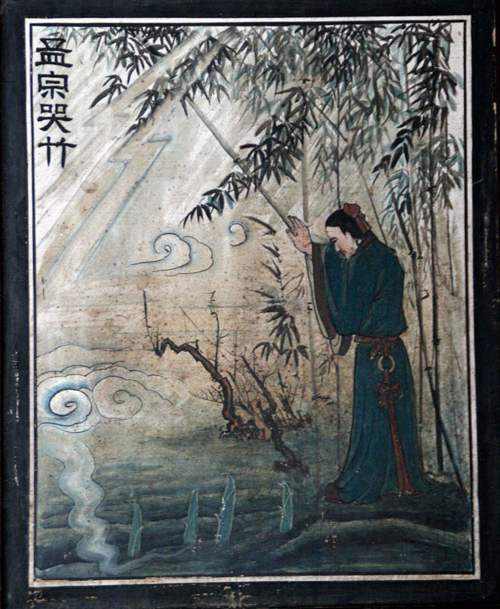 To our surprise, we find the building all boarded up. After circling it once, we come across a security guard who informs us that the museum only opens from Thursday to Monday; and it is of course, as Murphy would have it, Tuesday today! We can see plenty of staff on the premises but, according to the guard, they are all engaged in cleaning and maintenance…

Our next sightseeing option are the remains of the ancient Yuxu temple, off to the left of the main drag, through a dirty little tunnel in which old people with wooden handcarts are selling fruit, vegetables and Chinese herbs and traditional medicine. According to Lonely Planet, the temple was due to reopen in 2008, but the restoration work doesn't seem to have progressed very much. The whole site is surrounded by walls and gates, through which we can just make out great piles of building materials, and a handful of men, armed with wheelbarrows and shovels, doing something to the main stone path leading through the middle of the site.
We have to argue and plead, going back to her three times, with the grim- faced harpy guarding the entrance, before she grudgingly deigns to let us in for half an hour. Once inside, we discover that what is left of the temple is really no more than a huge, walled compound with pavilions on the four corners that house large turtles, bearing stele on their backs. At the far end, there is a small shrine, guarded by two diminutive, ancient ladies. Although there isn't much to see, the ancient, overgrown stones and the few remaining reliefs in fading brown and green colours lend the site a genuine, historic ambience.


When we come out of the Yuxu temple, we take a stroll through the surrounding area, which is quite lively. There is a small street market which sells, among other things, delicious, soft, flaky pancakes, sprinkled with bits of spring onion and spices. Behind a wall, we spy another, small temple, this one a working one, but unfortunately it's already closed.
We have now really exhausted Wudang's sightseeing options, so we turn to more practical matters. First, we visit the bus station to enquire about time tables to Wuhan. The station is a dreadful dump: it's dirty, smelly and entirely covered in cobwebs. The entrance to the toilets looks particularly frightening; this is especially distressing since my bladder seems to want to pee the minute I set foot in a bus station! There is no one at the ticket window, but a couple of women knitting outside tell us to come back sometime in the early morning…
Fortunately, our second mission is more successful: we have spotted a modern supermarket on the main street, so we are able to pick up some supplies for tomorrow's hike up the mountain.
Climbing Wudang Shan
Early in the morning we take one of those box-like rickshaws to the entrance to the mountain. Contrary to the town itself, the area that has sprung up around the ticket office is exceedingly clean and modern. There is a tourist information centre, a booking office for hotels up the mountain, and a whole string of souvenir and drinks stalls. Tickets cost a whopping 182 Yuan, which includes the bus service and obligatory 'insurance'.
We catch a bus in the direction of Nányán, or South Cliff, because we want to get off at the Zĭxāo Gōng, or Purple Cloud Temple. It doesn't take us long to understand why these buses are so expensive: it's an impressive 28 kms uphill to the temple! The road winds its way through lush green mountains, past deep valleys and many other scenic spots where people can get off. If only we had known that the Wudang mountain range was so big and gorgeous, we would have come up yesterday and stayed the night on the mountain!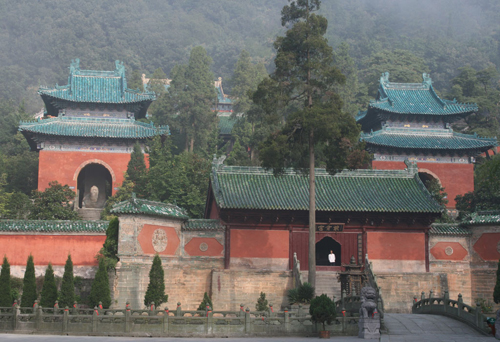 Purple Cloud Temple is our next surprise: it's a truly magnificent building that sits stately in its mountain location. The complex is surrounded by tall red walls and approached via a flight of steep, stone steps. At the entrance we are welcomed by friendly Taoist nuns, dressed in blue and black tunics over black trousers. This is the first time we get a good look at the peculiar Taoist headdresses: shiny black caps, shaped like ingots, with a hole in the middle, through which the nuns and monks can pull their buns.

The entrance hall, which has beautiful frescoes and ancient paintings on wood of important Taoist figures, practising their Taichi moves, leads into a spacious stone courtyard. After crossing the courtyard and climbing up another set of steep stairs, we find ourselves outside the main hall. Here, a group of Taoist pilgrims, clad in black, are kneeling down, holding incense sticks in their hands, and waiting for a ceremony to begin.
A group of Taoist nuns appear, dressed in colourfully embroidered court-robes and tall, tasselled hats, and balancing on platform shoes. Accompanied by an orchestra of traditional instruments such as flutes, pipes and windpipes, the three nuns chant, pray and perform ritualised movements in front of the altar. It's a fascination spectacle like we have never seen before.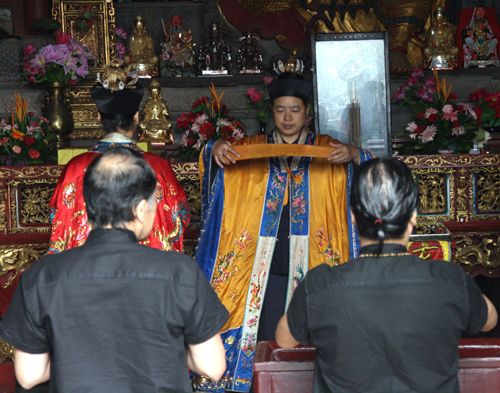 After watching for a while, we tear ourselves away reluctantly, to explore the rest of the complex. Outside, a group of young nuns and monks are limbering up and doing stretching exercises, true to the Taichi tradition of the mountain. We wander around for a little while, admiring the roof tiles and decorative, ceramic figurines on the eaves. But then we really have to get a move-on, as we still have a whole mountain to climb.

The nuns at the entrance confirm that there is indeed a stone path that leads from here to South Cliff, but warn us that it is very overgrown and hard to follow without a guide. Due to the time pressure, we decide to follow their advice and take the next bus up.
The South Cliff area houses a whole strip of hotels and restaurants, many of them damp and grotty-looking (the kind of shoddy buildings that ought to be forbidden in an important cultural site), but also a few cosy ones where we easily could have stayed. Apart from the path – and the inevitable cable car – to the top, other, shorter walks start from here that could easily have kept us entertained for a day or so.
Now we have to start climbing, and this is where the hard work really starts. According to Lonely Planet, the hike to the top should take us about 2 hours, but we will soon find out that that is entirely impossible. Walking at a reasonable pace, which means keeping up with most Chinese visitors, and taking only short breaks, we need at least double that time!
To our dismay, the stone steps start by descending; this is not good news because, the more we go down, the more we'll have to climb up again afterwards. We walk through forests of towering trees and lush vegetation; the deep green speckled by many colourful wild flowers.
It's a pity that the views are not great, due to the dense fog that has come up, but at least it's not too hot. At regular intervals, we pass small shops and restaurants but, fortunately, there are very few people on the path and it's very peaceful. The only 'sights' we come across along this first stretch, are a line of moss-covered stupas, looming mysteriously out of the mist.
At Cháotiān Gōng, a quaint, red-walled temple that boasts a very old statue of the Jade Emperor, the path splits in two. According to one of the monks, the right branch leads past the temple and then steeply up, past many other sights and monuments. The left branch, apparently, is easier because it isn't as steep. But, on the other hand, it is a bit longer and without sights. As I always find descending much harder on the knees than going up, we decide to take the right path up, and the left one down. A lucky decision in hindsight.
From here on, we really suffer. Some of the flights of stairs seem endless and it doesn't help that, at times, we can barely make out our feet, due to the fog. We have a break and – incredibly- a beer at a tiny cave shrine; the monk who sells us the beer claims he lives in the cave; Wudang is just that kind of place. Later on, we come to another small temple with beautiful frescoes, depicting the history of Taichi, where the old guardian-monk allows us to take pictures when there is no one around.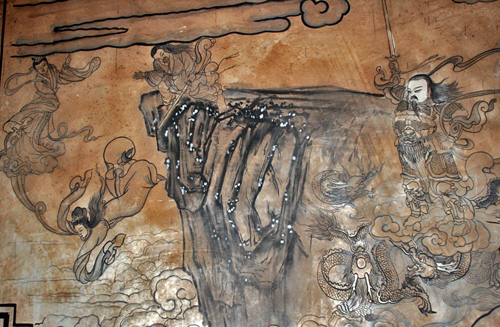 Then we struggle through the three Heavenly Gates, one even steeper than the next…
Eventually, after more than 3 hours, we emerge on a kind of platform, just below the Forbidden City and the summit. There is another ancient temple here, in the process of being restored. The wooden sculptures and reliefs carved on the doorway and the roof of the main entrance are exquisite: a delicate collection of human figurines, including sages with wispy beards, chubby babies, elegant, slim young ladies and many more.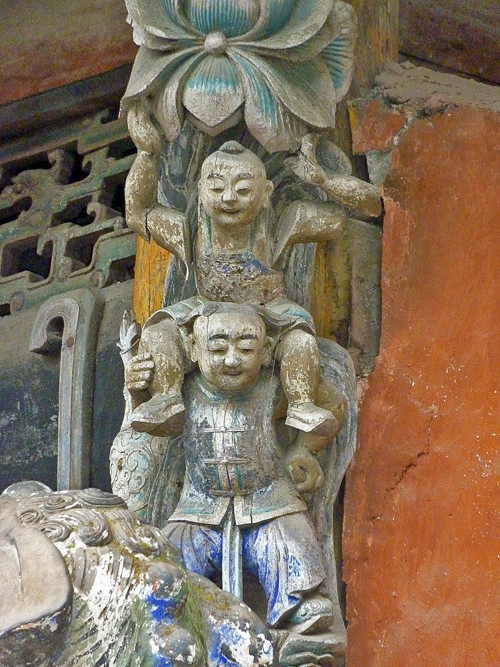 There are just some final steps and then we arrive at the Forbidden City: an impressive complex of temples with shiny, red-tiled roofs, surrounded by sturdy, undulating walls that hug the mountainside like a mini Great Wall. One of its highlights is the Good Luck Hall which holds a solid bronze shrine; here, pilgrims try to squeeze themselves through the narrow corridor, cut straight out of the rocks, which surrounds the shrine. We wouldn't even dream of trying!
Wudang is crowned by a small shrine with beautiful, bronze railings – rubbed by the pilgrims until they shine – and flanked by two elegant bronze cranes. On both sides of the shrine, there are wooden booths with Taoist fortune tellers, soothsayers, photographers and souvenir sellers.
Due to the crush of people, it's very hard to get a good picture. However, from the viewing platform nearby, the views are great; especially since the fog has cleared and a weak sun has managed to fight its way through.
After a good look around, we start our descent; this time following the other path, which begins near the cable car. The monk was definitely right; it's much easier to walk down these newer, broader and more gradual steps. Moreover, as there are no more sights to entertain us, we make quite good progress. Even so, my legs have started trembling by now and we need a couple of pit stops along the way.
We get back to South Cliff in the late afternoon; in time to catch one of the last buses running down; apparently, they go until 18.00 or 18.30; we're feeling knackered, but satisfied. This was definitely one of the better Holy Mountains we have visited: it's a beautiful, scenic place, unspoilt, quite un-touristy and with some magnificent temples!
Getting Away
On the morning of our departure, and following the advice of the knitting ladies, Adam goes down to the bus station early, to secure a couple of tickets, while I pack.
When he gets back, he explains that the bus situation is as follows: a big, Wuhan-bound bus is coming from Shiyan and will make a detour to pick Wudang passengers up at the toll gate just outside town (where we were dropped the other day). Availability of seats, arrival time of said bus and transport by- mini van to the pick-up spot is all arranged by the (official?) Wudang station staff (i.e. the knitting ladies), via mobile phones.
Adam has only been given a flimsy chit, to prove that we have paid. But, as so often in China, situations that appear badly organised, chaotic and even downright shady, turn out to be entirely above board. So, in due time, we are effectively picked up by a large, comfortable coach that is only two-thirds full. About five hours later, travelling on brand-new, empty motorways again, we arrive in Wuhan.
Wudang Practicalities
Accommodation:
We stayed at the Shengjingyuan Binguan, on the main road, in the centre of town. The rooms, however, are quiet and set back from the road, overlooking a large courtyard, decorated with bamboo plants. Our double was large, light and airy, with its own little sitting room and a spacious bathroom. It was cheap too, at 120 Yuan. In fact, its only drawback were the grimy, stained carpets; especially for Adam, who seems to have developed serious carpet-phobia on this trip!
There were plenty of other hotels along the main road, all the way up to the entrance to the mountain, but none of them looked anything special.
If we came again, we would probably prefer to stay in a hotel on the mountain; the best way to arrange that would be to go to the booking office at the entrance, where you could probably get a good price.
Food:
Again, there are many restaurants, lining the main street; many of them specialising in vegetarian, Taoist food, and using special vegetables and herbs that are supposed to be beneficial for your health.
We found an excellent one on the same side as our hotel, but slightly further towards the centre. It was a huge place with glass windows onto the main street, round tables and colourful illustrations of their dishes on the walls; something which is always helpful in China. One of our main dishes was a tofu-based, entirely vegetarian dish in the shape of a Yin and Yang symbol; though, to be honest, it probably looked better than it tasted!
Getting there and away
Wudang Shan lies close to Shiyan, one of the three large cities that make up the, slightly lop-sided triangle of Yichang, Shiyan and Wuhan; all of which are connected by excellent motorways. Travelling time to/from Yichang or Wuhan is 5 to 6 hours.
Travelling to/from Yichang:
If you have made, or are about to make, a cruise down the Yangzi, you may well find yourself in Yichang, which is no hardship. It's quite a mellow town, with a slight, sub-tropical air, due to its warm climate and exotic vegetation, for instance in the parks along the river.
Yichang has a bewildering collection of bus stations on the quay, but none of these have direct departures to Wudang Shan; though your Wudang bus may well stop at one of them. You need to go to the modern bus station on Dongshan Dadao, in the centre of town. There they will sell you a ticket for the Shiyan-bound bus, leaving at 8.00 or 8.30 in the morning, which will drop you off very close to Wudang town.
Contrary to the information in Lonely Planet, there are no trains between Yichang and Wudang Shan; they seem to have been discontinued.
Yichang accommodation and food:
We stayed at the Yichang Electricity Hotel, a short stroll from the bus station. On leaving the station, turn right and walk up the main street for a few minutes. Very clean and comfortable double rooms here cost between 140 and 160 Yuan. Our room was close to immaculate, if it hadn't been for that one nasty, peeling stain on the wall. Still, almost a record.
Coming out of our hotel and turning right again, we found a row of small, family-run restaurants, in one of which we had a very tasty meal. Around the bus station we even saw a couple of fast food restaurants, both Chinese and Western.
Travelling to/ from Wuhan
There seems to be one daily bus in both directions, leaving early in the morning, around 8.00 or 8.30; though we are not sure from which bus station in Wuhan they would leave.
When we arrived in Wuhan we were completely disorientated, for we were expecting to be at the main long-distance bus station, very close to the centre of town, when, in fact, we were close to Hankou train station, miles from anywhere; so bear that in mind.