Update:
In 2003 it was free to enter Xijiang 西江镇 Miao minority village, Guizhou and there wasn't a tourist in sight. Now tourism is big business. The entrance ticket appears to be a whopping 90 yuan.
Kaili 21/8/2003
When we get into the lift and look down at our feet, we discover that yesterday's floor mat, which read 'Wednesday', has been replaced by a 'Thursday' one. We wonder if this is a new fashion and whether there might be a special member of staff, responsible for keeping the lift mats up to date.
At the bus station we catch an 8.30 bus to Leishan, which takes just one hour. The scenery is great, we follow a beautiful river that runs through green fields with rolling hills behind.
The countryside is dotted with prosperous-looking wooden farmsteads, all with front balconies and rows of corn-cobs, hanging out to dry.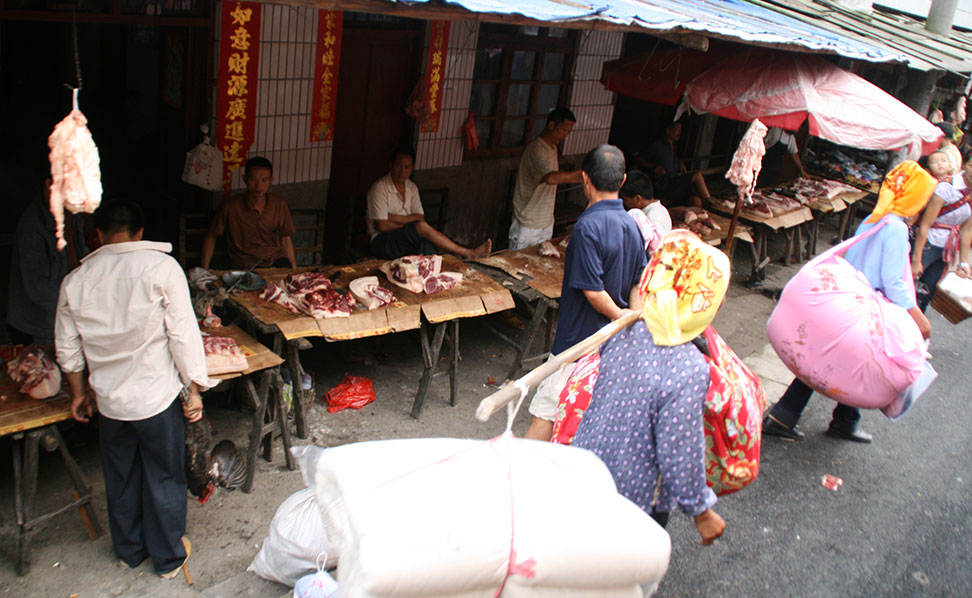 Near the river, there are several picnic areas with little wooden pavilions, kiosks or small restaurants, where families come and spend the day relaxing, eating, dipping their feet in the river. This might answer my question as to what on earth the Kaili people do in their free time.
We pass through several villages along the road each one having their market day.
After a quick changeover in Leishan, which is quite a bustling, mainly Chinese, hence modern and ugly place, we are off to Xijiang. The road is no longer asphalted and the ride, with its continuous ups and downs, takes another hour- and- a- half.
The mountains and the scenery are drier and harder now, though still pretty and with plenty of forest and vegetation. It certainly feels as if we are going somewhere remote.
Xijiang 西江镇
Xijiang village is, especially at first, rather disappointing to me. The bus drops us at an ugly concrete square with a weird wooden totem pole and a rusty basketball hoop.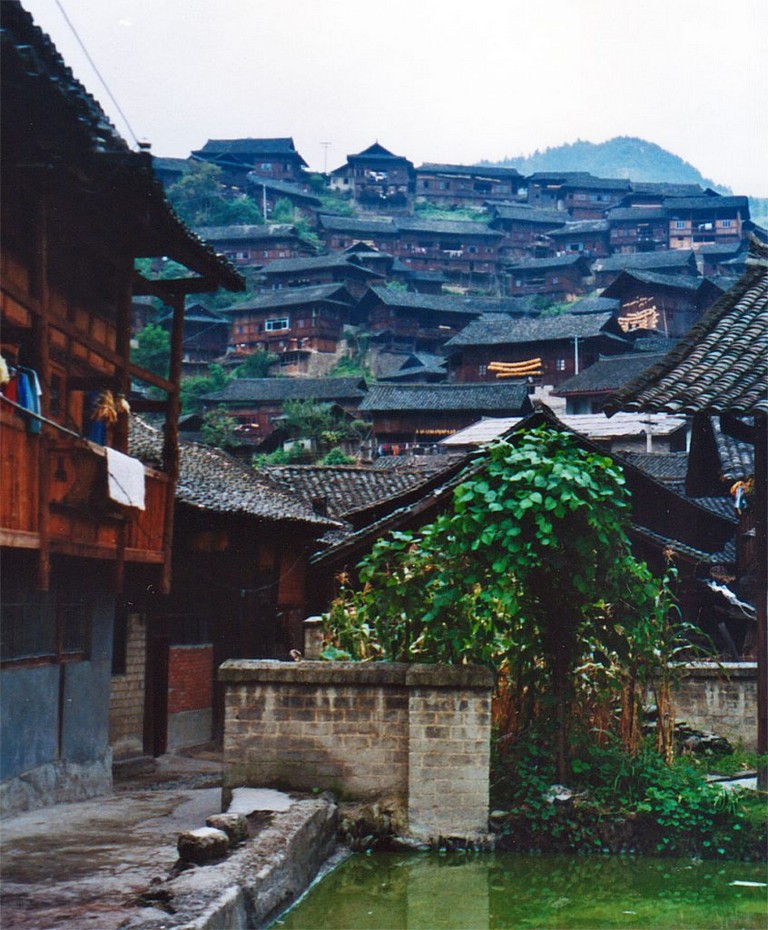 A couple of teenagers are listlessly playing around with a ball, but the square is otherwise deserted. The village streets are rather dirty and full of litter.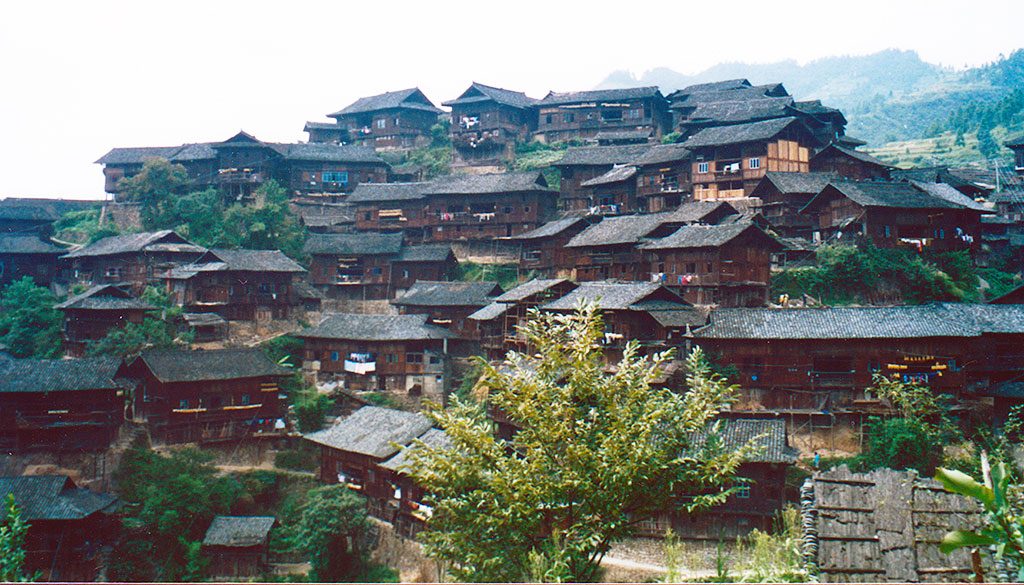 Of course it doesn't help that the 'hotel' we are shown is an unsightly white-tile building with musty, bare, cobwebbed rooms with dubious beds, a TV and nothing else. No sign of any washing facilities, not even the slightest indication of where the loo might be. We instantly make up our minds to leave our packs here for a while, visit the village and head back to Kaili this very afternoon.
Feeling slightly guilty that we are not staying, we decide to have something to eat at least. While we are having some fairly tasteless vegetables, two little kids start playing with a dead rat, throwing it backwards and forwards, right in front of the small dining room. Yuck, that really settles it for me: this is definitely a one-afternoon kind of village!
Once we get into the centre, the main street is decidedly picturesque: there are narrow storefronts, more drying corn-cobs and chillies, their yellow and red colours contrasting nicely with the dark, ageing wood. Groups of elderly villagers sit around, watching life, and us, go by.
Near the river, there is a stone and wood contraption, a kind of tub and wringer, used for dying cloth in that curious, dark, purply-brown colour that is typical around here. A lady is drying strips of freshly dyed material on the bridge, while others are rinsing theirs in the river.
Suddenly, lots of firecrackers go off and when we follow the noise we are pointed towards a house in front of which a line of young women stand. They all wear their hair up in a high bun, adorned with plastic flowers and fastened with silver clips and pins at the back. A couple of men are squatting next to the door and playing some small copper trumpets very loudly.
Inside, there is a corpse laid out, but in the dim light I can only see the feet in padded, thick-soled little boots. The body is surrounded by more women in full traditional costume: ample blue tunics, colourful wide skirts and elaborate silver headdresses, necklaces and other jewellery. I find it very difficult to get a clear impression of what is going on as I am a little embarrassed and don't wish to intrude on their funeral and grief.
Towards 3 o'clock we see a minibus parked in the main street with two passengers already on it, so we get our backpacks and join them. However, the driver doesn't show up till 4, by which time the bus is packed with local Miao women and children, ducks, chickens, sacks and wicker baskets. But we're still not going, we seem to be waiting for something.
I'm hot, flustered, crushed by piles of luggage and fed up with – and exasperated by this instance of 'ridiculous and illogical behaviour': a 3 o'clock bus that doesn't go, a 4 o'clock bus that may leave.. whenever.. Aaaahh, get me out of here!
Meanwhile, Adam has got off the bus, leaving me to keep our seats, and is watching the funeral procession snaking up the hill, followed by heaps of people and accompanied by the sound of firecrackers and music. I can hear the noise and just about catch a glimpse of it, if I really crane my neck. Damn, to be stuck here!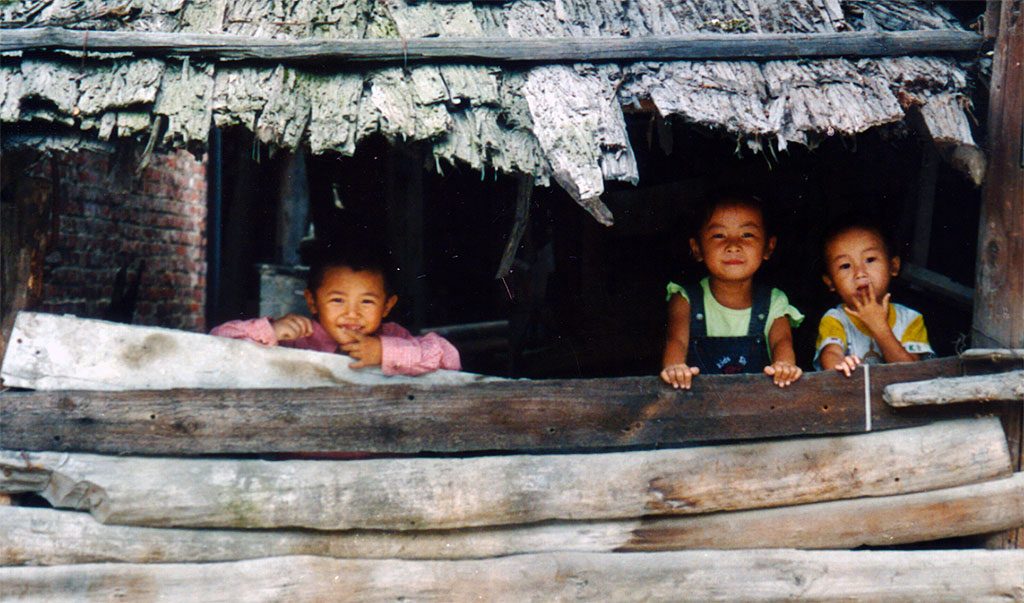 Of course, eventually we do leave, but slowly, ever so slowly, picking up passengers and letting them off just about everywhere. Our child-driver, who looks about 15, has to sell tickets and collect money as well as drive his vehicle, as there is no conductor.
We are on edge all the way, as we are worried about getting stuck in Leishan. The return journey takes us nearly two hours and all that time I'm desperate for a pee.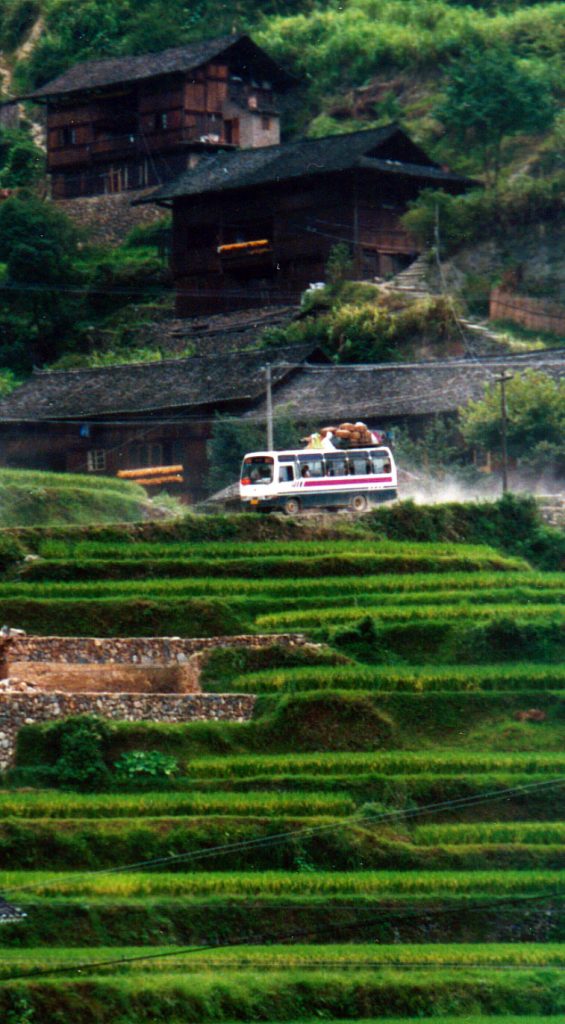 Back in Leishan our worst fears come true: there are no more buses to Kaili, at least not from the station; we might be able to flag one down in the road, or not. We decide not to run the risk and hire an expensive minivan (by backpackers' standards) for 60 Yuan to take us back. Here is comfort at last and stretching of legs. Adam is happy to chat with our pretty female driver and she gets us into Kaili in an hour.
At the bus station there is a last bus just leaving for Guiyang (at 8 o'clock) and we decide to go for it and just hop on: comfortable big seats and James Bond on the video. Adam quickly buys us some dumplings and doughy snacks, which unfortunately make me feel very sick, and off we go.
The motorway takes us to Guiyang in about two hours. The whole area around the train and bus station is one big construction site; they must have really torn down some buildings here. There are stones, bricks, sand, pipes and holes anywhere. The construction workers are camping out in plastic tents and shacks by the roadside. As our chosen hotel, the Tongda Fandian, a modern 21-storey tower, sits smack in the middle of all this destruction, we have to pick our way carefully through the rubble to get there.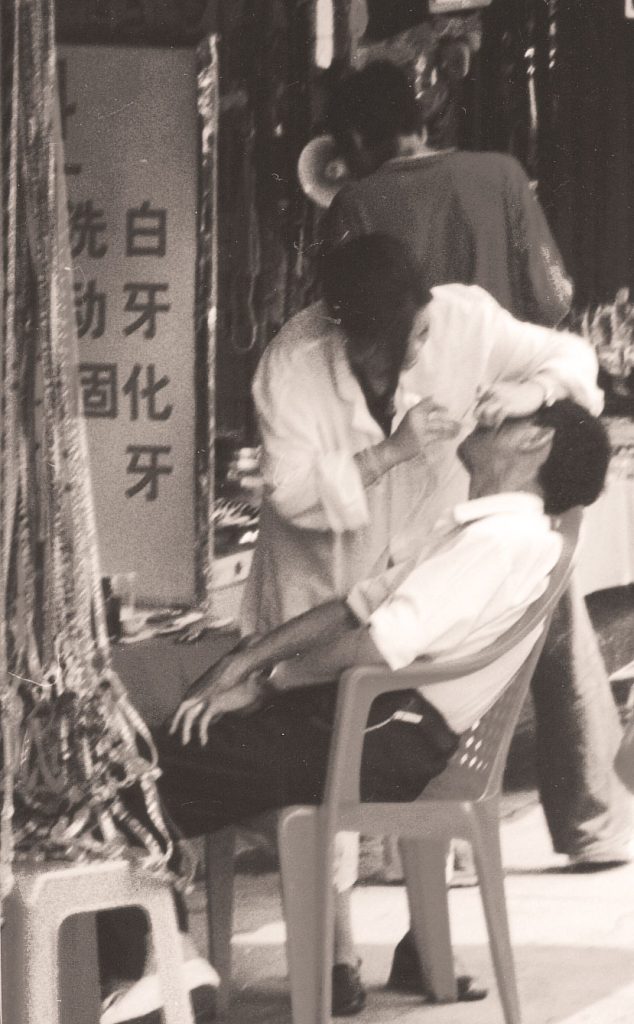 Fortunately, rooms still cost 150 Yuan (as the guidebook said) and are quite comfy. I feel pretty much poisoned by now and have to lie down. This has been one hell of a long day!