HolaChina: Your Gateway to China
We abandoned our driver, his car buried deep in the mud, and mounted a motorbike. Ironically, the previously treacherous mud bath soon became a reasonably smooth, semi-asphalted road. The drive was stunning: we passed Dai villages with their traditional raised wooden houses, thick jungle and vistas of mist-covered hills and valleys flashed by, and just when it seemed that the scenery couldn't get better, we arrived in Xiding, looking like an island floating above the clouds. Unfortunately, on closer inspection, the town revealed itself as a bit of a dump.
The small, grubby market town of Xiding may seem a strange destination, especially if you have to spend so much time and effort trying to get there, but its Thursday market is one of the most authentic ethnic markets in Xishuangbanna. A hive of activity from dawn to midday, the market attracts nearby Dai, Hani (Aini or Akha), and Bulang minorities. It is said that Lahu also drop in, but we didn't see or recognize any. The only real sign of Han-Chinese presence are the huge military barracks overlooking the town, a reminder that the Myanmar border is only a few kilometres away.
The market occupies a large square, just up the road from the bus station, as well as some of the adjacent streets. There is nothing touristy about this market, the only things on sale are local produce, household goods and cheap clothes. A few noodle stalls feed the hungry shoppers. With everybody busily going about their business, nobody tried to sell us anything. The local kids, pipe- smoking old men and colourfully dressed women occasionally glanced at us with a certain amount of bewilderment, probably wondering why we had made it all the way out there. Even if you can speak Chinese, it is quite difficult to explain that you have come to see them.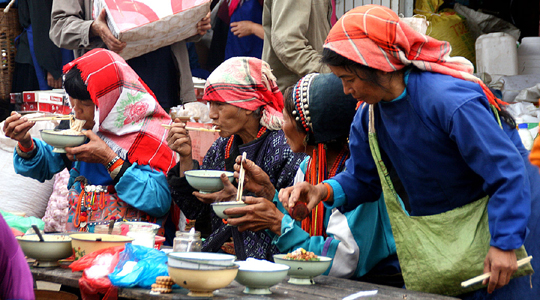 Among the minorities that frequent the market, the Dai appeared to be the most commercially savvy. The prosperous-looking Dai ladies, dressed in long, colourful sarongs and wearing turbans, tend to run the stalls, while the Hani and Bulang come to town to buy from them. The Hani ladies, with their pillar box hats decorated with silver coins, are by far the most exotic shoppers. Unfortunately, some of the younger Hani seem to have abandoned these fantastically ornamented headdresses for more functional towels wrapped around their heads. Curiously, their round faces and thick, straight fringes framed by these new-style scarves, make them look like Eskimo's. Fortunately for us photographers, there were still plenty of older ladies in full regalia. The Bulang looked the poorest among the different ethnic groups; distinguishable by their exotic turbans and heavily pierced ears, many were collecting rubbish and scraps discarded by the rest. The men of all groups stayed on the fringes of market, huddled in groups under make-shift shelters to keep out of the rain, they sucked on long bamboo pipes, or sipped tea from jars.
We spent a couple of pleasant hours walking around the market, sitting down and absorbing the comings and goings and taking photos. Some of the Hani ladies returning with us on the bus asked me to show them the photos and were amused to see themselves and their friends. While we have witnessed larger and perhaps more exotic markets in China, Xiding market is well worth the trek out there for its remoteness, beautiful scenery and friendly bustling atmosphere.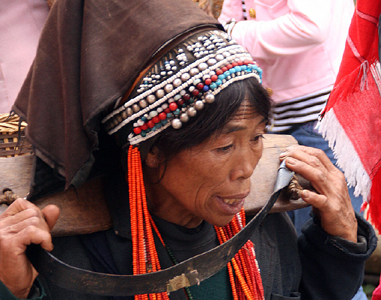 Xiding Practicalities:
Coming and Going:
There are buses to Xiding from Menghai, the nearest town with decent accommodation, though the timetable is not the most convenient and depends on the state of the road. The biggest problem is that if you take the morning bus (around 10.00 or 10.30), you will arrive in Xiding around 12.30 when the market is coming to an end. Besides, that same bus will turn around and go straight back to Menghai. This leaves you with no option, but to stay overnight. Alternatively, you could hire a vehicle from Menghai for about 200 Yuan, which might be a better option. However, bear in mind that in the rainy season you need something resembling a tank to navigate the appalling road up to Xiding. We had a bit of a disaster when the van we had hired got totally stuck, in spite of the driver's assurances that his vehicle was up to it and that the road wasn't too bad….. Well it was, and we got completely bogged down in the thick, red mud. We eventually had to abandon our driver – at his own insistence – and get a motorcycle- taxi to take us up the last 10 kilometres.
One piece of advice: if you are looking to leave Xiding by public transport, buy your bus ticket well in advance. The bus leaves around 12.30 and is completely packed, at least on market days. Our motorbike driver took me to the ticket seller as soon as we arrived and we got the last two tickets (3 hours before the bus left). If he can't be found at the bus station, then look for him in the market where he sets up a stall to sell some vegetables. Ask around.
Accommodation:
There are a couple of basic guesthouses and simple food stalls in Xiding, though nothing to write home about. The town without the market is rather grim and, from what we could read on internet, the accommodation is not much better.